kostecs
Blue Cheese Auto
First grow
Two Blue Cheese Autos Outdoors in 16L pots
Blue cheese auto's, dinafem
Well, I had to harvest today...I was wanting to get a bit more time out of them, but it's time for vacation. When I get back these girls will be ready for curing. The smell is unreal... mix of Cheese and Blueberry's... so potent, it's actually to much. The smell stays in you for hours. I will edit this post when the drying is done and weigh everything up. Can't wait to load up the vaporizer with this sweet bud!
4 years ago
Trics are 50/50 clear and cloudy.. I'm in a pickle as I need to chop on day 74. I may settle on chopping one girl on day 74 and then one 78. Does anyone know if Trics Amber up during drying? I've done some pre-trimming
4 years ago
Buds fattening up even more over three days .. almost all white pistols have changed to red ! Tric's appear to be all cloudy ... waiting for a couple ambers. I may be forced to cut down on day 71 or 72. I wanted to go 75 though.
4 years ago
Buds are fattening up nicely.... I'm impressed considering how they have been attacked and attacked. I will recommend Dinafem Blue Cheese everyday of the week! Getting white and frosty. I have been flushing for 2 days and I'm gonna let them go as long as I can until day 75. Any thoughts out there ?
4 years ago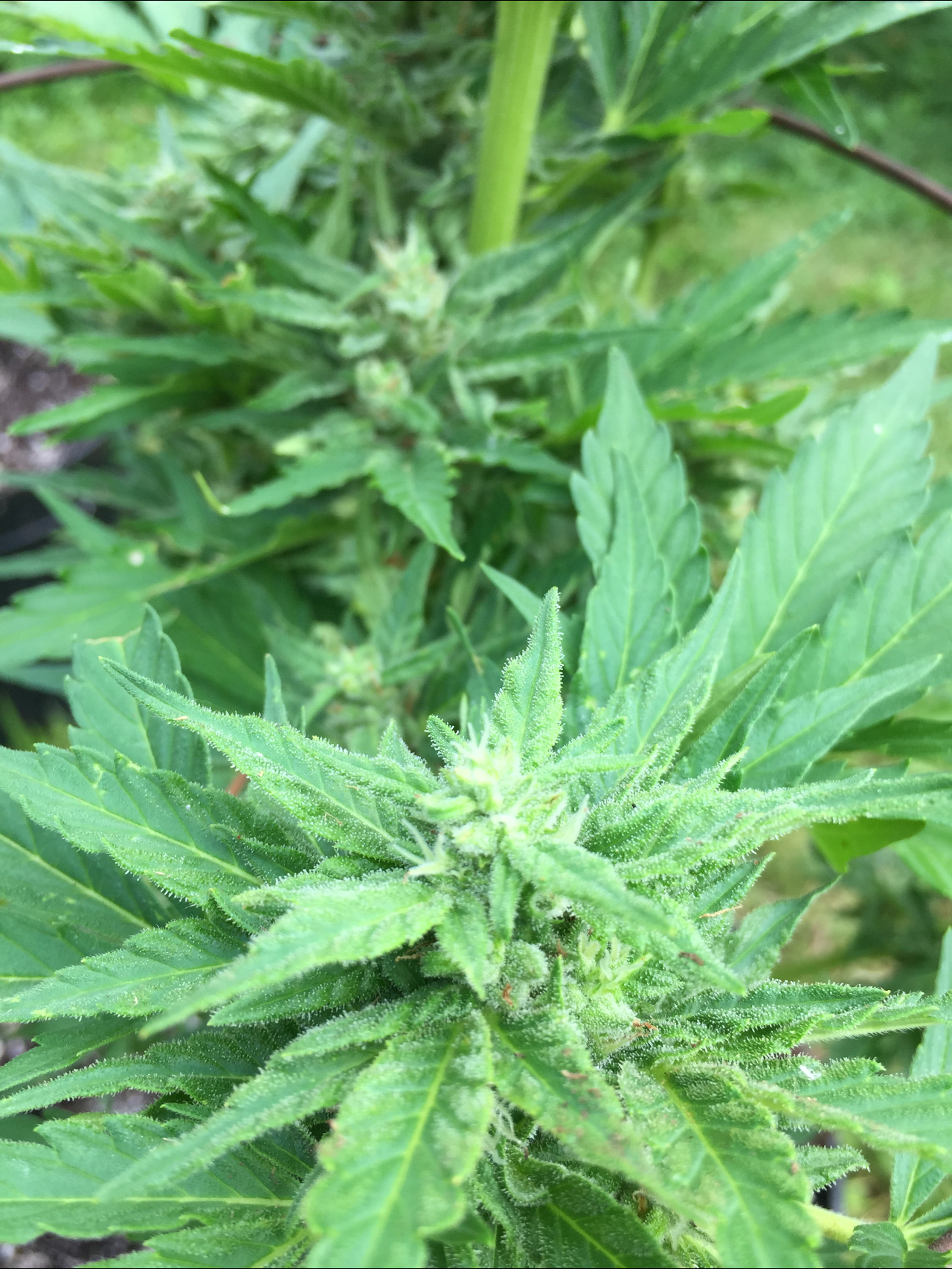 Hairs are now about 40% orange or amber. Haven't looked at the Trichrome's much yet. I will be adding nutes one more time & then I'll be starting the flush process. So flushing will begin on day 63. The buds aren't as big as I would like at this point. But I have seen a lot of grows where buds really bust out between days 55-70. So we shall see;) Any pointers or suggestions are welcome !
4 years ago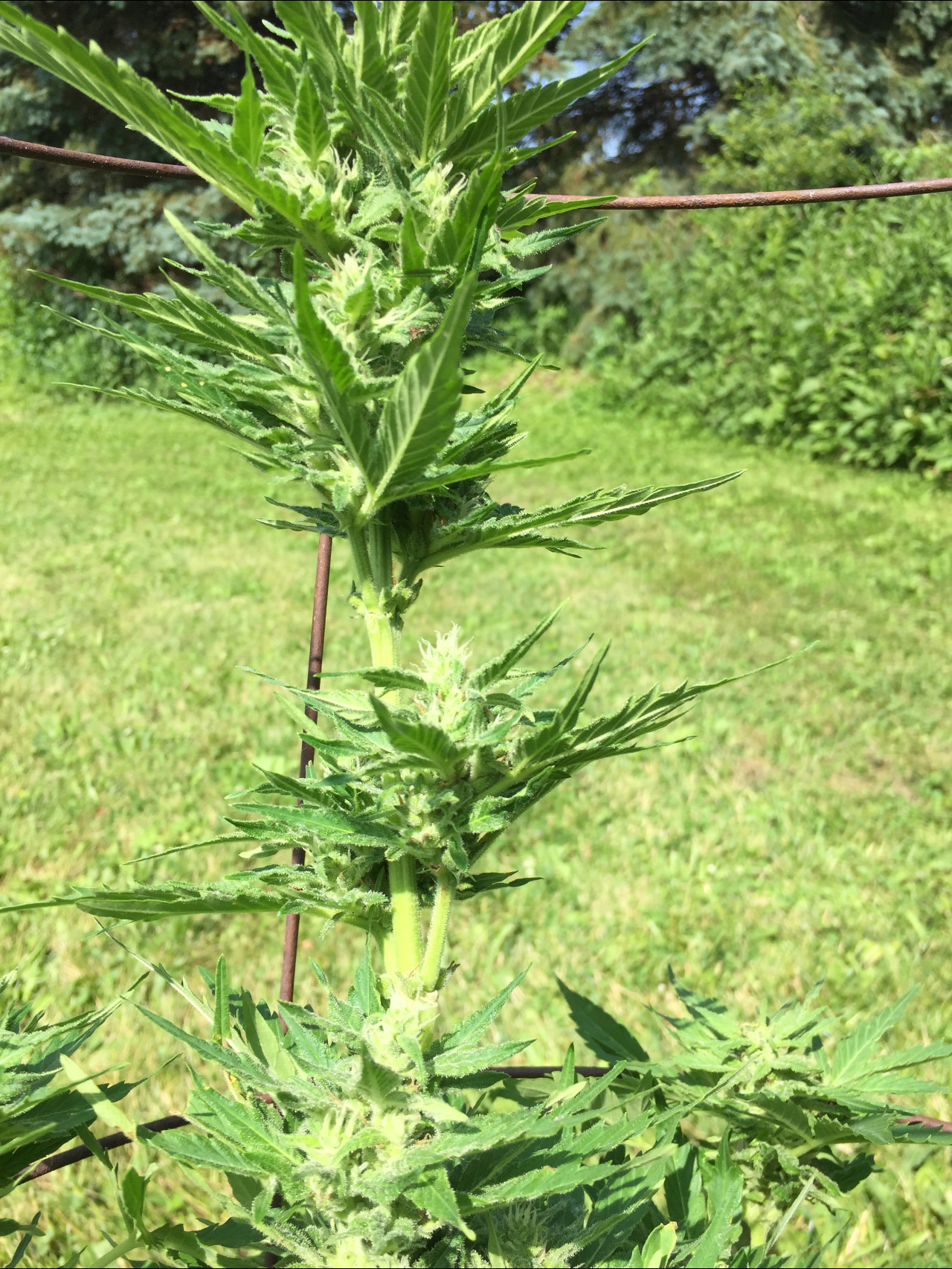 I broke a couple of branches on Girl #1 while being careless with the tomato cages. Let's see what happens there. Still on 4ml every other day. I am thinking on possibly flushing in about 8 days. However we shall see. Because of the issues early on in their life they seem slightly behind. I have seen others with massive growth in weeks 8 to 10 so we shall see. I have defoliated a lot this morning & I don't think I'll be doing much more.
4 years ago
Whammy! Could smell these sweet girls 100ft away! Glad I moved them from my back deck. Main cola looking like it's forming a strong bud on both plants. A lot of little popcorn buds all over. I've increased the nutrient to 4 ml every other day. I'm hoping this feeds those buds and fattens then up. No defoliating this morning with the exception of two bottom fan leaves. I'm slightly concerned about a CAL MAG problem or iron... but my local grow store told me not to worry about it as it's just showing on the bottom leaves. What's everyone think?
4 years ago
Plants now about 24" and won't be growing any more height. Buds now getting frosty and seem a little small compared to others who have grown this strain. I am going to increase the nutrients to 4ml every other day. Been battling a daily caterpillar egg removal daily. The smell is amazing coming off these guys- fine cheese and blueberry. If anyone actually views this grow by all means view and give me some tips. I'm worried that the bugs are under developed compared to others at this stage. What do you think? Hard to believe I could potentially be flushing in 10 days.
4 years ago
Kostecs It's a Blue Cheese Auto Flower .. ready to harvest in 65-75 days.
Lots of growth still for this sexy ladies! 20" each now. I'm guessing height growth will stop now? Moved these girls out to the woods as the smell was getting a bit much. A few brown spots on leaves... I've removed those leaves. I've also removed some leaves with what appeared to be black mold. I have also found 2 cocoons under leaves since they have moved to woods. Also some foliage has been eaten. I think these beauties (after all the crazy shit they have been through) are gonna make it !
4 years ago
The plant has grown massively over the last couple of days! About 18" for both. Girl #1 has begun to flower. Girl #2 is not far behind .i can't believe the resiliency of these AutoFlowers! I have moved locations & they are no longer at my home. These plants have a HUGE odur! It's smells great, but it may bother the 98 year old Italian Guy next door. I am adding nutes every-other water now. 2ml into a bucket of PH'd 6.0 water.
4 years ago
Pre- Flowering has begun! These girls already have a strong scent. 13"'s in height. I have given 3ml of nutes in the past 4 days. Just gave a BIG nute FREE water right before the pics. No LST for these girls as they have already been through enough. I'm expecting a wack load of popcorn bugs and 1 big bud on each plant. Anyone have any thoughts on these?
4 years ago
Girl #1 & Girl #2 have been attacked and shredded , but to my surprise they have recovered nicely. Outdoor growth presents many challenges this year. Piss poor weather and lots of rain which I am sure flush's most nutes out. I am adding nutes about every 3 days or 24 - 36 hours after a rain. 1 to 2 mls depending on how much rain I get. This good news is that these girls will produce something. That's all I ask for at this point considering all the obstacles and the fact that it's my first grow. Both Girls are 10" & 9" (respectively).
4 years ago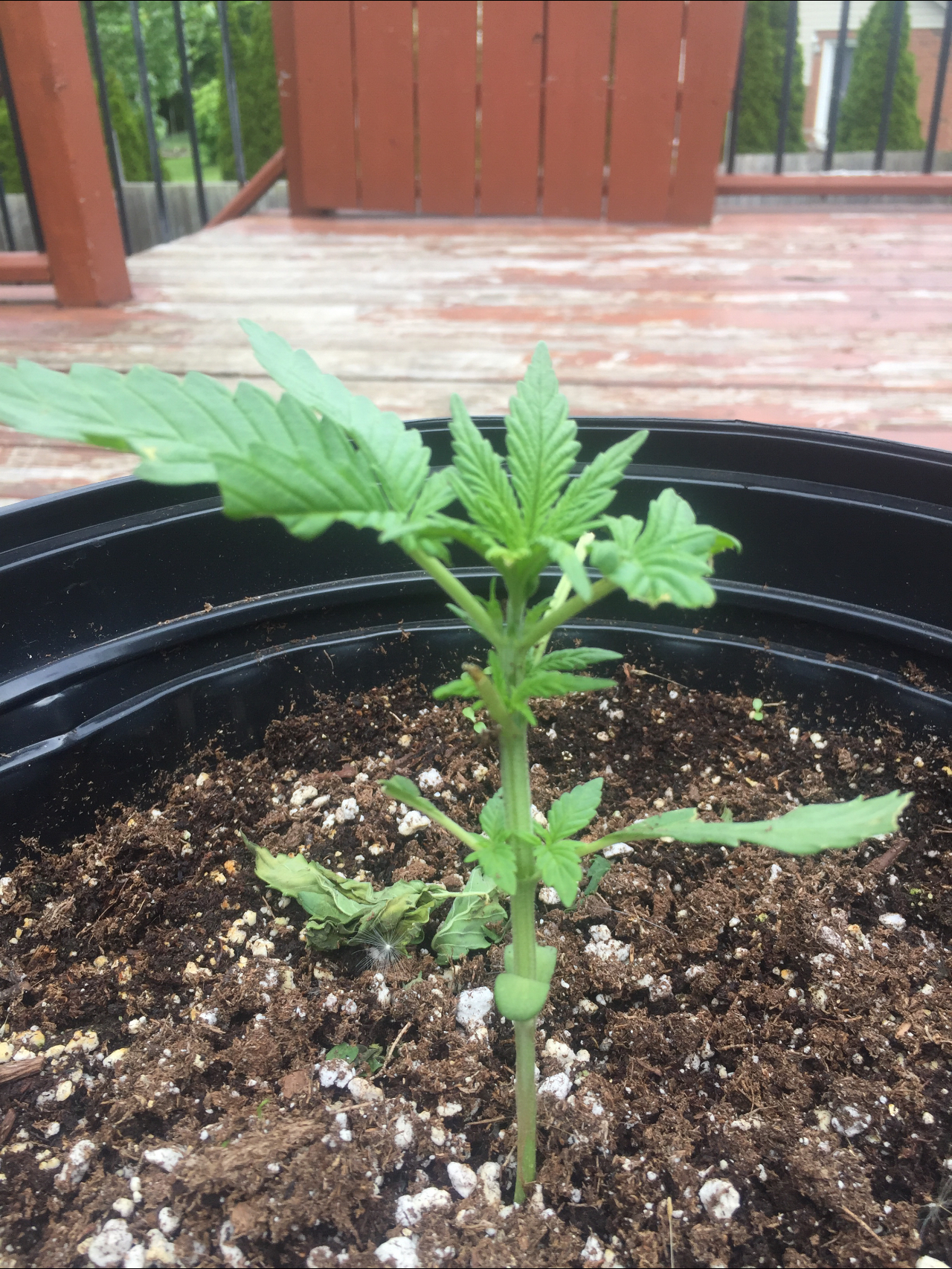 Nightmare scenario here. Both plants have been attacked. Girl #1 has been shredded. Roots are good though and some foliage is still ok. Sad you guys can see the massive growth she has been getting. Feeding 1ml of nutes per 4 cups of ph's water (6.0) I'm gonna keep her going. Girl #2 is growing but she was also displaced right out of the pot and replanted days later she is finally growing again and looking healthy. Small for her size though. I guess we will see just how strong these Dinafem girls are!
4 years ago
Plant 1 is 4" in height looking good. Plant 2 got attacked by something. I replanted it . Let's see what happens . She is much smaller. On the start of week 2 I began feeding .25 ml of nutes 2 times per week. Can I get some feedback ? Anyone ?
4 years ago
Seedlings are growing. Yesterday got down from 25 the day before to 12. Very abnormal weather this year. Plant #1 is about 2.5" and Plant #2 is about 1.5. Going to begin a small amount of nutrients this evening. Watering about 1 cup in the morning and 1 cup in the evening.
4 years ago
Both have popped . Both have micro climate domes. I'll probably keep em until the 1 week point. 2 days until I begin nutrients. Both pots have been moved outdoors all day as temps are steady around 18 degrees. Pic below is plant #1 . Plant #2 is almost identical. Watering 1 cup in the morning and 1 cup before bed. Gently around base of seedling.
4 years ago
Plant #1 came upside down tap root we growing up. So I had to the replant . Plant #2 is small , but popping up.
4 years ago
Kostecs This is actually Day 2 ... not 4
Seeds germinated, tap root is about 1/4" on one and 1/8" on the other. I have a bad feeling on these. They germinated for 2 days. Planted into 16L pots with ProMix BX as the medium. Plastic Micro Climates inserted.
4 years ago