shinybuds
First grow
Spring 2020
Closet grow
The plant has now been under two new 70w panel lights for 5-6 days. She's now growing like crazy and the auxiliary leaves are Presley starting to grow. I just started to train the plant to the right to increase lower exposure on the plant
3 years ago
The plant had its first training done about 10 days ago. Still growing consistently but not as fast as I thought after I transplanted it. I'm still convinced I need a higher wattage light to see more growth
3 years ago
Plant has now been transplanted for about three days and has been receiving nutrients. Seeing solid growth in the size of the leaves. The plant is now just over 6 inches tall.
3 years ago
The plant is now 4 7/8" tall. Once the third set of leaves has at least a 1/2" separation from the second set I will transfer the plant into a 3 gallon pot.
3 years ago
Second set of leaves are starting to each sprout two little leaves in the side of them. Stem struggled a bit but is getting stronger when I adjusted the distance to the light.
3 years ago
Stem is a bit thin and long so I supported it. Third set of leaves are just starting to sprout from the center.
3 years ago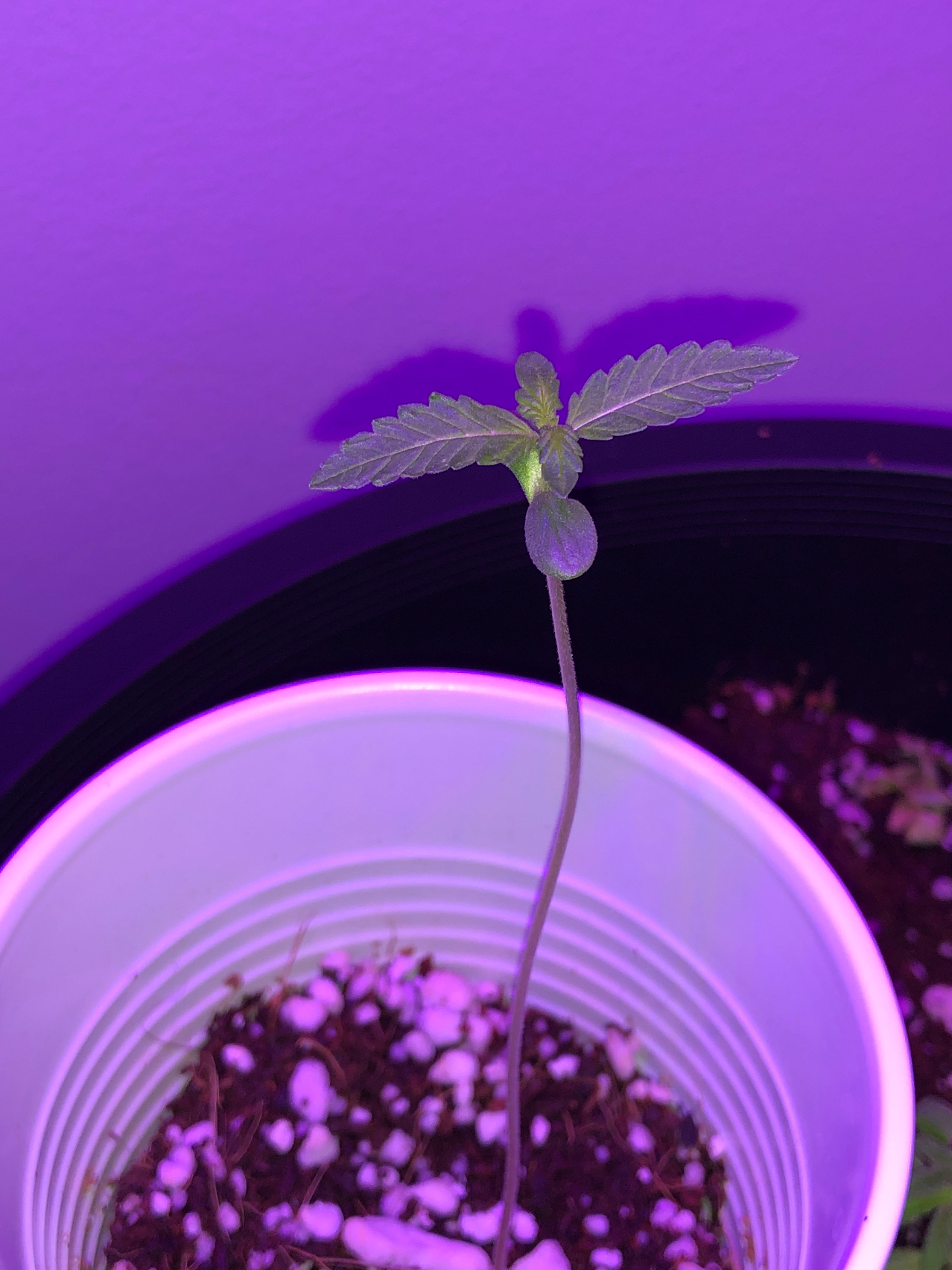 The leaves are starting to grow instead of only the stem growing. A second set has started to grow and desperate from the original.
3 years ago
Aviaationx Got any recommendations on lights and tents?
Shinybuds Lots of great full tent, light, and ventilation set ups on Amazon. If you're looking for a good size grow set up/ tent I would check the wish app or website.
Growing taller but leaves haven't grown much themselves
3 years ago
Dropthebass Looks like its stretching a bit much, try bringing down your light
Shinybuds I brought the light closer by a couple inches(now 10-12 inches from the plant) and it's leaves are growing instead of the stem reaching,
The plant has been in the soil for 3 days now. Growing in a small closet currently
3 years ago