Runtz X Layer Cake
From March 2023
First grow - Barneys Farm - Runtz X Layer Cake
Still bummed about how the Runtz has turned out, debating just getting rid and beginning a new auto grow to co-incide with my White Widow grow, any thoughts? Or should I see it till the end
14 days ago
BINAII It revegged. Could be interesting to see how it does as a monstercrop.
BL_Smoke I didn't even know revegging was a thing? Does that mean the whole time it was in flower has been reset? Damn that's mad! Will be some monster nugs if that's the case
BINAII It's not super rare that autos re-veg but sometimes it happens. With that one, after the leaves go back to normal and it's ready to flower….again, just put it under 12/12 lighting. The ruderalis might not be so strong in that one.
View 1 additional comment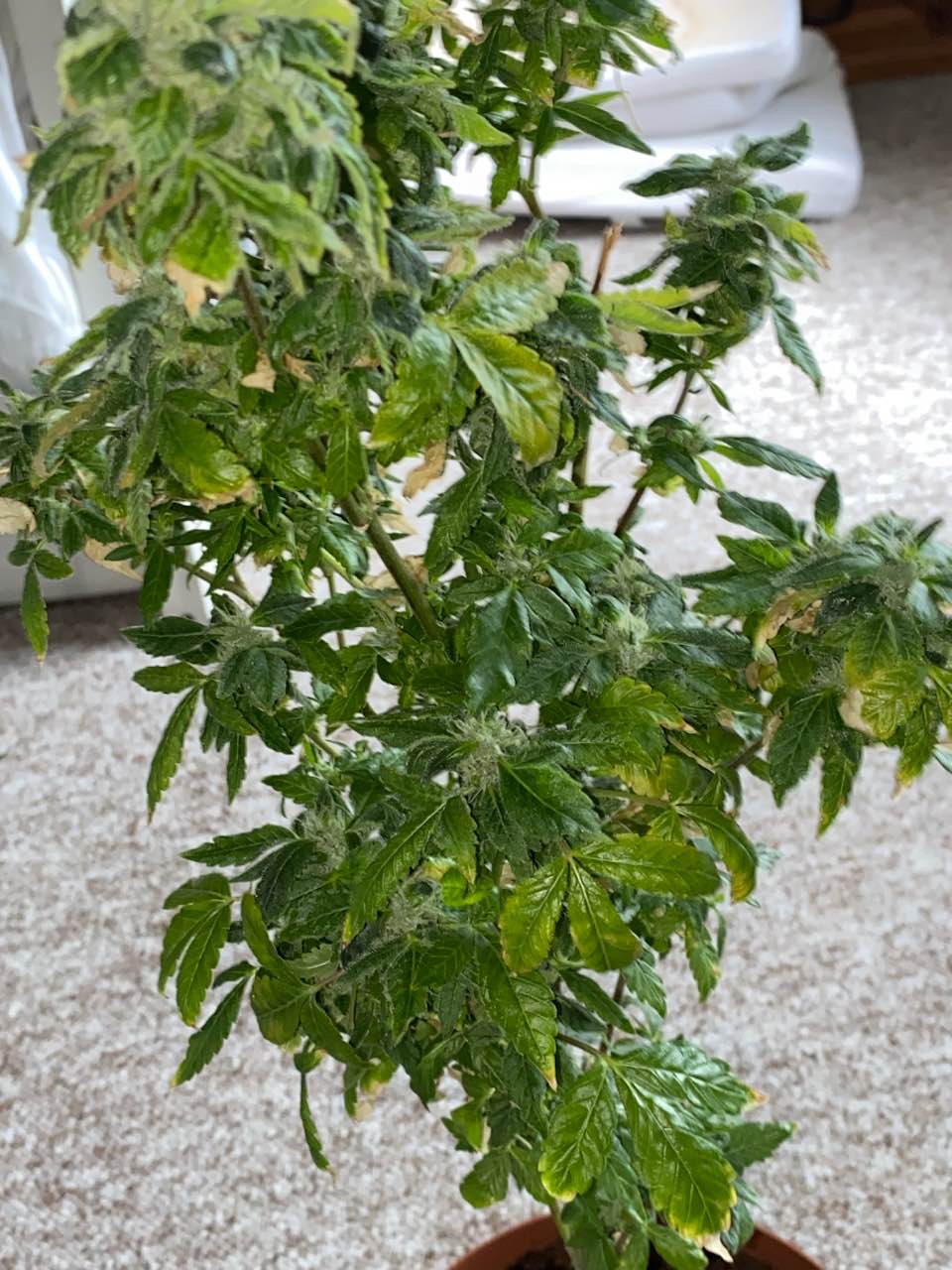 Defoliated some of the dead leaves, left ones with some green still on there to see if they can possibly bounce back, have also taken pictures of my nutrients I use from start to finish with all of my plants (with untested PH water) but yeah I hope this helps try to figure out what's happening. Investing in a PH pen in the next few days to maintain
a month ago
Caliban Or those OMRI certified? Which means organic. If you use salt base Nutes in soil it will build up into a nutrient lock pretty quickly and kill the microorganisms needed. Only use those Nutes for hydroponics and Coco in my opinion.
BL_Smoke Do you have insta buddy? Could I follow you up and DM you possibly? Sorry to be a pain just trying to make sure I'm working off of the best advice possible 🤦🏼‍♂️ very poor so need this to work hahaha
View 20 additional comments
Annoyingly, haven't got a clue what my plant is lacking even still 🤦🏼‍♂️
a month ago
Leland3471 Woah. Don't know about harvesting anytime soon.
View 26 additional comments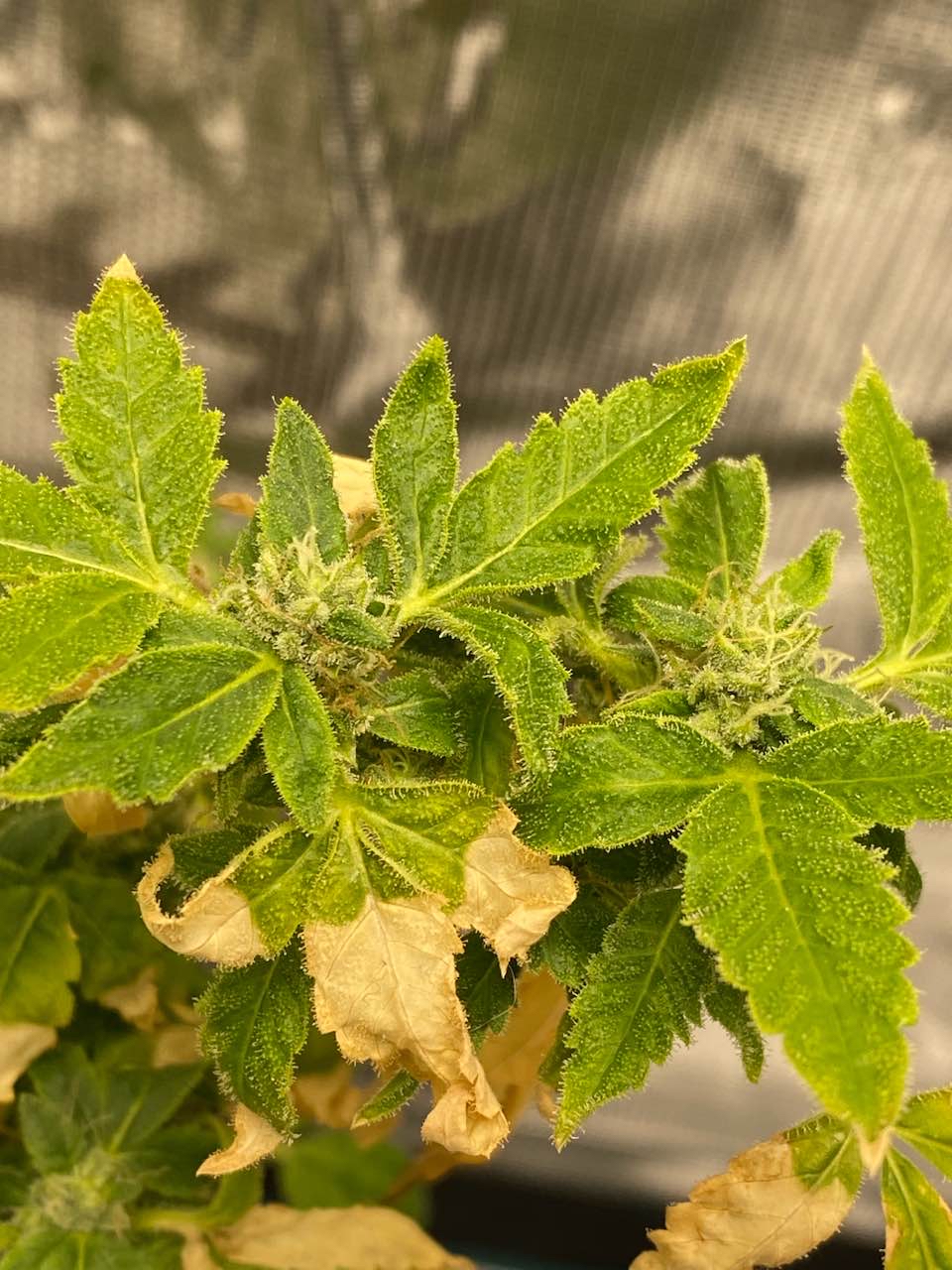 Still losing dried leaves
a month ago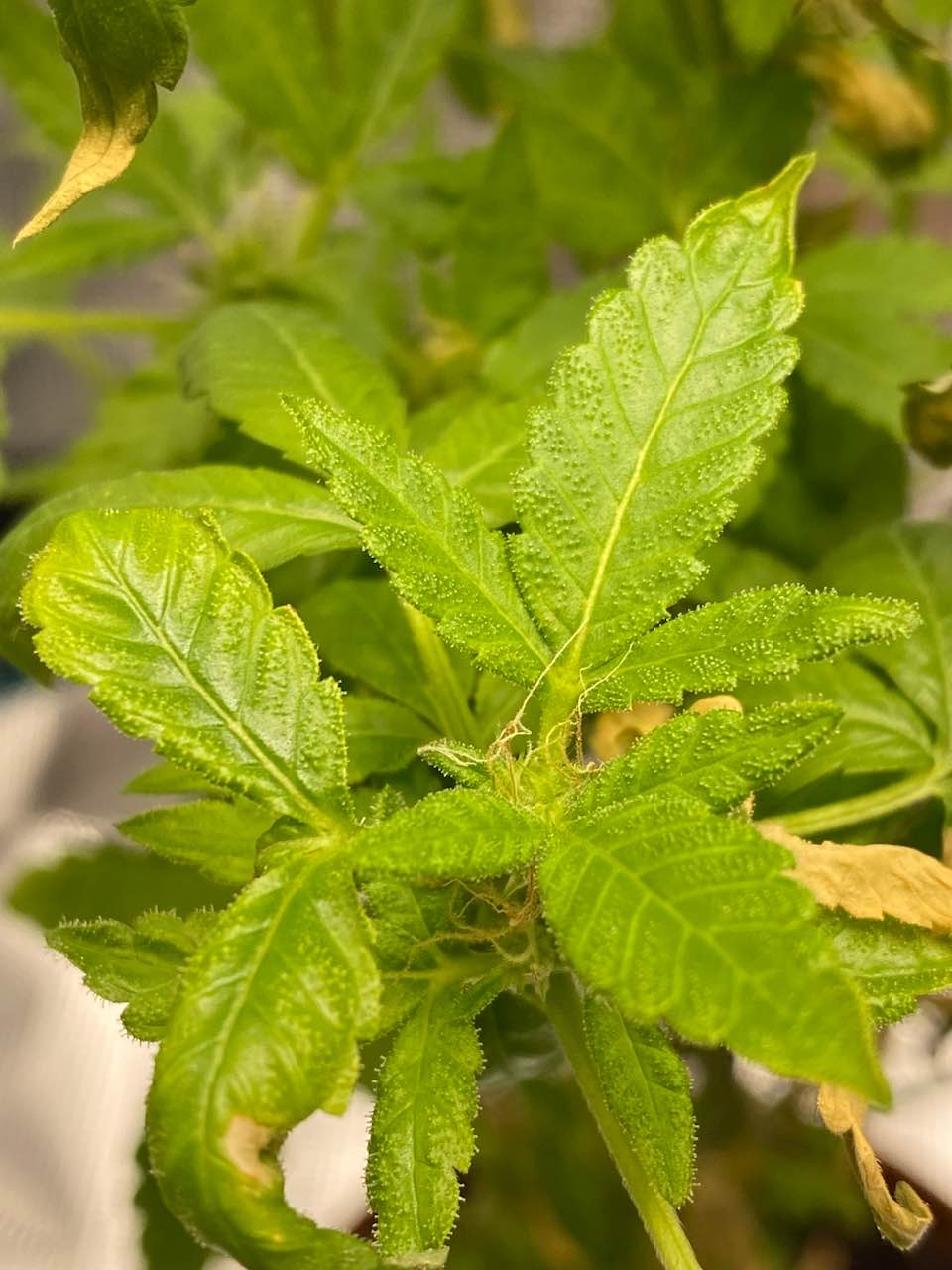 Still flowering
a month ago
Been a rough few weeks trying to sort out this overwatering issue, most of my flower sites have suffered tricom loss :( and the sites are very small but are changing colours during the flower stage which is good. Just hope I can get some decent yield for harvest 🙏🏼
2 months ago
Been going through the flowering stage, have recently (last 2 days) my leaves have all been drying and drooping off of my plant. I tried giving some Bloom and plenty of water, but it hasn't changed and seems to be getting worst, this is my first grow so not sure at all what's wrong with it, super worried it'll end up dying, does anyone know what could be happening to it?
2 months ago
Tallboy2023 Are you letting the soil dry between waterings? Looks over watered maybe?
BL_Smoke That may be an issue to be honest, I try to water when an inch or more from the surface of the soil is dry, but as of late it's been drinking more than I presumed it would, but aye think it must be overwatering
Tallboy2023 I water every 3-4 days and my plants are much bigger
View 2 additional comments
Still flowering, watering when dry and not using nutrients till tomorrow, hoping the nugs will thicken out 🙏🏼
2 months ago
AlwaysBoofing Only thing that will thicken the nugs is light intensity. Nice shoes btw!
BL_Smoke Ahh that makes sense! Was really wondering why it seems my plant is very thin compared to all I see on this app (or in general!) thank you for the advice I'll see if I can move the lights to be a bit closer and more intense. (And thank you my bank hates me for my shoe addiction 😂😂)
AlwaysBoofing I use a Mars Hydro TS600. Only costs around $80 and it gives great results for one plant. Highly recommend.
View 1 additional comment
Trimmed most of the foliage from the plant a few days ago to give the flowers more light, 12/12 is going well and about to give the plant it's last dose of nutrients before we flush it out. Excited for harvest 🎉
3 months ago
Tallboy2023 You're harvesting the plant in the picture?
BL_Smoke Not yet, only just started flowering, first grow so taking it day by day
Tallboy2023 10-4. You mentioned flushing which is normally at the end of flower. I was confused 😂 Best of luck. I'm a first timer too. Getting ready to flip my first batch 🤞🏼
View 8 additional comments
Debating cutting off some of the under carriage for this plant, but don't want to interfere with the flowering process that started a few days ago, will see how it goes from here may take some of the smaller leaves off of the lower levels to allow more light to come through. If not will wait till the White Widow comes and sort it all for that grow process!
3 months ago