gezellig420
1st Grøw | Advice Welcome!
Fall 2019
Pre98 Bubba x Kosher Kush. Auto. Two-plant mini grow. Michigan Made Mix soil. Mars Hydro Reflector 240. Two 3 gallon pots.
Pre98 Bubba x Kosher Kush
Needs compost tea. But life's been fucked recently so the girls are suffering. Too many damn recipes and opinions to sift through. I hear it's good to give during flowering which is about to start so maybe it'll all work out. The second pic of the curly leaves... idfk. I'm giving both these 3 gallon pots a half gallon of water every 4 days... and they're over watered?? Strug
4 years ago
Dukeshaba Hey bro go on YouTube and look up mr canuck he has a bunch of videos on teas and shit plus on his Patreons page ppl could tell you what's wrong with her she looks pretty sick
NickYo She looks over watered to me and starting a cal-mag deficiency.
NickYo Just google what over watering leaves look like compared to under watering. This is an example of the claw
View 6 additional comments
Actual day: 51 The brown on the lower fan leaves is recovering, yay! Going to be making a compost tea for them soon. Looks like they need it. Fingers crossed, it's my first time. Expecting flowering to start this week!
4 years ago
Dukeshaba Hey man I'm new too but they look sick. The pattern on the leaves doesn't look good
Watered #2 yesterday & #1 is showing pistols! Oh so excited! I think I am getting the hang of watering now. I give half a gallon to the 3 gal pot about every 3-4 days. Gotta look up how to make a compost tea Bc the leaves are telling me the micro-life cant quite provide the nutes they want. Also, had to include the pic of the blurples peeking out of the cabinet. I love that.
4 years ago
NickYo So it still looks a little over watered in my opinion. You want the leaves to be pointing up. When they curl down like that and the stem is still pointing up, that's over watering.
NickYo I forgot to add 😂 if the stems droop then that's under-watering. It's much better to underwater then overwater
Gezellig420 Thanks for the tips NickYo! Hmm, the soil was bone dry. Can it still be overwatered at that point? Does it need time to recoup? When I watered at this update, the new leaves uncurled and it grew another inch or two. I'm very confused about watering. Ugh. Also, I guess those pink tips aren't pistols. Looks like it's more foliage. It's actually only day 47, so Im expecting to see some pistol action probably next week.
The curling/mangling on #1's new growth has gotten worse and the soil seems dry...? Any ideas what could be causing this? I thought it was overwatering, but now that the soil is mostly dry and it's still mangled, I'm not so sure. Maybe it needs more time to be dry and recover...? The tips are brown so I raised the light a little in case it's a little burn. Since the soil is dry I did water again. The other lady (#2) is doing great and praising the sun 🌞. Since they are autos, I'm expecting to see some flowers any day now. The day counter is off by 12 days since the first seeds died. So we're are the end of the veg stage and about to enter flowering. Very excited about that! I hope they're doing good but I just don't know enough to be sure. Advice & opinions welcome!
4 years ago
MzMerryJay Hey, Check out a website called www.growweedeasy.com They have a list and pictures of all kinds of leaf deficiencies and can be really helpful in helping us newbies diagnosing and treating deficiencies in cannabis plants. It helped me spot the calcium deficiency in one of my girls. Based on your pics your plants look like you might be having a Magnesium Deficiency, comparing them to the photos. Check it out, they have some good information on there. Also you might want to lower the humidity a bit. The plants only need high humidity for the first 7 to 10 days. You should be somewhere between 45 and 50. Good luck.
Gezellig420 Thanks MzMerryJay! I'm glad you reminded me about lowering the humidity. I had forgotten about that and was on autopilot I guess. Lots to remember the first time through! I have been using that website as well, super helpful! After the watering (2 days ago now) the mangled new growth has straightened out and looks a lot better. The brown spots are still spreading but very slowly so I may have to make some compost tea to revive the micro-life which should correct the nutrients. But I'm going to wait another day to see if the overwatering was the actual issue prohibiting the roots from deriving the nutrition it needed.
Seeing some twisted new growth and some drooping on #1, indicating I've been over watering. I ran out of Primo water and had to use tap water run through the carbon filter I use for drinking on lady #2. Same 6.5 pH level so I thought it'd be fine, but she seems stressed. Yellowing between the veins could be an indication of that. It should clear up by itself as I correct the issue of over watering and switching water but if it doesn't I may be looking at a zinc deficiency. The brown bands between the veins on the lower fan leaves probably indicates pH fluctuations that stressed her out. Sorry girl! I'm learning.
4 years ago
Going strong.
4 years ago
I think I was severely under watering them. Added half a gallon to each lady this morning. This evening the canopies are noticeably larger and leaves plumper. I still don't know how much I should be watering a 3 gallon pot or how often. Advice definitely welcome.
4 years ago
Lights are on 24 hrs.
4 years ago
Both plants looking good. I turned the fans down and kept humidifier on low which keeps it at an even 55-60%. I was running the fans and the humidifier on high and the humidity was undulating between 90% to 40%. They seem to favor a lower but steady level. Hope the FAE is enough for them.
4 years ago
Baby Smalls is uncurling under the canopy. Sweet. Number One still growing slow and steady. 🤘
4 years ago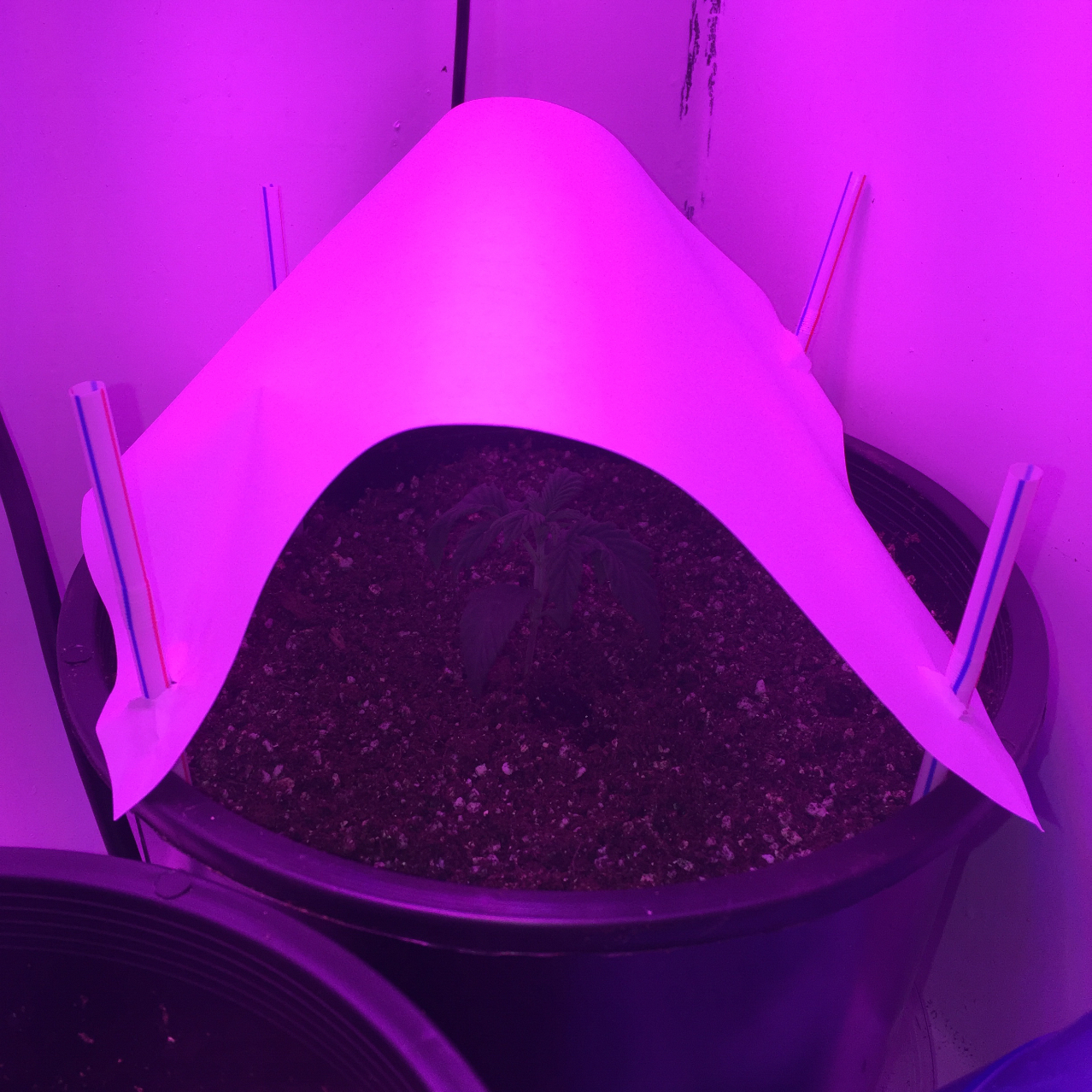 Transplanted the small one 3 days ago and it's curling downwards... Is that too much light? Or did I over water? It hasn't shown much growth in those 3 days. Not sure what to do...🙁 I built a little canopy to diffuse some of the light in case that's the problem. If I drowned the roots I guess I just wait for it to dry a little? Comments very welcome! The large one seems to be doing great.
4 years ago
Some cool new shots! ✌️
4 years ago
Transplanted #2 yesterday. Seems to be going well. The humidifier is really helping them grow rapidly, I feel remorse for overlooking that previously. I have them under 24 hrs of light. Technically this is day 24 for these plants, not 34, since the first seeds died, requiring a restart. But changing the grow start date is difficult via the app.
4 years ago
Yesterday I added a humidifier to the cabinet because humidity was only 40%. After a full day of 80% humidity, the girls have really perked up. I think that's why they were slow growing. Hoping they speed up now. The little plant was curling down a bit so I removed it from the blurples and put it under a few regular bulbs 💡, and this morning the curling has resolved. I think we're in pretty good shape! So excited! 😆
4 years ago
Transplanted the oldest girl today. She wasn't quite to the edge, but I was afraid the roots would get bound. Here's some photos of what she looked like before the transplant. I've turned on the bloom/flower light switch and am leaving it on 24hrs. They seem to be growing better with the additional light. The green spots in the soil have mostly disappeared on their own. I'm not convinced it's algae, but I'll be keeping an eye on it as it grows in the larger pot. If it is/was algae, would starving it of light kill it off?
4 years ago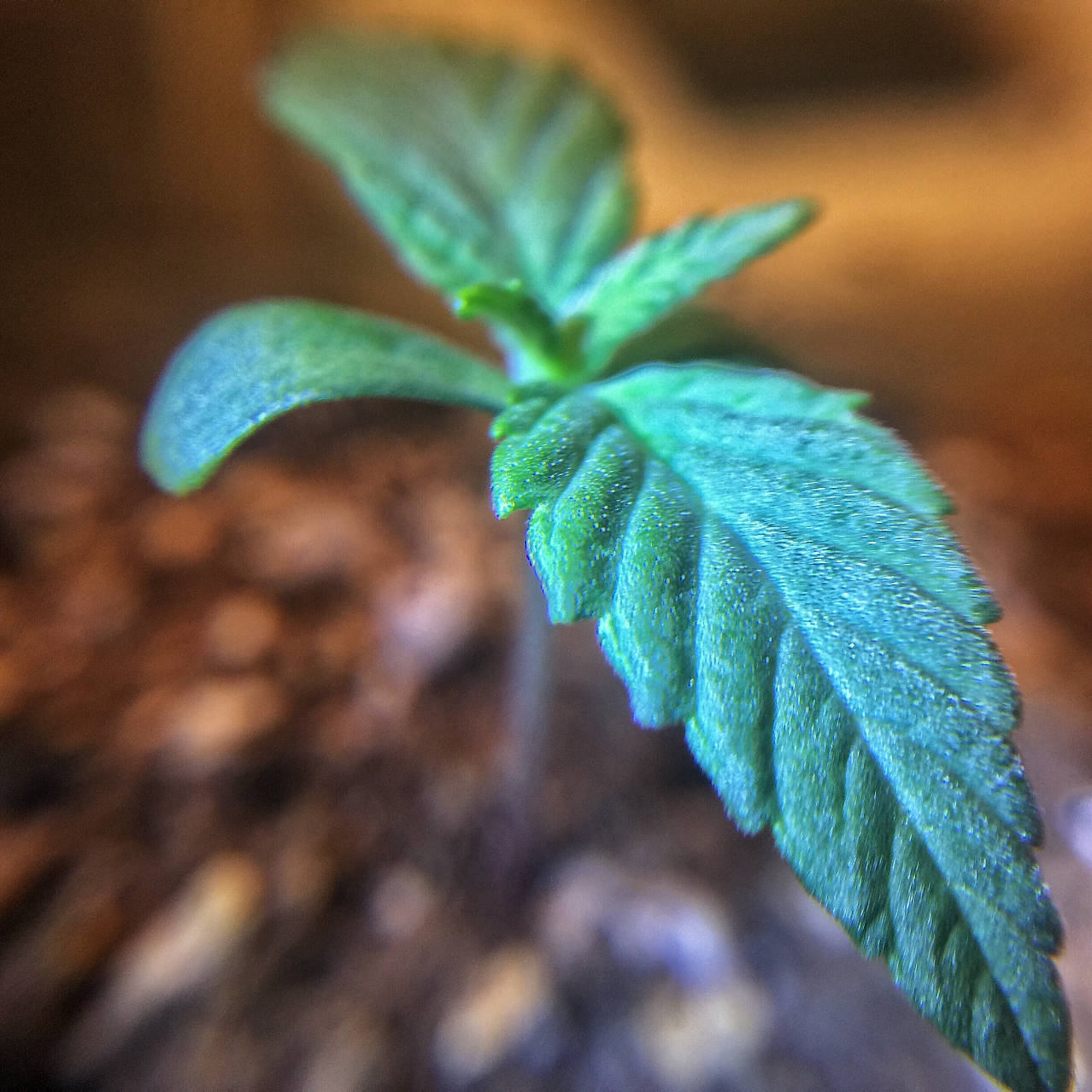 Those green spots in the soil I mentioned seem to expand/get lighter and shrink/get darker depending on how wet the soil is. Interesting. Anyway here they are growing and looking awesome under my jewelers loupe. One slightly younger than the other.
4 years ago
Mystrain420 Green spots on soil are most likely algae. If they seem to be connected to the moisture of the soil then yea definitely algae which means u r watering to often probably.
Mystrain420 Also using clear cups is a bad idea because light kills roots. And light + water= algae
Gezellig420 @Mystrain420, Hey! Thanks for the info, appreciate it. It does seem like it's just the algae. I have the transparent cups inside of opaque ones, but there is about a quarter of an inch gap around the brim that lets some direct light down. I'll have to figure out how to close that gap. Definitely want to protect the roots!
View 1 additional comment
🤷‍♂️❔Question for anyone that's used M3 Michigan Made Mix: Is this the Canadian Peat Moss in the mix, or is it a mold problem? It's so evenly distributed that I can't imagine it being mold or algae. It is my first grow & I believe I'm slightly under-watering, not over-watering. The green is steadily growing/spreading. I did enhance the saturation of the image for better clarity.
4 years ago
Our second little lady popped her head out today! I have them both on the 20/4 light schedule since they're up. Is that too soon? Not sure when that's supposed to start. They are autos. The first one is slowly getting bigger. Been loving the process so far...
4 years ago
Looks healthy so far. Is a brown stalk normal? Need to look that up.
4 years ago
9/12/19 The first two seeds died. 😔 Their taproots withered in the new soil. I guess it was too late to save them. I'll never use paper towels or peat pellets again. Well, unless I know the seeds are old and require pre-germination. But there is good news! The third seed I planted directly to soil is beginning to peak out! Whew! I can see the taproot has extended all the way to the bottom as well. Since the others died and I have space for two plants, I planted a second seed directly to soil using one of the cups of dirt from the failed seeds. I'm expecting that one to pop up in about four days like this one did.
4 years ago
MzMerryJay Hey, sorry to hear about your other seeds. But at least you got one that made it. 😊 It's all trial and learning. Hey maybe you should contact the company you got the seeds from. On the run I'm doing now one of my LSD seeds didn't pop using the paper towel method so I went ahead and planted it anyway and it still did nothing. So I reached out to the company I got the seeds from and showed them pictures and they sent me three free seeds.
8/26/19 was the original (failed) germination date. 16 days later I planted the current grow tracked here. — Planted a brand new seed straight to soil in case the stalled taproots don't pull through. Placed them in the cabinet with lights full blast but pulled up high. 78°. I will block the direct light if/when they start peaking out. Good vibes to all three of you ladies!! 😘 💕
4 years ago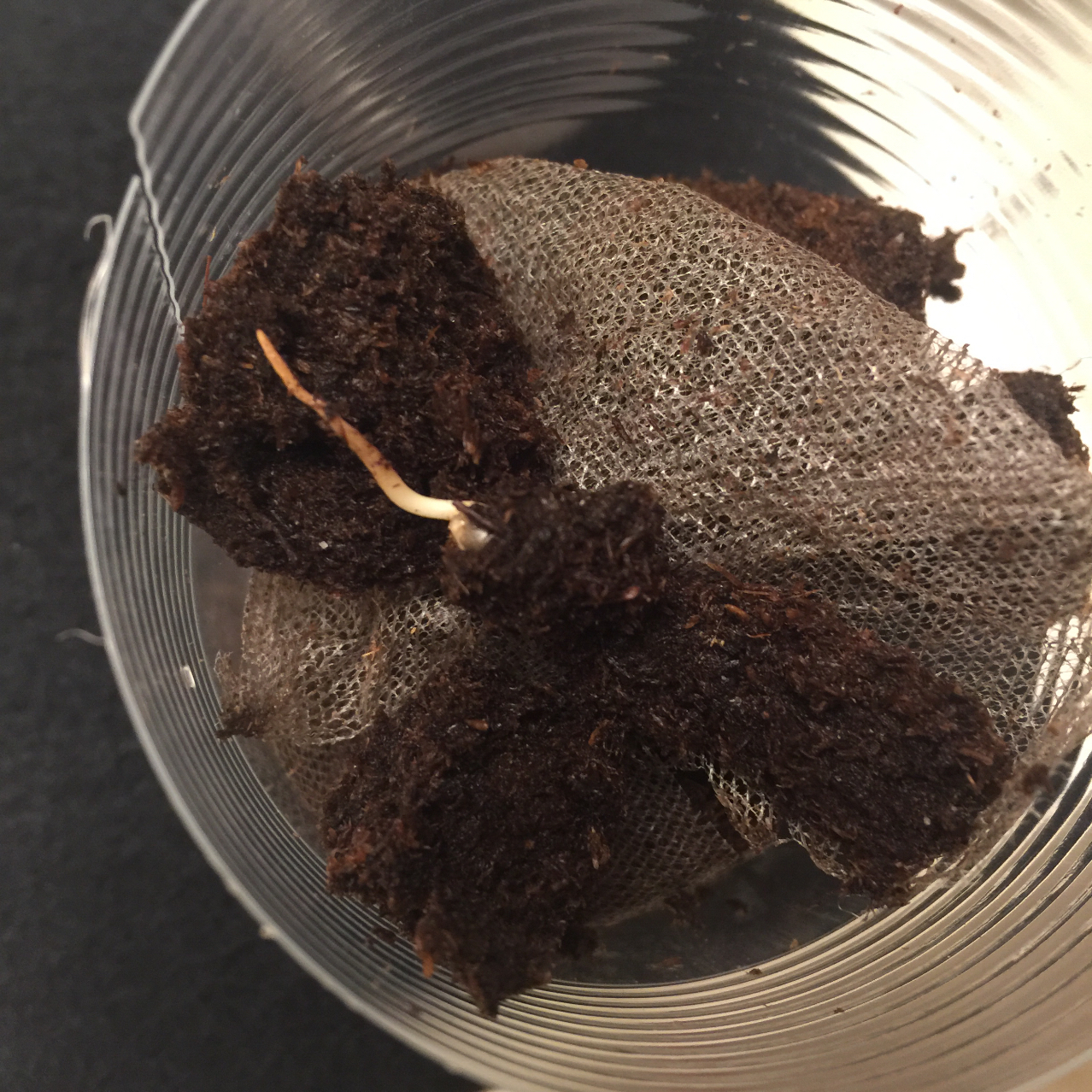 The two original seeds developed taproots in the wet paper towel but stalled and did not develop further after transplanting to peat pellets. I believe this is because the seeds are new and didn't need any pre-germination methods. The cells are probably already full of water and ready for soil. I have read that only old seeds (3+ years) need to be dunked or germinated with a wet paper towel. Hoping I can transplant again into soil and have them sprout. It concerns me that the fine hairs on the taproot have disappeared over the 10 days they were in peat. Apparently peat is too acidic for marijuana seeds and I may loose my first two ladies. 🤕 Next time I won't use any pre-germination methods and will plant straight to soil. TIMELINE: 8/26 Paper toweled seeds 8/28 Planted tap roots in peat pellet 8/31 Added 1 dropper of water to pellet, No visible growth (3 days in pellet). 9/02 Added 1.5 dropper of water to pellet, No visible growth (5 days in pellet). 9/05 Added 1 dropper to pellet. No visible growth (8 days in pellet). 9/06 Put under light (both switches on), fans on, under a upside down empty pot. 74°. [Attached images: The stalled taproots.]
4 years ago
Sativadiva It doesn't matter to me the age of my seeds...I use the same exact germ method every time. I've never heard that about new seeds either
Gezellig420 @sativadiva Yeah. It was hard to track down that new seed info which seemed to fit my situation. Most forums promote the paper towel & peat pellet method. Most growers do say every situation is different bc of the many variables revolving around growing this little life, which I guess is why it's so difficult to give concrete advice.
Sativadiva I use soil so my method is based partially on that