craigumsrilla
Trifecta +1
Mid summer 2019
Trying all three autos one for downstairs one for upstairs
Blueberry, northern lights, amnesia haze
Just going with the flow
3 years ago
This girl continues to grow trimmed off one bud and I am drying still had clear trichomes transplanting so late definitely effected growth cycle but buds are getting huge
3 years ago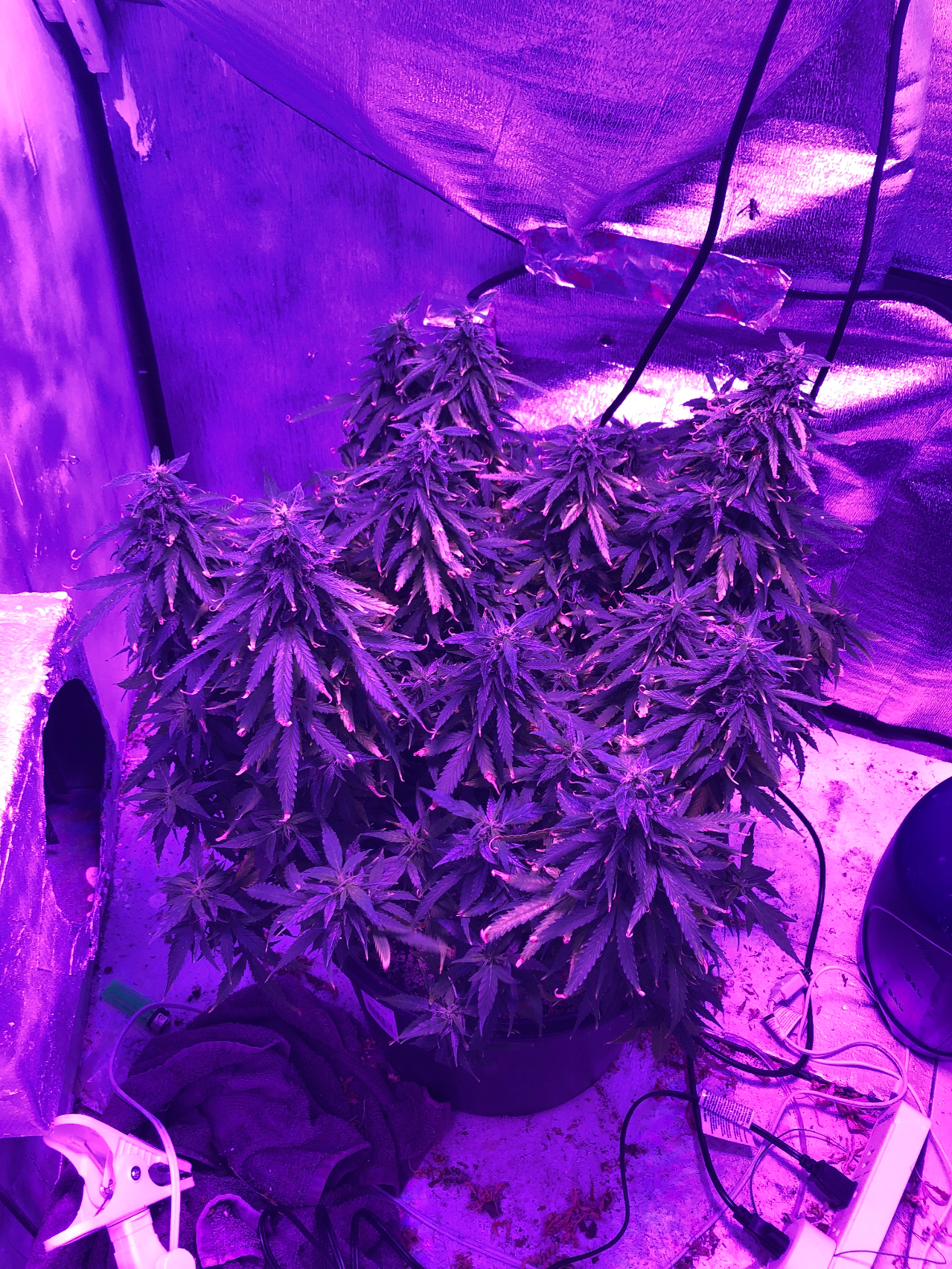 One last plant to go
3 years ago
Chopping down the northern light s smell dank
3 years ago
Chopped the blueberry at 90 days tried my first taste and it is delicious the northern lights has about a week left and still a few weeks on the amnesia haze
3 years ago
Day 90 blueberry looks ready to go still going to be a couple weeks in northern lights going to be a month on the amnesia haze gonna start a couple seedlings soon
3 years ago
Plants are surviving not doing great but still going
3 years ago
Getting there
3 years ago
All but the blueberry were showing nutrient burn I think but I flushed them and have been watering with r regular h2o
3 years ago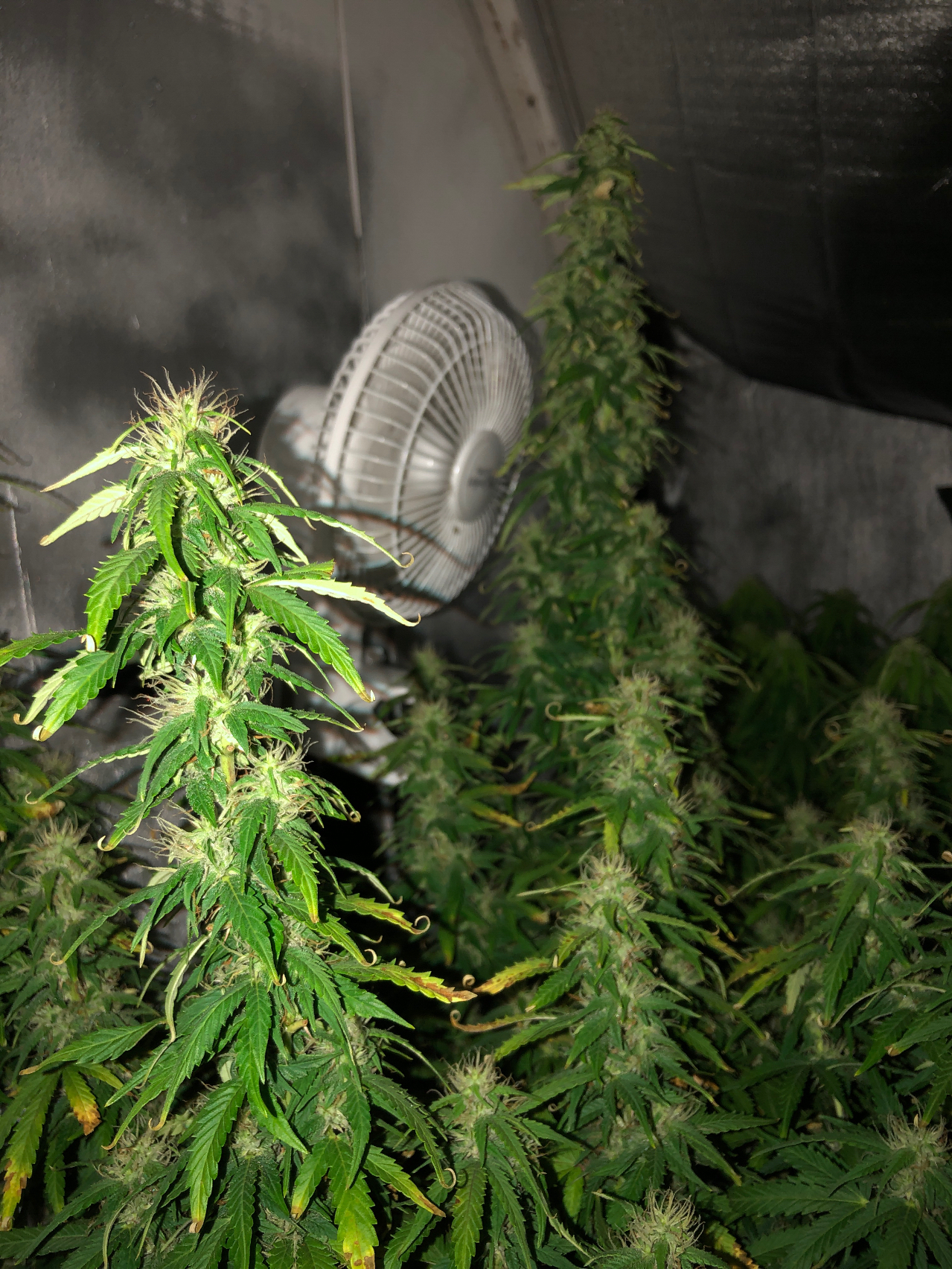 Starting to see blue on the blueberry
3 years ago
Flushing all plants for a fresh start
3 years ago
One plant is small but the buds are huge
3 years ago
3 are in full flower now waiting on back left to start budding. Rear right just started budding a couple days ago it seems like the cannabis leaves go darker green when they are in flower.
4 years ago
Started feeding with big bud
4 years ago
Looks like the one of the plants had a potassium deficiency gave her some nutes and she looks like she is recovering any later in the bidding phase could've been a big problem got new big bud hope that helps
4 years ago
Struggling with one plant growth is great think I have a potassium deficiency I gave her more nuts hope to see some improvement
4 years ago
Looks like one of the plants has nutrient burn. I am going to flush it out and see how she does
4 years ago
Plants are growing well still have lights on 24 hours since they are autos
4 years ago
2 plants are starting to bud looking good
4 years ago
Did another round of nutes yesterday they are loving it.
4 years ago
Gave plants regular water they are growing quick I think they are going to need nutes again soon. One plant is already heavily budded growing very fast
4 years ago
Plants are recovering they were showing signs of nutrients deficiency so a round of bites and they are looking good
4 years ago
Doing some more later plants are looking good on plant I believe to have some nutrients burn gonna back that one off
4 years ago
So I decided to do lst with all plants they are responding very well to it. The mirror paint is working well stems were already growing outward very well before I bent them over. Ha. I'm thinking it's from the high amount of reflected light
4 years ago
Started lst on all plants and they are reacting well I am going to leave one plant to grow all natural
4 years ago
Plants are stretching for about 3 days now I'm going to test when is the best time to start lst
4 years ago
I transplanted the plants to their home container they are reacting well and starting to stretch
4 years ago
Plants are recovering I think I overwatered I was using the wind tunnel fan but plants got windburn I am now using the clip on fan to give a nice gentle breeze but now I need to water less so long story short a lot of stress on these gurls out of the gate but they are recovering and starting to stretch in veg still similar growth rate to last grow
4 years ago
Plants got windburn stopped fan need to keep these gurls growing
4 years ago
The 3 are going strong I popped one more to go to the original setup. I have 2 600 watt LED lights ready to go when they hit veg and get out of seedling I picked up some car dash reflector shields to put on the ceiling
4 years ago
Started by putting seeds in damp paper towel for 24 hours then dropped the seeds in red cups with pro mix michoriza. First 3 days under 45 watt grow light one seedling started to reach for the light fixing that now going to fill up cup with extra soil. Going to set these babes for 20 on 4 off
4 years ago