ashd46
Northern Lights Autoflower First Grow
Spring 2021
Two Northern Lights Autoflowers in 5 gallon pots, 2x2x4 tent
Northern Lights Autoflower
cut off stems and curing
a year ago
mimisflower Can't wait till I'm at that stage! Working on my first grow - I have 2 NL auto growing (day 25).
almost ready for harvest
a year ago
harvested, trimmed, and hanging to dry
a year ago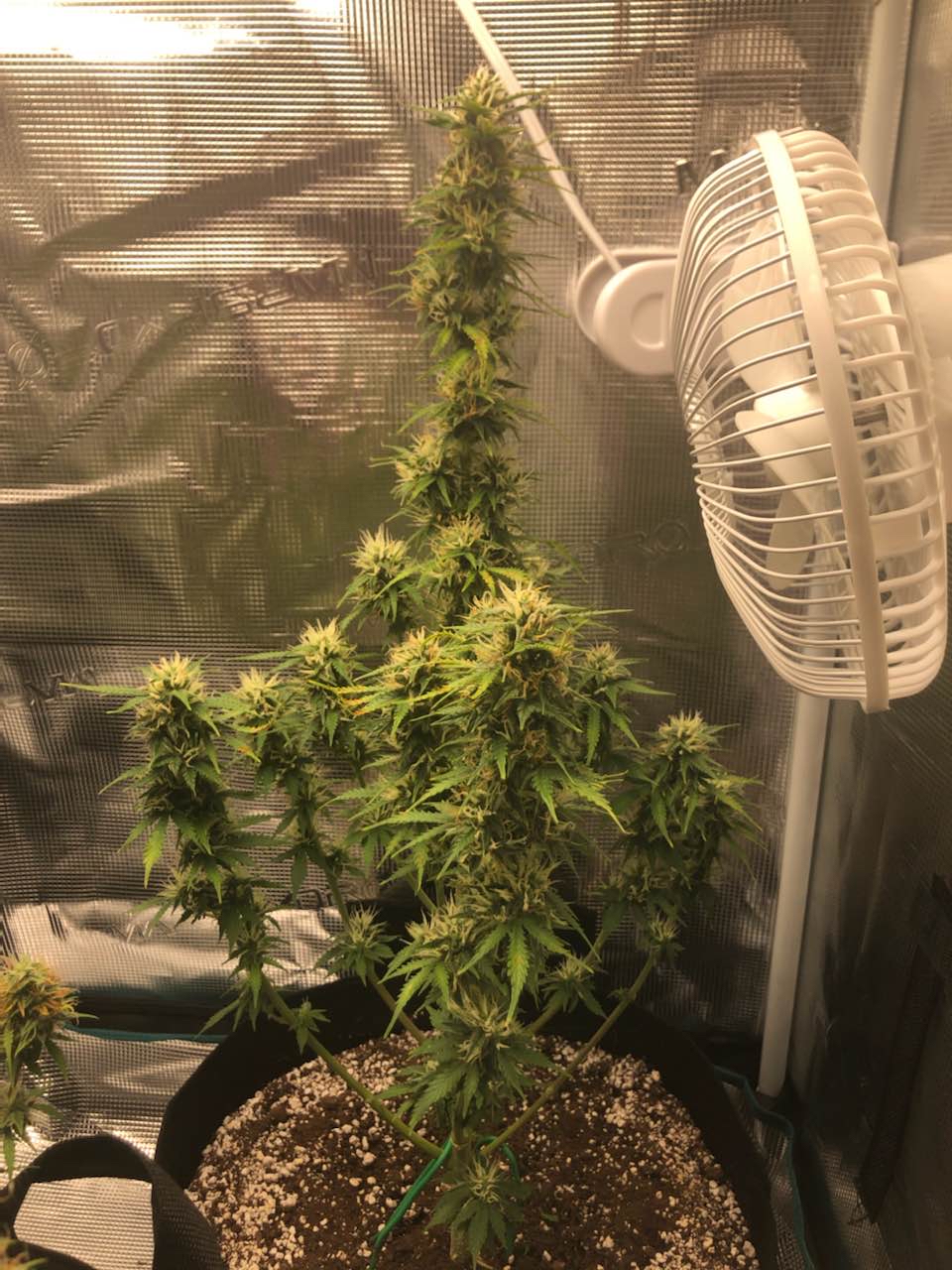 girl #1 trichomes
a year ago
girl #1. Smelling really good in the tent :)
a year ago
starting to see some flowering on girl #1
a year ago
Girl #1 still growing I think she's almost starting to flower
a year ago
girl #2 on day 14 after being planted in the soil
a year ago
continuing to grow bigger and looking good. Still don't know what that discolouration on the leaves was from but it seems to not be coming up on the new leaves.
a year ago
Hammerhead420 If I may ask, what type of soil are you using? Ph? And do u use cal/mag? Almost looks like iron or magnesium deficiency.
girl #2 starting to grow more. she's on day 8 after being planted in the soil.
a year ago
plant #1 has some discolouration on the smaller leaves inside, does anyone knows what that is?
2 years ago
seed #2 planted three days ago has sprouted.
2 years ago
ashd46 day 18 of the whole grow :) This is the second seed I had to plant in this pot because the other one didn't sprout. The other plant in the grow is on day 18
mystrain420 Oo ok so you just keep track by subtracting I guess 👍🏾
girl #1 is continuing to grow pretty steadily every day. If anyone has any tips for a first time indoor grow please leave them below!
2 years ago
seed germinated and planted into soil
2 years ago
First sprout growing
2 years ago
starting one new seed in water to replace seed that didn't sprout fully and stopped growing.
2 years ago
Second sprout still small and attached to seed. Feedback welcomed if anyone has any ideas why it's not sprouting as much as my other one.
2 years ago
gregg01f Maybe squirt a little ph water to moisten or use a bottle as a humidity dome
volcanobag Be very careful and heal the seat off crack it open
buddykushman Are you keeping a humidity dome over it? Try keeping the shell moist so that it falls off on its own. Be careful and don't pull to hard.
View 1 additional comment
sprouts starting to come up
2 years ago
ashd46 5 days from the time I planted the seeds which already had been germinated
View 6 additional comments
seeds planted in soil mixture
2 years ago
still germinating
2 years ago
ashd46 planning to put them in soil ASAP just got to get it ready
JayBee420 Soon as you see the root come out you want to plant the seed good job though we all learn together :)
View 1 additional comment
Both seeds sprouted about 2 millimeters each
2 years ago
Seeds in paper tower for germination
2 years ago