smith429
WW Grow
2022 end summer
4 plants from seeds in Autopots advanced nutes. Gorilla 5X5 tent and 2 Kind X420 Led lights.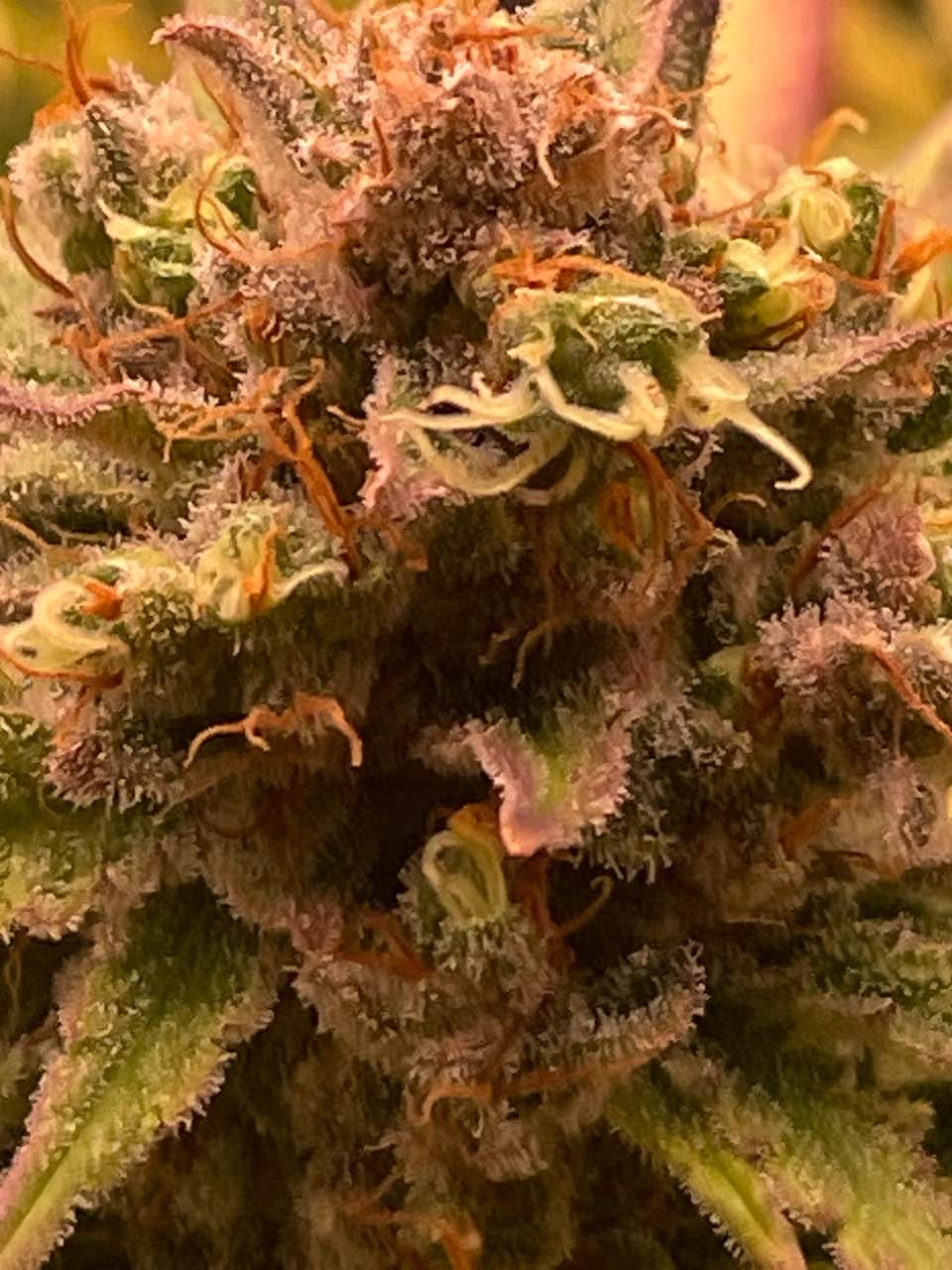 Well sorry for the late update but 2 of the girls recovered and the 3rd didn't die. Ended up with 3/4lbs from the harvest good stuff too. Just ashamed they locked out. Would have been more if they didn't.
a day ago
Well it's been a while since I posted. Last post I was having issues with lockout. After working with the Autopot guys who were very helpful we managed to recover 2 of the 4 one is hanging in there and one died completely. We have determined it was over feeding. The advanced nutes were way to much for this system. I have gotten some great advice from them on what to do on the next batch. They recommend using Athena's pro line and given me some guidelines for EC and PPM for best results. We will be starting another batch so hopefully we will see better results. I should get some good stuff off the 2 but not the harvest I was hoping for. I look forward to starting the next batch with Athena nutes.
a month ago
Still having issues. One of the girls seems to be completely locked and dying. 2 others are still looking ok but yellowing leaves like they may still be locked out. The 4th girl is still looking great with beautiful flowers. The straight water did not pull them out. Very disappointing since they had been thriving. I'm working with advanced and Autopots to try and figure out what is going wrong.
2 months ago
smith429 That was gonna be the next I try but I think I have something else happening. I started with Earth Juice the first 2 grows in these pots and now advanced. All 3 have been the same I hit week 4 of flower and they seem to get locked out.
chris420_ How high is your ppm and what order are you mixing the nutrients?
View 4 additional comments
Well looks like I have over did it to theses girls. They have stopped drinking. They have gone from 5 gallons every 2 days to about a gallon every 2. They seemed to have locked out. I have cleaned the tank and running straight water. I plan to run water the next few days and then go back to nutrient water half strength to hopefully get theses girls back healthy. I will definitely bring down these nutrients in the next run. These autopots hold a lot and the salts have built up.
2 months ago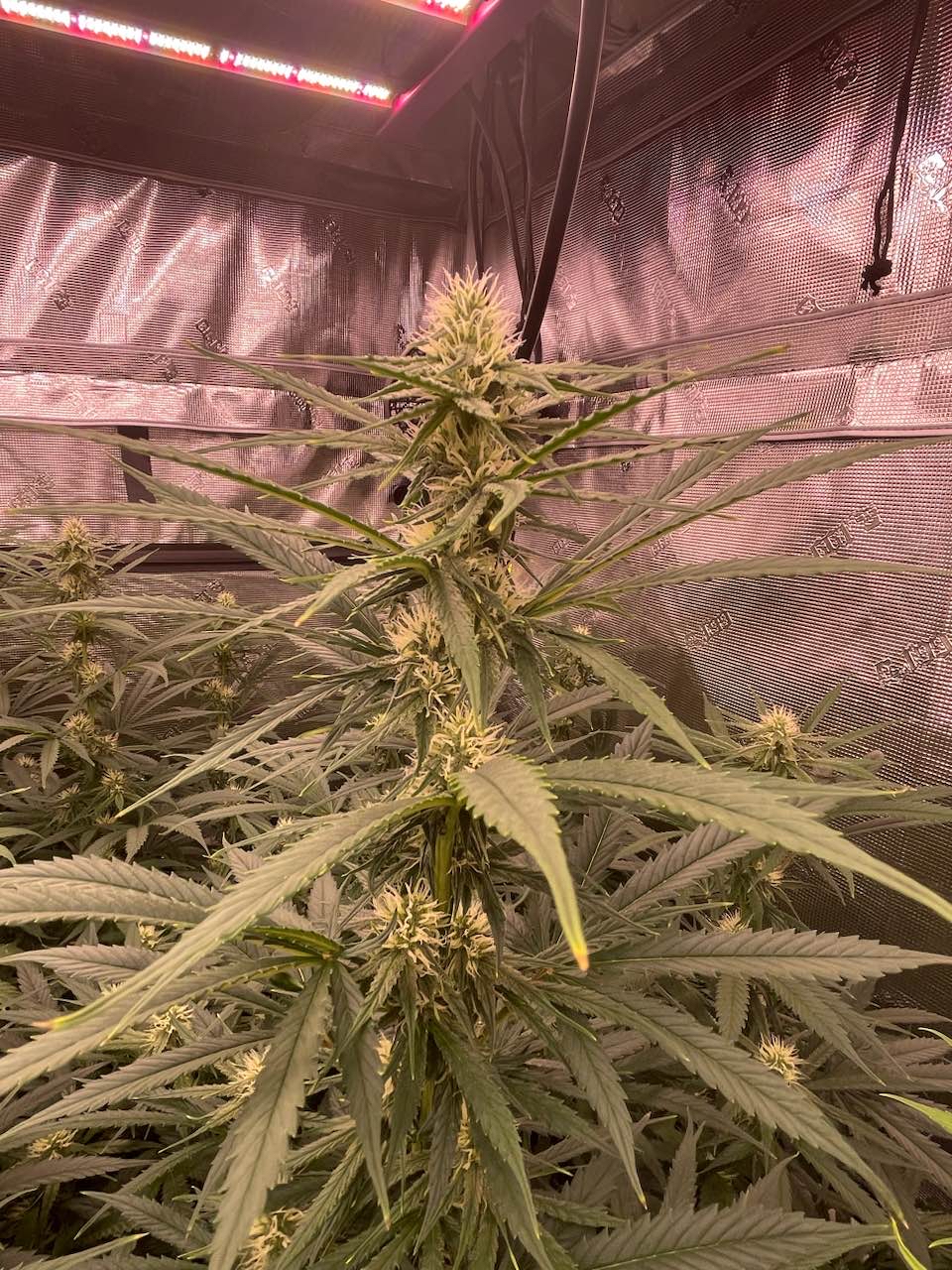 Week 4 Flower: Flower A - 4.1G/gal Flower B - 4.1G/gal Big Bud - 8ml/gal B52 - 4ml/gal first tank Bud Candy - 8ml/gal Rhino Skin - 8ml/gal Cal/Mag - 4ml/gal Voodoo Juice - first tank 8ml/gal one feed for week
2 months ago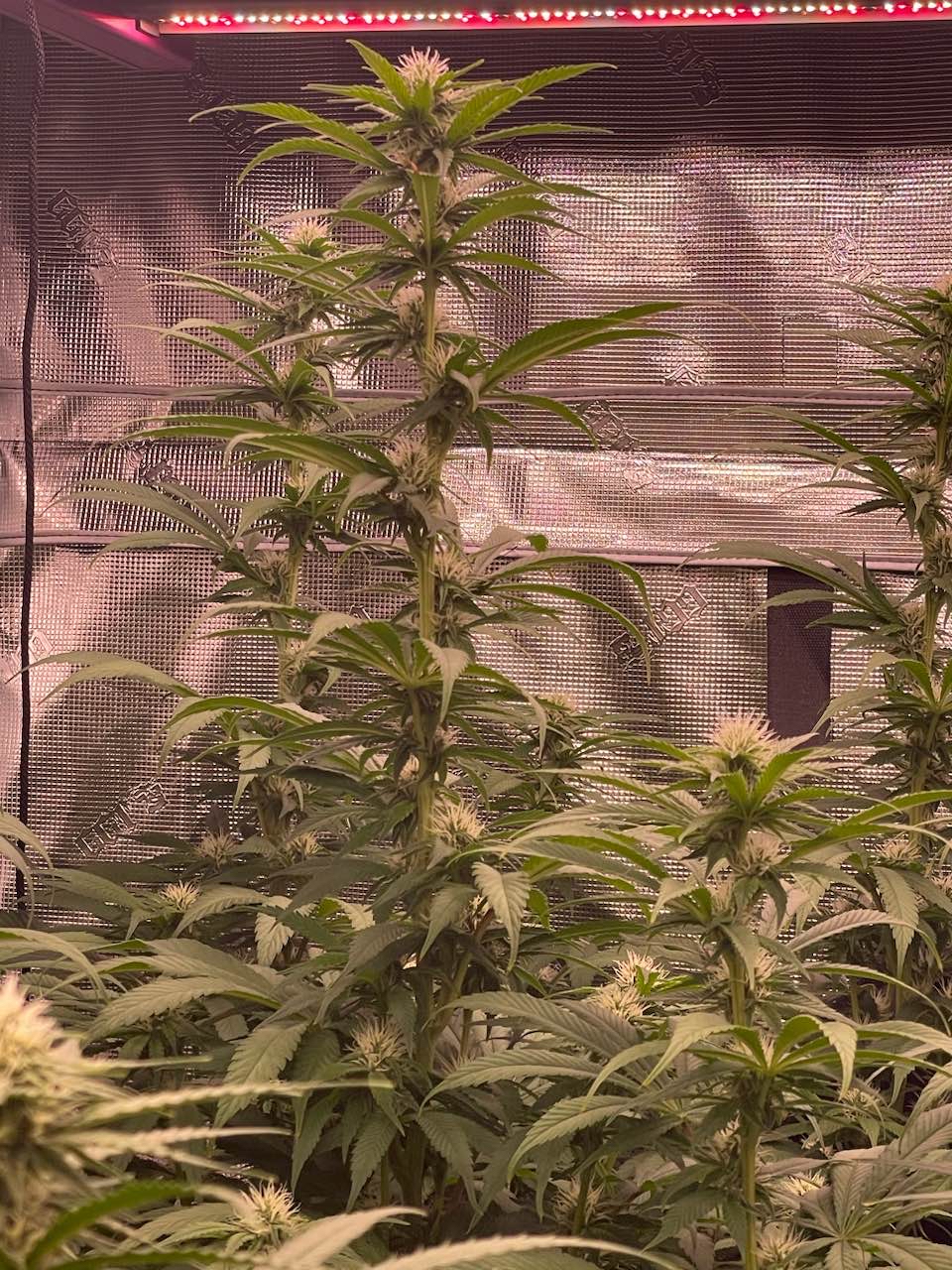 Theses girls are still looking good. I will probably thin them out this week. Only complaint with these advanced Sensi dry nutes is the buildup in the lines in this autopot system. The growth is great and the girls are thriving but this is the second time the lines were plugged solid. I had to pull all the lines and valves and clean everything. I'm using clear line as a preventative but it's not working.
2 months ago
Doobie123 You're going to be very happy with your results
Wow the change in just 2 days. I love watching these girls grow.
2 months ago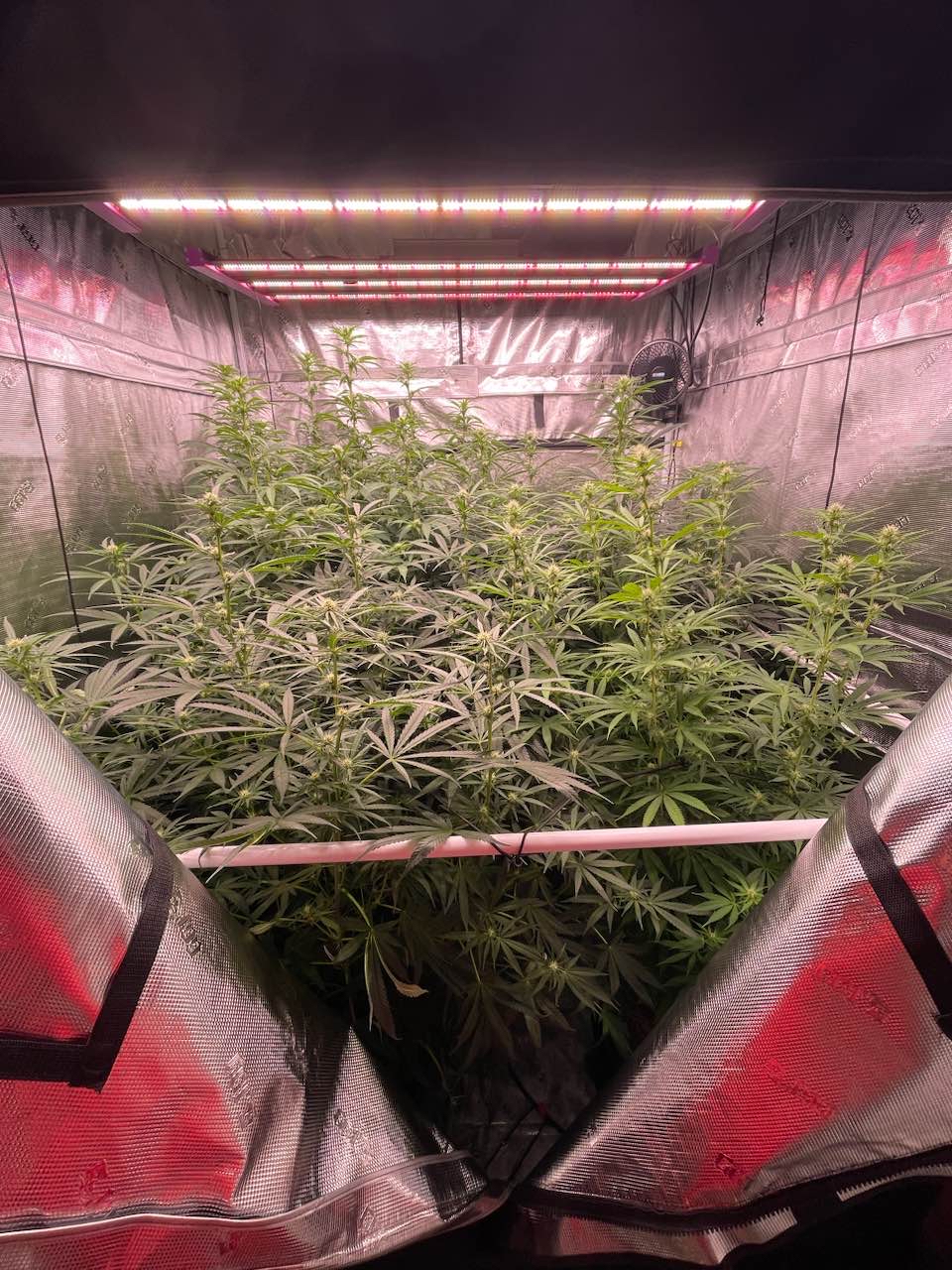 Week 3 Flower: Flower A - 4.1G/gal Flower B - 4.1G/gal Big Bud - 8ml/gal B52 - 4ml/gal first tank Bud Candy - 8ml/gal Rhino Skin - 8ml/gal Voodoo Juice - first tank 8ml/gal one feed for week
2 months ago
smith429 These girls are looking good going into week 3 of flower. Starting to see crystals on the flowers.
Wow I'm so happy with these girls. Only 2 weeks in flower they have doubled in size and loaded with buds.
2 months ago
Week 2 Flower: Flower A - 4.1G/gal Flower B - 4.1G/gal Big Bud - 8ml/gal B52 - 4ml/gal first tank Bud Candy - 8ml/gal Rhino Skin - 8ml/gal Voodoo Juice - first tank 8ml/gal one feed for week
2 months ago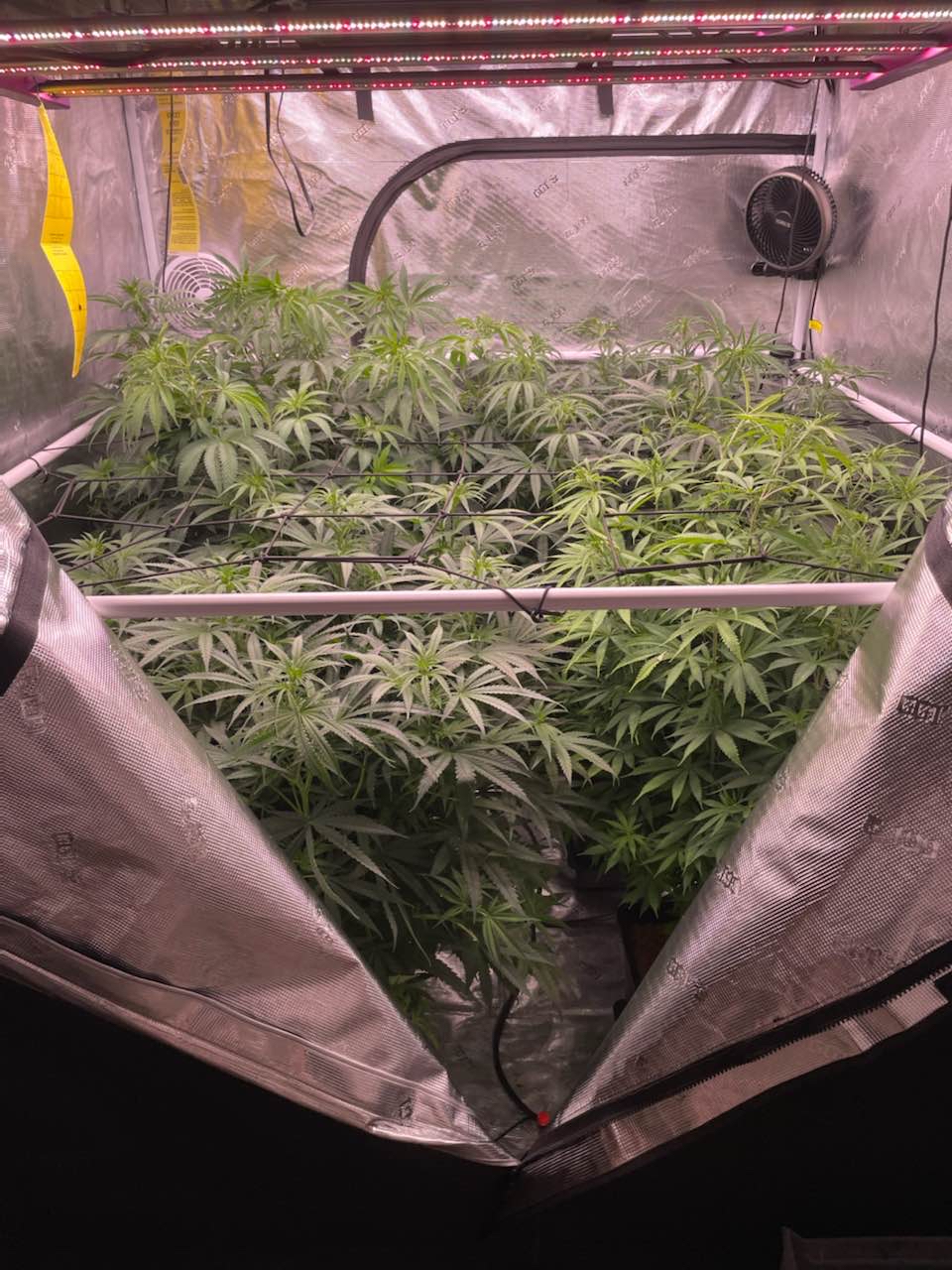 I put the trellis net down tonight I think I might should have done it a bit earlier. These 4 girls have taken over this 5X5 gorilla tent. I will definitely need to thin them out soon. If they keep shooting up at this rate I may need to order the 2ft extension instead of these 1ft. I'm so impressed with these girls and these Advanced Nutrients Sensi Pro dry nutes.
3 months ago
smith429 Yes it's the Sensi pro line water soluble. This is the first grow with these. I'm impressed so far. I have autopots and so far working good.
View 1 additional comment
3 days into flower and these girls are looking good
3 months ago
Wow flower is starting off with a bang. One day with new light schedule and the new nutes to start with. These girls are loving it. Drank all 5 gallons in one day lots of new growth and even the light colored girl is starting to darken. Hope they keep this up and give a bountiful harvest. We are now on three straight weeks of these girls sucking down 5 gallons a day. I am going to look at getting a dehumidifier to put in the tent since the humidity is staying in the 70's. I need to get it lower while they are flowering don't want any mold to start. Also I increased the red spectrum to 50% on the lights.
3 months ago
kells medmanukouxrxkutmsub6wjlrqi4rk6evjdlnywf5zllmv7vtgbfqiyd.onion?mmuk_id=716 medmanuklz7sh4m4kzuhsog5nmqu5kugyuwzt5a2qcnlgpfxzbp5jiyd.onion?mmuk_id=716 medmanukbmbgu43fdkxgf32crjq3kufisbd7ku6tjg6z7npbcaf2qxid.onion?mmuk_id=716 medmanukrnxfs37dnqf5ale2j4qk6wiitafefhthhwlxaqblxff63uid.onion?mmuk_id=716 medmanukv5an4f7cexajuubeyq7jdsfrzbplmolhxjnq2bydzee6jjid.onion?mmuk_id=716. Best cannabis vendor out there do discreet
Started 12/12 light schedule for flower and turned the red spectrum on these kind lights to 25%. Trimmed plants cleaned out all lower limbs and leaves. One plant is staying light green but looks healthy seems to be a heavy feeder Week 1 Flower: Flower A - 4.1G/gal Flower B - 4.1G/gal Bud Ignitor - 8ml/gal B52 - 4ml/gal Rhino Skin - 8ml/gal Voodoo Juice - first tank 8ml/gal one feed for week
3 months ago
In less than 24hrs they downed 5 gallons of nute water. Drained the reservoir. Temps are good staying 70 with lights off and 75 with lights on. These girls are drinking and exploding.
3 months ago
weedwizzard690 Humidity causes Osmosis Suction, which means the humidity causes water to be pulled from the leaves causing suction, this suction pulls the water/food through the roots of the soil, so you recommend 70 to 75 degrees so ideal osmosis suction to occurs? Ill give it a shot and try it on the plants.
weedwizzard690 Do you think it is both a combination of humidity and food? Can I ask what your using for food?
smith429 So temps stay between 70-75 and humidity in the tent has been 75-77%. I'm using Advanced Nutrient Pro grow A and B I have the same I'll use for flower A and B. It's their new dry water soluble powder nutes. I'm growing in a auto pot system with coco. I have a friend from advanced nutrients working with me lining out a feeding schedule to work with these nutes. We have some advanced add on too we are mixing with it. I have in the previous post the amounts of everything we are feeding them. We started low and have increased each week. I'm impressed so far with these nutes. I was going through about 10 gallons a week until last week they started drinking 5 gallons a day. At first I thought I had a leak somewhere but those 4 plants are sucking it up. I'm hoping this is a sign for a good harvest if they keep this up.
Week 5veg: Veg A- 3G/gal Veg B- 3G/gal Bud candy- 6ml/gal B-52- 6ml/ gal Cal mag 6ml/gal
3 months ago
Wow theses girls are drinking. Filled up 5 gallons in the reservoir and they emptied it in 3 days.
3 months ago
Week 4veg: Veg A- 2G/gal Veg B- 2G/gal Bud candy- 6ml/gal B-52- 6ml/ gal Cal mag 6ml/gal
3 months ago
smith429 Week 3 veg: Veg A- 1.5g/gal Veg B- 1.5g/gal Bud candy 6ml/gal B-52 4ml/gal Cal mag 4ml/gal
smith429 Increased grow A and B .5g so total 2g per gal
smith429 Not a burn it's a deficiency. We are fine tuning the nutes. First time using these advanced Pro dry nutes in autopot.
View 1 additional comment
Foliar feed advanced B52 4ml per liter 2 days ago wow the difference.
4 months ago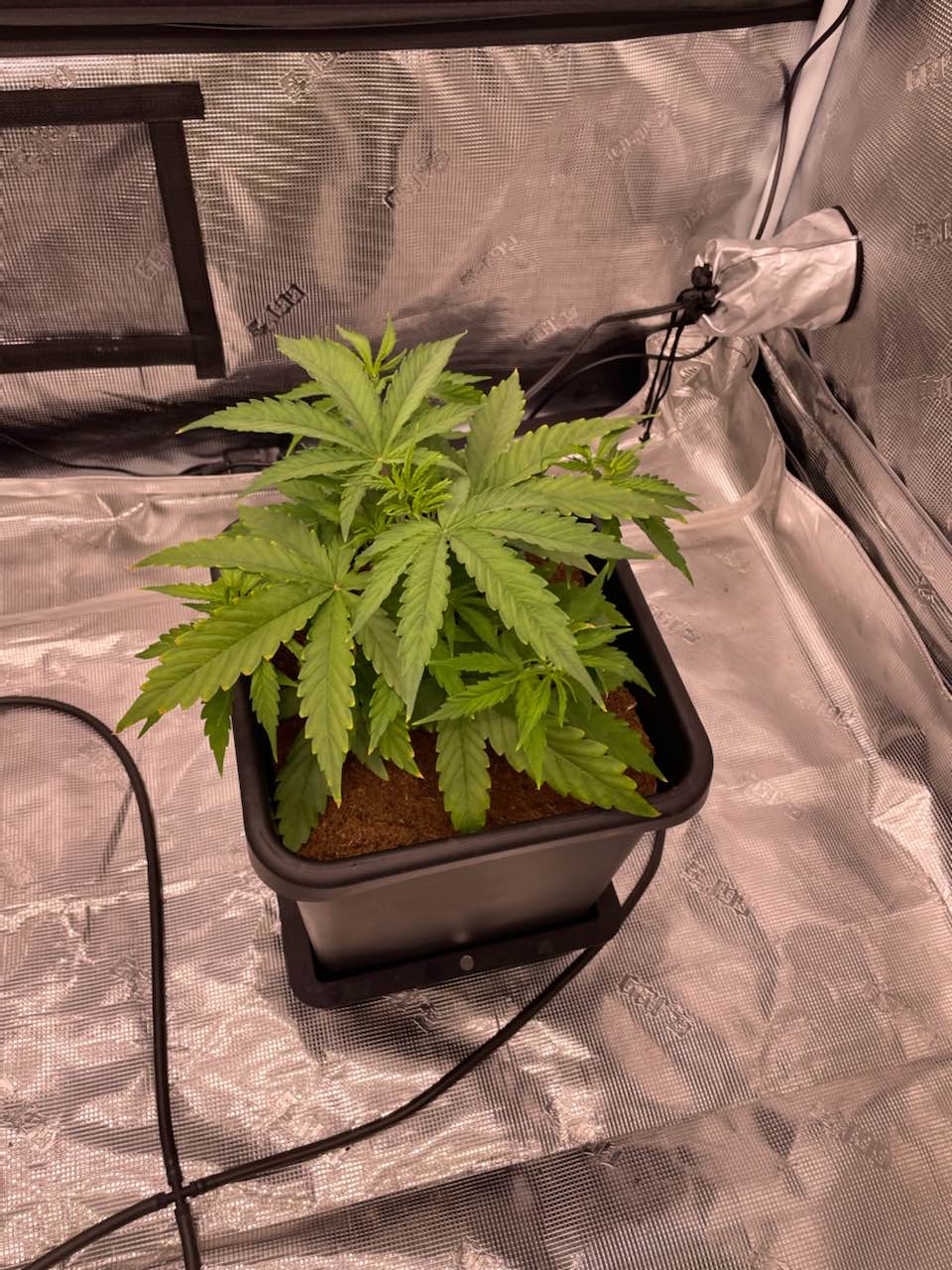 Growing like a weed lol after first topping a few days ago.
4 months ago
Week 2 nutes. These girls are growing fast.
4 months ago
smith429 Week 2 veg: Veg A- 1.5g/gal Veg B- 1.5g/gal Voodoo- 6ml/ gal Cal mag- 2ml/gal
Coming right along
4 months ago
HeritageSecretGarden Nice your growing in coco, cool you may want to give them a smidge of veg nutes and calmag bro just my advice from your pics 😎 they look good 👍
smith429 I'm loving the Autopots. This is the 3rd grow in the Autopots. It's nice to mix up a tank and let them go not having to constantly water. Just get to enjoy them grow and keep them trimmed. They are on nutes now. On day one week one comment I have what I'm feeding. I'm trying out the advanced nutrients Sensi professional which is their powder water soluble line.
smith429 Advanced Nutes Sensi Grow A pro dry .5g/gal Sensi Grow B pro dry .5g/gal Voodoo Juice 4ml/gal Cal mag 2ml/gal