cak
Jinx Proof
Spring 2019
3x3 tent with 4 water farm custom connections with 3/4 line. Installed water chiller and pH controller. LED lights with in-line fan.
Looking much more developed in his growth. Terpenes are strong and all buds are showing trichomes. Spider mites found in center scrog area. Today is the final day of week 7. Tomorrow will do a res change.
4 years ago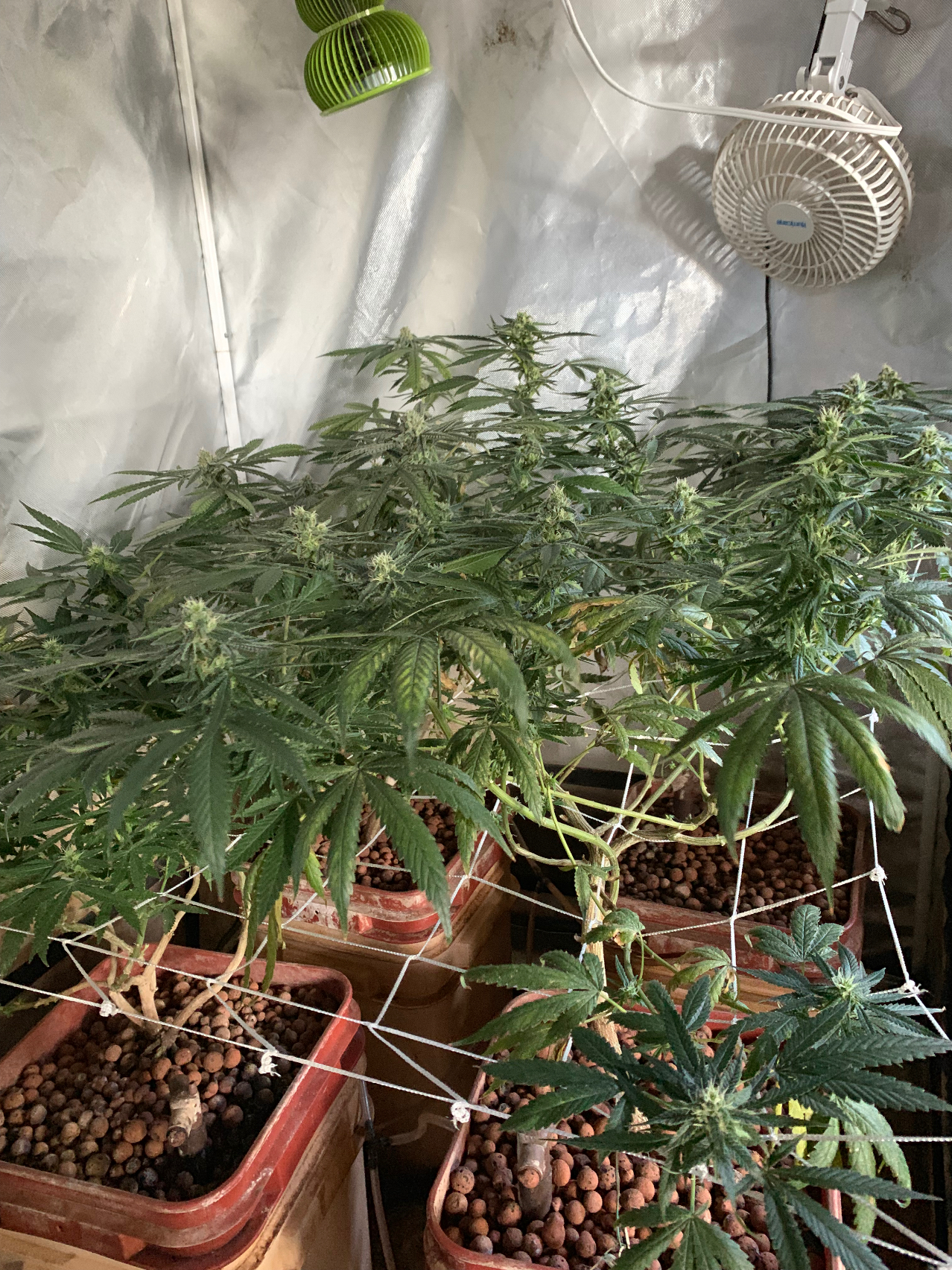 The pH keeps dropping; switching to 6.2 then let drop to 5.5 and cycle again. Buds fattening up. It could benefit from the magnesium. Controller was on monitor, changed to control. It didn't seem like it was controlling. Maybe it didn't reset correctly when powered down for res change.
4 years ago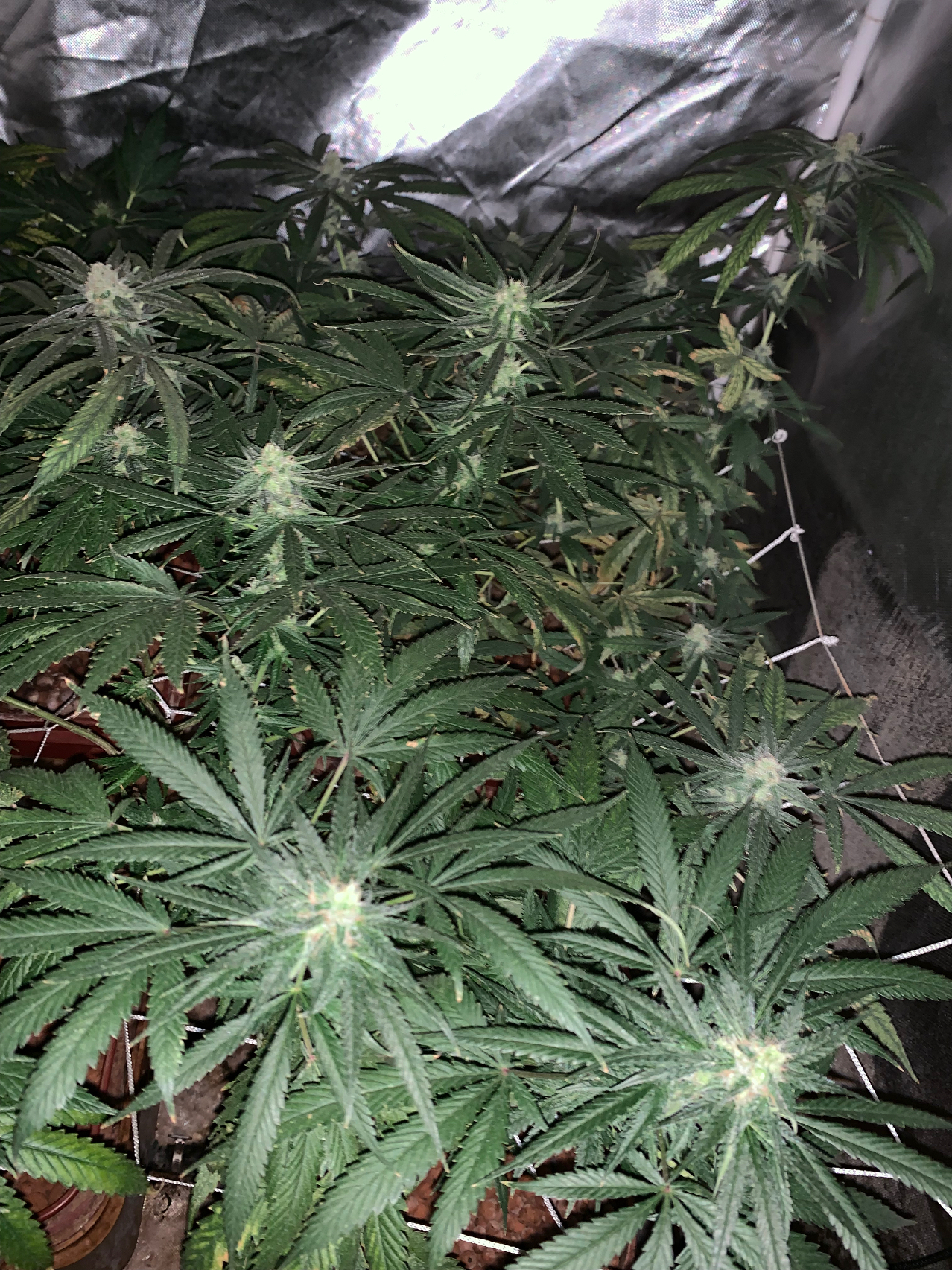 Week 7 with a tapered H16 and MOAB with Purple MAXX. Buds don't really look massive; they are actually small buds. Lots of trichomes and nice terpenoids. Safety Meeting and MC are almost a 10 week flower. More time will be needed to see its true potential. Dragon Stash is a full 10 week strain.
4 years ago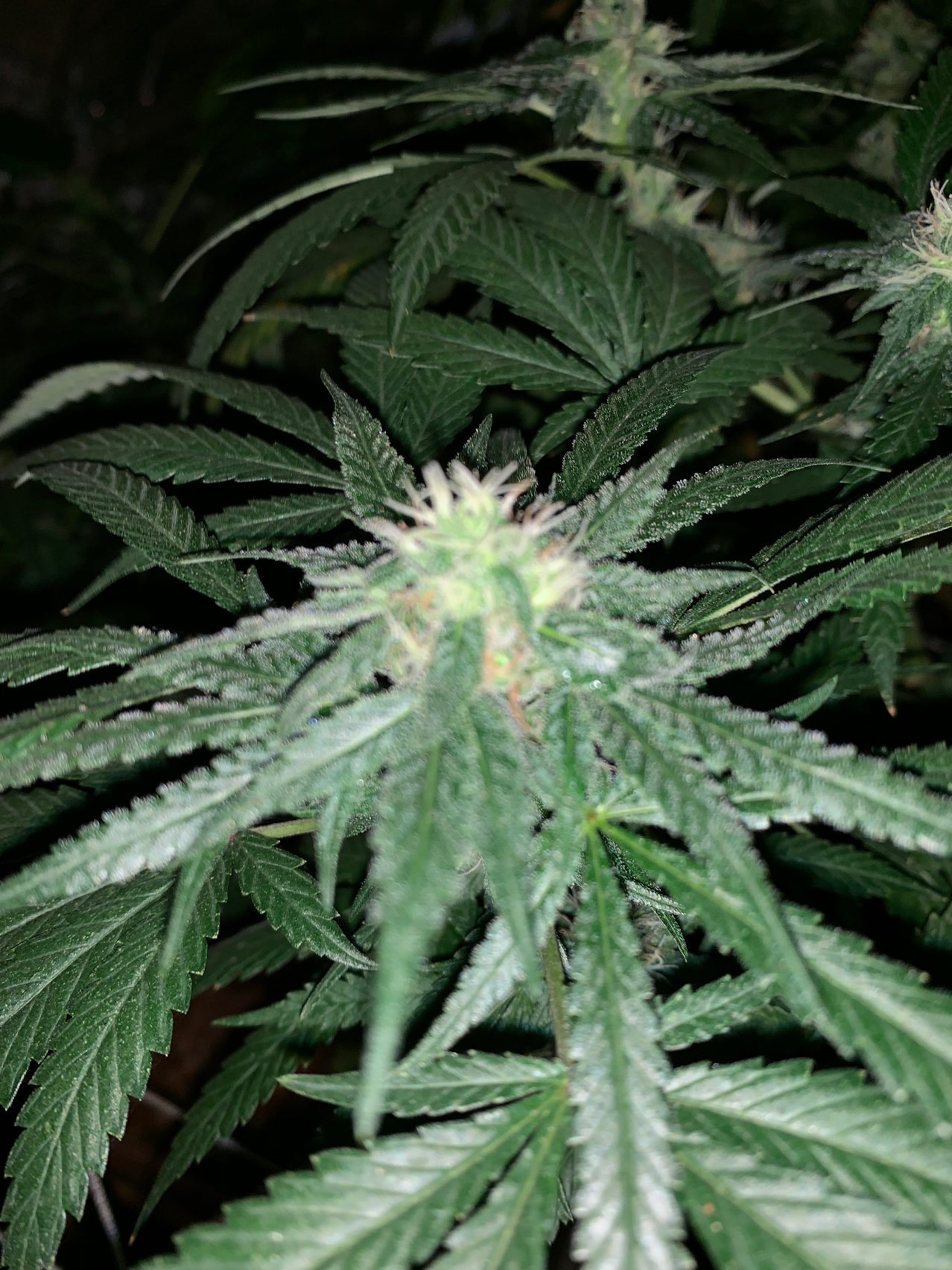 The last day of week 6. Nice frosty dense buds with the pH at 6.1 and drank about a gallon of water today. Sprayed again for mites.
4 years ago
Week 6 The return of the Spider Mites mostly attacking Mandarin Cookie. They have been sprayed and hopefully will be okay after another application. Most of the tops look and smell good. After spraying they bounced right back and look great. Lowered the light to about 12 inches and switched to a stronger air pump.
4 years ago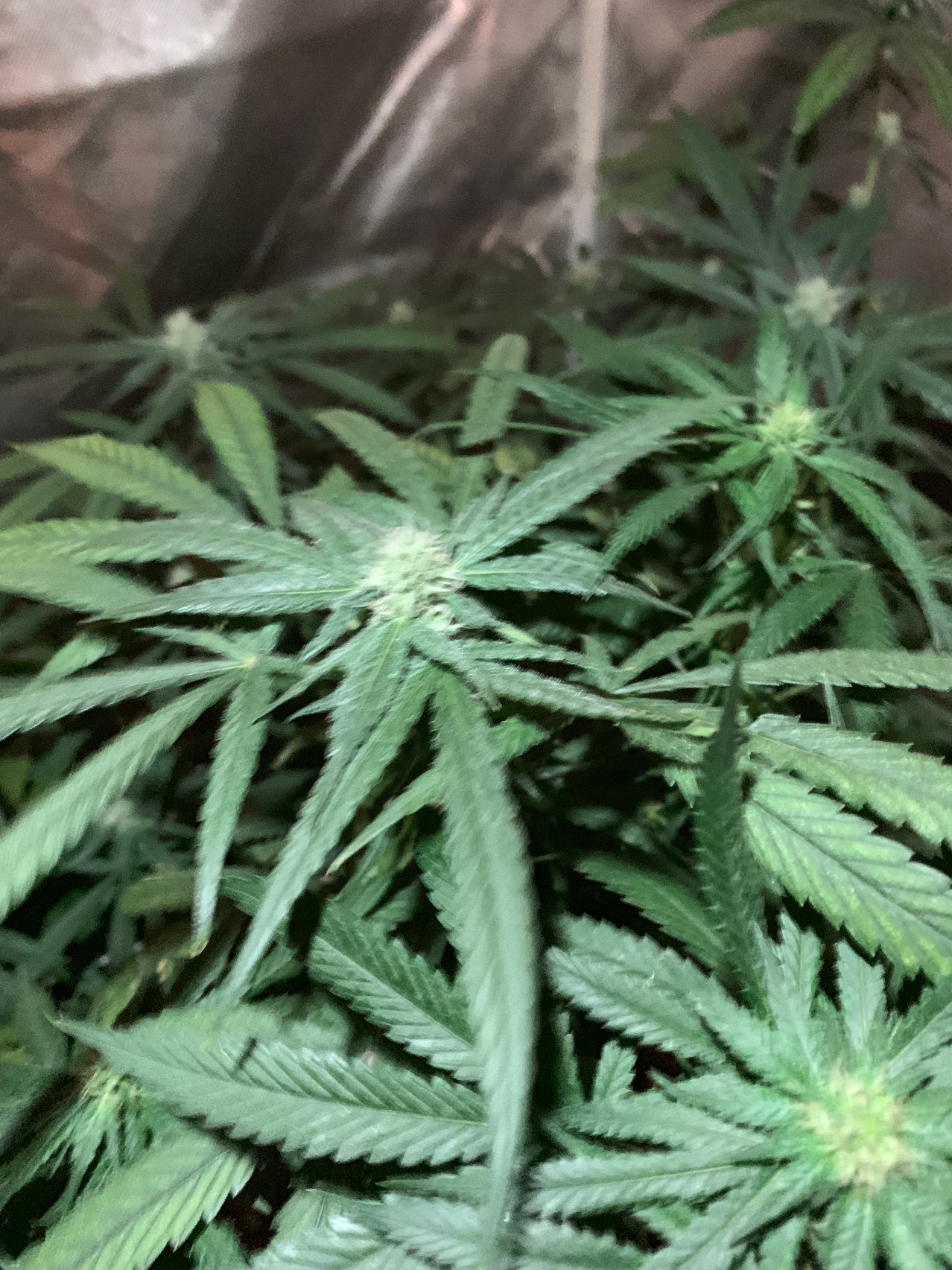 Last day of week 5 flower and they are going strong. This will be my last Grow for awhile. Earlier this week algae must have hit because the pH dropped to a low of 4.3 only once. Running just water and hydrogen peroxide to cleanse. Tomorrow begins week 6 and I may need to stop the B52 since the algae came back.
4 years ago
Lifted a few heads with another yo-yo. This was early in the morning.
4 years ago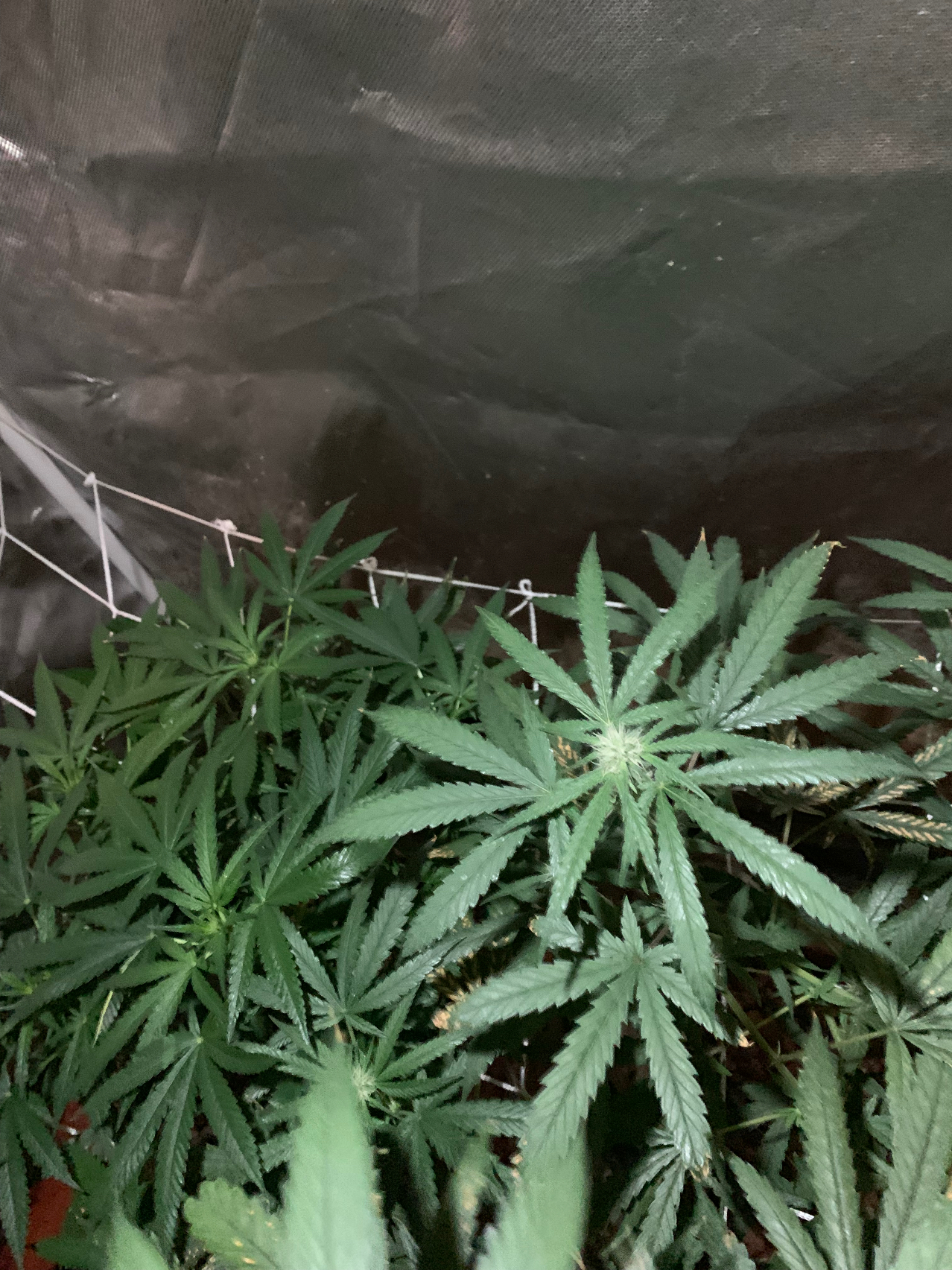 Day 1 wk 4, slower development from Dragon Stash; Safety Meeting has many lollipops and has largest flowers; Mandarin Cookie has several lollipops growing well. Perhaps Dragon Stash is more indica hybrid; added 35w green led for boost and the tips are pointing up. Some dried leaves on bottom of mostly SM and no sign of nutrient deficiency. Set the pH at 5.5 then reset to 6.2 for up control. Then bring down to 5.5 again. They are looking much stronger with the addition of potassium silicate 0-0-3. Have had no issues with using URB now since switch to Heavy 16. Prime is a metabolism booster as well as Microbe food: can increase to 4mL per gallon. Has 2 weeks left of B52 then change to Overdrive. Lifted slow growing head on SM with yo-yo.
4 years ago
I have been running to strong of a mix; switched to dwc schedule with refill. EC 1.5 yesterday. Took more cuttings, some branches just snap off from weak bond. Took about 8 more cuttings. The smallest is Dragon Stash & the largest is Safety Meeting.
4 years ago
Week 2 bud 12/12; got some cuttings and will have some clones soon, I hope. They got burned right after they were place in tent with blue bulb. Doing well with fluorescent light because there is no heat; also placed heating mat and sprayed with Foliar. Day 3 for the cuttings. Consider Wonder. Adding 3-4 gallons of solution into res. Good start on bud formation.
4 years ago
Flushed with Sledgehammer and started week 1 bud. Changed the light and inspected for spider mites. The pH was 5.4 and as the res finished filling up and controlled to 6.2 with EC 2.3 and 15 gallons of solution. Will set up clone area. Sprayed for insect again resulted leaf burn with no signs of insect activity as most mite eggs are yellow very few no change with no new black dot appearances. Res day 7 pH 5.7 EC 1.8 added total 5 gallons this week. DS has algae on roots.
4 years ago
CAK Water dilution yesterday was EC 2.3 pH 5.6; added 3 gallons plus UC Roots pH to 5.7. Today added 2 gallons EC 1.8 pH 5.7 light today 16/8 was turned off plug out. Dragon Stash nitrogen deficiency with slight stretch lost approx 8 leaves.
CAK Must cut 1/4 inch or 6mm below node with active growth.
CAK Now the tent has an open window for ventilation and an exhaust that is much shorter. The pH was 5.5 and to me this signaled a need to change solution. Changed to wk2 Bud for Heavy 16; slightly over filled with no res tank.
Wk2 Heavy 16 EC 2.0 pH 6.1 to 6.0 Scrog soon Jinx Proof looking strong 16/8
4 years ago
CAK A little update: they were set with scrog then lights out for 32 hours; last 2 hours of dark Foliar fed and noticed that they were pointing up.
Changed res to wk2 Heavy 16 w/ URB & Cannazyme. EC 2.0 pH 6.2 Air channeling Super cropping LST Filter
4 years ago
CAK Brown biofilm From URB? Light? Foliar & Roots just in case. Water temperature 72 then to 65.
Began introducing veg wk 2 through secondary. EC down to 1.2-1.3 plants are strong. Purple Punch will have to set up as we are flipping over the next week with lights out x48 hr and then begin 12/12. I don't know what will happen to Purple Punch.
4 years ago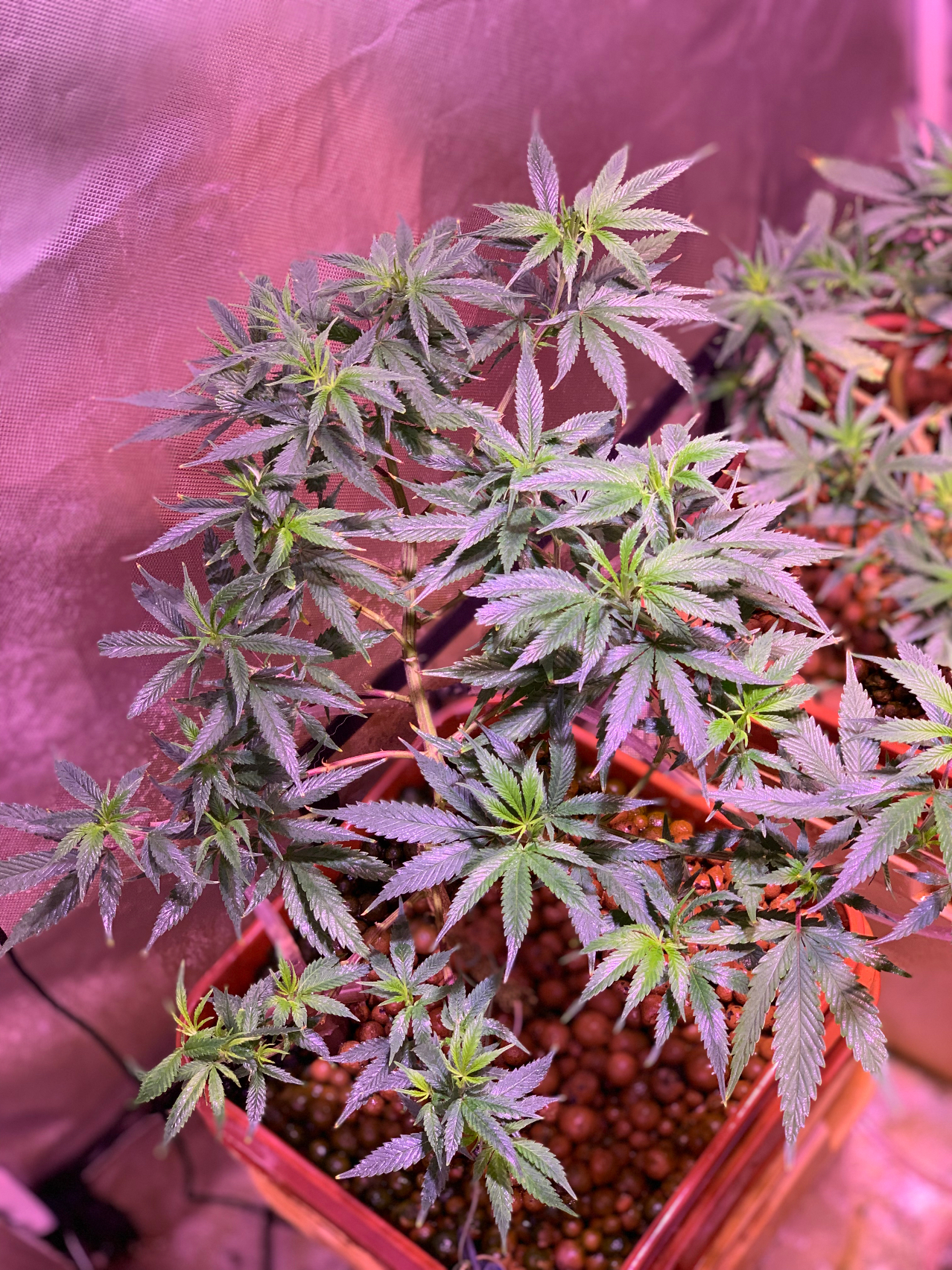 Last night the EC was 1.2 to 1.3 and I could tell that they really were slowing down as far as growth. Especially, Purple Punch has been yellowing on the leaves. Purple Punch: had grey substance from the tape around the cube and was slimy. Removed tape and rinsed thoroughly until Clean. Not much root growth for in past couple weeks. Added more solution without Fire and EC is 1.5 again while pH is climbing to 5.9 with limit set at 6.2 to allow a steady climb like earlier this week. URB Natural added at 2.5mL/ gal for 10 gallons ratio. Foliar: mixed Foliar with Roots and sprayed them at lights out. This morning they are all looking strong and even Purple Punch is reaching for the sky. Note: it has been about 10 days since they began to rebound from the root trim.
4 years ago
CAK Seriously considering taking out Purple Punch and throwing this grow into high gear.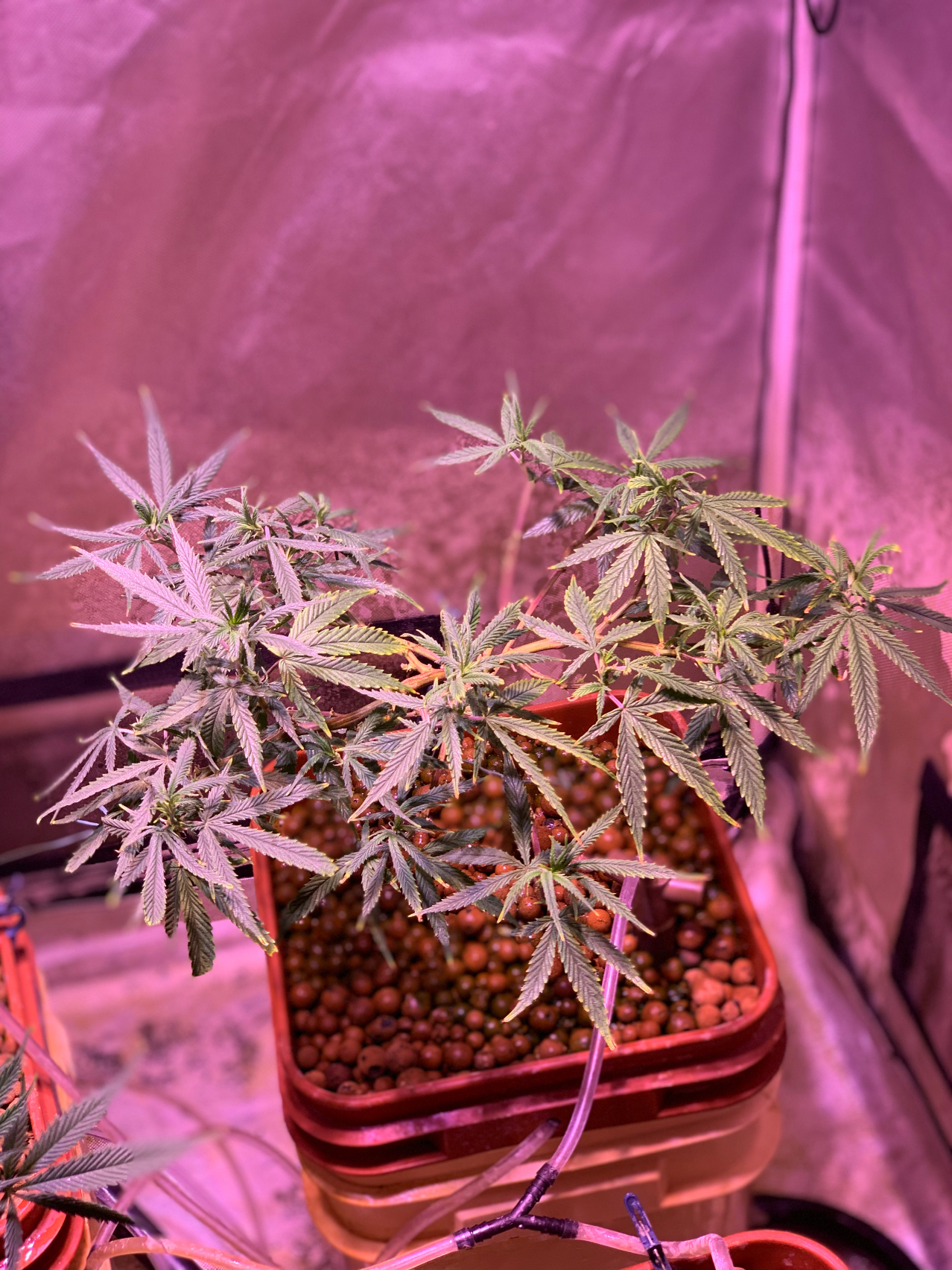 Began day feeding them Foilar then at end of day refilled secondary with water EC 1.5 to 1.6 after feeding at pH6.1 now shifting to 5.8 to see consumption rate with 15 gallons of food. Note: there are no more signs of NPK deficiency. Light was too close and stunted vertical growth; also effect from FIMing. Another week or two will really make a big difference.
4 years ago
Res change wk1 Heavy 16; light raised to approx 26in. The ff wk4 was fairly clear and fed to back yard trees.
4 years ago
Water change EC 1.0 pH set to 6.1 UC Roots 6mL, Cal Mag Plus 1mL with Silicone 0.5mL; no drooping today; looking good. Some nitrogen loss was beginning with old EC 0.4 solution.
4 years ago
They are really not so stressed anymore. The pH 6.3 for awhile; lowered to 6.1 and EC 0.4 solution. Not really hungry so it is the right amount of food.
4 years ago
Dragon Stash is looking better today while Safety Meeting is still droopy. Gave them a trim so they will carry less of a burden. They have been drinking about 1.5 gallons per day with very little eating. Will stay with the low EC until they get hungry.
4 years ago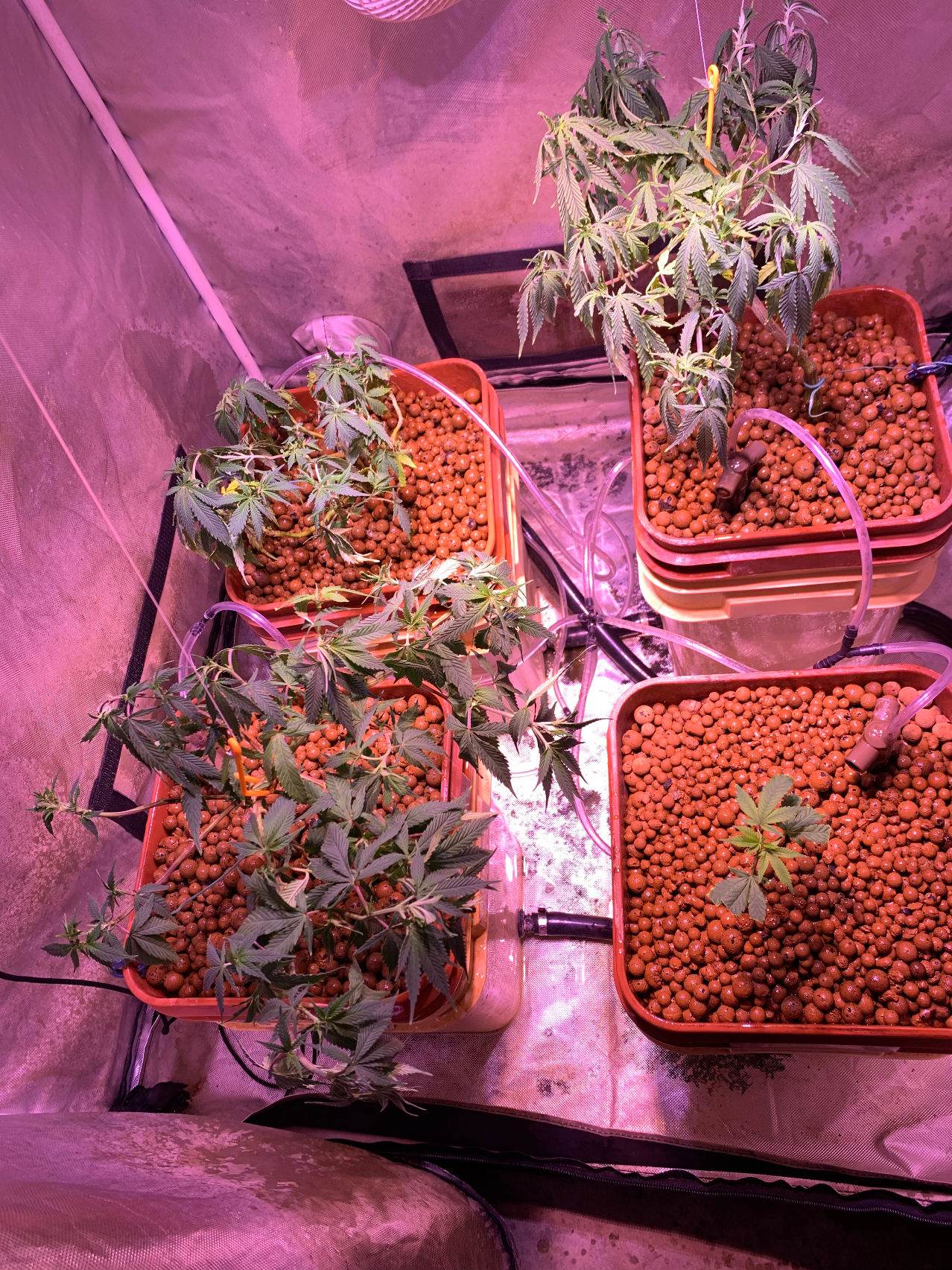 Added some. Cal Mag Plus; I just couldn't resist since pH shifted up to 6.5; this dropped it to 5.6 with EC 0.4 solution.
4 years ago
They began to show signs of wilting; so I had to act fast. First thing was the air pumps were failing: all of the single units. They were replaced with a 4 port dual diaphragm eco plus pump; switched a couple of vital t-connectors with y-connectors. Water flow was restored to a steady trickle. Added Heavy Roots and supported the biggest ones with yoyo's giving the Roots a slight pull of traction to help relive stress. Added water tank; pH probe recalibrated and has gone from 5.9-6.2 with EC 0.3 solution.
4 years ago
Day 1 post debrisment of roots. This morning I added Pure Clean & UC Roots at 5mL/gal. EC at 0.4 solution.
4 years ago
Plants after the heat wave; RIP Chem Dawg. This week began with a decline as the brown algae ran rampantly unchecked. The res water was clear but the smell of mildew was strong. After hours of research I could not find the solution until I visualized the Roots. There I found the problem; the water flow between Dragon Stash and Safety Meeting was obstructed by a clay pebble; the water had algae floating that resembled curd and a strong mildew smell; the roots had the thick hunk of brown slime. I took the plants out and rinsed them well, debrided the roots and cleared out the slime inside Chem Dawg's basket; disassembled the whole setup and sanitized and cleaned with 409 with bleach. It turns out that the plants had been suffocated and lost Chem Dawg. Put it all back together and sterilized with h2o2; then made a solution of Boomerang, Cal Mag Plus and lowered the water temperature to 65 degrees. The following day I added Cannazym at double strength and UC Roots and added and air stone into the res. EC began at 1.0 then climbed to 1.2 today so I added Plagron's Pure Clean to help the Microbes since the lights have been on 24hours. Will readjust light back to 18/6 to restore balance. Day 53 had to remove plants then clean and sterilize system. Roots needed to be cut leaving only the main roots left loosing major support. Adjusted system to a modified Ebb flow and only using 10 gallons of EC 0.4 solution. Secured plants with clips and wire. Solution strength was 1/4 recommended feed; fed wk 1 with Kangaroots and Microbe Brew; URB Natural 1mL/ gallon and B52 with Cannazym. Tomorrow will add Pure Clean.
4 years ago
Leaf necrosis from inside out. Sprayed for thrips and set glue trap. Foliar fed with Grow Big. Refilled URB 15mL in res with pH up: 5.7 steady limit set 5.9 and monitor. For sure having Calcium def at day 3. Foliar feed is crucial. Added Cal Mag plus 20mL/15gal. The dog ate some tops on Safety Meeting.
4 years ago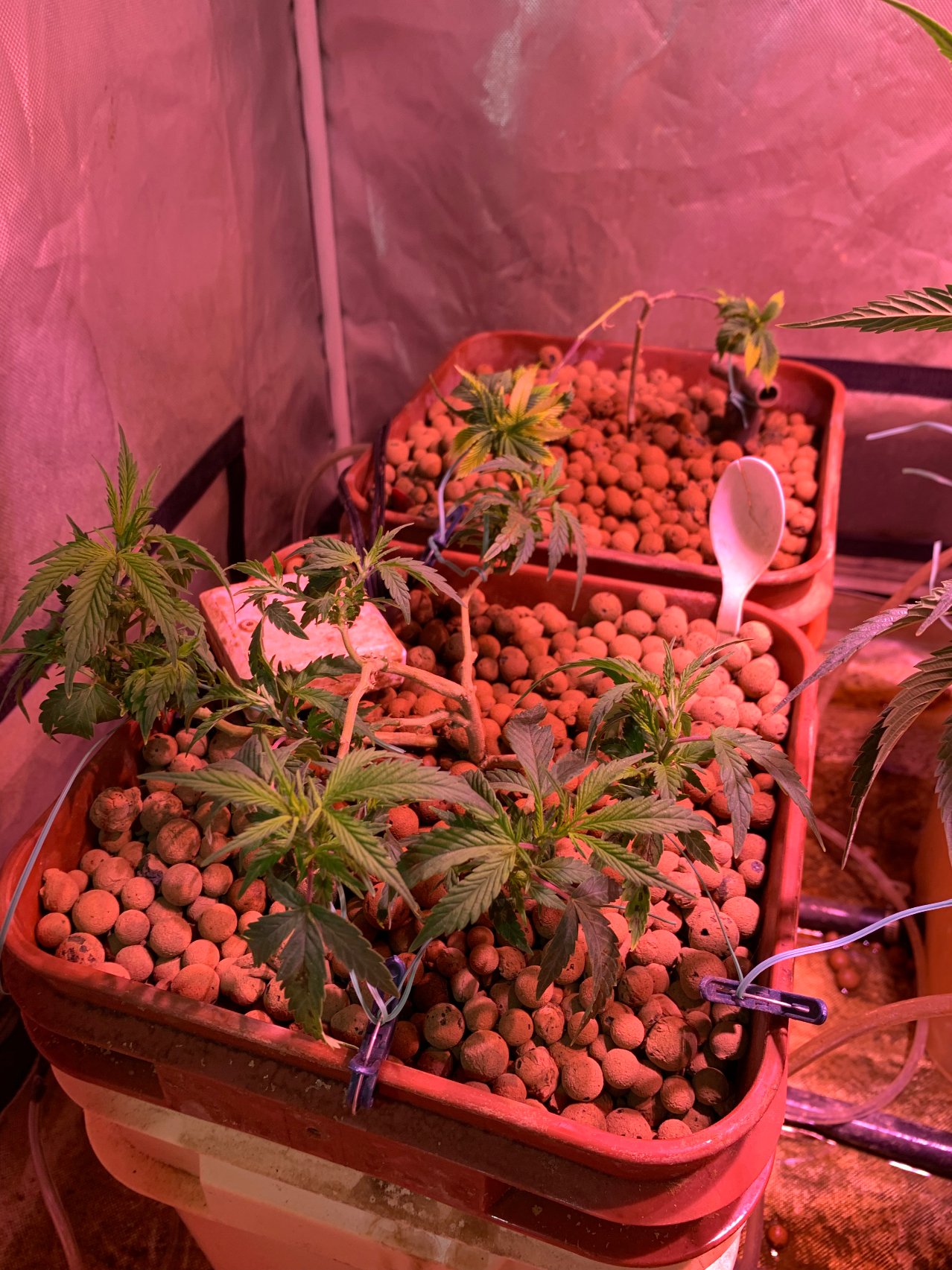 Trimmed swag and super cropped the heads. Added hydroton and fed base of plants. This is 24 hour light and fan leaves drying up. Need to kill flying insect as it may lay larva. Added Roots Excellerator and B52. Transferred all probes into Dragon Stash for increased accuracy; heat around 61.
4 years ago
Res change with 3 hr flush using Sledgehammer. Mix solution with Microbe Brew, URB and UC Roots supplements. EC 1.3 at 3/4 strength pH 5.8 with no deviation. Increased bubble flow with GH dual diaphragm. Not much water has been drank for the past week and growth has been slow. Removed King LED and replaced with UFO's; temp lowered to 70 pH 5.7-5.8 and light a full 24 hours.
4 years ago
Began training; good response. Consider UFO for Chem Dawg. Yesterday, diluted the solution to 1.9 and looking good.
4 years ago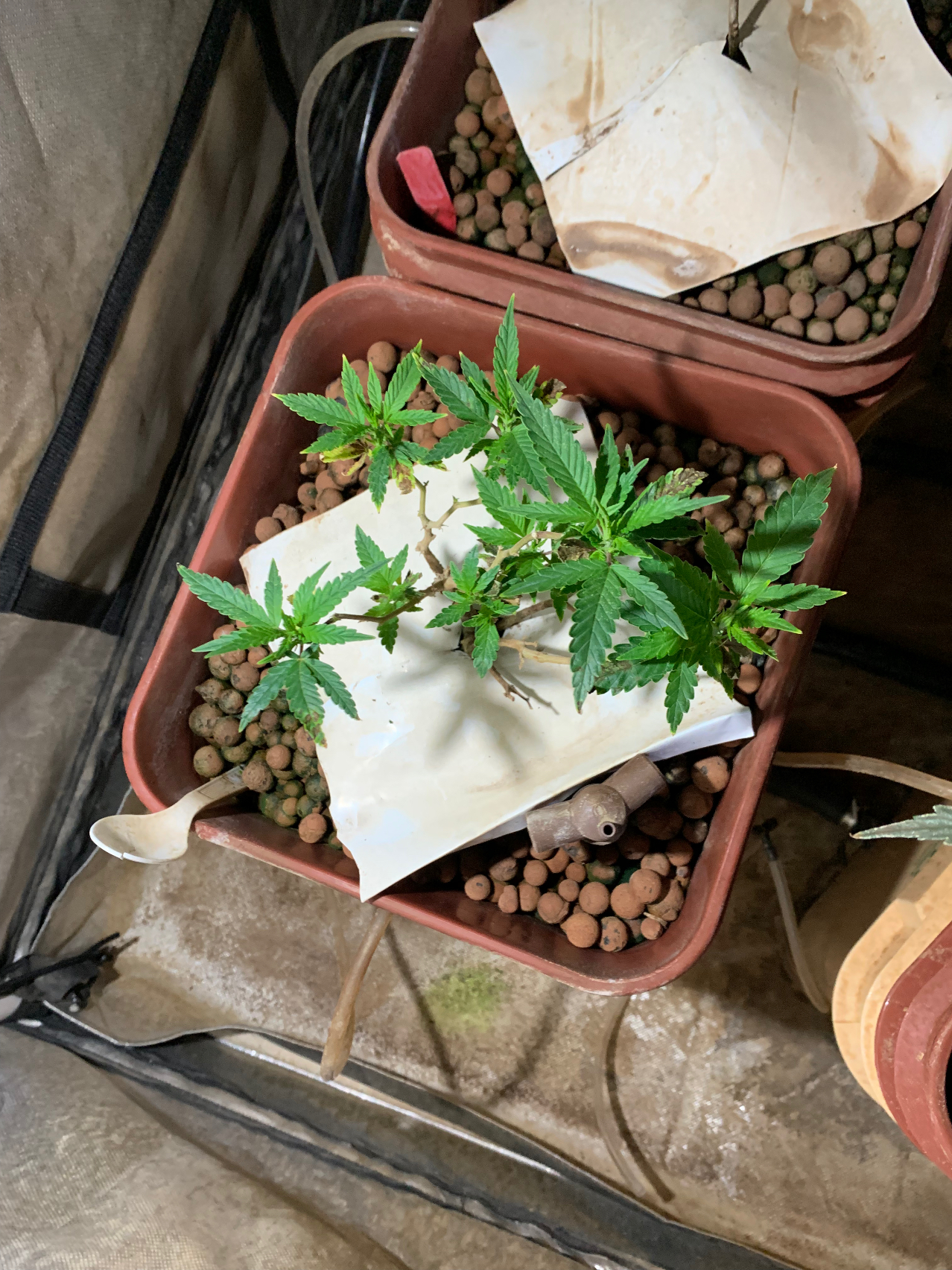 Today water temperature increase to 75-79 degrees and pH from 6.0 to 5.6 reflected in a positive response. Added UC Roots for root protection. Finally, they are pointing up. EC 2.4
4 years ago
Day 1 s/p Foliar EC 2.3 pH 5.9 It is now time to kick veg into full gear. Temps will increase to 75 and pH to 5.6 with intermittent days of 6.2 for Calcium and Magnesium uptake.
4 years ago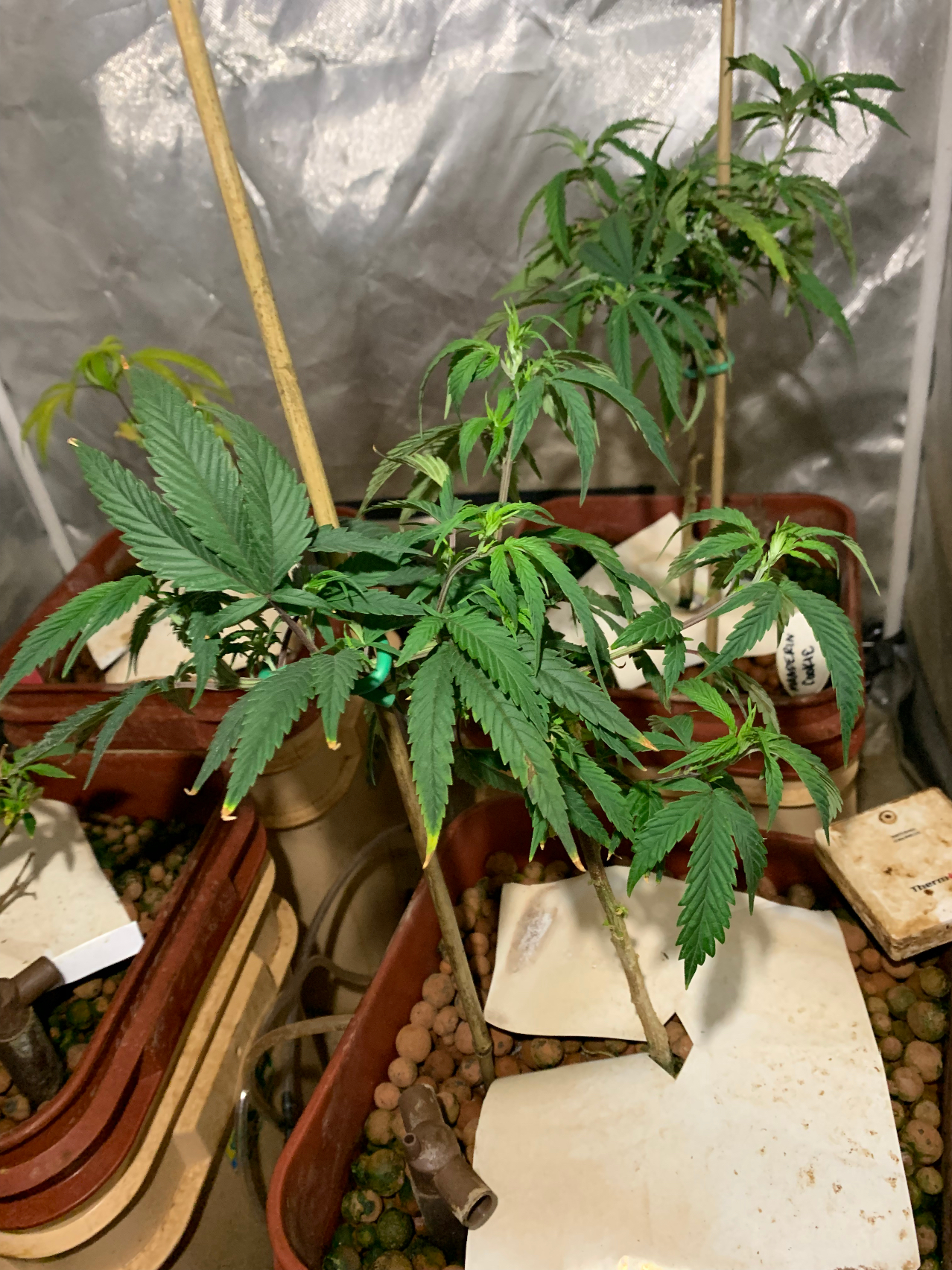 Began ff week 5 with half strength Open Sesame. EC 2.2 pH 6.4 to 6.0 Temp 72 Deficiency: Iron & Calcium Foliar with Cal Mag Plus; should restore chlorophyll production.
4 years ago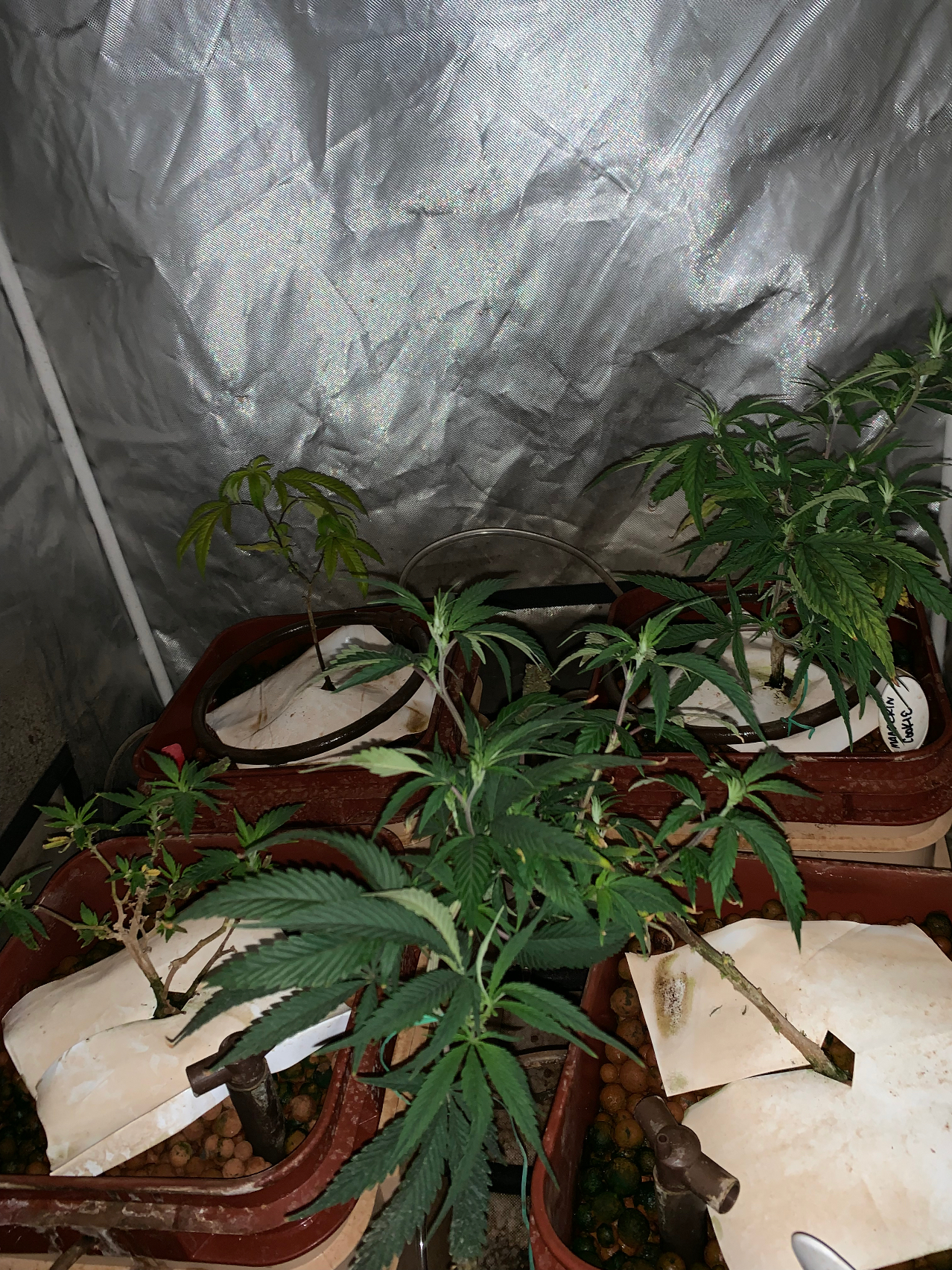 EC 1.5 UC Roots 3mL/gal 12.5 gallon ratio. 15mL new Microbe Brew. Removed irrigation ring x2: monitor. pH 6.2 to 5.9 to correct ph Deficit: P x2 Res change tomorrow with wk 4; plan to repeat cycle to try new Microbe Brew.
4 years ago
Dragon Stash showing more signs of deficiencies as the affected leaves are drying up: first thought nitrogen but now thinking phosphorus def. afraid to advance too quickly with nuts. Only Gary has these miniature plants that are like bonsai trees. I will encourage root growth in order to ensure a good nutritional uptake. Dosed it with Cal Mag Plus with EC 1.8 and pH 6.4-6.6 and will keep it there for a day or two. URB Natural was Fokker fed this week. Some improved vigor; also running at 5mL/gal solution. Using pH chart.
4 years ago
CAK The algae situation is under control. Today I trimmed off dead matter and hopefully will see new growth accelerating.
Following the change in circulation they are showing signs of root establishment and began training Safety Meeting & Mandarin Cookie. Placed on freshly cut plug covers. Began noticing brown sludge likely from Hygrozyme. Only 1 treatment left in bottle and considering Enzymes Komplete. Gave what was left of Big Bloom and Microbe Brew: considering budget restock or switch to higher end product line.
4 years ago
The 2 on the right may need to begin training as the other 2 meds to get established more.
4 years ago
EC 0.9 5.7 1 gal/day Added Kangaroots & Microbe Brew. Focus is on building strong root establishment.
4 years ago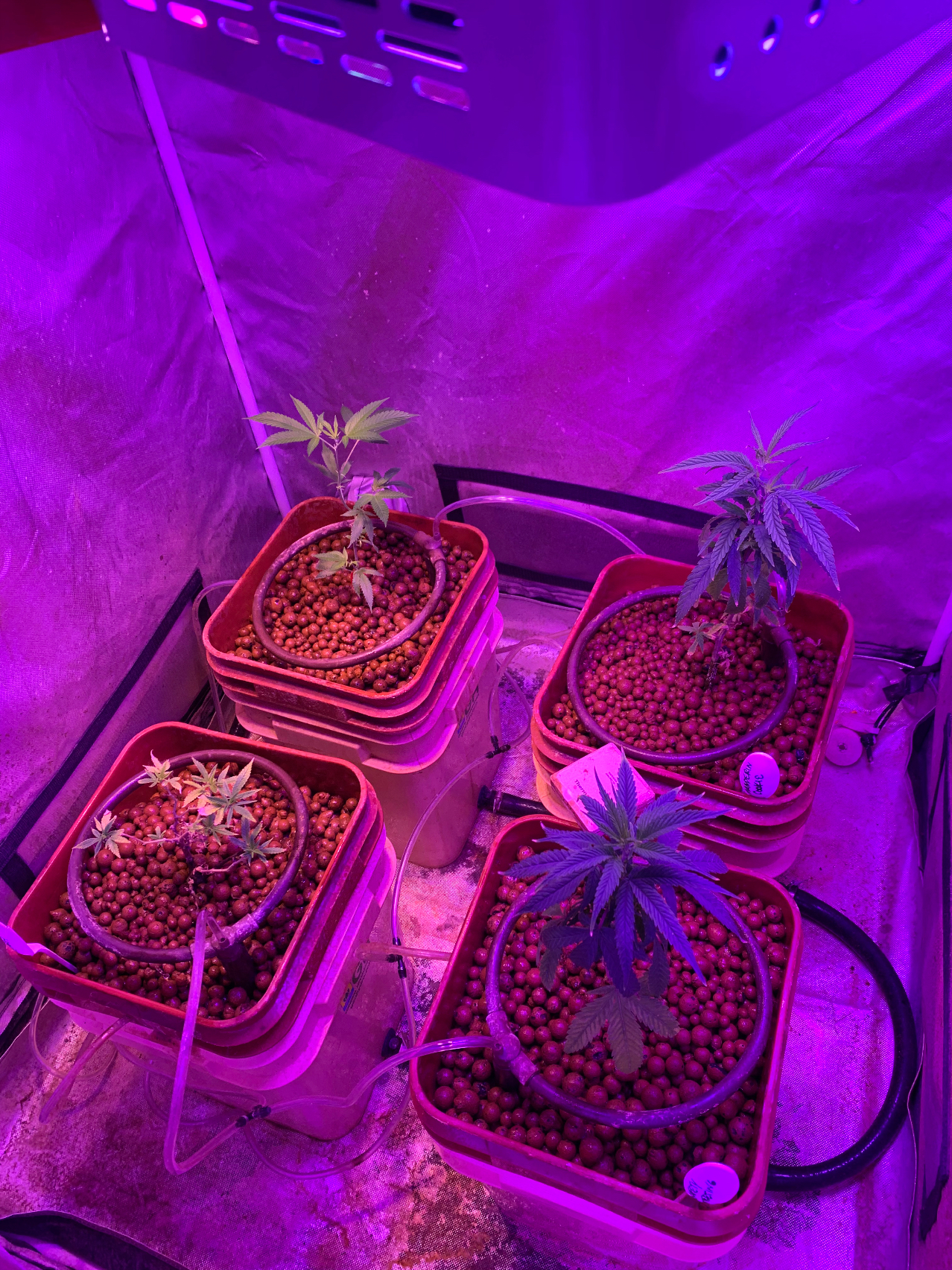 Added Chem Dawg in upper left corner. CH rep said that Algae really is no problem. When I removed the plastic covers the humidity went up and the temperature decreased and now they are looking happy. Re: silicon, I added some yesterday. Added 1 shot glass Grow Big EC 0.9 pH 5.5-5.8 temp 68-70F. Super crop Jinx x3 Chem Dawg happy LED 18-24in
4 years ago