mysterybird1989
Blueberry Kush Auto and Gorilla Glue
Bbk and gg
4 Blueberry Kush Autos from Nirvana shop and 6 Gorilla Glue plants for the filling grow. Under a 2000 watt led (real watt 325) and a 60 watt supplemental led Using fox farm nutes, seeds started end of September
(Nirvana)Blueberry Kush Auto and Gorilla Glue
Gonna harvest the last blueberry kush auto tomorrow, keeping her in the dark for 16 hours or so until I have time to cut and hang tomorrow... very happy with my first time growing Autoflowers, I don't weigh what I get usually but I got between 2-3 ounces per plant of some strong good looking stinky buds, I'll definitely be growing more next year and I'm looking forward to it. Now I'll be scrogging my 2'x4' tent with three gorilla glue plants.
2 years ago
Flushing nicely, trichomes are mainly milky with small amount of clear left. Going to harvest in a week probably. Interesting how this pheno took so much longer than the other three blue berry kush plants... smells dank and looks dank. So I don't mind the extra two weeks
2 years ago
Continuing flush, everything smells beautiful
2 years ago
Final two blue blueberry kush autos are doing well, one is very close to ready, I'm just going to give it probably four or five more days, the other still has a week or two. The gorilla glue plants sexed themselves! That's fine with me because this tent was WAY to packed. I got three females out of six plants. Which is perfect, because I'm going to put a scrog net in here to lower these plants a little, they have plenty of branches and I think it should work out perfectly! But you never know what may happen lol
2 years ago
Mr. CannaVolution Ahh Gorilla Glue! Hands down the best plant that I had ever grown and the best smoke I have ever blown ✌🏼
Harvest day! Two are finished right at the 70 day mark. Very fruity/skunky smell. Gonna turn the trim and some of the bud into hash tomorrow, using fresh/frozen material. Very happy with how everything turned out with these two, the other two have a bit longer to go. The dried bud is the blueberry kush, just a couple side buds I took for quality control. Two tokes and I'm good. Very happy with nirvanas blueberry kush autos. I also have their bubblicious autos I'll be growing soon.
2 years ago
These two will but finished at 70 days. I plan on keeping them in a pitch black room for the last three days. I've never tried it before but I figure it won't hurt anything. So might as well answer my own question as to whether this works or not. Either way it made a good amount of room for the other two blue berry kush autos that seems to be a different phenotype, they'll probably finish in a week or more. And then the sexing process can begin on the gorilla glue plants. Plants smell distinctly of blueberries, I'm pretty excited...
2 years ago
shopgirl_420 I drop my temps to around 65 -68 degrees and keep them in darkness for two days myself. I can notice color change, gland coverage and resin production depending on the plant. I also wash my plants to get any extra particles and degraded triches off before hanging to cure, I personally feel like when I wash it and hang it to dry that it all drys cures more evenly just my opinion tho. 🤷🏻‍♀️
mysterybird1989 Just rinse under a faucet, or? I have plenty of grows behind me. Just never kept them in the dark before.
shopgirl_420 No I use 5/ 30gallon trash bins I bought at Walmart with a 6 cup lemon juice 6 cup baking soda ratio to ONE bin and whole plant wash them in the solution water first..then the next four bins are just for rinsing off excess dirt, hair etc.. then I hang em up on my shower rod in the bathroom to drip dry into shower then I move them back to my tent. It helps if u have an extra person to give you a hand.
View 3 additional comments
Sure is getting crowded in here. Got a real nice fruity/blueberry smell goin too.
2 years ago
Here's the gorilla glue plants. Gonna do some serious trimming in them soon, I'll veg them a while and then flower.
2 years ago
Just a good watering Flushing the fastest two They are close to harvest
2 years ago
Fed the shorter plants a dose of nutrients and finishing nutrients yesterday
2 years ago
Smelling good.
2 years ago
Getting stinky
2 years ago
Progress shot, didn't touch them at all today.
2 years ago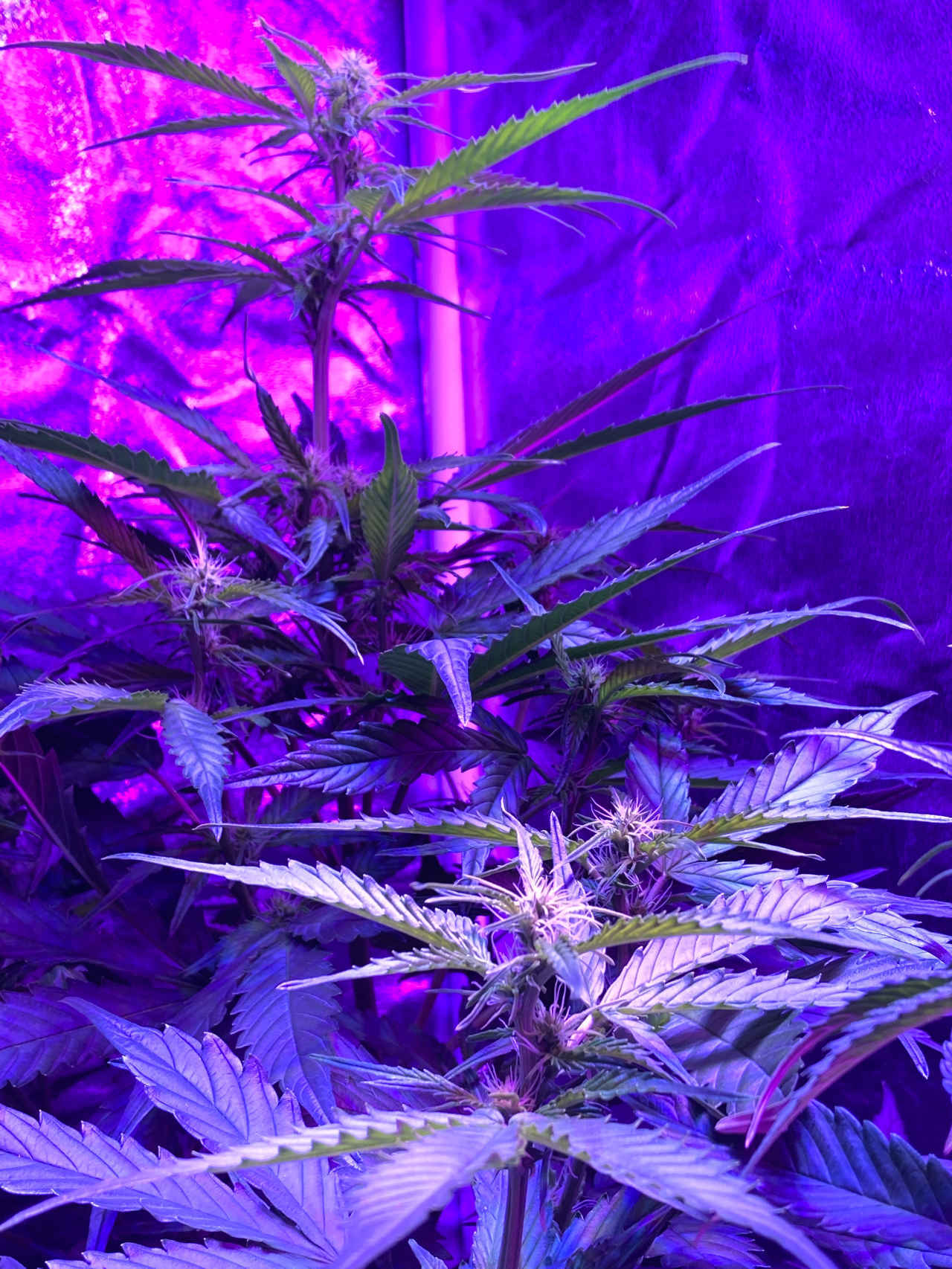 I seem to have two different phenotypes with the blueberry kush autos. Two are smaller/more compact and flowering fast, the other two are taller/lankier and not flowering's quickly. Just a little water for the blueberries today. The gorilla glue plants are getting too big too fast. Topping them and cutting back some branches tonight to make a little room in the tent. They are quite dry so they'll be getting a nice soaking.
2 years ago
Crowded but growing nicely.
2 years ago
Mama_toe Hi, congr. What led lights are you using?
Blueberry kush autos are starting to show budding and gorilla glue are recovering nicely from being topped.
2 years ago
Slowly adding nutrients And topping the gorilla glue plants every chance I get to keep size down because they are for next grow after the blueberry autos finish their cycle.
2 years ago