ogbb
Og kush auto and fuel auto
First time grower
First time grow
before harveat
2 years ago
not bad not bad. Look forward for the result
2 years ago
The one did not use nutrient really looks diffiencet
2 years ago
Looks good with great smell but still weeks to harvest
2 years ago
Have to learn how to harvest
2 years ago
There is one use base nutrient only
2 years ago
Kind of boring they just bloom and don't change much any more until harvest
2 years ago
cannot figures out why they are grow stage like 2wks apart
2 years ago
ogbb It's aquarium co2 generator bit better than the completely DIY one
Tried Super cropping to make even plant hope they recover well
2 years ago
Bug become bigger
2 years ago
The middle one really looks like been punch for longtime
2 years ago
Feed 5 of them and one of them keep organic. Can you tell which one use slow organic fertilizer only?
2 years ago
Cannot stop myself for cutting leave
2 years ago
46&2JustAheadOfMe Think your the first person I've ever seen use CO2! Pretty cool. Have you gotten worthwhile results?..
ogbb Then plant act well but I don't have comparison as is is my first grow
46&2JustAheadOfMe Ah, that makes sense. Would need a tent with no CO2 to really see the affects in comparison. I am very curious 🤨 I'm sure there are some studies or YouTube videos on it no doubt. Anyways great job so far!
View 3 additional comments
Warring and get another small co2 tank
2 years ago
Too many bud might cus over all bud small? We will see...
2 years ago
buddy ol pal Trim the excess growth off the bottom that isn't necessary to help the plant focus its nutrients into your main producing branches, many videos on YouTube about how to cut to help make sure you get the most yield/ better yield
Always get back from hit and looks positive. Pp should learn from these 🌱
2 years ago
Watering and cutting. Will not doing large defoliation in a week
2 years ago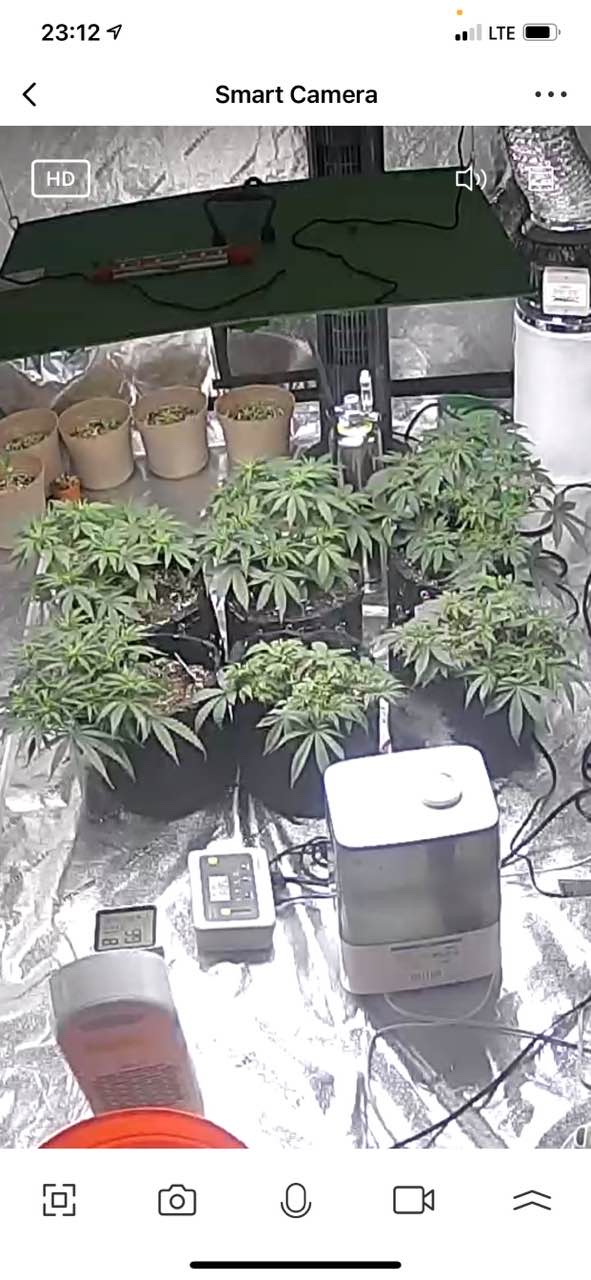 Tried many things hope this 1st grow goes well
2 years ago
Wow it's pre-flower now
2 years ago
Feel light is bit strong but should be ok
2 years ago
Another day with HST
2 years ago
Seems happy with current set up
2 years ago
New light is kind of strong but they seems enjoyed it
2 years ago
Move new tent and change new SF7000 light to fit 5*5
2 years ago
Looks better without me
2 years ago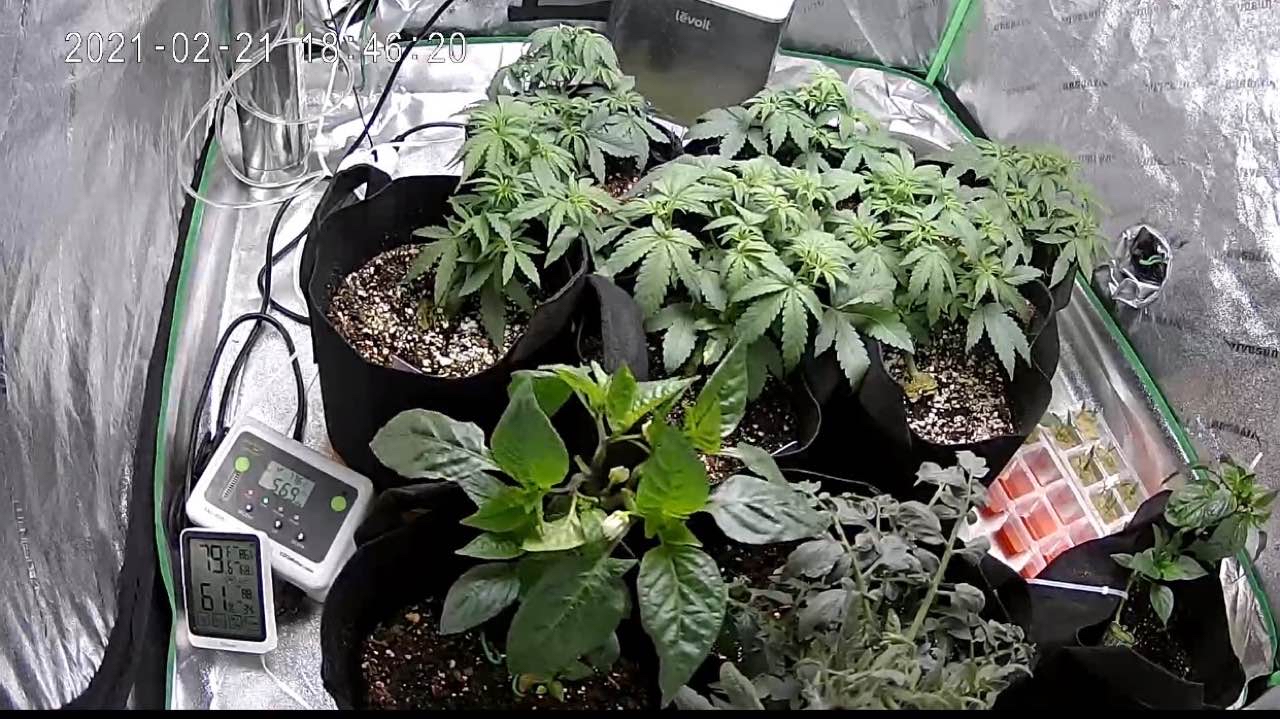 Remote monitor the condition during trip
2 years ago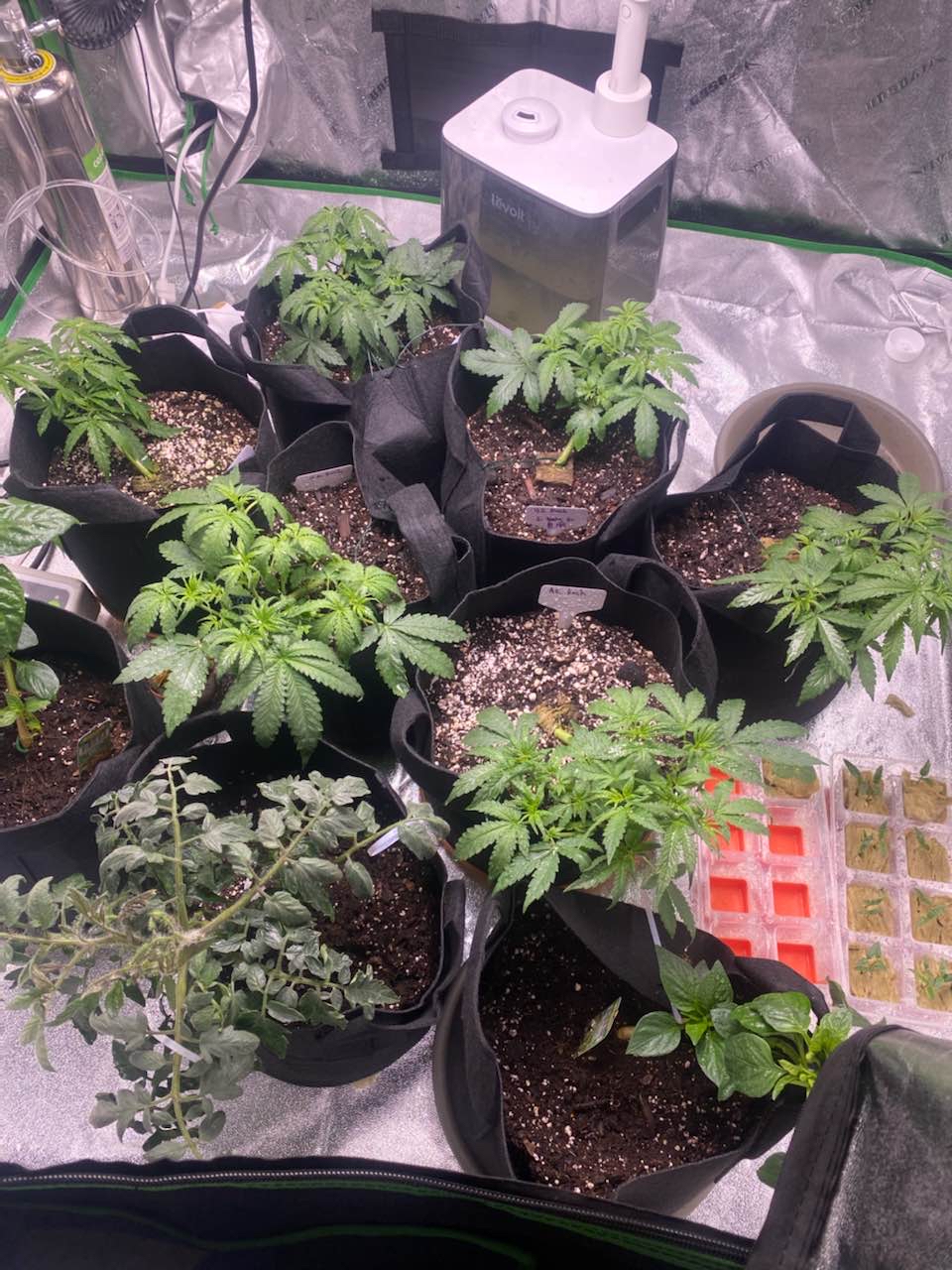 will go to trip for 2days will give them some rest after cutting so many leaves
2 years ago
@benburke75 thank you for your advice. It's looks much nicer
2 years ago
Keep cutting leaf and creat even plan
2 years ago
dollface42 In my experience you don't do that really until flowering and only defoliate leaves that are covering bud sites
First time grows og kush auto and auto fuel auto. Cut a lot of leave not sure what is the best way to do
2 years ago
saucypurp So they look a little small for 28 day. I'm also in the same boat with my first grow. I lowered my lights down and also added more light and they have loved it. Looks like they need more!
ogbb They should be bigger but I cut a lot of leave and also did many lst I try to make them grow as even and creat equal buds
benburke75 I would curl your bags down to give them a bit more strength for your LST(like making a chip bag bowl) I use the fabric pots as well and find it also helps keep the water from running off and down the sides
View 2 additional comments