t3
T3s Grow - 001 - ILGM
Fall 2019
Humboldts Secret A+B Cal-Mag-Iron Tree Trunk Golden Tree Flower Stacker, SLF-100 EH Honey Chome Enhancer. ( Clonex Root Maximizer Brewed with compost tea Mix) "BiG Shout Out & `Thank You to Quality Grow Hydro 7837 Wornall Rd. KCMO" Best Quality Supplies priced matched or Better ALWAYS & Extremely Knowledgable and personable Staff/Owners. & Of course Thx Zack for being a Sponsor
**^Narco, SkyWalker OG, Beast, possible ILGM Golden Leaf
Still amazes me ... cheers 👌 😗 💨 💨 💨
3 years ago
DONE.. Dry n CureFun Now..
3 years ago
Last Light Cycle for this round..! Not too bad I hope for first time grow , right? Only test will show I guess or maybe some concentrate ..
3 years ago
Some today Some Tomorrow.!! 😗💨💨💨
3 years ago
pics right as lights starting up showing off those DeeP Purps... Starting to get that color..!! 🙂🙃😗💨💨💨💨
3 years ago
Watching and Scoping EACH one Everyday Now.. So So Close. Everything goin ok.. 👍Sure room for improvement.
3 years ago
Hope they are doing well...
3 years ago
Now About 2 weeks Into Flower and Looking pretty Good. Last day I feel comfortable trimming so Going to clean em up a bit.. -Applied Flower Shield to the top of Media last time .
3 years ago
Now 100% we have Nothing left but Girls and are they ever showing it.! Beautiful.... Flower Stacker now @ 1-2mL/gL all others Still same PPM@ 1400
3 years ago
Finally Showing there Sex and looks Like Only 3 Boys in the bunch.! Unfortunately though was couple of my Favorites and Oddly One of the Biggest and Bushiest.
3 years ago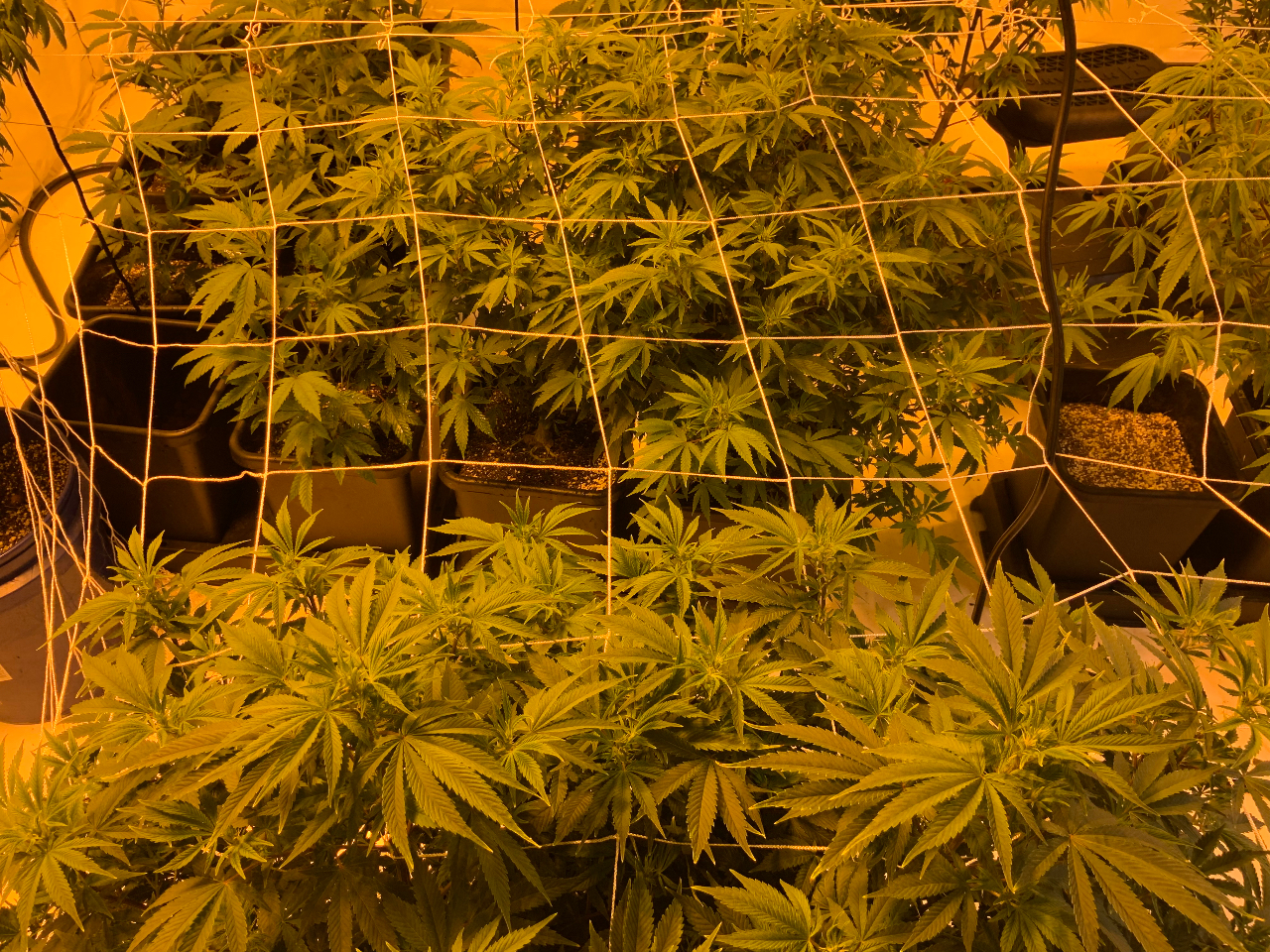 Been on 12/12 for about week now and Girls starting to show it! Started Flower Stacker @ 1ml/gL Now just watching for Sex.
3 years ago
1 Month 20 Days in Veg and Finally @ 12/12 & Looking Better. Just started "Humboldts Secret" Flower Stacker at extremely Low Dose.(0.25mL/gL) Still continuing A+B , Cal/Mag ,Tree Trunk, Golden Tree . PPM 700-900
3 years ago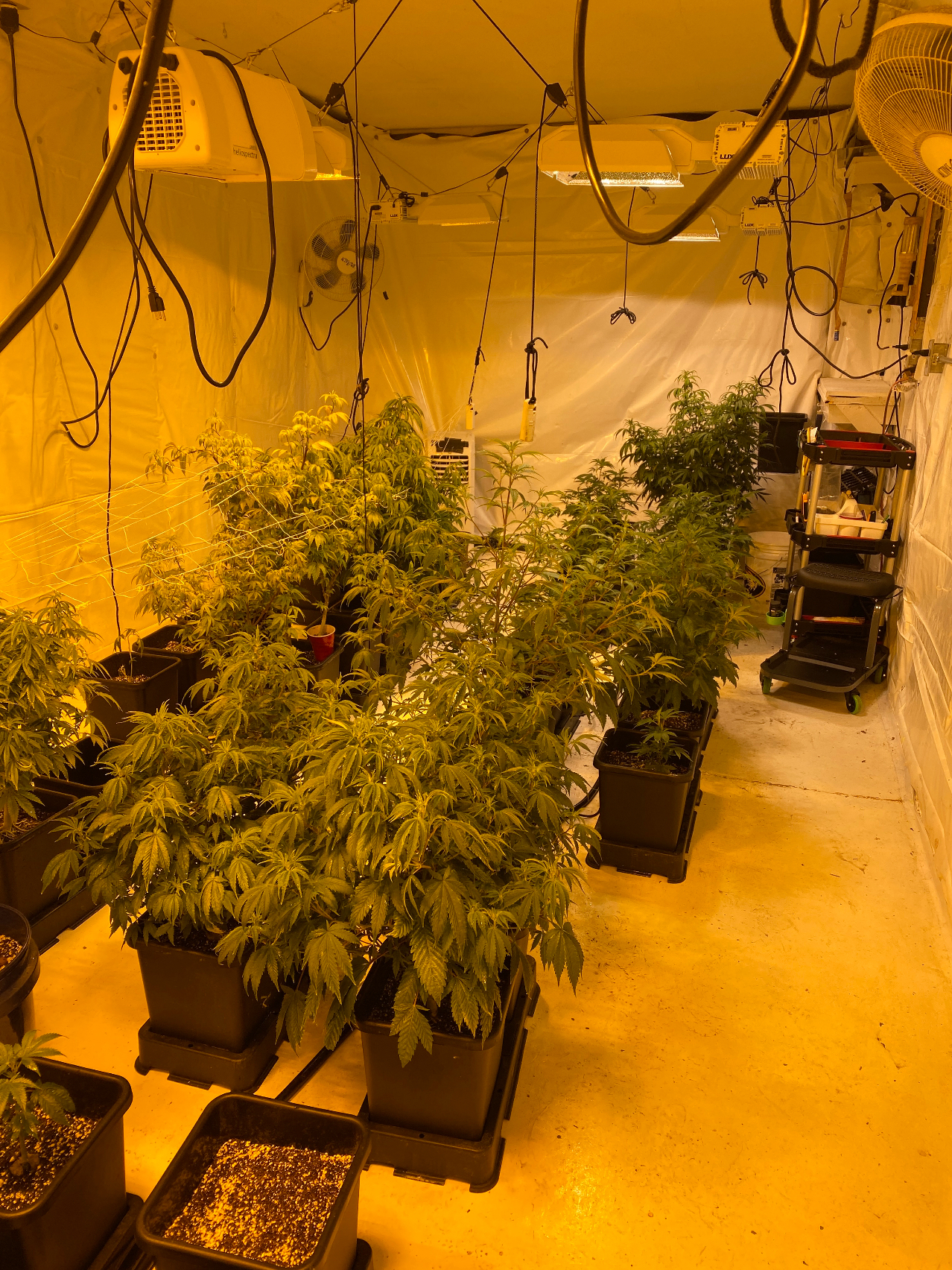 Doing pretty well now I hope back on track after a pH mishap due to malfunctioning pH meter. Max of 1 week delay.* 2nd Pic taken using iPad Pro with "T3 HID Cam Filterz" Also Can't Wait to use my New System. If anyone checks this out and has any tips using this system or one like it feel free to comment or w/e. Cheers 👌😙 💨 💨 💨
3 years ago
T3 LoL By the Way the Solo Cup plant is doing amazingly well and wasn't on purpose as it grew roots thru cracks into medium..
H2O 64F Ph - 5.8 , 900ppm H.S. CalMagIron, A+B, Golden Tree, Golden Trunk
3 years ago
Doing bit better today with Lil ones playing catch-up n doing a good job at it.!
3 years ago
Looks like mag but I had some sort of clog in line which made PH drop to around 4 in the lines but my 105 gL. res was reading perfect .Lil irritating to say the least... 😕
3 years ago
Plants are Finally Ready For Light Change. Drop By 1 Hr Each Day till @ 12/12
3 years ago
Not long before light switch...
3 years ago
BEAST Clone given by good Buddy.! (Big w/not much foliage)
3 years ago