Nancy - White LSD
January 2021
One gallon air pot in coco coir. 2x2x4 tent.
First time chopping! Tiny tiny plant. Very excited.
2 years ago
Been flushing her for a bit over a week now (growing in coco). Is it okay to harvest now? Should I wait a few more days? First time harvesting so any advice is MUCH APPRECIATED
2 years ago
buffy She's very tiny, under 10cms! Lucky if I'll get a gram from her! Stunted as a seedling but kept her going to see what'd happen and here we are. I'm just having a tough time discerning between clear trichomes and milky ones!
stoned If this is an experiment plant I say let it just do it's own thing for another week or two even three if you can be patient, keep checking the trics till you can noticeably see they've changed then if you really wanna harvest her you can but you probably won't get enough to roll anything, maybe a bowl after curing
stoned Is it on day 76 of flower or since seed?
View 1 additional comment
Flushing, getting close I think! (First harvest so you tell me)
2 years ago
Need help identifying the stage of these trichomes!
2 years ago
Took a pic through the jewelers loop. Started flushing today but what do y'all think? First grow so any tips on when to harvest is much appreciated!!
2 years ago
What color do these trichomes look to y'all?
2 years ago
Doobie123 Little cutie ☺️ nice work reviving the stunted plant I love that you are caring for it even though it's so small
buffy Thank you Doobie! The 3 stunted tiny plants I have are my first grow and now I'm nearing my tiny harvest. Kind of hard to tell how to time it since they're so small! Started flushing this one today, what do you think?
Doobie123 I would definitely say it's time to flush! It's going to be an interesting harvest I hope the smoke is 🔥🔥
View 1 additional comment
Just started flushing this lil lady!
2 years ago
buffy Yep. Check out the journal! Any tips appreciated.
Pistils are so orange. Not sure if it's going to be time to harvest (little popcorn buds) soon since it's such a tiny plant. Not sure when to begin flushing (growing in coco). Any tips on the harvest period for auto flowers this small (stunted as a seedling)? It's my first grow.
2 years ago
Stonedfaced You cut all the fan leaves off . Which contributed to the small growth. You'll get maybe a couple grams all said and done. The only way you'll know if it's done, is by checking the trichomes with a Helene loupe
adamsgrow After looking at your posts it looks like it was stressed the whole time with to much water maybe why it grew so small. I'd give it at least a week if you don't look at the trichomes.
View 1 additional comment
Not sure how close to harvest I'm getting with these dwarf plants. When is it time to start flushing?
2 years ago
infinityGrowerr In my opinion you should've started flushing few days ago but wait for more comments to judge, I would start flush it right now
infinityGrowerr Use a magnify glass and search for trichomes guide you need them to be atleast half amber
White hairs turning orange, wow!
2 years ago
stoned Do you already have it flowering?! I haven't seen a plant this size already producing?
buffy It's an auto that started flowering itself. I'm surprised too. Her and her sisters were stunted as seedlings, she's the smallest at under 10cm
stoned Wow very cool to see! I hope she flowers well even though she's small!
View 5 additional comments
Teeny bud sites for a teeny plant
2 years ago
She's flowering too!
2 years ago
Hard to see, but she's more dark green than any of her sisters
2 years ago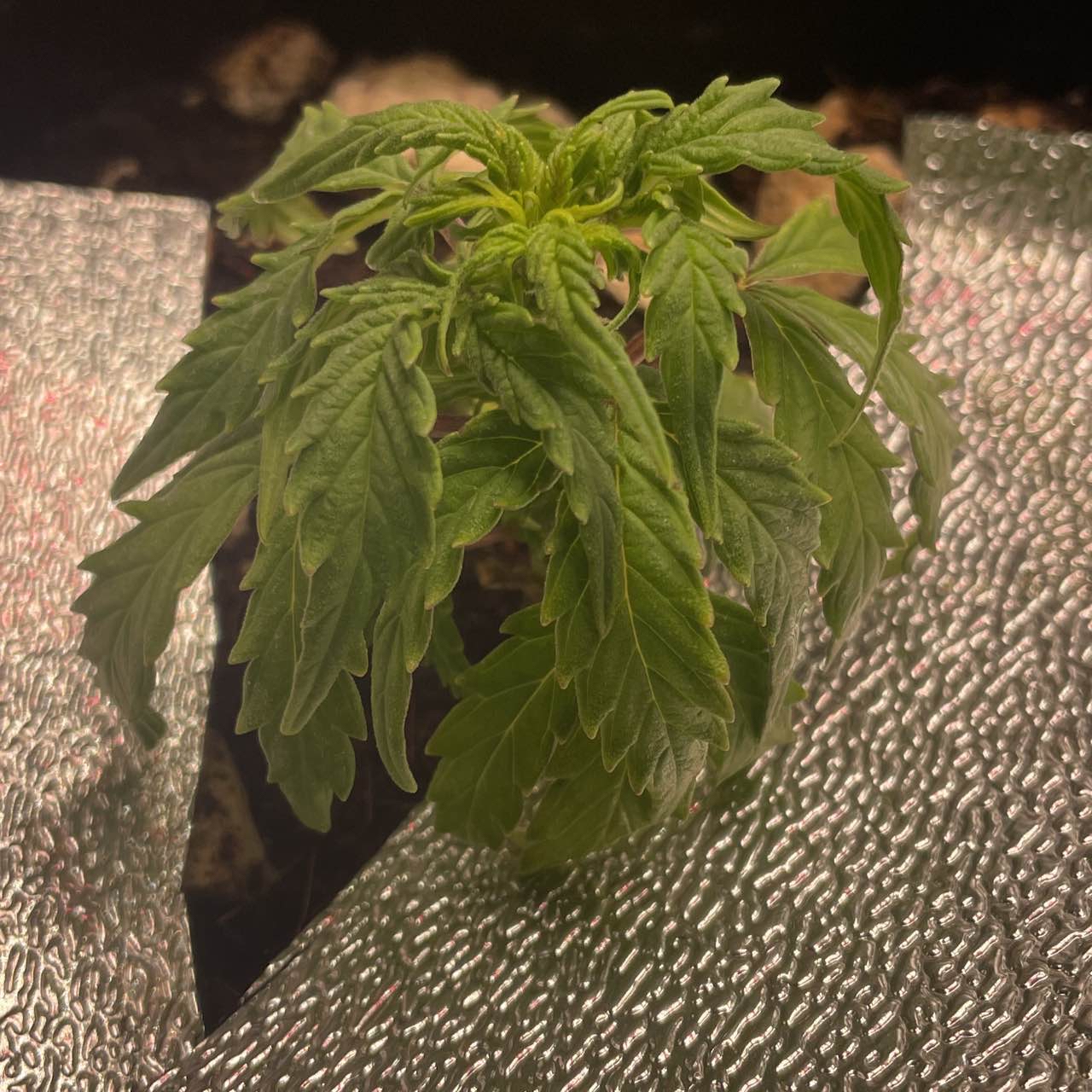 Droopy but growing
2 years ago
buffy Thought that might be the case. Letting her dry out!
View 1 additional comment
buffy Around 75 degrees and around 50-60 rH
mystrain420 Might be a ph issue then might wanna go up to about 80f for better air to the roots. Also I'd suggest using perlite for air in coco. Those big rocks just hold moisture under them that'll throw off ph with all the nutrients sitting on them. If I use rock go with things like lava rock that are useful to plants. Get a fan on her and let her dry up some after a 6.0 flush
View 6 additional comments
Plant was stunted for a while when smaller, then suddenly experienced a quick growth spurt. Same with Buffy and Rebecca plants.
2 years ago