Nothing Major
🌿
Also got a mystery stain seed in 8x4 along with Humboldt Seed Company genetics& Mamiko Seeds genetics
Notorious THC & Blueberry Muffin by Humboldt Seed Company
If you know you know
a year ago
stakzup What a waste of plant. Your not even gonna get 14g on any of those
View 2 additional comments
View 4 additional comments
Day 5 of flower week 8. Nugs nice and dense. Got some decent size but smelling dank asf. A couple plants have gained some colors to the leaves and nugs. Prolly gonna harvest them next weekend
a year ago
Spottem Pottem Pure Kush Cookies. I got 5 of that strain in here but only that one getting color nugs
ig:@eaegifts She's a beautiful pheno, hope she taste as good as she look and you kept a clone
View 1 additional comment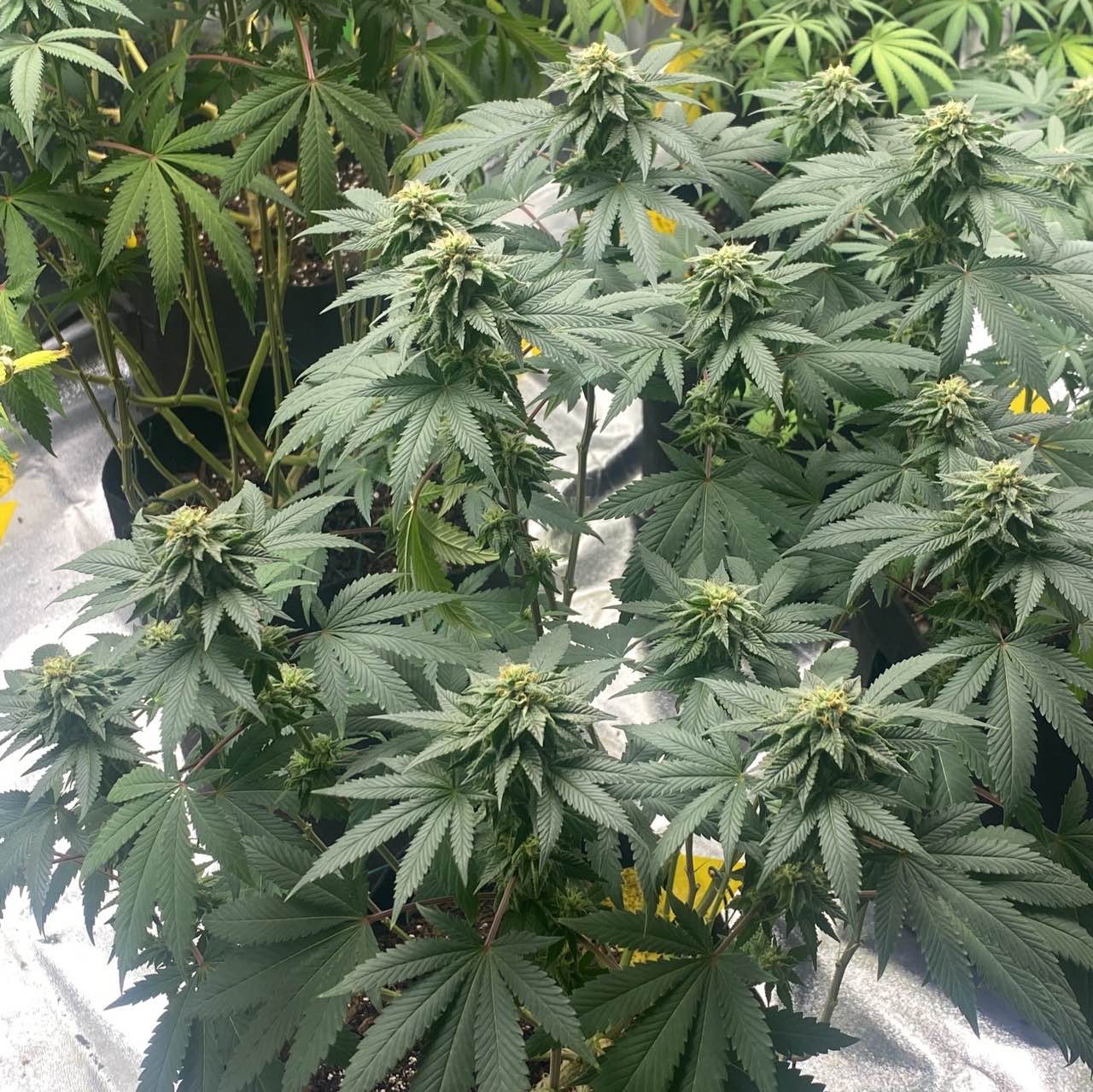 Day 1 Flower week 7 (except for the tall bitch, she in week 11 or 12, she might be a lost cause) Ready to see these ladies bulk up some more. Hoping to see more stacking over the next 2-3 weeks. One Notorious THC has some leaves turning purple. The big tall bitch trying to come around but it's looking like she gone be used to make edibles, not seeing what I want to see out of her.
a year ago
A closer look on day 2 of flower week 5.
a year ago
Day 1 of flower week 5. A screenshot from security camera in tent. I love the view of the canopy from here. Compost tea got these babies turnt up. Bud sites have exploded with growth and pistils are running wild.
a year ago
Loving the energy in the canopy. Day 4 of week 3 of flower.
a year ago
Day 5 of flower week 2. Lollipop them babies to redirect all energy to the top of the canopy
a year ago
Day 1 of flower. Removed the fan leaves (removing more in a few days), top dressed with worm castings, threw dehumidifier in tent and it's flower time. Lights go off in 5 minutes
a year ago
Been a week since I adjusted training wires and I love their response. Sad to say one of the THC went thru a traumatic experience. Water jug fell on it and broke a branch. I did my best to repair it immediately but I'm not sure if it'll heal itself this time around. We shall see though🤞🏾.
a year ago
ozzy_gunja Girls are looking great 👍🏼 Sorry about the breakage, I've snapped more branches than I can count 😂🤣 Rocking the Grow 💯
Spottem Pottem Thanks 🙏🏾 it was heartbreaking but it's all good. Due to low stress training I have more than enough grow sites to replace that branch if it doesn't recover.
Peng Those wilted bits are probably not going to recover
View 4 additional comments
Added soil to the pots today and before I added soil to this one I noticed I could see the seed still. Clearly the pots needed more soil especially this one
a year ago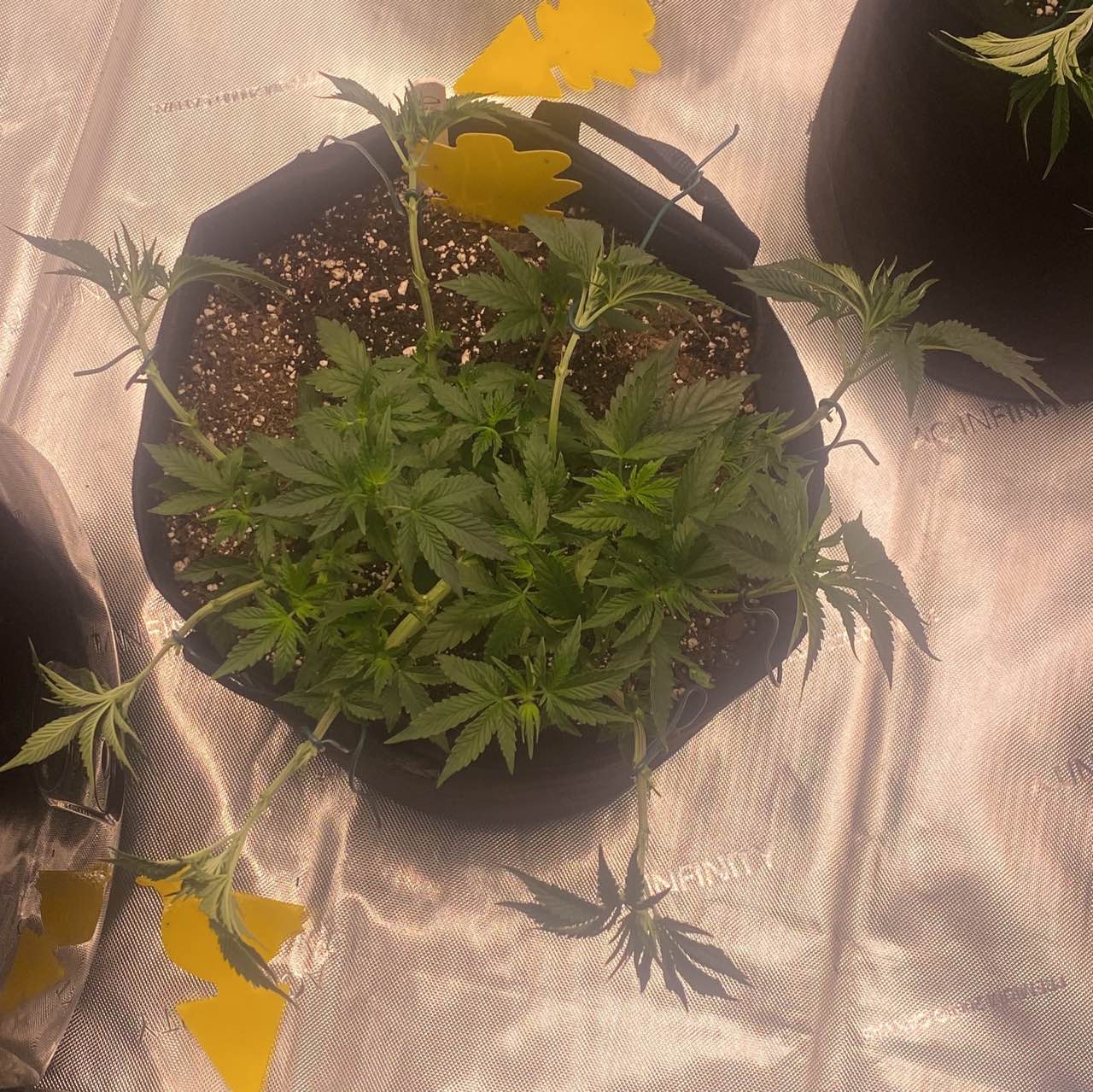 Adjusted the wires so they can LST more. Removed all the large fan leaves. Creating a lot of new grow sites
a year ago
Loving their progression and growth
a year ago
Did the first round of LST to the misc. bud plant and one of the Notorious THC plants. Leaving one alone and only going to top it so I can see how much of a difference in yield will LST combined with topping makes compared to just topping. The Notorious THC I topped prematurely is thriving and getting full, love the progress it's making. The Blueberry Muffin is a beauty. Haven't done any training to her yet but I will eventually
a year ago
I just updated y'all but I got an itch to do more LST and their first wave of defoliation. I love the effects LST has on plants and I'm excited to see what it results in yield. Still got one Notorious THC I haven't LST. It's been topped and defoliated but that's it. Really wanna leave it be but who knows… I'm tempted
a year ago
The blueberry muffin (in the middle) is showing great signs after being repotted a few days ago. The Notorious THC's thriving and the misc. bud (bottom left corner) is looking very promising. Notorious THC (top right corner) was topped a lil too early and that's showing in it's growth. It's all good cause it's still going to be a beauty
a year ago
Today I transplanted these babies (3 Notorious THC & a misc. seed) also did their first topping today. Will be repotting the blueberry muffin here shortly, will post update when I do it. The watermelon thriving and looking healthy
a year ago
Loving what I see. Notorious THC looking real good, the misc. bud seed showing out, and the watermelon looking solid. Blueberry Muffin showing more but I believe I planted it too deep on top of using a different germination process which has resulted in what you see here. She gone be ight though so no worries
a year ago
Less than 24 hrs into seedling stage and we seeing signs of growth. The Blueberry muffin finally showing her face which made my day
a year ago
Blueberry muffin (Trail mix freebie) sprouted finally. Germinated in water, then planted in soil once big root burst out seed (experimenting with different germination methods) so it's not as far along as the others. She going to be a beauty tho
a year ago
Freshly repotted as they enter rather seedling stage
a year ago