rowsofgreen
Closet Grow The Cheap Way!
Started indoor and moved outdoor!
Seeds were started in Red solo cups filled with jiffy moss after soaking seeds in water 18 hours. On February 15th the seeds were placed in wet soil and broke the soil on February 18th 2019. I purchased my seeds from Attitude seed bank who are based out of the UK and got a 100% germination success rate. This grow is 6 different strains with the same end dates averaging out to be around the last week of September to first week of October, except the Honey Cream which will finish 2 weeks earlier. Seedlings were then transferred into 2.5 gallon pots filled with a grow medium called Pro-Mix BX on Saturday February 23 2019. This Grow Journal will be how to grow good marijuana the cheap way. We will start the Veg, Grow and Train them indoors for approximately 3 months until the end of May or beginning of June when we will move them outdoors to to finish Veg and end in flower.
Honey Cream, California Sweet Skunk CBD, Gorilla Zkittles, Girl Scout Cookies, G13 x Blueberry Headband and Critical.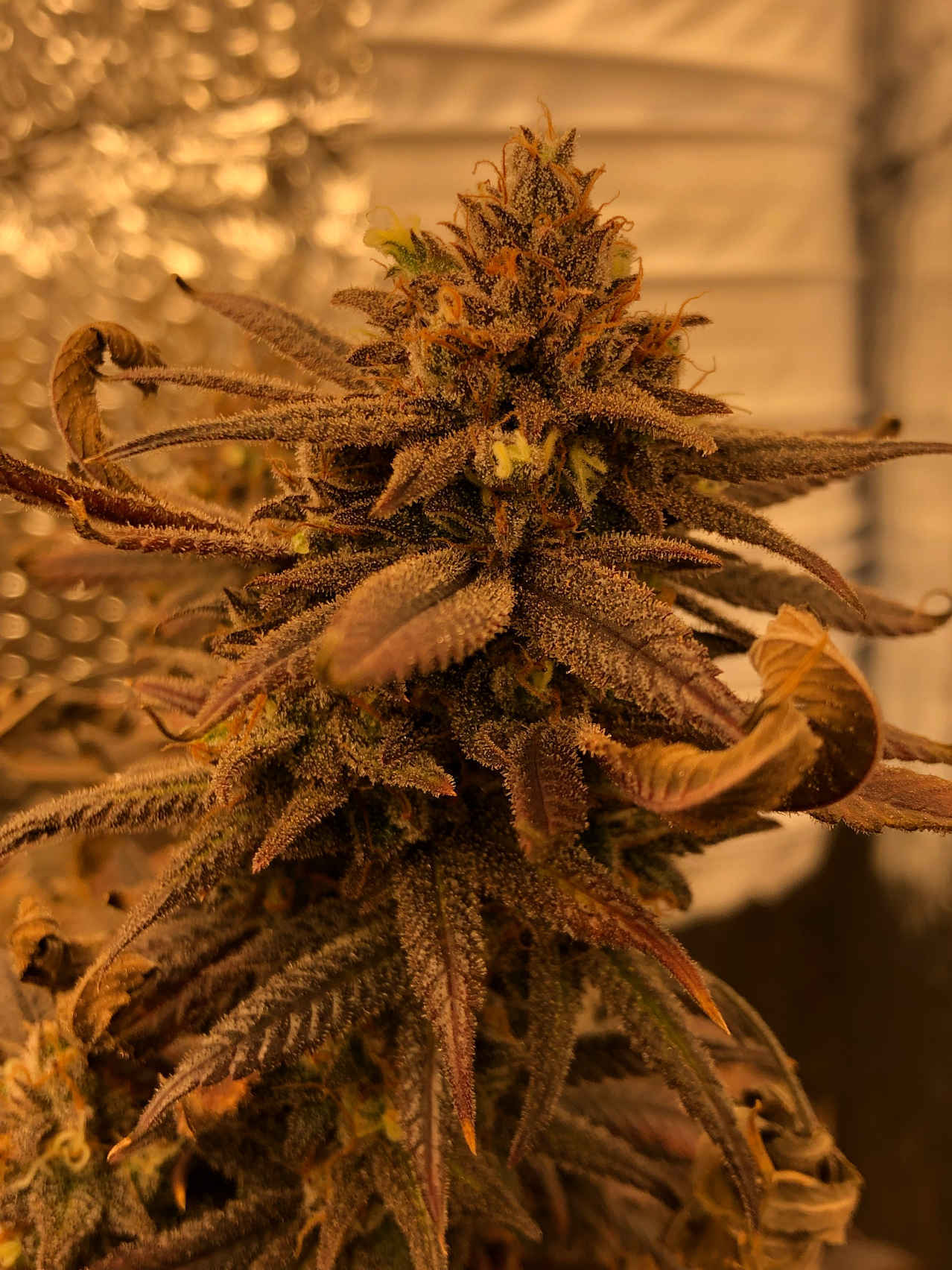 This is it for the indoor. Harvesting tomorrow. Some good colas and dense buds for all the set backs. Even the sativa is tight... yeeeeaaaaa
4 years ago
We are on week 9 of flower. Almost time to harvest. Just a few more days. Honey cream, Gorilla zkittlez and California Sweet skunk cbd.
4 years ago
Week 8 flower for honey cream, California sweet skunk CBD and Gorilla Zkittlez. Definitely lost a week of flower due to me going on vacation and them not getting watered. Outdoor took a beating as well and all plants almost died. G13/blueberry Headband, GSC and Critical.
4 years ago
We are almost done. About 2 weeks left to go. I did a good flush today and will do another Friday or Saturday. I put 5 gallons though each 3 gal pot. Indoor honey cream, Gorilla zkittlez and Cali sweet skunk CBD.
4 years ago
We are off to the races. Starting feeding 10ml per gal and they are loving it.
4 years ago
We are on day 21 of flower and they are stacking up nicely for a cheap closet grow. We are also starting to get some crystals forming.
4 years ago
On May 20th I changed the lighting to flower (12/12) it has been 12 days and we are starting to see some flowers starting. I am now completely done with the grow nutrients and now turned over to flowering nutrients. I did a flush 3 days ago and ppm coming out was 200ppm when I was finished. I will start with a half dose of flowering nutes tomorrow then work up to the full 10ml of each bloom nutrients per gallon give or take a few depending on the plants demand. I am growing honey cream, California sweet skunkCBD and Gorilla Zkittlez inside while I have the Girl Scout cookies, critical and G13/blueberry headband outdoors.
4 years ago
Tied down tops to keep them shorter. The plan was to send them all outside but people wanted to see them finish inside so they are a little stretched. G13/bb headband, Girl Scout cookies and critical are outdoors.
4 years ago
So I moved 3 plants outside and left 3 inside. The ones I left inside were supposed to go outside so got a little to tall. In order to flower these 3 indoors I needed to make room so I did some super cropping (bent over all the tops). I still need to do some training, lollipopping and defoliation. These girls will be switch to 12/12 today. So starting Monday will be the 1st week of flower. This girl in the pick has been lollipopped and super cropped.
4 years ago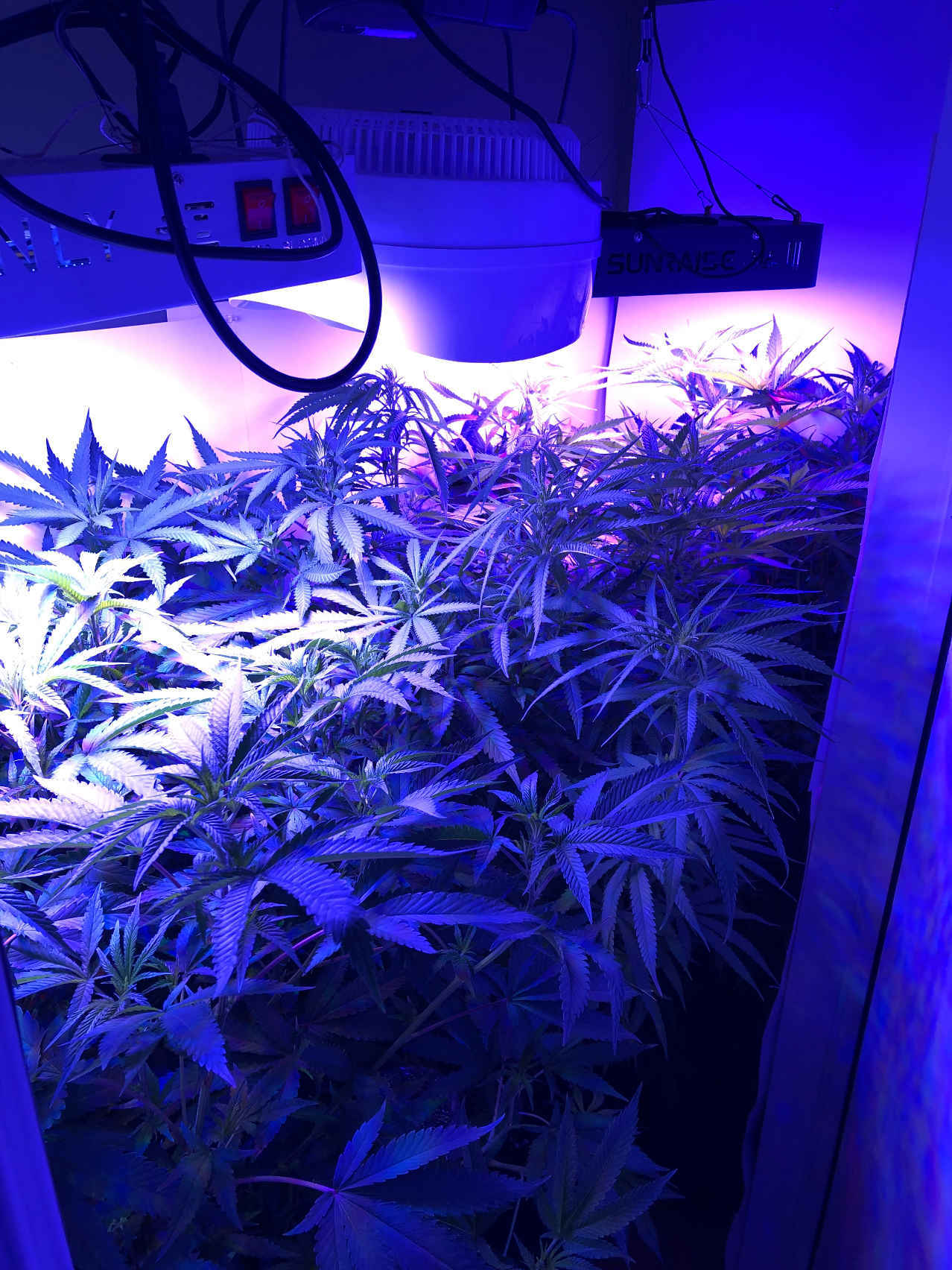 Ok, So this is getting ridiculous!!! Lol I was going to do some thinning out to my canopy again as a lot of these plants are rootbound and recovering from a rootbound transplant. I have decided to wait it out because this weekend I will be putting 3 plants outside and putting them into 7 gallon fabric pots. The plants are so rootbound that they are only growing straight up now and side branches are getting spindly. Once I move 3 plants outside I will be able to work the other three indoors as I'll then have room. They will be going to flower immediately. Still feeding full Remo nutes along with living organisms.
4 years ago
Well, The plants are maxed out and starting to go root bound. The leaves are yellow and branches not growing as strong. I am starting to harden off my plants to get them ready to go outdoors. I am cutting back my light time hours 10-15 min per week. My lights are currently only on for 17:40min now. Plants will be outdoors starting next weekend or the weekend next depending on the weather. Starting to take them outdoors here and there to harden them off.
4 years ago
Haven't done an update in a bit but plants are growing very well. A couple of them are starting to go root bound and I can notice it in the slow and odd growth on some of the tops. The height of my lights are maxed out so I will be doing some topping this weekend and making a few clones. I will add a picture of a plant with heat stress. You can see how the leaves start to canoe. To fix that I just bent them over and farther away from the light. Will update with clones next. First pic is heat stress look at leaves. I also broke two tops while rushing when training, not a big deal I just taped them up and will clone them later. You can also see a couple plants that needed a little more cal/mag than others. The red stems indicate this along with a couple small rust spots on leaves. These plants will be hitting the bush within the next 3 weeks. Stay tuned!!!!!
4 years ago
It's been a week since my last update. After flushing my plants for the past two weeks after a nitrogen overdose, they were ready for the new start to their feed. I started them off on a low dose of 5ml of each Remo nutrient along with cal mag and natures candy as I run beneficial bacteria. They are looking real good and I did some training as well to keep my canopy even and allow lower tops receive light. In these pictures training has been done on the G13/Blueberry Headband.
4 years ago
It has been about 20 days since my last update but things have been going good. I started off feeding quarter dose of nutrients and I am finally at a full dose. A couple plants like a little less nutrients than the others which are the honey cream and girl Scout Cookies. I currently stick to the same routine of feed feed water, feed feed water and so on. Last week I accidentally fed a couple plants 2 times the actual nitrogen when I had already added it but had got it mixed up with other nutes I had out at the time. This led to severe burn and nutrient lock out from nitrogen toxicity. I have flushed each plant effected with 5 gallons of water until I was happy with the PPM coming out. They are now bouncing back well after a week of stress and babying the poor girls. I also broke a branch off the California sweet skunk CBD while I was Training it a week ago so I turned it into a clone and it is thriving. You will see pictures of the grow along with the nitrogen toxicity and the clone I started as well. I will continue with the updates.
4 years ago
Beachboi Right on mang, I would try and add some Epsom salts to your next watering 2 Tablespoons/ GAL. This will help your plants heal even more and start to intake nutes a lot better. I had the same issue as your girls and this worked :), there are few vids on YouTube about it check it out. Very good for your plants bro.
RowsOfGreen Thanks dude but I would only run epson salt if I ran out of calmag. You never want to use both as epson salt is a real high dose of calcium. I have a YouTube channel called Rows Of Green if you want to check it out. I have a lot of good information you might find helpful. Thanks for the comment and trying to help.
I ended up fimming the critical in order to have the bottom branches come up. Everything else has been roughed up by pinching and bending limbs.
4 years ago
Topped and fimmed plants. I fimmed all except California sweet skunk and girl Scout Cookies in which I topped. I left the critical alone as it is naturally bushy and have just bent it over to allow the other tops to come up.
4 years ago
Same day and strain but better close up of topping.
4 years ago
1 of 6 GSC topping @ 6" tall and 4th node.
4 years ago
They are starting to give er pretty good. Nice tight nodes with having the two lights only 18" away.
4 years ago
Plants were stretched due to leaving them under a 40 watt light. Did a transplant and covered the stalks up half way to support and eliminate stretch. I replaced the 40 watt with two 1000 watt hps compared led lights. They both draw about 180 watts from the wall. It does not look like the green Crack CBD is going to make it, but I am hoping the transplant will help.
4 years ago
Seedlings are off to a good start but have stretched quite a bit while using a cheap 45 watt led to sprout. They have been moved under a 1000 watt led for 4 days which helped but they got to top heavy. They will be transplanted today and I will plant them about half way up the stalk to fix the stretch. This photo is taken with the Sunraise 1000 watt LED. The true watts out of the wall is 175 watt.
4 years ago
Hoober The goonies on deck holla
RowsOfGreen Lildrew1k Sorry I did not notice your comment. I am new to this app but you can get it for about $150 Canadian on amazon. I believe they have a $8.00 off coupon there as well.