budgrowerj
First Grow
March 2023
.
Purple Skunk, Sensei Skunk, Carmellow Kush
What y'all think???
3 months ago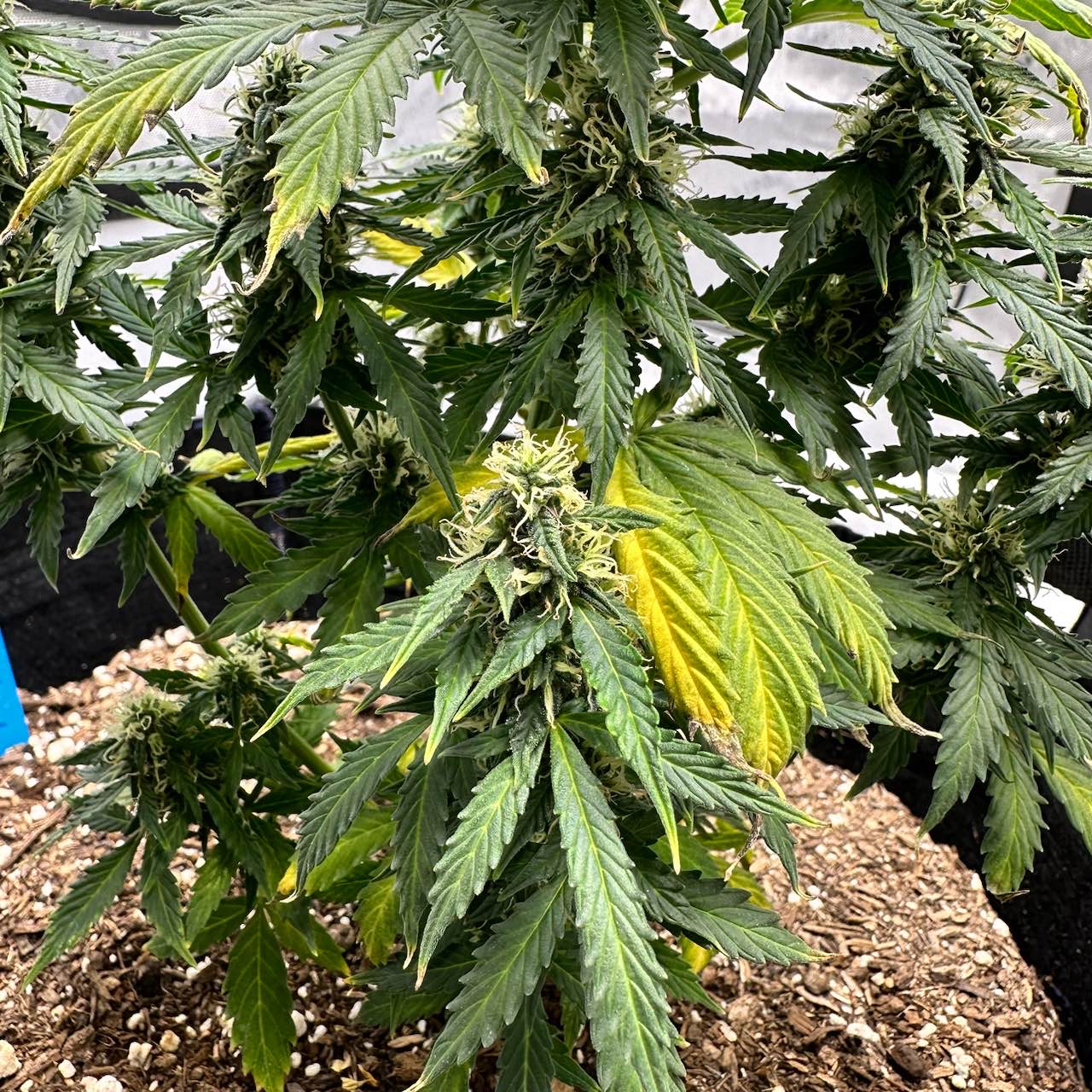 Help! My Tallest Plant Is Looking Very Sad, I went to watering once a week and came back to water this week to find this. Please help me save her. Also check out the pics at the end of the other plants buds, thats a lot of orange, is it almost ready to pull out? This is my first grow so let me know! Lastly I plucked some of those yellow leaves myself hopefully I wasn't wrong in doing so? Let me know! Thanks in advance.
4 months ago
wecozy it's underwatered. the plant is entirely too big for such small amounts of water. what's the PH of your soil?
wecozy that's too high, plants not up taking nutrients. needs to be between 6-6.5
View 23 additional comments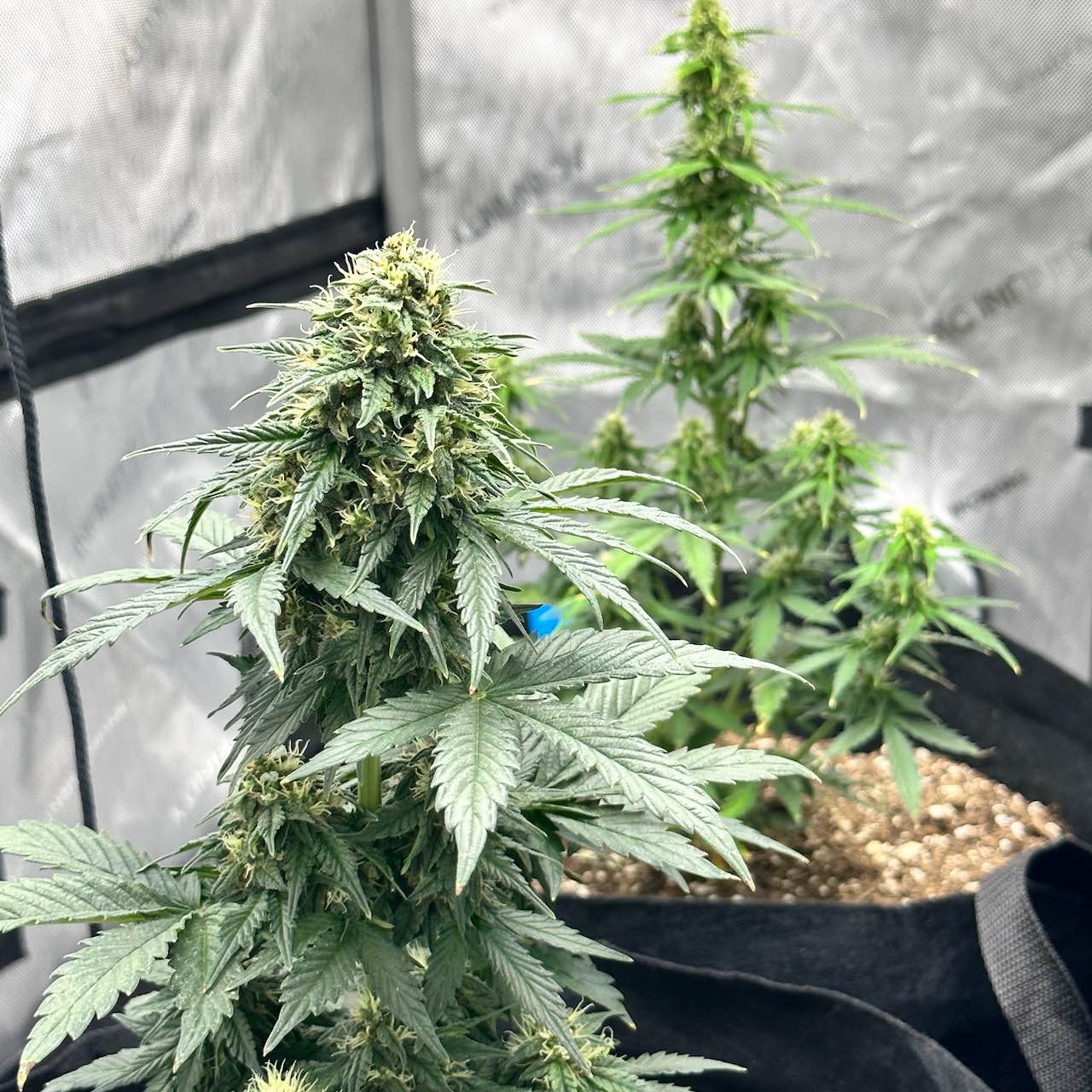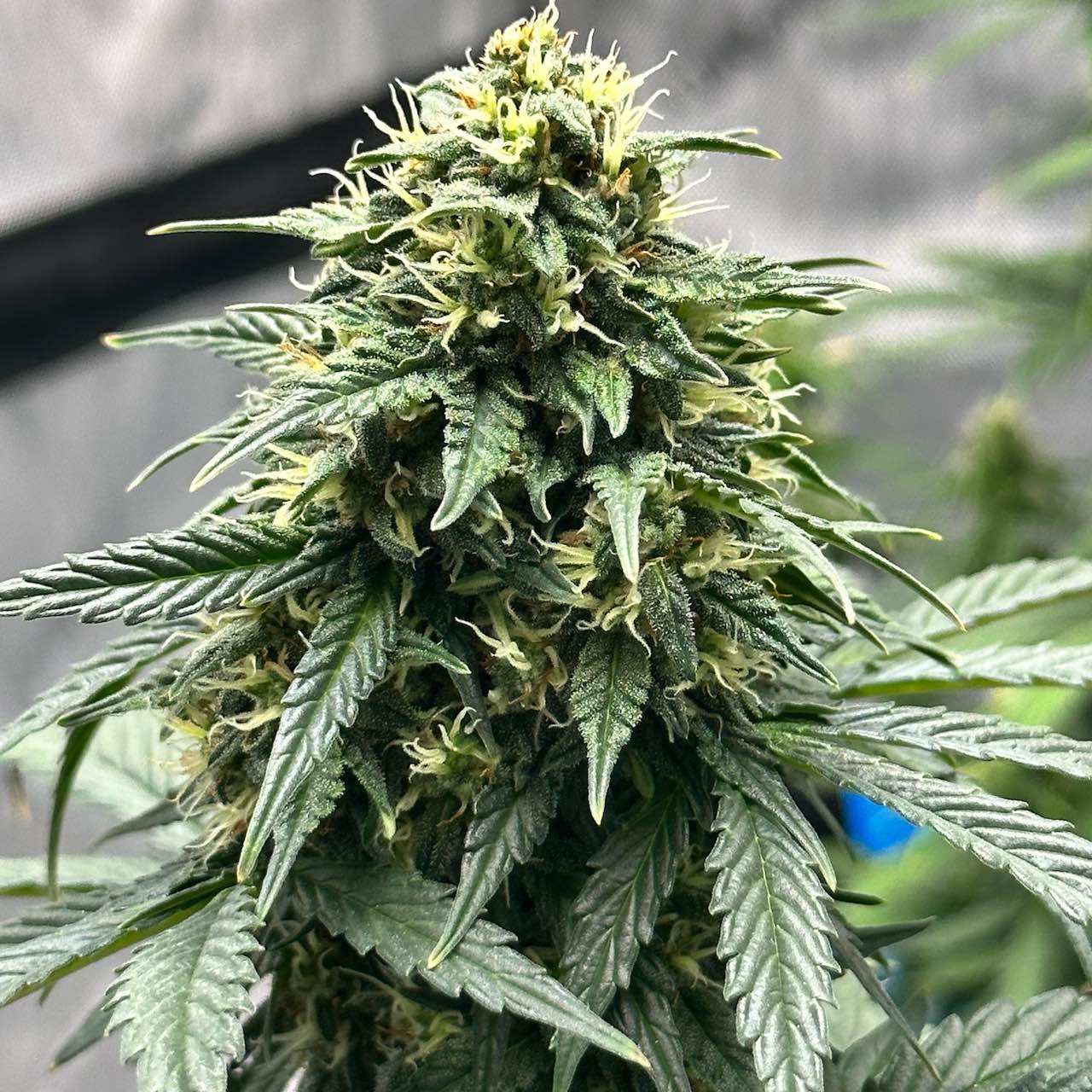 still growing!
4 months ago
budgrowerj i heard it wasn't good for autos, also is it not too late?
deadman4 I think it should be fine though i'm not sure. and you can start it as long as the plant is still in veg. it's better to start early tho
look at that recovery! appreciate all of you guys help, life savers
5 months ago
Just watered for the first time since last week as some of you all recommended. Didn't really see much change in those 8 days from what I can tell they look pretty much the same. I watered until a little runoff today. The roots underneath are brownish coming out of the bottom of the pot some white. Also should i remove the yellow leaves at the bottom of the plant? A couple fell off on their own.
5 months ago
G8keeper I was off to a rough start too. I was told to remove all dead/dying plant material so your girl can use her energy for buds.
budgrowerj i also added wick lines (see last slide) to the two plants that have roots coming out of the bottom so let me know you guys thoughts on that, the third plants roots aren't protruding yet
View 5 additional comments
1/3 has perked up nicely! Would love to see the others follow suit.
5 months ago
plants are droopy again, i thought it may have been overwatering but i just watered them for the first time in two days, any idea why or recommendations?
5 months ago
Caliban Why are you watering the leaves? Do you have a fan on the plant? What is the heat? Share more details if you can and the group can maybe help?
budgrowerj i usually just give them a little spritz after finishing the soil, i have two fans on high, i moved them up so because they were blowing the plant around, the temperature is about 75 degrees F and the humidity is 55-60
Caliban My advice is no more foliar spraying unless they need micro Nutes. Mold is the enemy! How do you test if your soil is fully watered? Do you water to runoff?
View 25 additional comments
umm, are we flowering??
5 months ago
budgrowerj no clue bro, this is my first grow lol but i did a little research i think its "pre-flowering" right now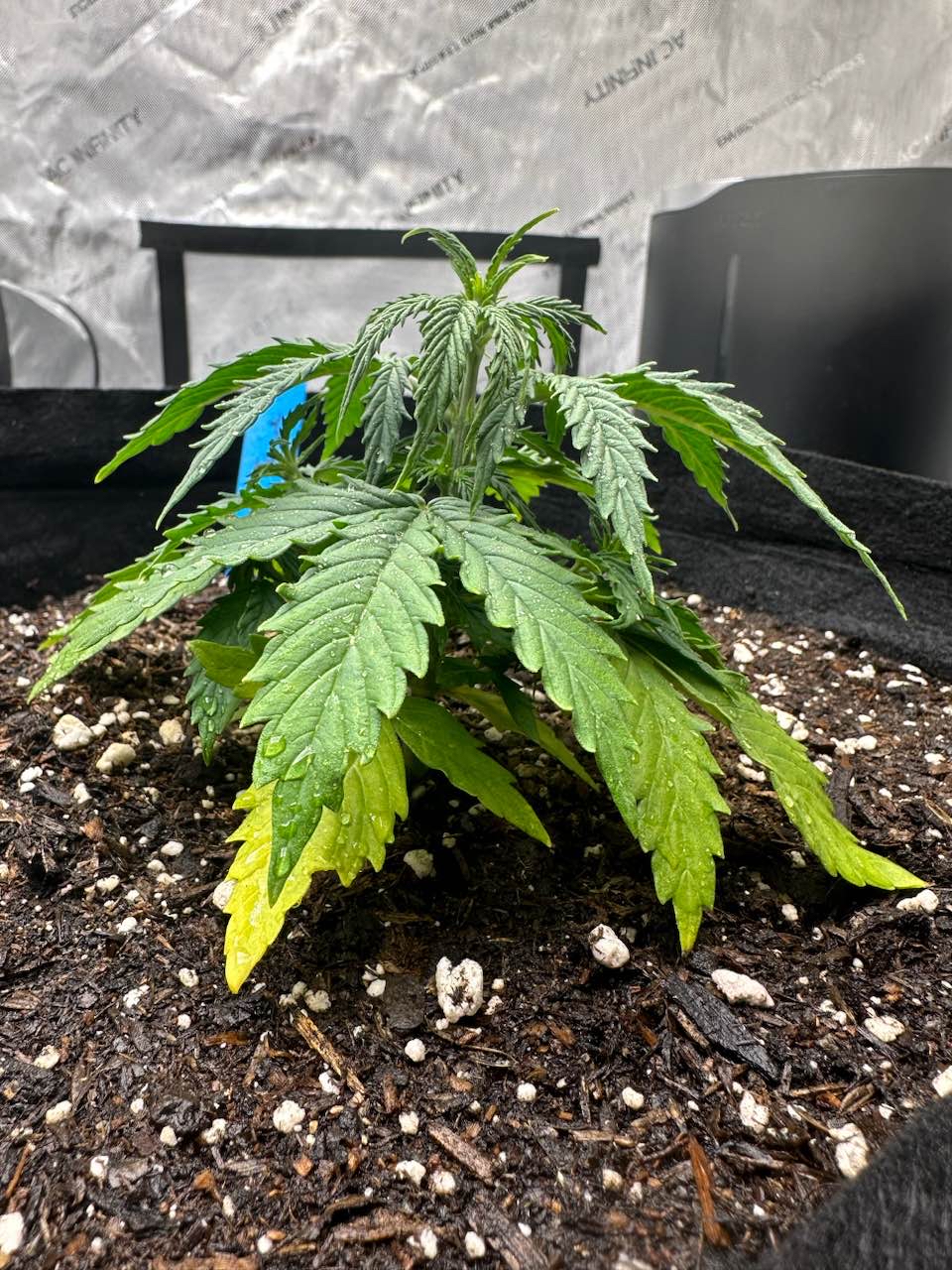 Plants seem to be progressing pretty well, they tend to droop when lights go off and perk up when the lights come on (i water a little before lights out) I am slightly concerned with the yellowing on the bottom of the one plant, any thoughts or recommendations? Was thinking it was possibly due to the bottom of that plants lower leaves being i. contact with the soil, but just a theory any insight would be much appreciated!
6 months ago
qeez It's most likely a watering issue, over/underwatering. Let the pots dry out enough between waterings and don't give too much.. half gallon every other day or so in those size pots just eye balling it. Learn to pick up the pots and feel the weight when full or dry
budgrowerj you thinking half gallon per pot or in total? they are 7 gallon pots, i've been trying to get a feel for the weight but don't really know when to consider them "full"
qeez At this stage more like a Liter per pot, work your way up.. I'd say never more than like a gallon or so per pot per watering. Aim to water every other day. If the pot feels like you could throw it through the ceiling with minimal effort then it's dry.. if it feels heavy af like 20lbs+ then it's full. It takes some time to learn that, be patient. Stop watering one of those pots for as long as possible while still watering the other 2 so you can get an idea. Keep it simple bud
You guys are life savers 🙌🏽 one day after taking you alls advice on watering towards the outside of the pot and letting the roots find the nutrients instead of watering directly at the stem and they are already perking back up, mainly making this post to say thank y'all!
6 months ago
Plants seemed to have recovered from the transplant shock but now they are back drooping and I can't figure out why :(
6 months ago
IG @stick_e_fingerz Looks overwatered try watering towards the edge of the pot going forward get the roots searching for the moisture and she'll perk back up 👊
View 1 additional comment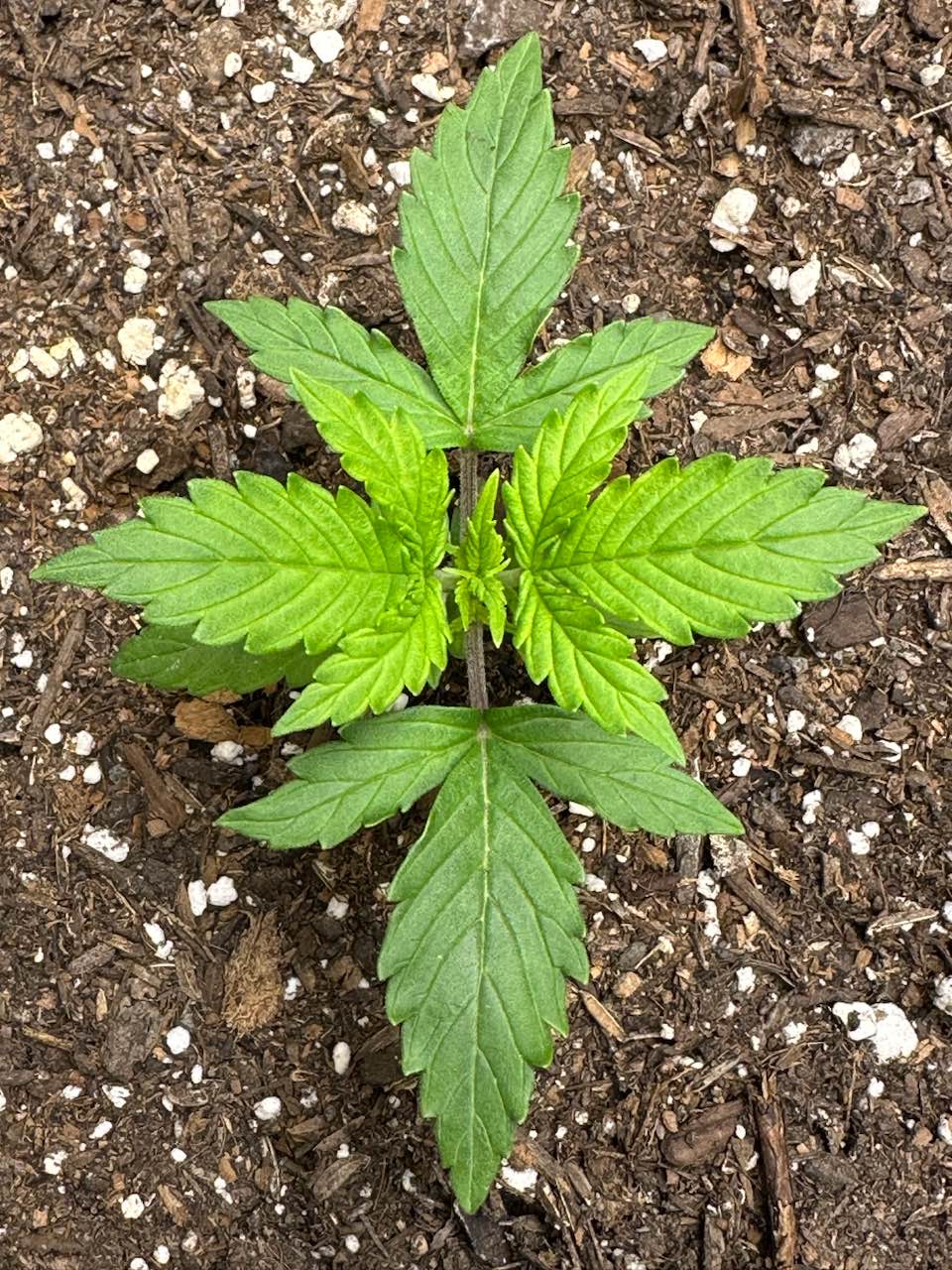 Plants seem to be recovering well from what seemed to be transplant shock (noted to plant autos in their final pots from beginning for future reference) dropped the light intensity and switched to 20/4 instead of 24 hours also gave them a good feeding of Jacks 321 will feed em some more before lights out tonight
6 months ago
Noticing Some Droopy Leaves, Going To Start To Cycle The Lights 18/6 or 20/4 now see what works best
6 months ago
drdave1 I run my light 20-4 on autos
View 14 additional comments
Final Pots! Ready To Veg Out
6 months ago
drdave1 Hey which light are you using
Transplant Soon, Need To Adjust Humidity In Tent
6 months ago
24 Hour Lights About 3 Ft on 4-5 Brightness
6 months ago
True Leaves Forming, Potting In The Next Few Days
6 months ago
Seedlings Breaking Soil
6 months ago