kingbreezo7
Bag seed
Spring 2020 (First grow)
This grow will start logging from time of sprout on 3/17/20
3rd Bagseed growing better than expected it blew up after the transplant I decided not to take any fan leaves from it going to give it few days and attempt a good old LST and bending/tucking of its leaves. A lot of bushy undergrowth on this one.
3 years ago
2nd Bagseed noticing what seems to be either a lockout which would explain slow growth it has grown but not nearly as much and as fast as the other two bagseeds I've planted. Also see holes in leaves and discoloration which I'm thinking is a cal mag deficiency maybe? So I have decided to give it a good old flush of Phd water with cal-mag added to to it in 2/3 days. Seen some white spots on all of my plants that leads me to believe maybe some md coming along so mixed 1 tsp of baking soda to .5 gal water and gave a nice foliage spray. Set humidifier to 65 RH I also cut a few fan leaves later this night...
3 years ago
Haven't posted in few days but the growth has been super impressive I'm loving watching these beautiful ladies grow by the second! So much has happened in these last few days it's unreal! Late at night I decided to take a fan leaf off that was blocking many bud sites I will kno the results of it tm or in couple days of its anything like the fim I did then I should have no worries!
3 years ago
Doing well in the 3gal fabric pot seen a lot of growth these past couple days since the transplant. Also in the process of drying out my soil complete due to overwatering and fungas nats.
3 years ago
This one has been taking a beating holes in leaves being chewed on etc picking up a bunch of stuff to kill stop and prevent insects worms etc today other than that it has been trying to make a decent return fingers crossed we got this!
3 years ago
Fimmed Bagseed growing like crazy all plants have adjusted to light schedule it's amazing that they kno hours before lights shut off that it's time to sleep I can now tell if a plant is asleep or if it's being effected by something else. Loving the progress this one is making not to mention how big it's fan leaves are !
3 years ago
Fimmed this one few days ago growth was slow first day after but starting to pick back up. I also switched HPS out and put in 1000watt mh bulb !
3 years ago
Weird growth this one is displaying idk if it's light burn or what the leaves seem to be doing okay tho just the top site looks fucked lol
3 years ago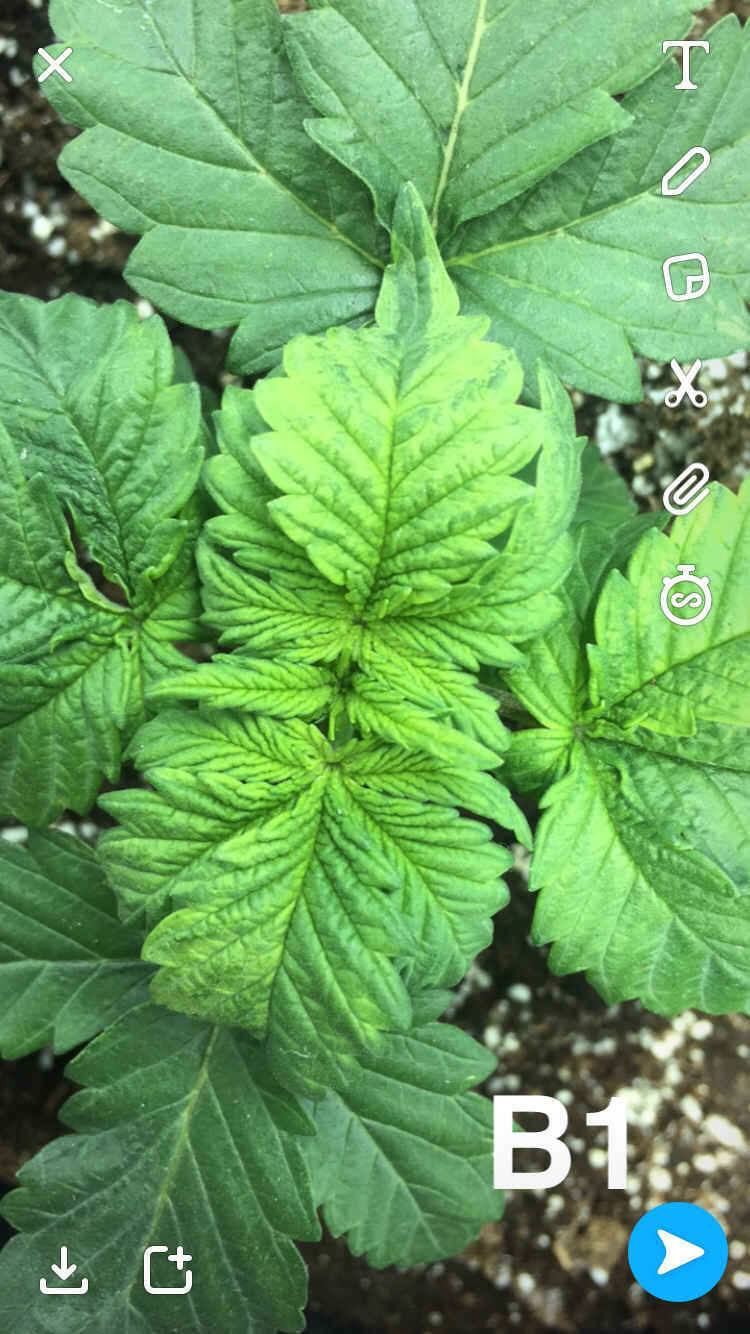 3weeks today for my bag seeds from sprout. Noticed some discoloration idk if it's genetics or what's going on I did transplant to a 3gal fabric pot for more room and better drainage. Bottom growth seems to be getting more and more bushier not as much energy has been going into the top main stem but more underneath?
3 years ago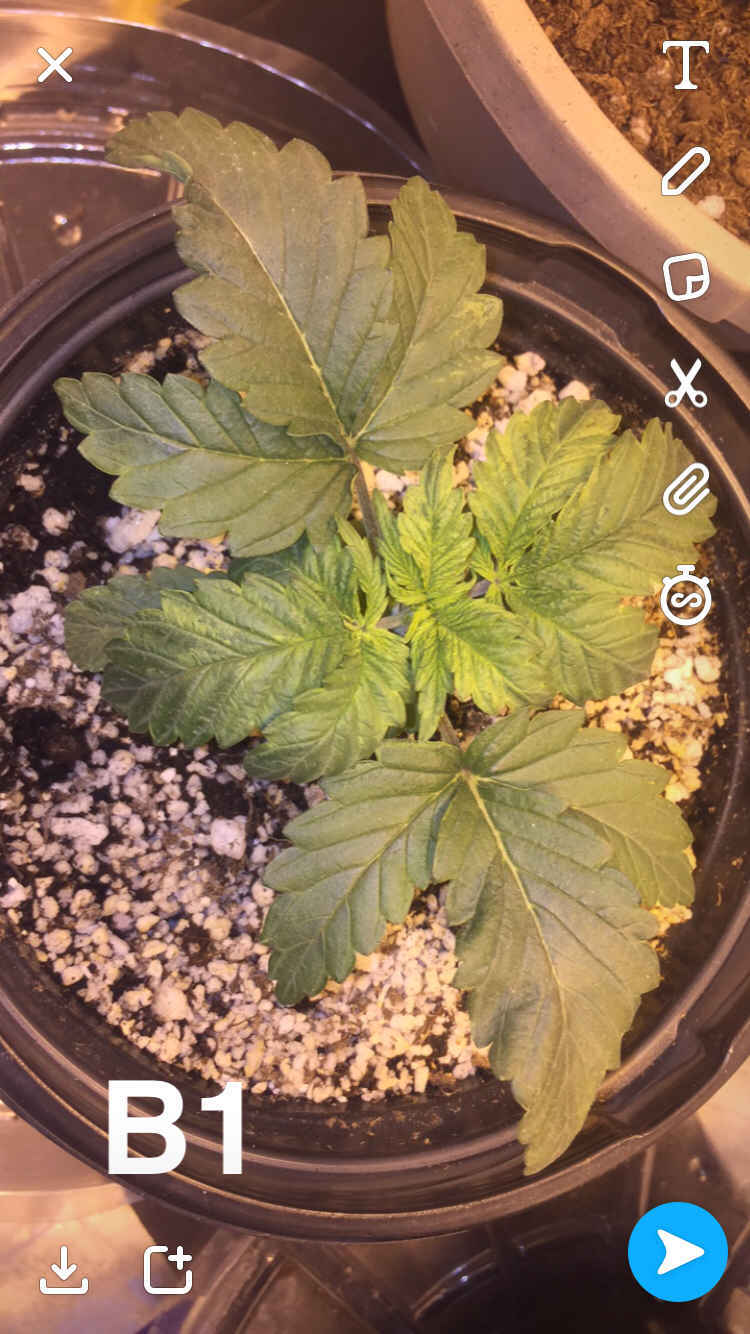 Super bushy undergrowth is clustered super thick leaves stalk is gettin thick too
3 years ago
This one is super dense compacted I feel like it's bc I've been vegging with HPS also see good bit of undergrowth happening other than that looks pretty healthy.
3 years ago
Couple days after I fimmed it starting to pick back up growth has been slow since was super droopy last couple days but seeing improvement also noticed new potential bud spots I think and growth hope fimming it worked seems as it did so far counted 4
3 years ago
Seeing a lot of undergrowth forming. starting to bush out and thicken to the point u can't really see inside by nodes looking really shrubby and A lot more fan leaves rather than height. Seems to be doing okay tho
3 years ago
Fan leaves on this one is huge! Spaced out unlike the others favoring traits of sativa I guess. Stalk on this one is getting thicker and developing more hairs as well.seems to be doing good tho health wise.Later that night after first set of pics were taken I took the risk and fimmed it! It being my first time I have my doubts and constantly checking on it hope it turns out good fingers crossed!
3 years ago
Super bushy more compact shrubby appearance not much taller I noticed but fan leaves are developing more and getting thicker. The stalk is also getting pretty thick and super hairy.
3 years ago
Shaping up looking better and better never count any of your babies out they will prove u wrong Forsure! So much thickness hope it produces some good dense thick nugs in the future!
3 years ago
I just love this one despite the accident with them falling over last night they were droopy and disfigured this one didn't look nothing like this when I found them on their side but overnight it's back to being the reason I chose it as a favorite !
3 years ago
Beautiful coloration going on here loving how well it is doing now. Slept on this one didn't think it would turn around like this amazing !
3 years ago
1 week old since sprout today
3 years ago
Week old since sprout i didn't go through with LST felt it was too early
3 years ago
Week old since sprout out of the bagseeds this one by far is my favorite this and the other auto skunk are absolutely killing it ! So much structure such pretty thick green leaves I'm loving this! Enjoying this one as it grows Forsure! Can't wait to see what it produces!
3 years ago
Tied down fan leaves experimenting seen some growth on stem wasn't getting much light so I opened it up more let's see how this goes.
3 years ago
This the one I transplanted it re rooted and adjusted perfect looking forward to seeing more growth !
3 years ago
Man this one is filling out I'm loving the growth
3 years ago
Bagseed day 12 18/6 light yesterday was experiencing what I thought was heat stress maybe or overwatering but when dark period hit for 6 hours i came into tent and leaves perked back up so thinking it was more so heat issues ! Going to see how it does at 50% today n tm.
3 years ago
3rd bagseed growing great as well was also given nutes.! Doing well after the transplant..
3 years ago
2nd bagseed growing growing growing! Looks super healthy fed nutes as well.
3 years ago
(1) of the bag seeds still weird looking but growing for the most part seems pretty healthy tho. Fed liquid nutes today went half of what feed schedule suggested.
3 years ago
Growing transplanted out of solo cup to bigger container! Deformed leafs never seen any like this.
3 years ago
Added more soil covered more stem due to serious stretch. Stem was pretty week flopping over on its 9th day so let's see how it turns around! Growing pretty good fast and filling out ! HPS at 75%
3 years ago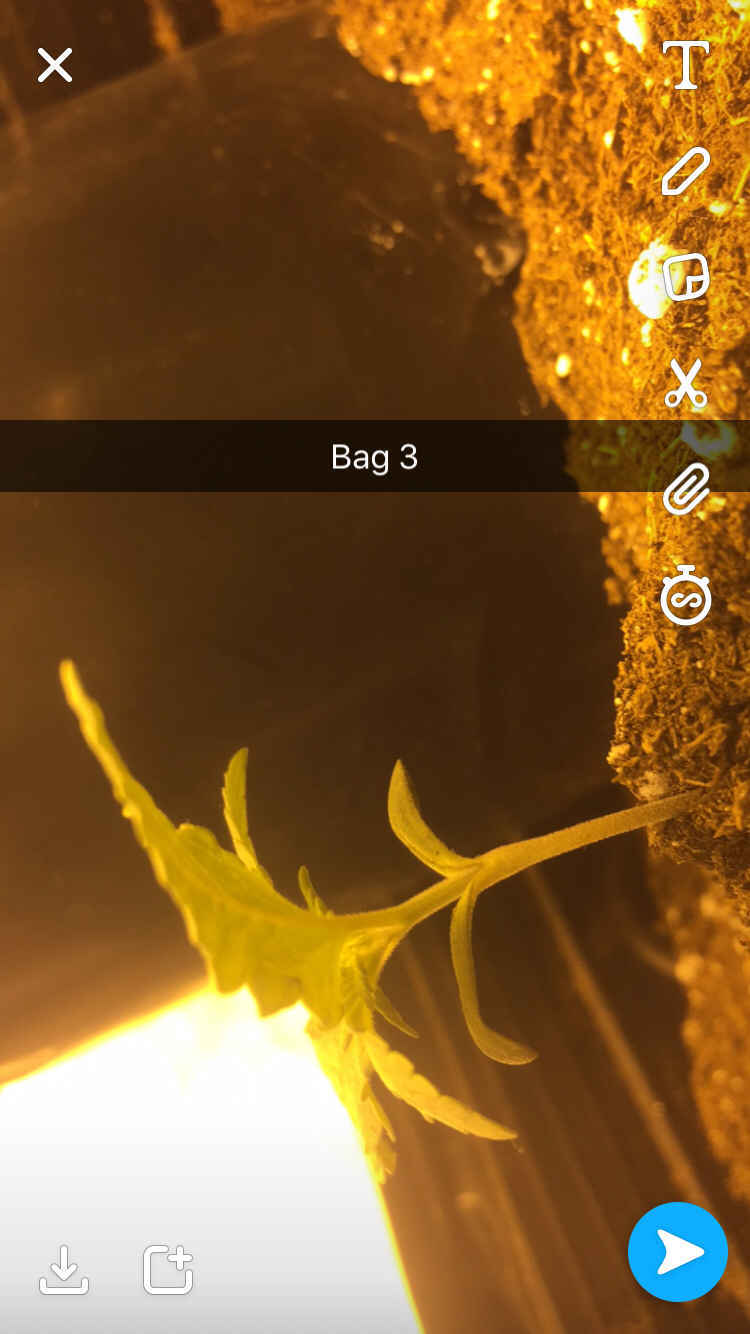 Leaves getting thick spreading out more good growth! Under HPS as well running at 75%
3 years ago
Day 8 making progress
3 years ago
Day 8 since sprout
3 years ago
Bag seed growing good more stretch fed today plain water. Added some more soil due to the stretch.
3 years ago
Stretched and is growing super fast ! Added more soil to cover stem put closer to light ! Also plain water fed !
3 years ago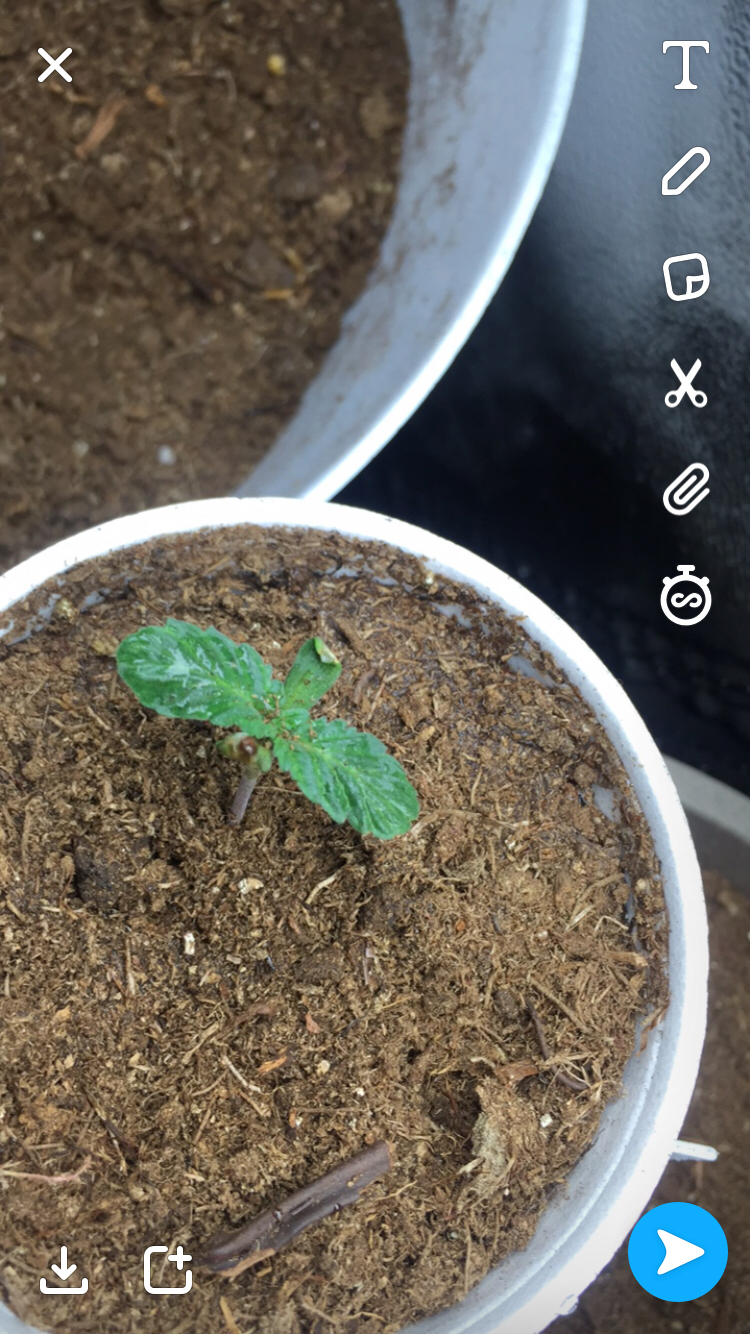 Good ole plain water feeding today leaves are getting thicker I wonder more and more if it's a indica dominate or hybrid etc
3 years ago
Bag seed 5 days since sprout! Growing quick strong and healthy had some stretching so decided to turn HPS off and keep all seedlings under t5s buried most of its stalk as well as the others! I did have to help with support zip tied to post for straight upward growth.
3 years ago
2nd bag seed at 5 days since sprout! Also growing healthy and strong.
3 years ago
3rd bag seed at 5 days since sprout! Growing looks somewhat healthy I had problems with heat stress it looked like due to leaves curling up so I turned HPS completely off n been giving straight t5 lighting. Also some of the dome still hasn't fully came off hope it will recover from this.
3 years ago