My Fantastic Four became My Beautiful Two!!
2nd grow
Cereal Milk, Gorilla Glue, Dutch Passion, and Girl Scout Cookie
My girl is in flower!!!! She was defoliated so she can suck up the light….she's growing like crazy….think this will be a very nice healthy harvest!!!!
a year ago
She's really growing well…this Humboldt's Secret 🤐 is really where it's at when it comes to nutrients!!!!
a year ago
Janixbis I would pull those branches down start low stress training so you can get more bud so it's bigger yields
Sauce1285 Actually on that today…trying to get it right
Janixbis Looking good tho! 🔥🔥 also make sure your fans are moving the leaves because your leaves constantly need to move so that way they essentially can breathe as long as the leaves are flickering because of the fan and that's good you don't want it to be stagnant
View 2 additional comments
Cereal 🥣 Milk giving me life!!! Freshly feed!!
a year ago
FloridaManBakehouse Are you using a 2x2x4 AC tent? Getting ready to get rolling but trying to get all my shit situated first
She's growing nicely…did a little bit of tucking for some additional light ✨
2 years ago
super tall…gorilla glue at work…be cautious!!!
2 years ago
Should I start LST with my girl?
2 years ago
She's about to be hell…she's just getting taller and taller!!!! I'm loving the growth!!!
2 years ago
Jackaler357 I'm on my first grow so don't really have an eye for it yet... how old is this lady?
So these ladies are growing and enjoying life!! 🌱 🌱 Gorilla Glue and Cereal Milk…they got there first of nutes yesterday (Humboldt's Secret)
2 years ago
I believe these young ladies are going to be great growers for me!!! Gorilla 🦍 Glue and Cereal 🥣 Milk…what a difference in 2 days…still just getting pure water 💦
2 years ago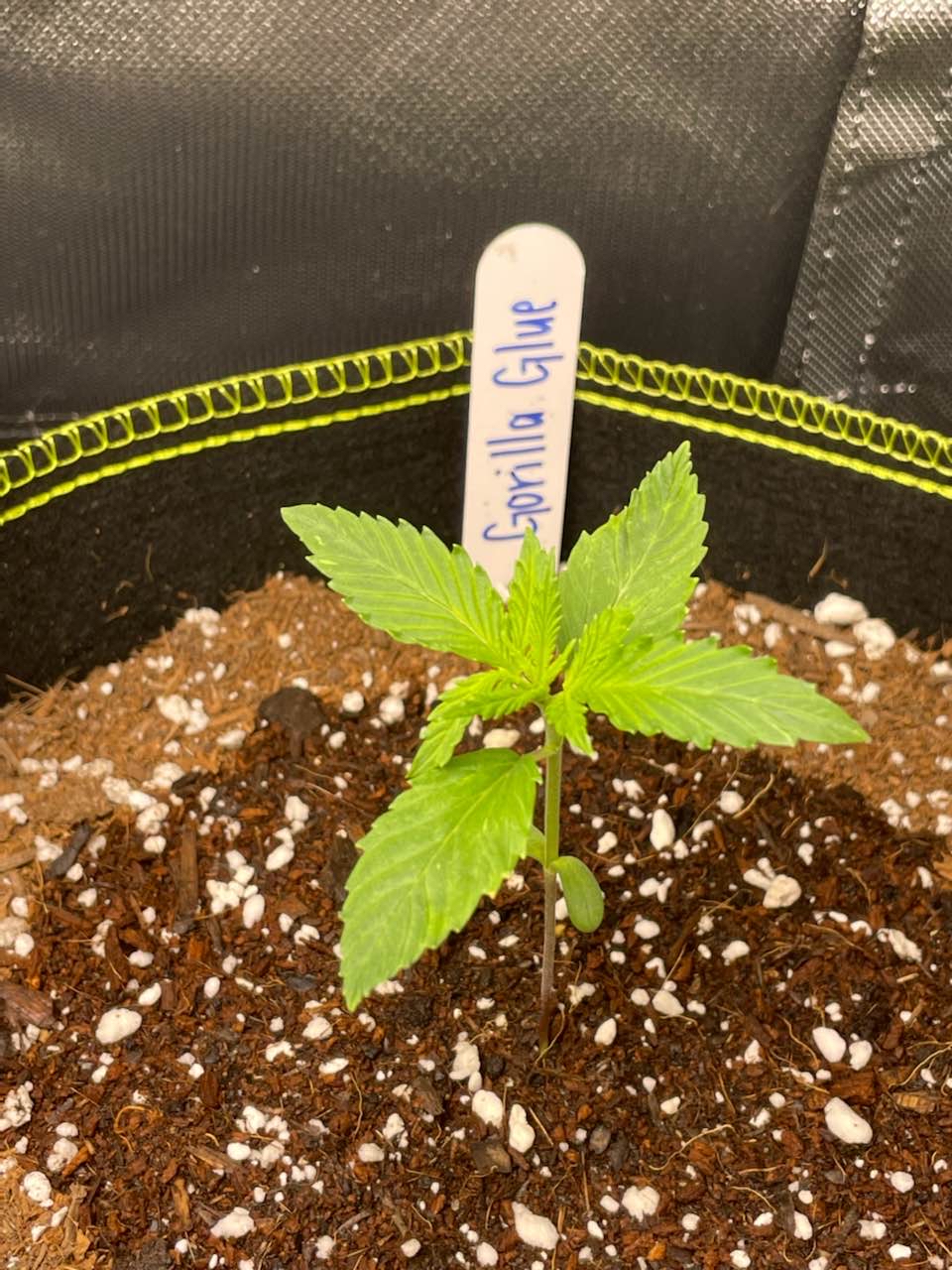 2 of 4 growing well…still waiting on the newly planted ladies to sprout 🌱
2 years ago
We are officially 1 week old and my ladies have small new 2x2 space to grow with a maxsisun pb1000 pro before being moved to the big tent…had to drop new seeds for the Dutch passion and Girl Scout Cookie…so waiting for them to sprout 🌱 hence the humidity domes
2 years ago
Everyone is growing nicely…Dutchie has a bit of a support system being that she was a bit daggley…but we're gonna get her right and strong 💪🏾…any suggestions are greatly appreciated!!!
2 years ago
My little ladies looking comfortable up under the light!!!!
2 years ago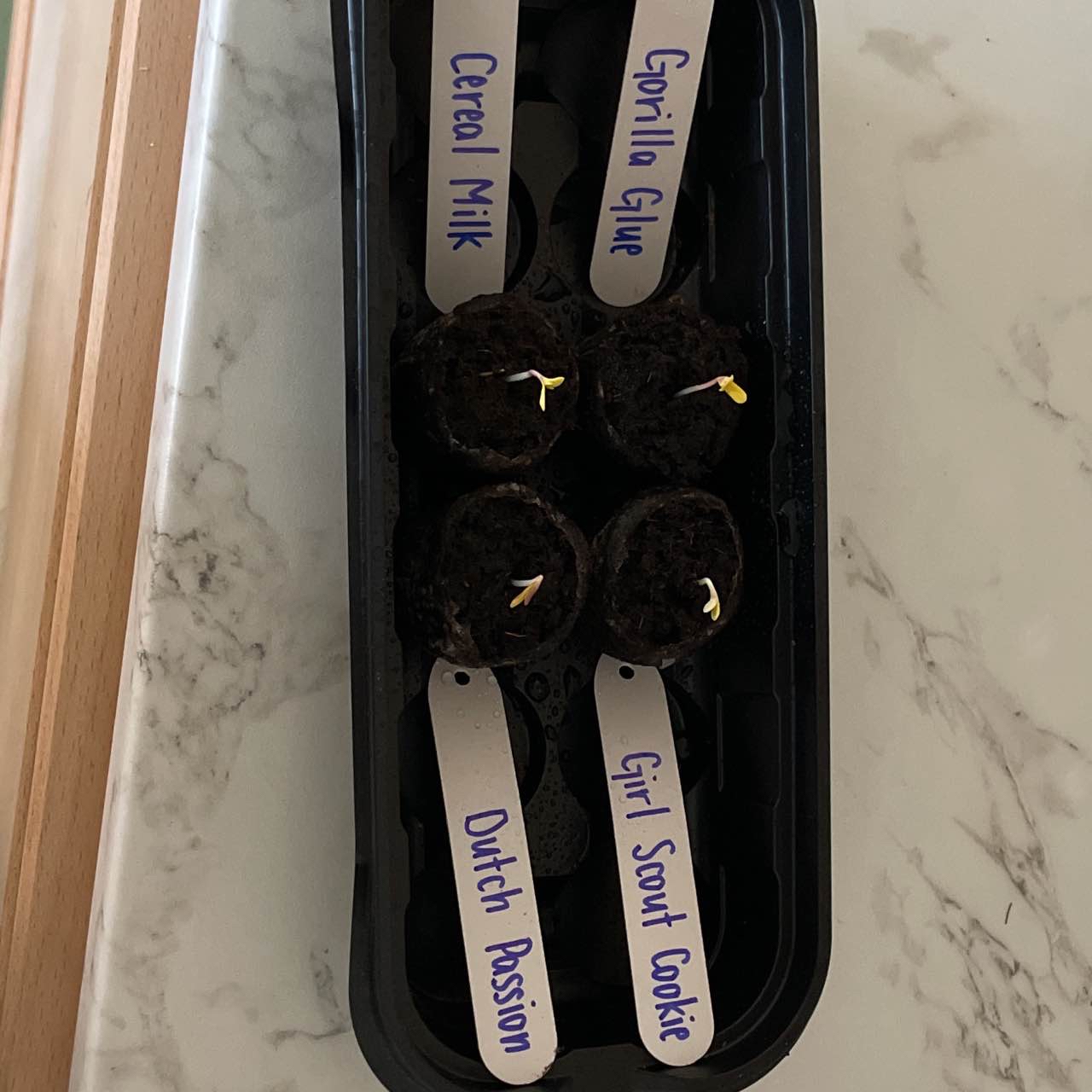 We have 100% sprouted!!! Let's go!!! The taproot looks to already be growing out the bottom as well…should I go ahead and place them in there forever homes later today ☺️ or do y'all think I should wait until they are fully open?
2 years ago
locker105 I say if roots are peeking out already then why not give um a lil extra breathing room. That will also help with your watering so that the medium isn't too wet or too dry.
locker105 Your rocking some bomb ass strains tho bud, I'm jealous
Sauce1285 Thank you for the advise…that was my thought 💭 process but I didn't wanna mess up nothing!!! I'm super hype about the strains myself…
My four little ladies have a forever ♾ home 🪴
2 years ago
My four new ladies planted…cheers to the beginning of something beautiful 🤩…All advise is accepted and welcome!!!
2 years ago