Starr Berry Joint Planting
Dec 2020
From seeds: Cookies Kush from Barney's Farm and Blue Cindy from G13 Labs.
Cookies Kush and Blue Cindy
Feed w/ ½ gal each and ½ nutes.
a year ago
Split 1 gal water with 2/3 recommended nutes. BC has more bud hairs, not yet on CK. BC has some dead leaves :(
2 years ago
bumper101 What nutes are you using? What's the pH of your soil? Are those on flower or veg? Finally, what pH are you running with your water, what kind of water, and what's your ppm's reading during each phase that you're growing? I recommend 260 ppm's during early veg when when they have 8-10 growth unions. 400 during mid veg, and 650 in late veg. Bump your ppm's to 750 a week into bloom and increase to 1000-1250 in the last half of flowering. Run 6.7-6.8 pH in veg and 6.5 in flower. Check the pH of your run off after flushing with RO. Lastly, if leaves are curling up, that's nuts burn. If they're curling down, you're over watering them. Roots need oxygen, so shake your feed vigorously, or use aerator stones before feeding. Use Super bee and Great White Shark to create root vigor and break nutrients up that may be locked in. Good luck.
bumper101 Saw the nute picture. If you're in flower and that's all you're using, they're not getting what they need. They need to be feeding at 3.5-13-22 and adding Cal/Mag supplement every other feed. I use .25-0-0.1. I recommend Roots Organic Terp Tea veg, bloom, and bloom boost using aerator stones for around 24 hours. Flush and feed on rotation. It's all organic, and also has the bacteria and fungus that will support the roots.
spitfireck Thank you, @bumper101. They are in flower. Unfortunately, not much of that makes sense. pH is always between 6.2 and 6.5 after nutes and adding pH down. The nutes increase the pH to over 8. I tried reading PPM, but I could never get a reliable reading nor could I find any info on what it should be or how to fix it if it's not correct. I can incorporate your suggestions moving forward and in the next crop. Thanks so much!
View 1 additional comment
Blue Cindy has bud hairs
2 years ago
Finally turning the girls to bud. Gnats have been gone about a month. Flushed each with 1 gal pH water and the first 12 hr cycle starts at 11pm.
2 years ago
adamsgrow I think I would wait to flower, she looks kinda nutrient burned and over watered.
spitfireck Thank you. They are already in bud. I struggling a lot with gnats and leaf discoloration the first 60 days :( and why I waited so ling to turn them.
Split 1 gal water with 1/2 nutes between them. Trimmed more and added plant benders. The gnats are prolific so I added sand on top of the soil.
2 years ago
Watered with ½ t nutes per 1 gal split between the two girls. Pruned again and continue with scrog training.
2 years ago
½ gal water each w/ ¼ t nutrients. Topped, fimmed and started LST with pipe cleaners.
2 years ago
Hygrometer was in the red. Watered with ½ gal each plus ¼ t Fox Farm Big Bloom. Let the excess run off before putting the girls back in the tent. Trimmed leaves that were in bad shape or were early ones that weren't 'full' leaves
2 years ago
Watered ½ to ¾ gal each until there was plenty if run off in a the bathtub.. Increased the height of LEDs. Humidity is better but seeing more gnats then the few days prior.
2 years ago
bigreds_grows Looks like you have some kind of deficiency going on
CraigBengfort Maybe not, the soil looks like it might be too dense and if they're is a fungus gnats infestation the roots could be suffering which would cause the tips dying
View 3 additional comments
Added a hygrometer. The atmosphere was too dry so I've added a humidifier. Have not watered in several days and the moisture meter shows moisture near the bottom of the container. Based on the leaf tips color improving (I think) and the up turned edges may be flattening out, I'm hopeful the overwatering is 'reversing'. I want to wait to water until they start wilting a little. Then I'll look at adding nutrients based on run off. I feel like they are ready to tip, but will wait to let the issues settle. BC is ~7" and CK is ~6.25" and both have lots-o-leaves.
2 years ago
CK's leaves have started to curl on the edges. There are hints of orangish brown on of a few tips (particularly the first two leaves that come out. BC has had a few light streaks and has now developed several leaves browning on the tips. The hydrometer shows both as being moist to wet at the bottom, but dry at and just below the surface. I think I am over watering (about 2c each every other day). I'm wondering if its time to tip to start new branches for SCROG.
2 years ago
BC (rt) is dancing below the 5" mark. CK (lt) is stretching to reach 3". LED lights are about 8" from top leaves. Gnats are a problem, just as they were with the fist grow. Put in a fly strip yesterday and there's a dozen or so corpses today. Gently disturbed the top layer of soil and each had a couple gnats fly out. I'll keep doing that until no more are present when soil is disturbed. The fan has them both in constant state of gentle jiggle....or as I like to say....they dance.
2 years ago
CK seems to be a little behind on growth compared to BC, but both appear to be healthy. The moisture meter indicates both are between 6 & 7 moisture, so I don't think I'll water today either. I'll check the meter again tonight just to be safe.
2 years ago
The girls are looking healthy. Leaves have increase in size (particularly BC). Watered about 2 cups each.
2 years ago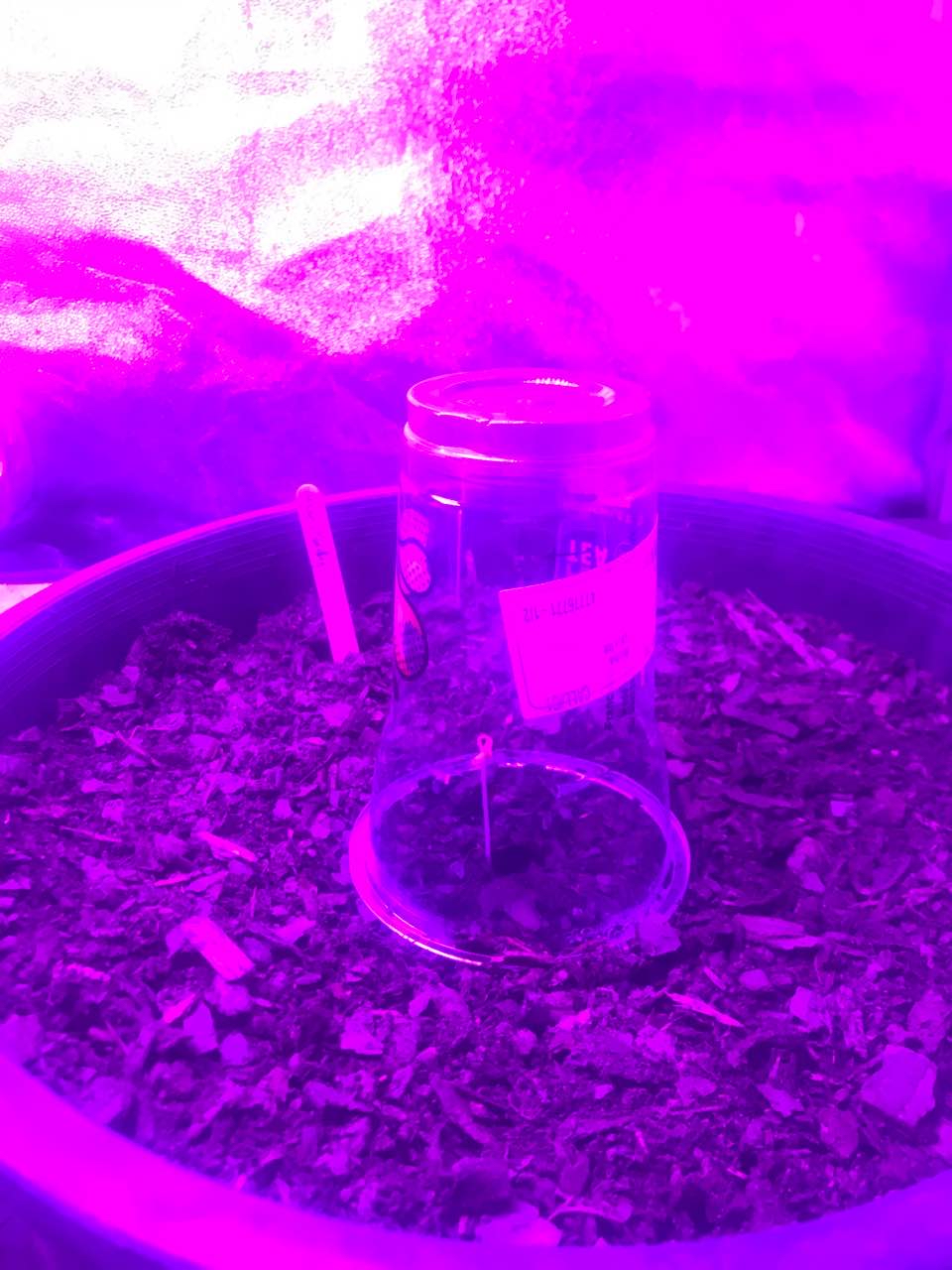 Christmas day with sprouts as presents.
2 years ago
Both sprouts have 2 new leaves. I failed to set the timer properly and they've been under lights for 24+ hours. The light schedule is 20 on at 2a and 4 off at 10p
2 years ago
Seeds planted in 3gal pots of Granddaddy Pete's Potting Mix. Covered with a plastic cup and watered.
2 years ago