Purple Gelato
Summer 2021
Photo period
That's a wrap on the these fine ladies! Went a full 11 weeks of flower and looks amazing. Smoke is very mellow and chill! Goes great with a cup of coffee! Yielded 2oz per plant! Very stoked on that for a little 3x3. Tons of trim and small buds for edibles or bubble hash!
2 years ago
Started flushing and can really see the colors starting to pop! Buds are rock solid and so sticky! Every time I open up the tent my wife says she can smell it upstairs! Also trying to lower the temps in the tent down to low 70s to mimic a natural environment. Humidity could be higher but it's been low the whole grow! Almost time for the chop
2 years ago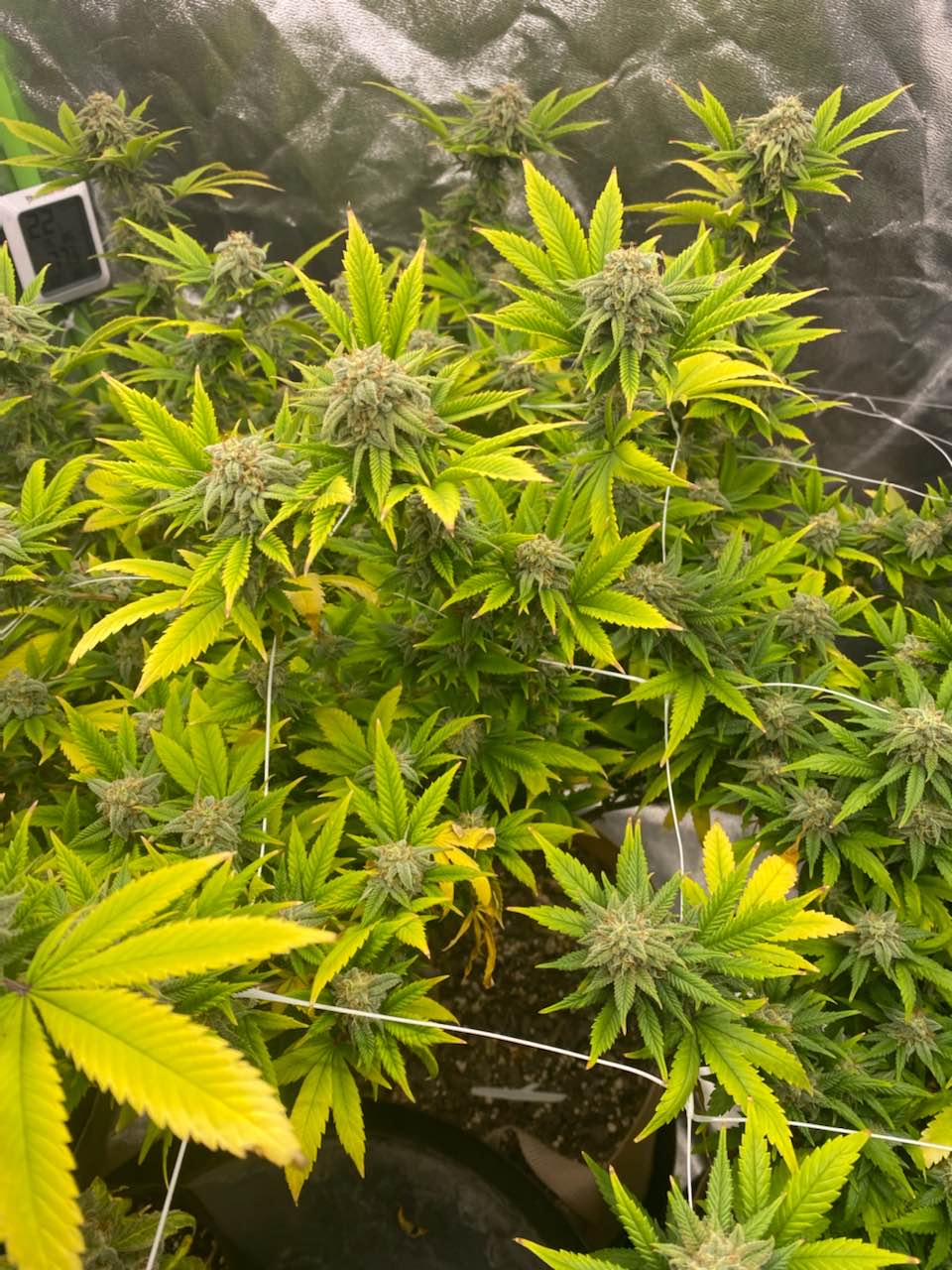 Week 5/6 showing a little nitrogen deficiency but still cruising. Running Lucas formula and bloom teas.
2 years ago
End of Week 4. One on the left is showing a little nitrogen deficiency but still looking good overall. Still running Lucas Formula and Bloom teas. Temps are good but humidity could be higher. We're going into winter and it's starting to get dry. Happy Thanksgiving!!
2 years ago
oomalikoo 186 days. It better make me see God lol
Start of Week 3 of Flower. Still feeding Lucas formula and alternating with EZ-Tea Bloom. Ph around 5.5-6.2. Could really use a humidifier in the tent. It's getting down to 20% and should be up closer to 60%. Either way still looking good and stretching up to the light very nicely!
2 years ago
Transplanted into 5 gallon pots and have been feeding pretty heavy to keep up! Still running the Lucas formula and adding in cal mag. Occasionally adding in the grow because they just eat up the nutes. Just flipped the lights to 12-12. Light is still at 50% and will increase it once the plants start flowering!
2 years ago
Showing some nitrogen deficiency but going to try and correct over the next couple of weeks
2 years ago
Lollipoping over the last week. Trying to get the plants to focus solely on the upper canopy. Still tucking and trying to stretch plants out.
2 years ago
optimusprime80 I like it! Would love to have one that just lives for years indoor.
abohe52 Need to do this to mine as soon as I see the first sign of flowering
Kind of slacking on the updates but the plants have been repotted in into 1 gallon fabric pots. Using the Lucas formula and adding in cal mag and grow nutes. Starting to look good and hopefully will fill this whole 3x3.
2 years ago
More low stress training and feeding at Lucas formula. Looking good!
2 years ago
Low stress training and trying to really stretch them out! I'm gonna try and have them fill a while 3x3 tent! Feeding at 1/2 strength Lucas formula and ph to 5.9
2 years ago
Still veging. The left I've topped 1 once and the right I've topped 3 times. Really trying to bush these out!
2 years ago
Everything going along smoothly. No nutrients so far just plain water. One plant shower some strange growing formation it has basically self topped itself. Other than that we're moving along nicely
2 years ago
Just popped up from the medium and looking good from what I can tell.
2 years ago