Second ever try
:)
2 RQS Watermelon autos 1 RQS Royal AK auto (in the back) Well aerated medium with perlite Fert: Biothrive Grow/Bloom Co2: 300g Sugar / 2,6g Yeast / 1,5L water MarsHydro ts600 100W for grow then bought another ts600 100w ->200w Bloom Temp: 22-28°C days and 18-22°C nights Humid: Start at 70% > 60% > 55% > 45% end ---Things to Improve for next run--- Top nodes 1,4,5 as soon as 5 pops out A trellis net to scrog and optimise my 200w Led PH and PPM Meters to feed correctly PK booster Amino Acids (big bud?) Carbohydrates? Earlier lillipop and leaf cleanup Co2: Ec1118 Yeast, air lock and light block Change the bad lamp timer Continue upgrading my homemade IOT setup >Link up the humidifier and get a Co2 meter Most important: watch out for canadian cats :3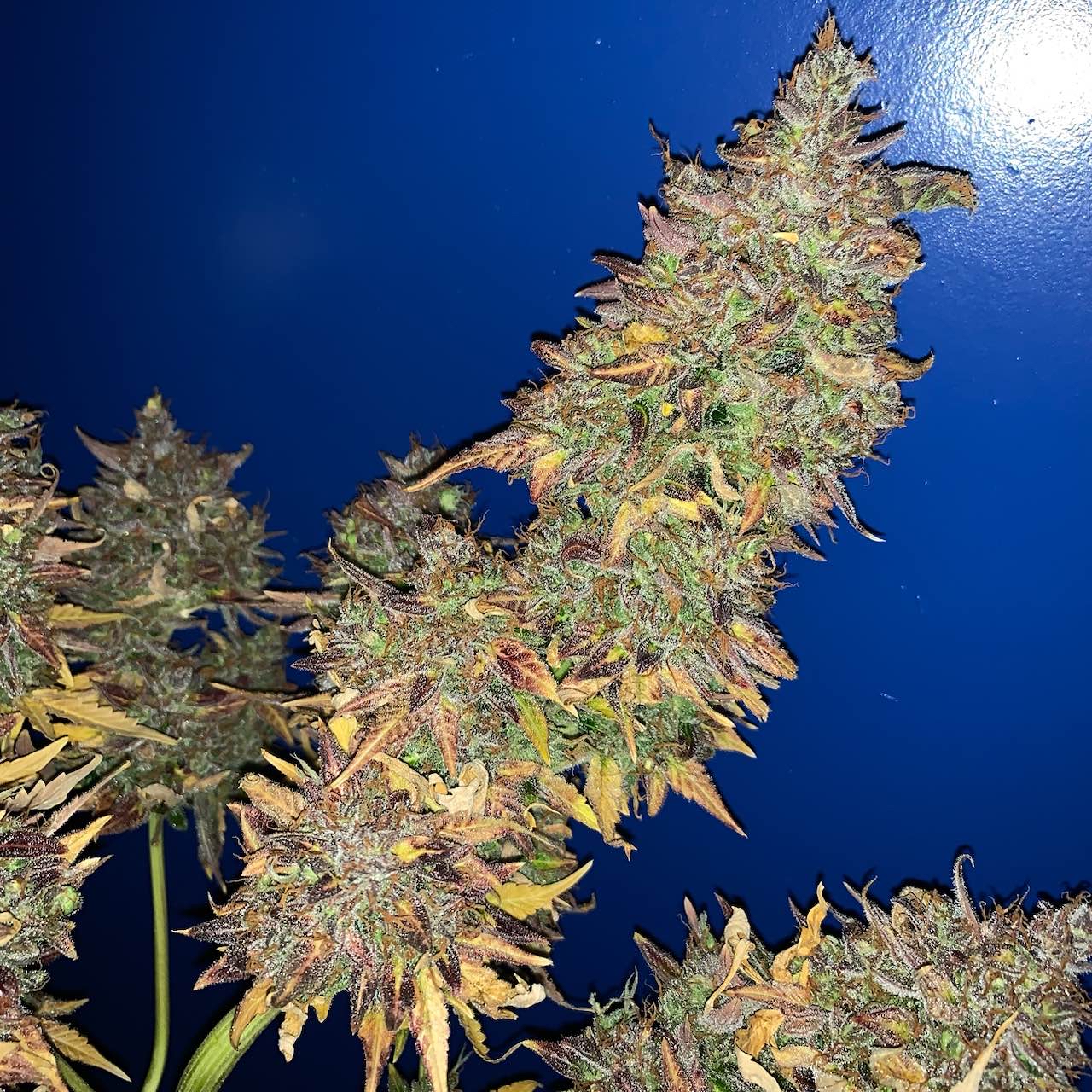 Chop chop after 85 days and 36h of darkness
5 days ago
We are getting somewhere... and I definitely need to get a small microscope
20 days ago
GrNadeGrade Looking 👍🏾. Most of them look ☁️. But like you said, it's more difficult to 🆔 until you upgrade
dinin Very nice and might I add the description of this grow is A+ 😏
Creepall It does look nice but I messed up the fert and we both know it! Hahaha and ofc I upgraded my description content, based on the best only!
View 2 additional comments
Watermelon 1 and 2 are still going nicely, the flushing worked and no leaves are yellowing anymore, I watered with clear water today. The Ak47 was definitely begging for its life to end and wouldn't grow bigger buds anyway so chop chop she goes! I'm still happy the worst burn of the three went okay and survived (73 days total for the ak)
a month ago
Shower time for the babies, I really need to flush them even more than just giving my regular amounts of water but with no fert, so in the shower they go! Watermelon 1 started showing dried overfed leaves too and I didn't like it so yeah here we are
a month ago
ig:@eaegifts I do this often as part of my pre harvest cleanup but just a tip you'll want to run a strong fan to dry it out after so mold doesn't grow
Creepall Okay thanks, but with the aerated medium I have and fiber pots I'm not too concerned about it?
ig:@eaegifts Oh ok I thought you was wetting the buds themselves, I shower the whole plant and thought you meant the same lol
View 14 additional comments
Again, a bit late but I cut this girl's lowest and super small branches that would have ended in mini buds while pumping the plant's energy, this watermelon auto is taking her time so I think today was the last moment for me to do it... Next time I'll think about doing this earlier!
a month ago
SnowDog_X1 I've been wondering at what time is optimal for
SnowDog_X1 …for doing the big cleanup. How long before switching to 12/12?
Creepall This is an auto so it's getting 18/6 all the time but I would say right when you switch to flower based on MrCanucksGrow's youtube channel
A friend of mine told me it was never too late to introduce colder night time temps to help buds produce purple pigments. And holy was he right, this happened overnight! I'll keep it this way from now on...
a month ago
Matzulus What temperature was it approximately? Looks wonderful
Creepall My night temps depend on outside weather but tonight temps went from 21c down to 19.8c at the end of the night. The weather is getting colder so I'm hoping to get 18-19c nights as my friend told me it was the sweet spot! And I have 26-27c days, the temperature difference between night and day is important too I think :)
AD C I live in LA we starting to get colder nights for sure that purple kicks in
Update from a botanist: Having dried out leaves like this means too much nutrients are in the plant so it pushes out it's own water in an attemp to evacuate the excess nutrients back to the medium. I'm going to flush all three plants with clear water a few times before giving back lower amounts of fertiliser even though only 1/3 plant is affected this much. The buds have not been affected! Slight stress but we'll see ;)
a month ago
dinin Very true! The stomata end up burning and excreting salts onto the outside of the leaves. Abscisic acid forms and cell death occurs. This could be due to PH lockout, or over feeding. Soil with organic matter in it composts and releases nutrients, so it's really easy to over feed. This is why people use peat moss, vermiculite, perlite, and coco. If you haven't already, a PPM pen is abs essential to your grow. Plants will also work up a tolerance to nutrient levels if the food is increased slowly week my week, I've personally fed with 1250ppm with no nutrient burn. Nutrient requirements are also strain specific, one strain could need 1500ppm while another burns at just 600ppm. Worth noting that a b vitamin complex will also make your plant less susceptible to the effects of stress. What's your PH and PPM?
Creepall I have a PH of didn't check, and a PPM of not worried about it ;) (yet) This is my second ever grow and ofc my third grow will be featuring electronic PH/EC meters! And you are right, I treated both strains of Watermelon and AK autos the same exact way when feeding and only the AK showed signs of severe overfeeding.
dinin You will find you plants grow much faster when they are at the right ph to be able to absorb the nutrients they need. As far as Ppm, that's how you tell if you're over feeding so it's worth worrying about but every grow should be a learning experience. Wait until you learn about amino acids and metabolism biosynthesis precursors 🤣
View 26 additional comments
A bit late to start but I'm trying out some homemade Co2! Chemical bakery yeast(11g) + sugar(300g) + water(2L) Update: 100g sugar is better, 300g has killed the fermentation in no time ReUpdate: 2,5g ec1118 yeast + 300g sugar + 1,5L water works nice!
a month ago
dinin Try a gallon wine bottle with a wide mouth and an air lock from Amazon , keeps your yeasts fresh. I also use EC1118 yeast because it produces more co2 and can survive a higher ABV.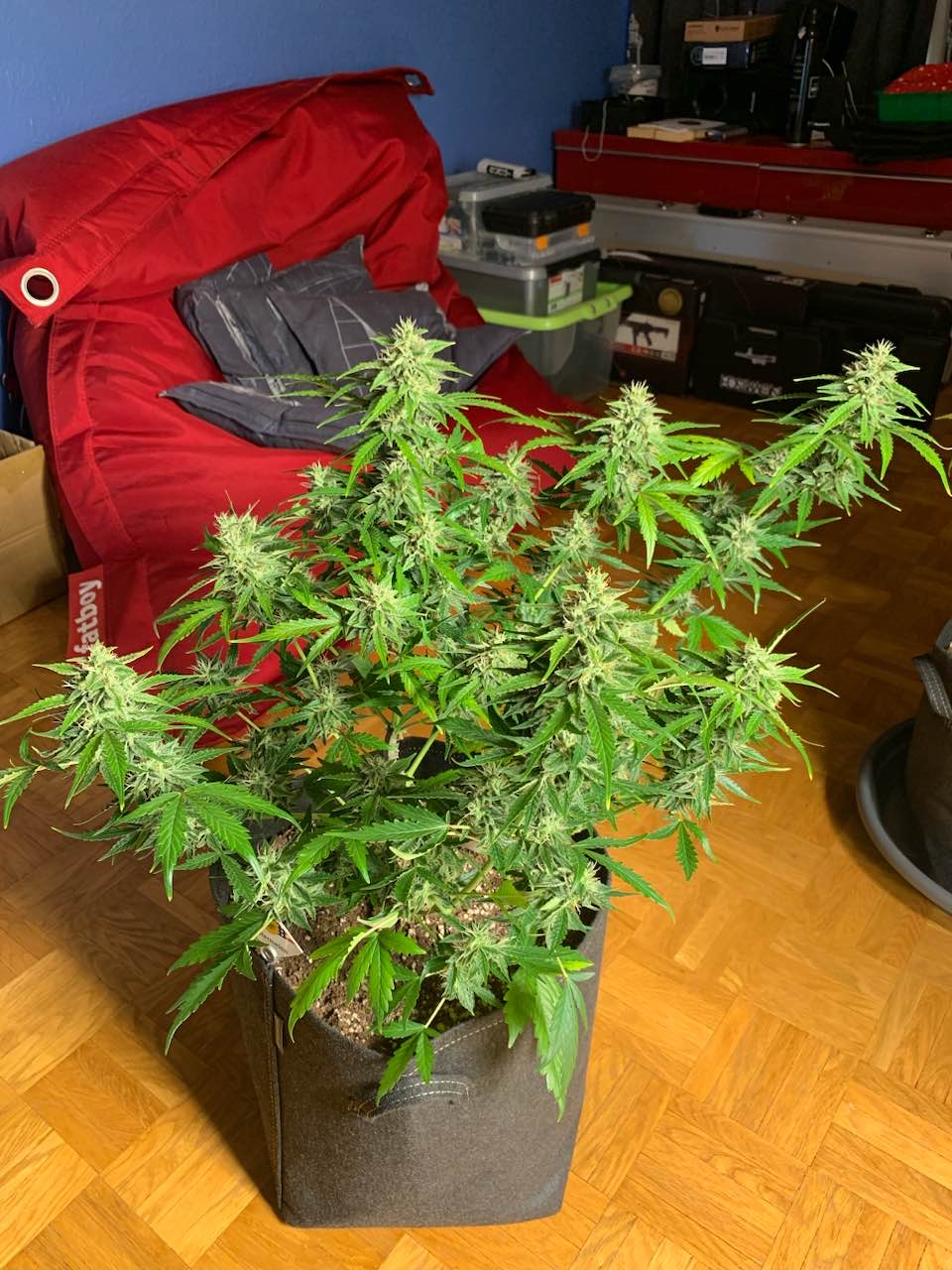 The two Watermelon autos are doing great but the AK auto seems to be lacking nutrients, I upped the NPK dosage but I think it's also lacking Mg? Watering every 2 days 1,5L/plant with 3,3ml/L of bloom fert. Target: 25°C with 40%RH (Actual 27°C and 50%RH) Update: The Ak auto was NOT lacking nutrients ;(
a month ago
They are so hungry so I'm going over the recommended dosage of 2ml, they are obviously lacking nutrients! Watering every 2 days 1,5L/plant with 3ml/L of bloom fert. Target: 25°C with 40%RH Update: they weren't lacking nutrients lol
2 months ago
Got greedy and added another 100w for a total of 200w. :) Watering 2x/week 1,5L/plant with 2ml/L of bloom fert. No more trimming bc I think I overdid it too early... Target: 25°C with 50%RH
2 months ago
Started Bloom ferts and I'm stunned by the speed of this second try as I'm a beginner. They started flowering and are looking real nice imo, I'm still trimming leaves that are above future heads.
2 months ago
dinin Is that a Pi or an uno or an unbranded MC..? Can't tell cuz of the sheild
Creepall I was simply testing out the precise T/RH sensor using an arduino uno for it's simplicity. Now this sensor is linked up to an ESP32 dev board for it's wifi connectivity!
dinin Very very nice! Keep up the good work
View 2 additional comments
Started giving 1,5ml/L grow nutrients, more trimming, more lst, carbon filter is lowering the exhaust output, might buy a better exhaust fan. 25° and 60% RH
2 months ago
I left for 10 days... WTF?! Trimmed the smallest nodes, still no nutrients, started LST. -> 60%RH and 27°
3 months ago
Moved to the big boy tent, replanted and watered, 5g Mycorrhiza mix. Aim: 65% RH and <28°C No fert yet
3 months ago
Moved to 18/6 SpaceBin and tiny bit of water
3 months ago
Med cup AK47 < & Jup cup Watermelon x2 >>
3 months ago
Creepall No fert yet, jongkind should have 1 or 2 weeks of it