420FB Round 2
Firebudz Method
3 gallon tall grow bags with HSS nutrients, Great White, King Crab and Recharge. Happy frog soil, organic perlite, 2x4 tent, and 2 spider farmer SF1000 lights. Using RO water. Switched to ChilLed Tech lighting.
Blackberry and Orange Sherbet
84 and out the door. 24 hours of darkness and then she'll get the chop!
a year ago
Getting better. She was fed today with only Silica, Calmag, Golden Tree, and Base. No additives. PPM of feed was 600.
a year ago
710seth So many nutrients man lmao. You must be spending out the ass when you need new bottles. Organic dry amendments are the way to go, try it next time.
macks_autoz It's 5 bottles and I'm feeding 1/4 strength. It's less than $100 for those 5 bottles and it'll last me 4 to 5 grows. I appreciate the advice.
This girl is on her way to a lockout, so I flushed both plants today. She got 1 gallon, waited 15 minutes, then gave another gallon with 2ml calmag added.
a year ago
Light is at roughly 75%, or an estimated 600 par at 30". Fed with 1/4 strength nutrients again. Not sure if the burning on the tips and the yellowing of the serrations is a deficiency or toxicity yet. Going to water with only recharge and cal mag at next watering.
a year ago
She's bushing out. Needing watered every other day at this point. PAR reading of 700 at the tallest cola. Bumping up slowly to 800 where she will finish out.
a year ago
Fed 1/4 strength. Full strength cal mag.
2 years ago
Flowering is in full effect. Phosphorous deficiency ensues.
2 years ago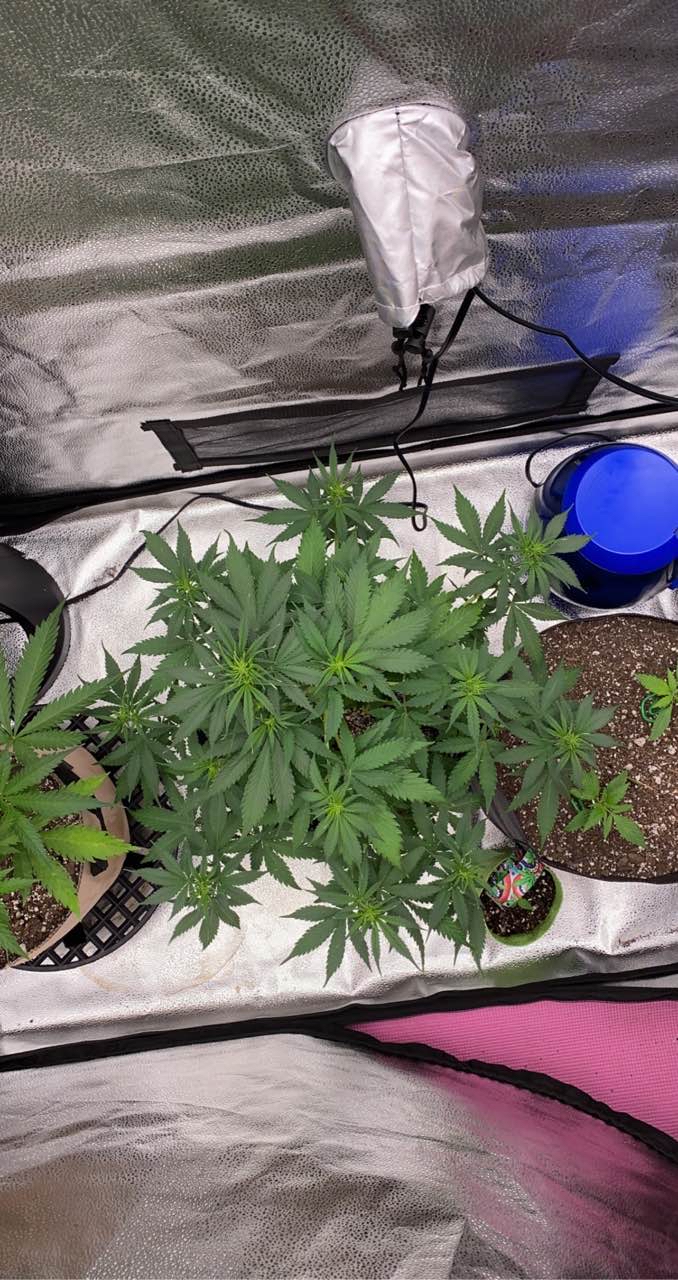 Recovering well. Removed the training clips this morning and she was perked up by this evening.
2 years ago
Recovering pretty well from the training. All tops are pointed back towards the light. Got a full watering of 2.5L cal mag, silica, and Microbiial Mass microbes.
2 years ago
Supercropped the top, bent all branches down to pot level. Stretching will happen soon.
2 years ago
macks_autoz They are LST plant trainers! For cheaper options, hit up your local grow store or search for "tomato training clips."
Removed 5 leaves to allow better airflow. She was fed on day 29.
2 years ago
Continuing to stretch. Fed nutes at 1/4 strength.
2 years ago
Culled the Blackberry. Didn't want the risk of pollen in the tent and it wasn't going to produce shit for a yield. As for the orange sherb, I pulled the outer branches out and did some leaf tucking. Running at 82*F leaf surface temp and just dialed back the RH to 65%.
2 years ago
Watered with 500ml a piece.
2 years ago
LST for the orange sherbet. Each got 1L of silica, cal mag, recharge solution.
2 years ago
Blackberry is growing great, just looks terrible with the mutation. The Orange Sherbet is looking beautiful and happy! Didn't make any adjustments today.
2 years ago
Thebudmannextdoor Hey ! I grew blackberry last year and one of the 3 seeds looked just like this. You're not alone !
Blackberry split into 2 tops. I have never see Neem do this, but I've heard it's 100% able to happen. Orange sherbet is a little droopy but they were both just watered down with some cal-mag and RO.
2 years ago
macks_autoz I believe it caused the seedling to mutate into what you see here. It's a common problem if you make your neem solution too strong, but I haven't seen it personally until now. It's basically like a dollar feed that is too strong so it burned it up. Luckily it's still growing!
Mutation set in on the Blackberry. Not culling it, but I think the Neem Treatment from day 7 was too heavily mixed. Orange sherbet sows some resilience, but got some decent leaf curl from the neem treatment.
2 years ago
Nothing special going on today.
2 years ago
Popped directly in soil within 72 hours
2 years ago