Chem dog
Ck21
4 chem dogs to be spliced for mother tree.
Girls are wilting might be over saturated soil or lack of enough light
a year ago
colby_moore Tell me everything you can about your current set up and conditions. Also can we get some more detailed pictures?
kbreazzy772 Temperature 81-77 Humidity 70-65 Fan on Duo Led lights with 1000 lumens and just turned back on the blue light for leaf developments. Watered 3 days ago
View 4 additional comments
Slight trim, topping went well to encourage duo stem
a year ago
Lovely topping went smoothly.
a year ago
1month in, main new
a year ago
Lst working well , topping went smoothly
a year ago
Mah tallest" bushing out nice spread is 9.6 inches
a year ago
Did a lil topping hopefully two main stems sprout out. And did some lst
a year ago
Fighting for the light trying to stretch out nodes sites
a year ago
Bushings business
a year ago
Wing span 8.3 inches
a year ago
kbreazzy772 Yeah i took a clipping and let it dry out for 3 days and then it had a dank smell and i was just wondering why the fan leaves would have that smell properties. But yeah its not flowing for a few weeks.
Added bulbs for light reflectivity. 12 inches tall with npk spikes added may switch to veg light cycle tomorrow.
a year ago
kbreazzy772 Thank fam, and its only day 20, for these girls
Blue light spread girls good
a year ago
1 st graft was successfully. Waiting 3 more days until next graft. Added 3 npk spikes to give nutrients to the soil. That will dissolve over time.
a year ago
2 weeks and 1 day looking beautiful sisters 1st splice may have failed #1still strong tho #2 & 1 graft in 5 days…
a year ago
1st splice complete and healthy transition #1 & #4
a year ago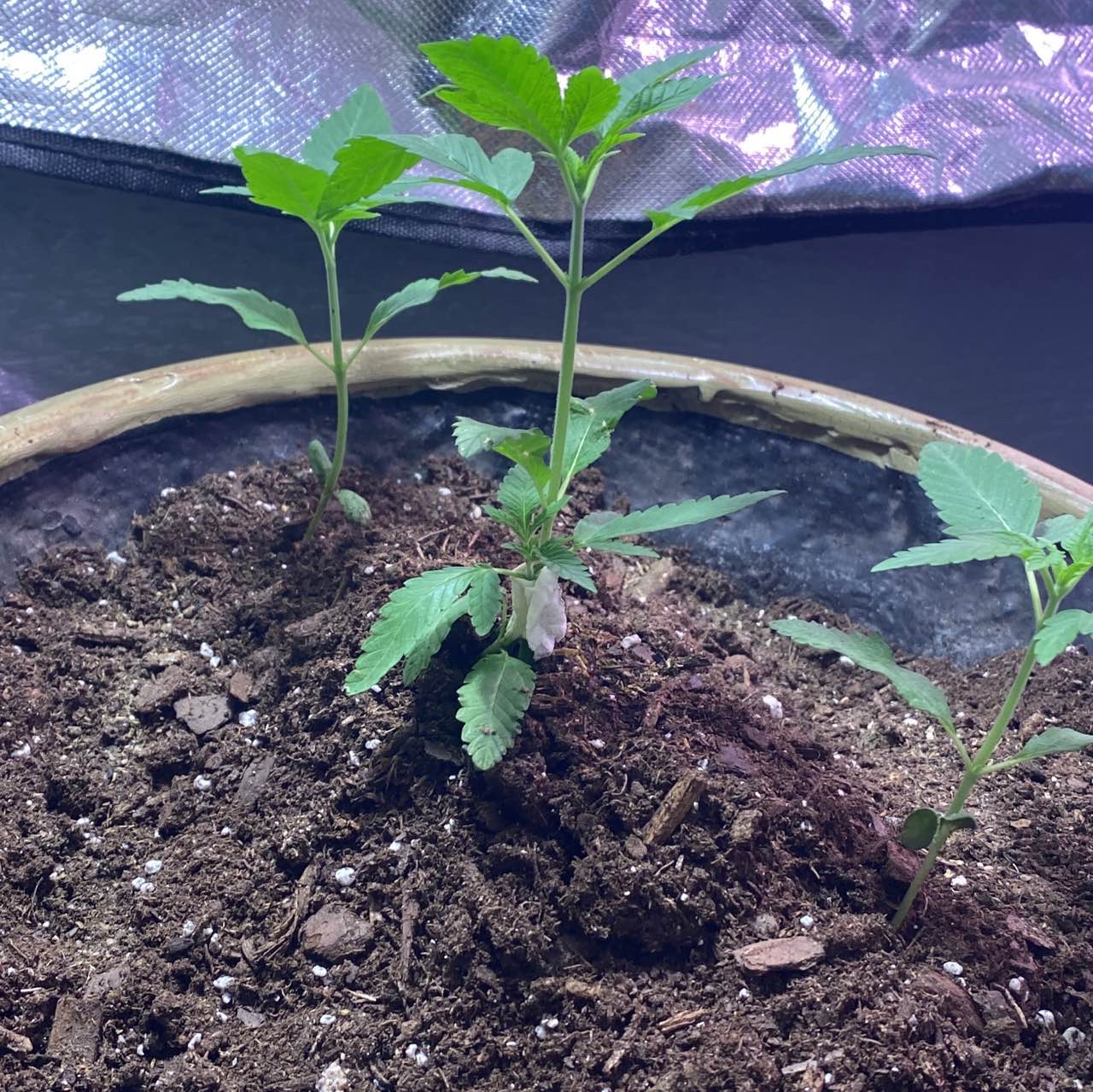 I think i see pistons on #1. Maybe 1week from stem graft.
a year ago
Big Healthy girls😊😊 ft. Pistons
a year ago
2 weeks until splice
a year ago
alwaysgrowfuego Have to ask.. why are ya planting multiple plants in one pot?
kbreazzy772 Making a mother tree out of these 4, in a week or so ill split the stems and splice them together!
Standing tall with help of rain water
a year ago
Start to stretch out
a year ago
kbreazzy772 Get them out for? In 2 weeks they'll all be spliced together to continue the veg stage, then im going to keep this giant mother tree in veg stage while i take cuttlings to plant more of her that will go into the flowering and drying stages.
Added more soil to support lanky stems, girls around 6.5 inches tall
a year ago
2nd set of fan leafs, 5 inches tall
a year ago
mikki1time Oo this looks interesting! Going for a sea of green type grow?
kbreazzy772 yeah especially when it come to the shades of green. Im mainly focused on a tree of life imitation. This will be a beautiful grow.
Freshly watered added green tea bag and water ph 6.8
a year ago
kbreazzy772 Thanks appreciate all advice to help the growth