Learning autos
3rd grow
2 watermelon wreck autos and 2 blueberry lemon haze autos. Fox farm ocean forest. Ac infinity 3x3 ac infinity fan and controller. Viparspectra 2000 20/4 light schedule
Wautomelon wreck/ bb lemon haze
Girls filling the 3x3. Finally done stretching. Hopefully start packing on some weight soon. Other girls will be chopped this week
a year ago
Big bb lemon haze taking their time flowering. Took over the 3x3 and moved the smaller ones to finish in the 2x2
a year ago
Frosted melon wreck are frosty dense and sticky. Only about 75% cloudy as of yesterday. Packing on weight nicely for plants that flowered super early (sneak peek at Popeyes breath)
a year ago
Final stretch on the bb lemon haze in the back before packing on weight. Showing pistils now. Probably my biggest autos yet. Front 2 (frosted melon wrek) got a few weeks left but looking frosty.
a year ago
Switched to ff trio nutes. They're loving it so far
a year ago
mimisflower How old is the left lower plant? Wondering if you use living soil? I just put my young photos in living soil and now second guessing my need to feed. Everything I've read says no need for nutes when using living soil. My autos are in "super soil" and doing great.
ckremer90 This is all fox farm ocean forest. That one was planted in an old dry bag and had issues taking up water. They all started at the same time. Thinking the old dry soil stunted it's growth
ckremer90 The photo I started in the middle I'll be using sohum living soil
View 4 additional comments
Added some cal mag on last 2 waterings some minor discoloration still upping bloom nutes in 2 days. Watermelon wrek well into flower now. The 2 bb lemon haze showing pistils now
a year ago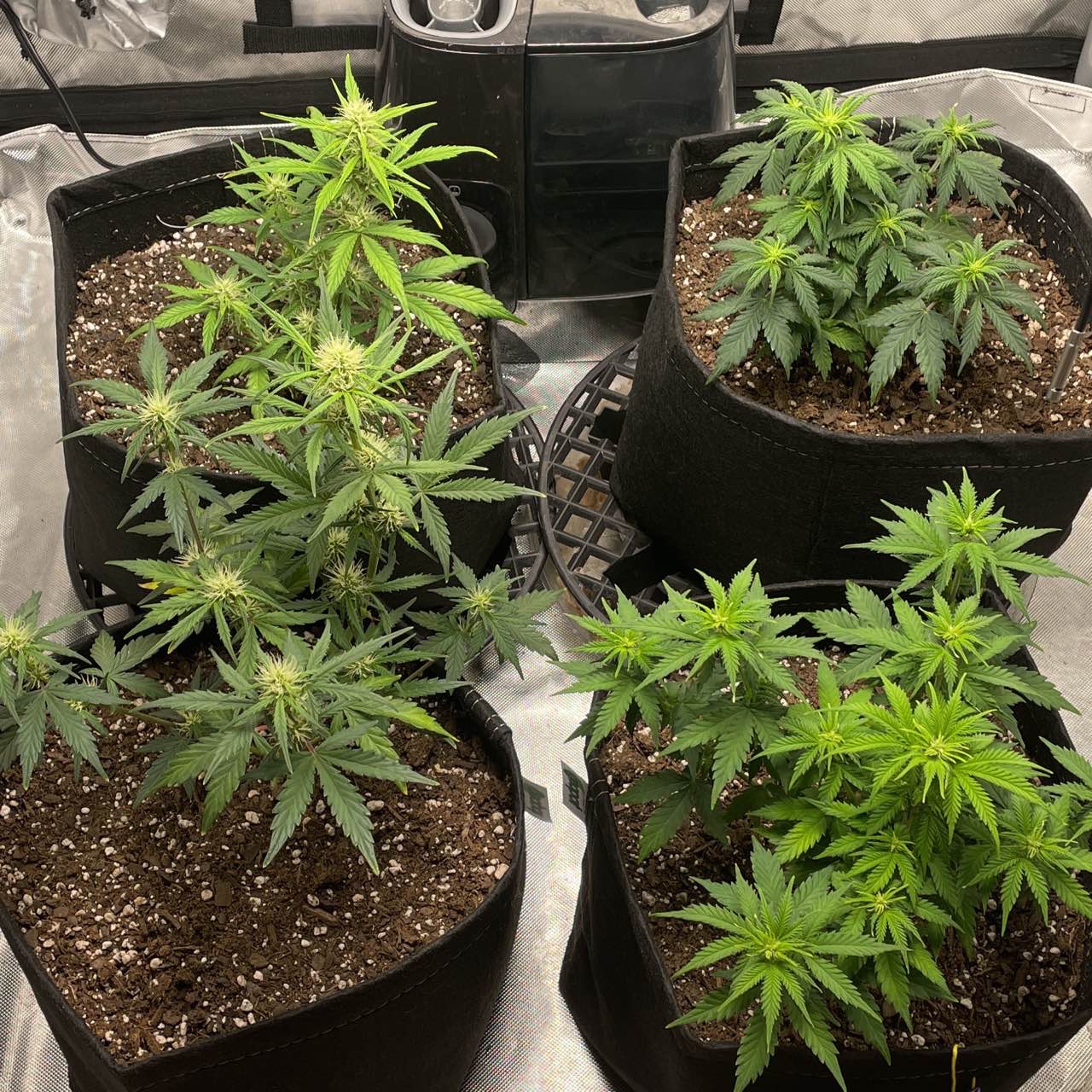 Slight discoloration. Switching to bloom nutes this week. Wm wreck in flower. Lemon haze slightly behind
a year ago
Starting some low stress training and some defoliation
a year ago
A little over 2 weeks and they're praying this morning. Going to start adding some small amounts of veg nutes by the end of the week
2 years ago
Starting to see some decent growth. Some discoloration on two that seems to be corrected by ph balancing my water
2 years ago