semendemon69
Dos Si Dos 33
Summer 2021
3 dos si dos 33 in a 3x3 tent with Mars hydro tsw-2000.
Looking like it's getting pretty close to harvest. Would you guys say I would be good to harvest this plant in like 5 days? It says it's supposed to get 60 days in flower on the website and 5 days would bring me to day 45 flower. I just feel like these look really close to ready and 5 days would be enough but Idk since it's my first grow. Thanks!
2 years ago
bigsammy You can't go anything like that why you even speaking
View 29 additional comments
Starting to fatten up more and more everyday. One plant also is starting to turn purple and looking pretty:)
2 years ago
Starting to smell really good😎
2 years ago
Almost week 3 starting to fill in more
2 years ago
Week 2 of flower planning on doing more defoliation and trimming bud sites on lower 3rd of plants. Looking good so far only been a little worried about humidity since it's been so high and hard to control.
2 years ago
$outhside412 What kind of medium are you using if you don't mind me asking
semendemon69 @$outhside412 it's fox farms ocean forrest amended with the original formula by nature's living soil
$outhside412 Thanks, I am still decided on one. Everyone grows so different lol
View 2 additional comments
Flipping to 12/12 for flowering today. Growths been really good and everythings looking great so far.
2 years ago
Topped smaller plant and have been tightening lst slowly.
2 years ago
Started first round of LST planning on tightening these slightly over the next few days to get everything flatter.
2 years ago
Still growing well except the third one looks like it's still growing pretty slow. Lots of small white bugs now, I think they're just beneficial soil mites since they move fast and have a rounded abdomen. Gonna keep a close eye to see if they get out of control or start causing any damage.
2 years ago
camillion562 You should mix about three drops of dish wash soap with about three or four tablespoon of starch and five cups of water. Spray the mixture on the soil to kill the mites but also remember to rinse off any part of the plant that might get sprayed.
camillion562 I also use 20 drops of peppermint oil and 1 table spoon of dish soap in a spray bottle and mist over leaves and soil to keep pests away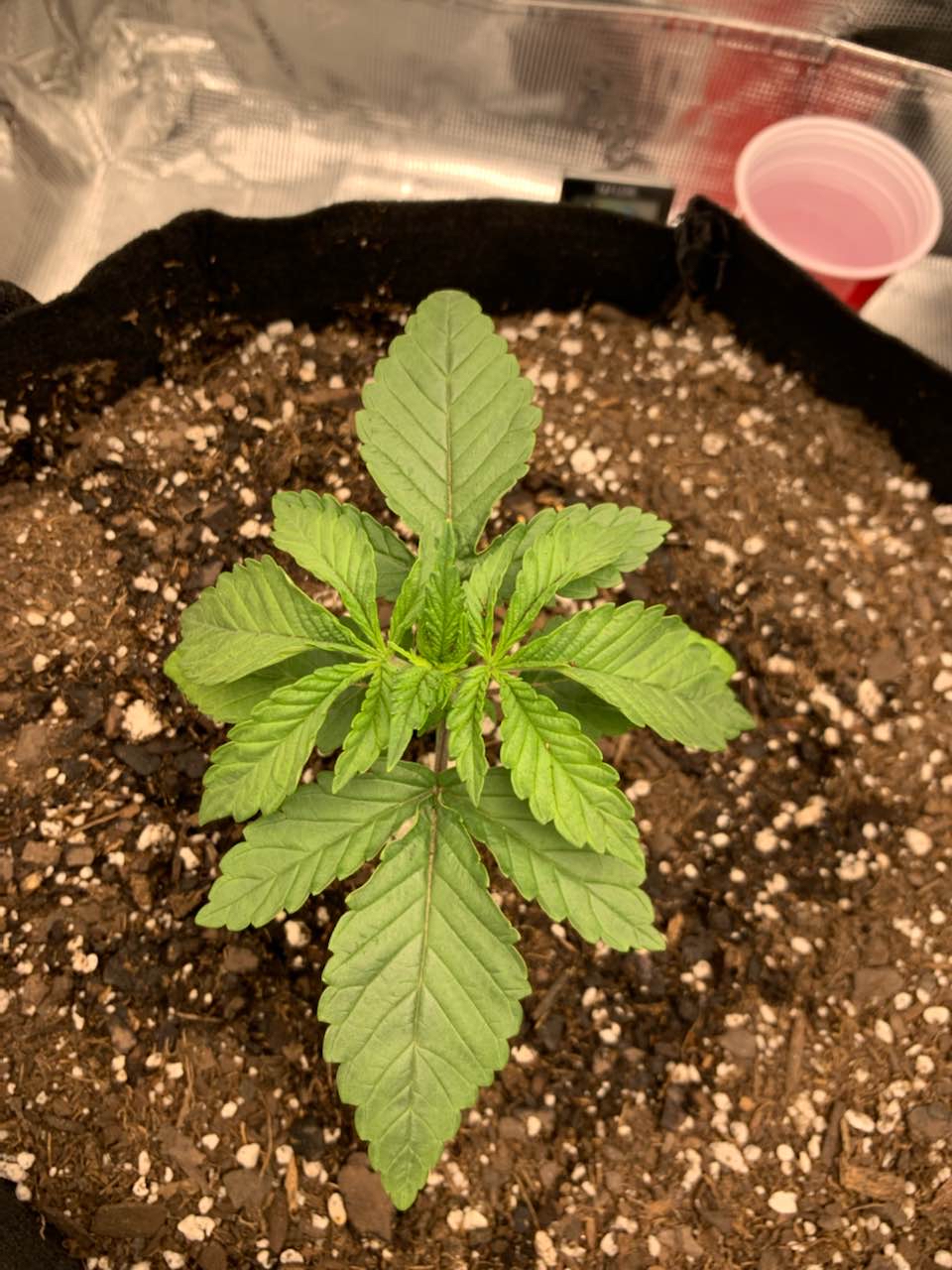 Transplanted 2 to their final pot and waiting for the other to catch up a little to do the same.
2 years ago
Found a small white bug the other day but haven't been able to find anymore. Trying to find another one to look closer and find out what it is to see if it needs to be dealt with.
2 years ago
Caliban Yellow sticky tape as an early warning system!
semendemon69 Just bought some yellow ribbon tape to hang from the ceiling today. Should I get sticky tape for the actual pots too?
Caliban Yeah you want the tape near soil level. The flyers will jump to it. I also hang from light too. Time to transplant I see.
View 3 additional comments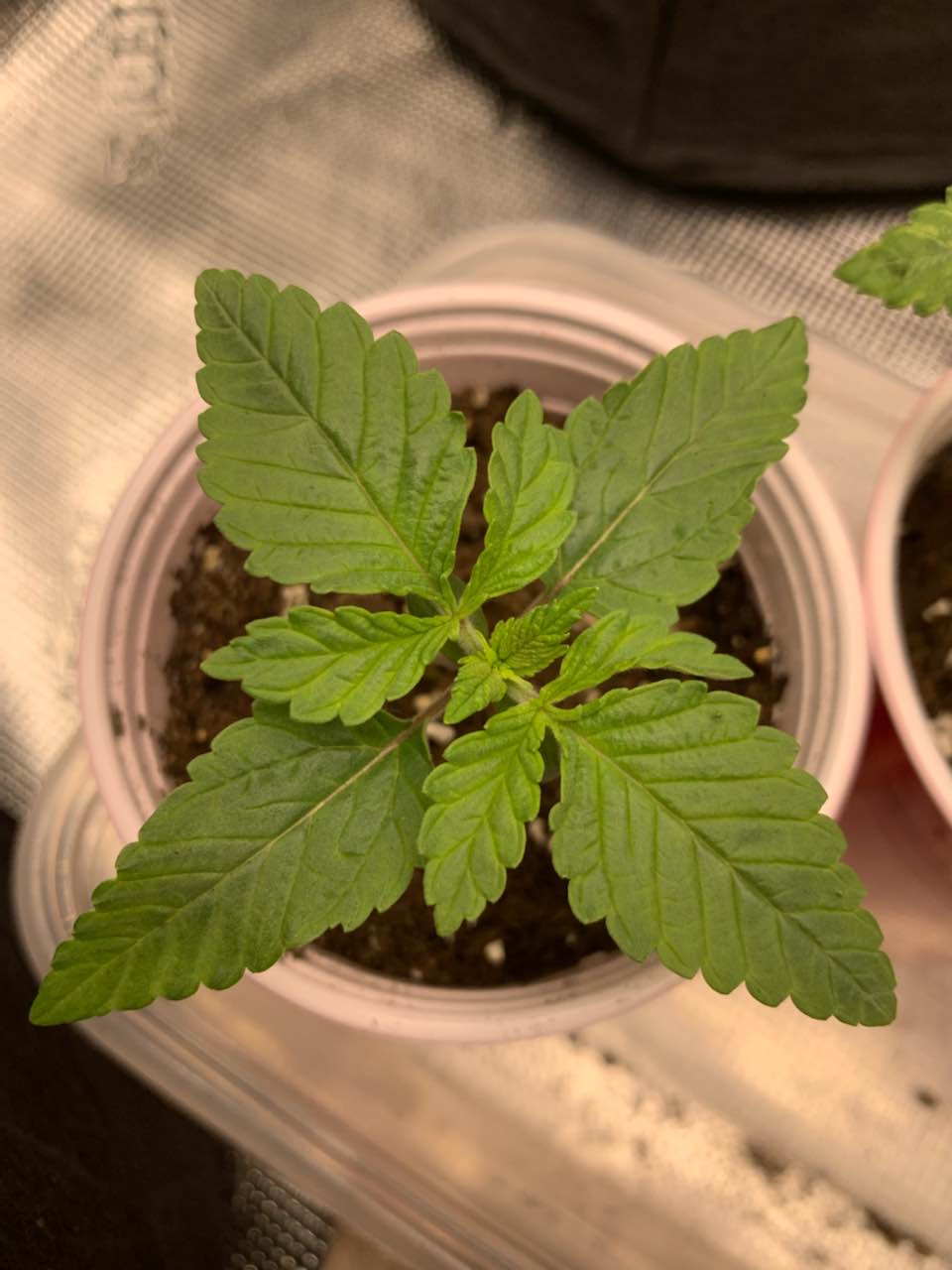 Hoping this one starts to catch up but I think the other two are looking good.
2 years ago
Wooo growing fat
2 years ago
All growing a lot faster now, ones still drooping slightly but looking a lot better than before.
2 years ago
All drooping a lot less now and growing a little faster:)
2 years ago
Looked all perfect yesterday but woke up and one seedling is drooping a lot. Not sure how since I water all the others the same and they're not overwatered. Gonna wait for it to dry out more and be more careful with that one seedling, just hoping it makes a recovery:(.
2 years ago
Just growing:))
2 years ago
semendemon69 @masvcannabis 3-4 days since sprouting and 8 days since first putting seeds in the rapid rooters.
Just growing a little. Haven't stretched much more than they already were, bumped the light up a tiny bit more to about 75%.
2 years ago
Looking a little stretched. From left to right 1.75", 2.4", 1.8". Moved lights down from 30" to 24" and turned up to about 65% power.
2 years ago
IGrowHowIGrow They be fine, bury the stem when you transplant. The stem will grow roots. More roots more fruits.
Seeds started to sprout and form first leaves. Turned on tsw-2000 at around 50% and 30" above the plants.
2 years ago