2 Norther Light XXL Auto
Project 0.2
IKEA Wardrobe 70x70x170 Ts1000 Cyclone Fan 15cm Hesi nutrients Bio-lightmix
Nearly 1 weeks of cure 🤤
2 years ago
50g each dried. They smell awesome.
2 years ago
Nearly ready. Final days before darkness and then ✂️
2 years ago
I do have a question for you guys ? Do I have to let it dry before the dark ?
2 years ago
combatmedic81 I don't, I flush right up to darkness, make sure you got good air flow though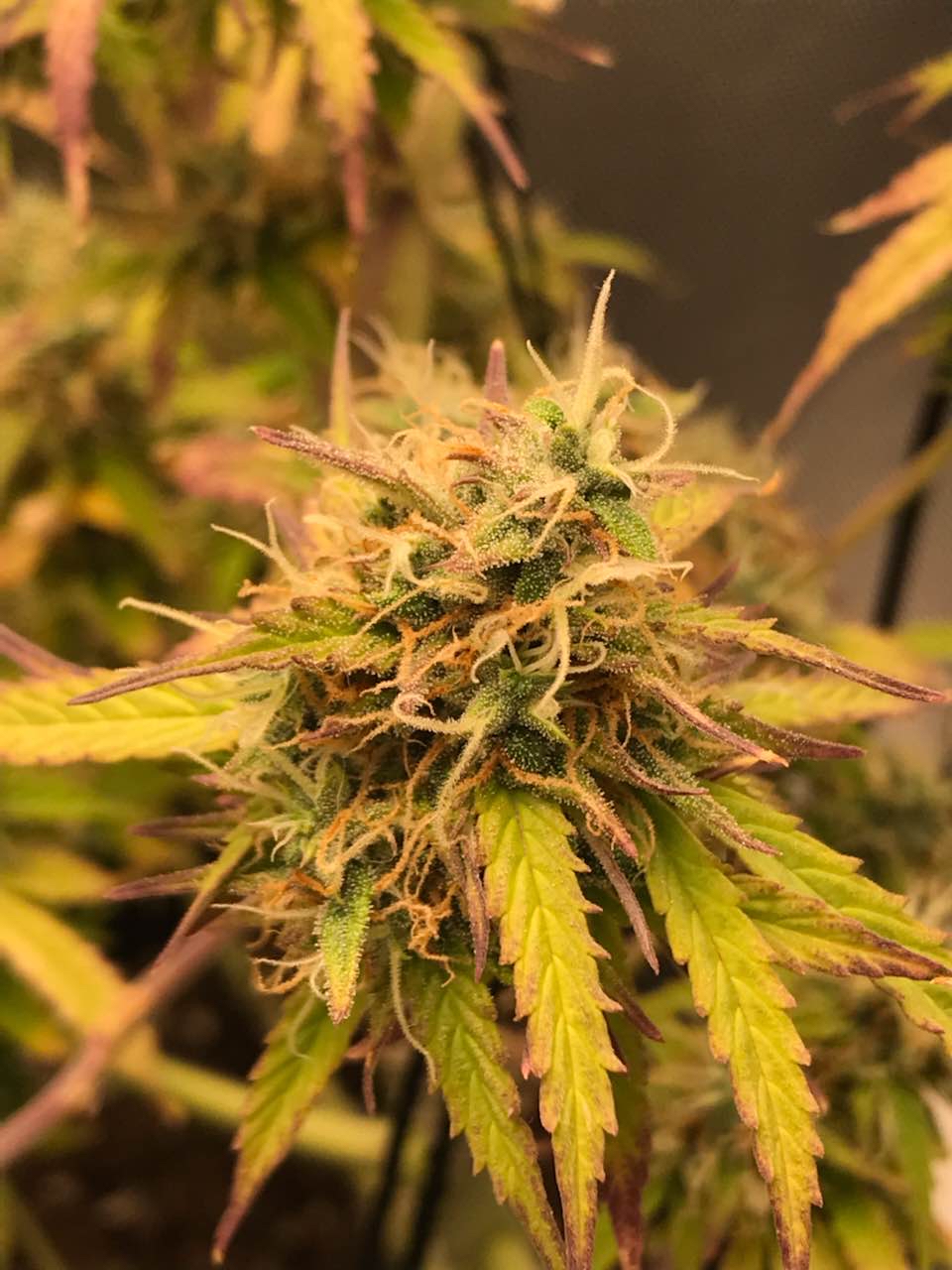 I've decided. Sunday both of my NL will start the dark run.
2 years ago
Started to flush. Hopefully it's not that late 😂
2 years ago
View 4 additional comments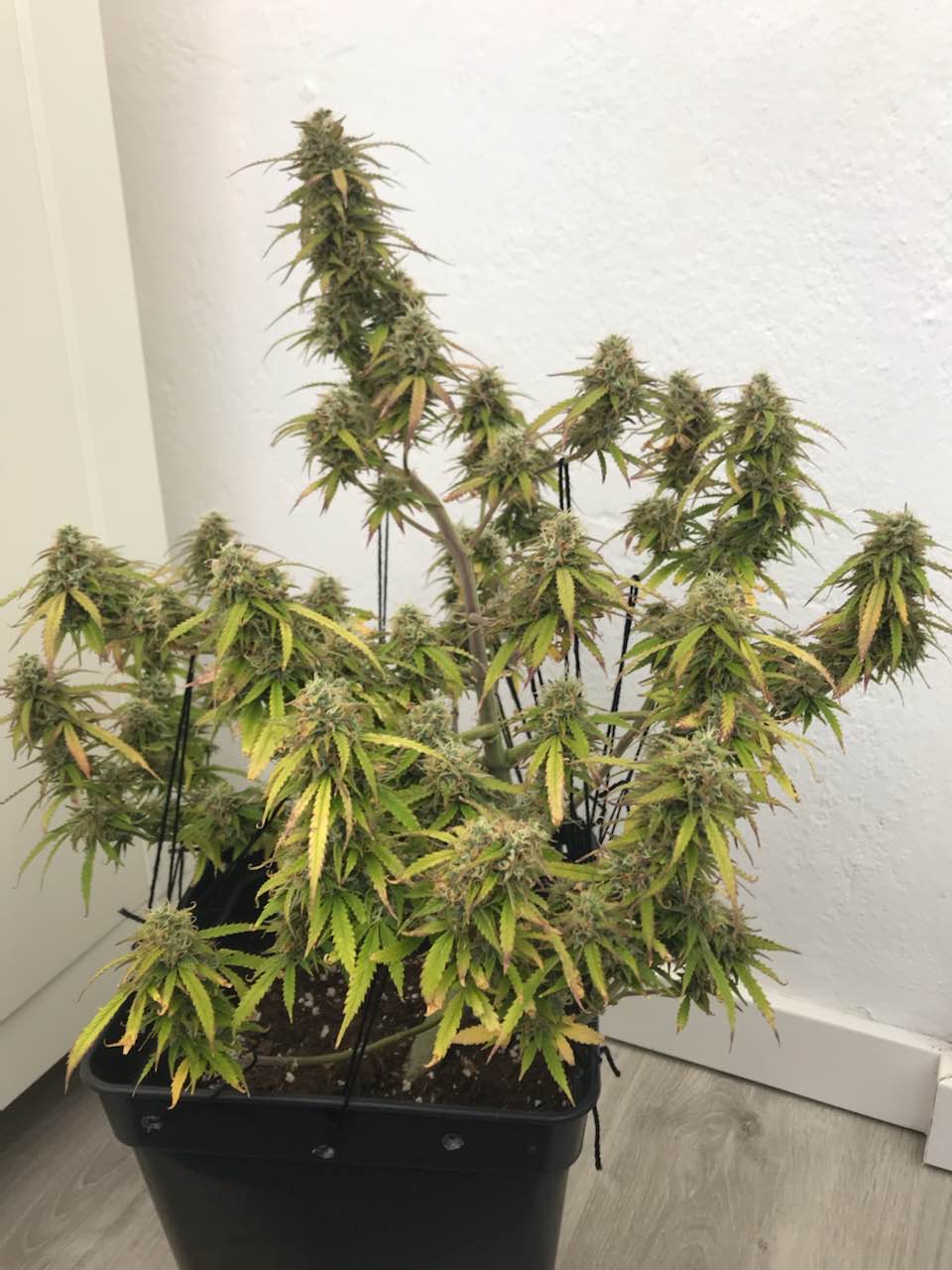 Gonna start to flush Friday or Saturday. She's definitely fattening up quickly.
2 years ago
The buds are so solid. Loving this NL.
2 years ago
I will start to flush very soon. I want the buds a bit fatter. She has a very strong smell.
2 years ago
Lots of colas. Some of the leaves started to fade 🍃 buds are filling in quiet nicely. Way better then my first attempt. She's on full nuts and full light power. 13inch away from the canopy. 45% humidity day - 49/50% night ( not the best but i don't have a dehumidifier atm )
2 years ago
The buds started to fattening up. The smell is intense and i can't wait to chop her 🤤
2 years ago
Funky colours. It's not good. Next time will be better
2 years ago
StephenHawking I know dude. I literally laugh my guts out. I do have a lot to improve. I just have to be patient. Thanks for your support. 🙏💪🏽
2/3 more weeks I recon 🤤
2 years ago
The northern light is turning purple. Not the stems just the leaves 🧐
2 years ago
Forty Two Looks so good!! That's what it's all about🔥🔥🔥
This lady is getting huge and smelly
2 years ago
Building up. 💪🏽 Increased Cal/Mag for 1.7ml/L
2 years ago
I fed her yesterday and I should probably to increase even more the Calmag . I'm hiving her 1.5ml/L Biobizz Calmag . Seems like it's not enough. 🧐
2 years ago
ChronicTonic Hey buddy, have u tried sensi cal-mag xtra from advanced nutrients? I put 8ml to 5 ltrs ( around a gallon ) once every 2wks & that seems to be doing the trick. Good luck 👍🏼💪🏼👊🏼
combatmedic81 How often you watering? Are you waiting till she is dry?
StephenHawking @combatmedic81 she drinks 30cl everyday. Is it to much ?
View 8 additional comments
Does anyone knows why purple end bit leafs?
2 years ago
Water and defoliation
2 years ago
hem-p Her stalk looks as thick as celery, Phenomenal, I loveeee seeing this plant 🙌🏽💯💯💯
She's growing so much. Fed her yesterday. She's on full nuts.
2 years ago
StephenHawking @Tjay88 Thank you ! Im so proud of this lady . She looks very strong
hem-p Beastly Beauty of a plant 💯🏆🙌🏽💪🏽💪🏽 Great growing 💯💯
One lady started flowering
2 years ago
Looks like she just started to flower. 64 days of stretching. 🍀
2 years ago
It's day 61 and still no buds ? Whyyy ?? Just watered them. I'll might give them food tomorrow.
2 years ago
Flash Vinnig Northern light is a longer auto. Some auto i've personally have grown dont flower until day 90 and wont finish until day 150 no joke!
MrPipeta @Flash Vinnig | Omg that's quiet a long time for an Autoflower. Hopefully she gives me some sexy buds . (If everything ends ok )
Flash Vinnig Yea northern light auto known to get huge!! Easily over a qp!
View 1 additional comment
Nutrients burn ??
2 years ago
They went to the barbershop last night.
2 years ago
No bud signs yet! But, a lot of smell...
2 years ago
Fed her yesterday w/Calmag
2 years ago
Defoliated a bit and made a new nice hairstyle
2 years ago
Pretty lady I would say 😍
2 years ago
dannibis Where is the seed from? Fastbuds,
I did some more LST today. Fed her last night. She is going a bit slow but it seems healthy so... idk
2 years ago
Took some fan leafs out. She's getting there
2 years ago
curlyhead34 Hey im a new grower i need some help if u can or know anyone that would like to share some knowledge all is appreciated 706.386-9148
G-Thang @curlyhead34 your on the info platform!
GreenBoy From Alabama Stephen what's science behind you removing fan leaves.. what are you looking for.. dos or Don'ts? Anything on the pruning subject you would like to share thank you brother.. your lady looking good
Stretching . She's recovering from the lst
2 years ago
She is looking healthy .I need to get a better light tho . Let's see what's gonna happen
2 years ago
Lots of nods popping up . Fed her today.
2 years ago
Watering her with bloom nuts. She's doing well. She's looking very healthy and strong
2 years ago
Growing quiet fast
2 years ago
Pretty lady ! 😍
2 years ago
Still kind of the same
2 years ago
She is getting there . Water + TNT
2 years ago
I need to put some more soil. It washed away . H2O + TNT 🧨
2 years ago
Looking healthy. 💪🏽
2 years ago
All pumped up ! I always wanted to grow a Northern Light cause last time I did went to Amst The most strong weed I smoked was a Northern Light . It won the cup on that year. So ... here she comes. A dream came true 😂
2 years ago
And... she's out ! TNT nutrient/water/Biobizz light soil
2 years ago