faran23
Pineapple Chunk (Barney's Farm)
Spring 2019
Second time around.
Pineapple Chunk (hybrid).
Me and the lady here knew it had to come to and end. It was a short term thing and it couldn't end up any other way. She has to get cut today. Finished her 48hr dark period. Removed most of the fan leaves. Buds looks good I guess.
4 years ago
Faran23 Thanks. She better be after all this time and work
Millhouse52 I'm growing the same plant, at about 40 days, using same methods as you. I pray mine look as good as yours, I might not veg for 76 days though lol. Nice work
View 1 additional comment
I think she needs to go on her 48hr darkness period. Tricomes looking well done. Barney's farm days it's between 55-60 days flowering do that's on point. All they pistils are golden brown. Picture doesn't do justice but she's frosty.
4 years ago
Sample taken from a little below the main top buds.. those milky ones are coming through. The top buds have more Amber on them.
4 years ago
Tricomes still very clear at day 50. Giving her some more time to do what she does best
4 years ago
She is fattening up really good. A few days from harvest. The tricomes show the progress. Looking for a few more milky tricomes? Most pistils are brown and curled in. Last week was very low feeding EC.
4 years ago
She just got watered with a very light nute solution. Just want to set the stage for a flush to follow next watering. The tricomes are still clear so hopefully for the next 14 days the buds will fatten and tricomes ripen.
4 years ago
This is where I need to place my focus on.. watching these tricomes daily to figure out when to start flushing. This grow in going for the more milky than amber look. 70%-30% ratio.
4 years ago
Other than the pollen balls I remove every other day she's coming along fine. Opened her up today some more to get the lower popcorn buds. The tricomes look like another 2 weeks and she'll be ready. Flushing will start next water cycle.
4 years ago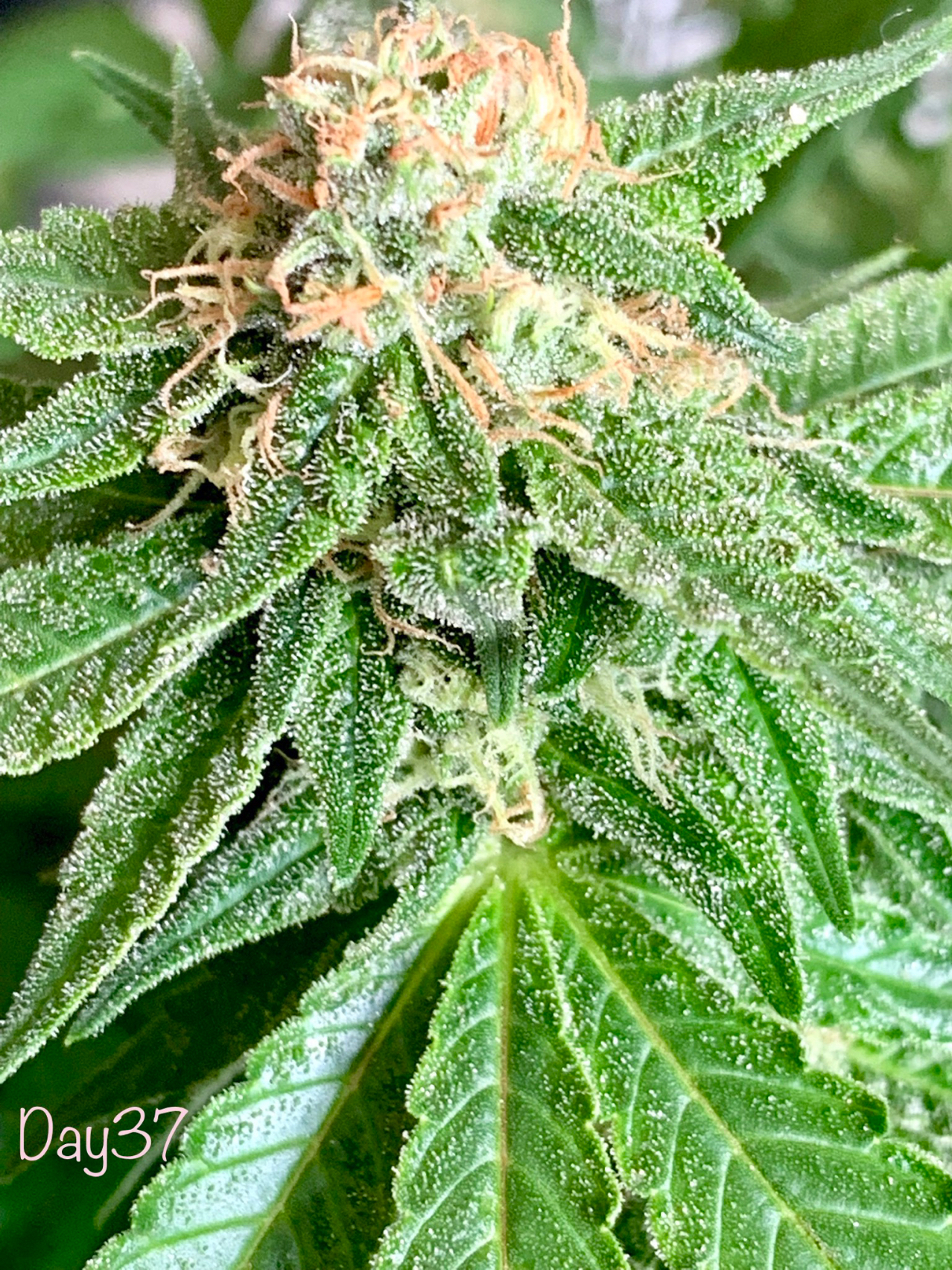 The last few days has been hectic. Don't have time for daily pics. Awful news to which the fault is mine.. my wireless environment meter had a green led light which turns red when finding the wifi... This f%*king red led caused all my ladies to Herm and form balls.... It's been a race trying to pull every pollen sac away from my flowers before they ripen and distribute pollen. It has been painstaking and requires attention to detail on every fucking cola.. this girl hadn't been watered since Monday so she looks really floppy. Those brown pistils and the milky and clear tricomes tells me she needs to be harvested in about 3 weeks. Roughly.
4 years ago
Flowers are fattening and staying on point. Regular plant maintainence. A few more tie downs done to fully open the canopy.
4 years ago
What can I say. I'm impressed with what I'm seeing. Very easy week this 4th week. Just giving her what she needs and she's cruising.
4 years ago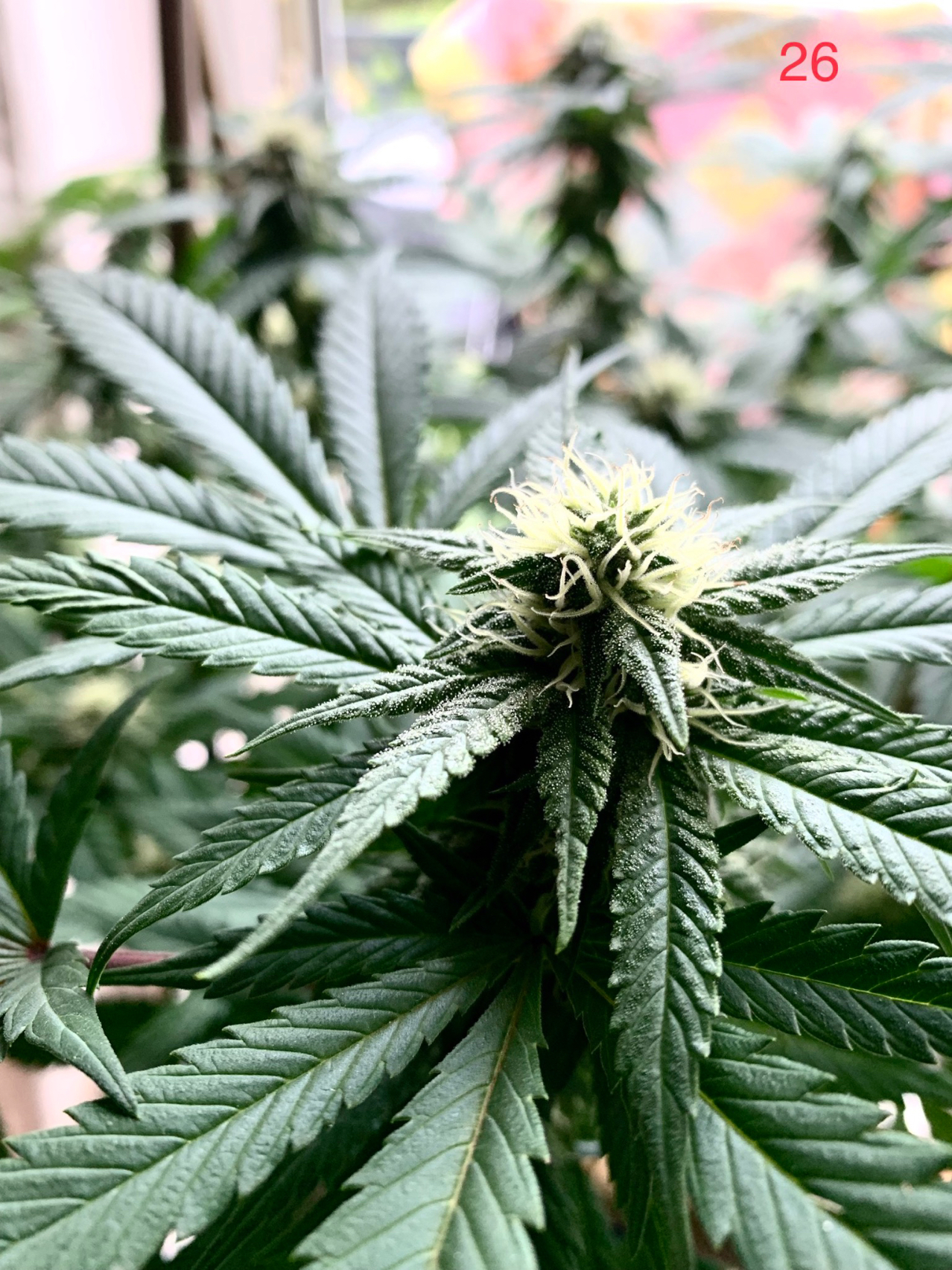 Not much difference in the pistils. This plant looks healthy and smells STINK in a good way. Definitely getting that cheesy tone coming through ... Did some defoliation today as many budsites weren't getting any sunlight . Feeding around every 3 days now. E.C is about 1.6-1.7
4 years ago
Put her outside to get the real deal when it comes to light. 4 hrs of sunlight daily
4 years ago
Smokey.710 Is there a wrong amount of sunlight the plant needs
View 2 additional comments
Slowly but surely.. Bud sites are popping.
4 years ago
She's coming along slowly but surely. Stretch its over. She is being watered every 3 days. Feedings are on point with acceptable p.H and E.C run off are in acceptable ranges. She has been opened up to let the light in. Slight touches of defoliation. Humidity send to be a problem in the tent.
4 years ago
Day #17 A few days and she has been doing her thing. The soil been drying out really fast now. Loads of stacking bud sites. Been battling high 60's RH. When I use the dehumidifier the exhaust serves the temps to over 80's. Need to do some defoliation but unsure of how much to remove and in what region..
4 years ago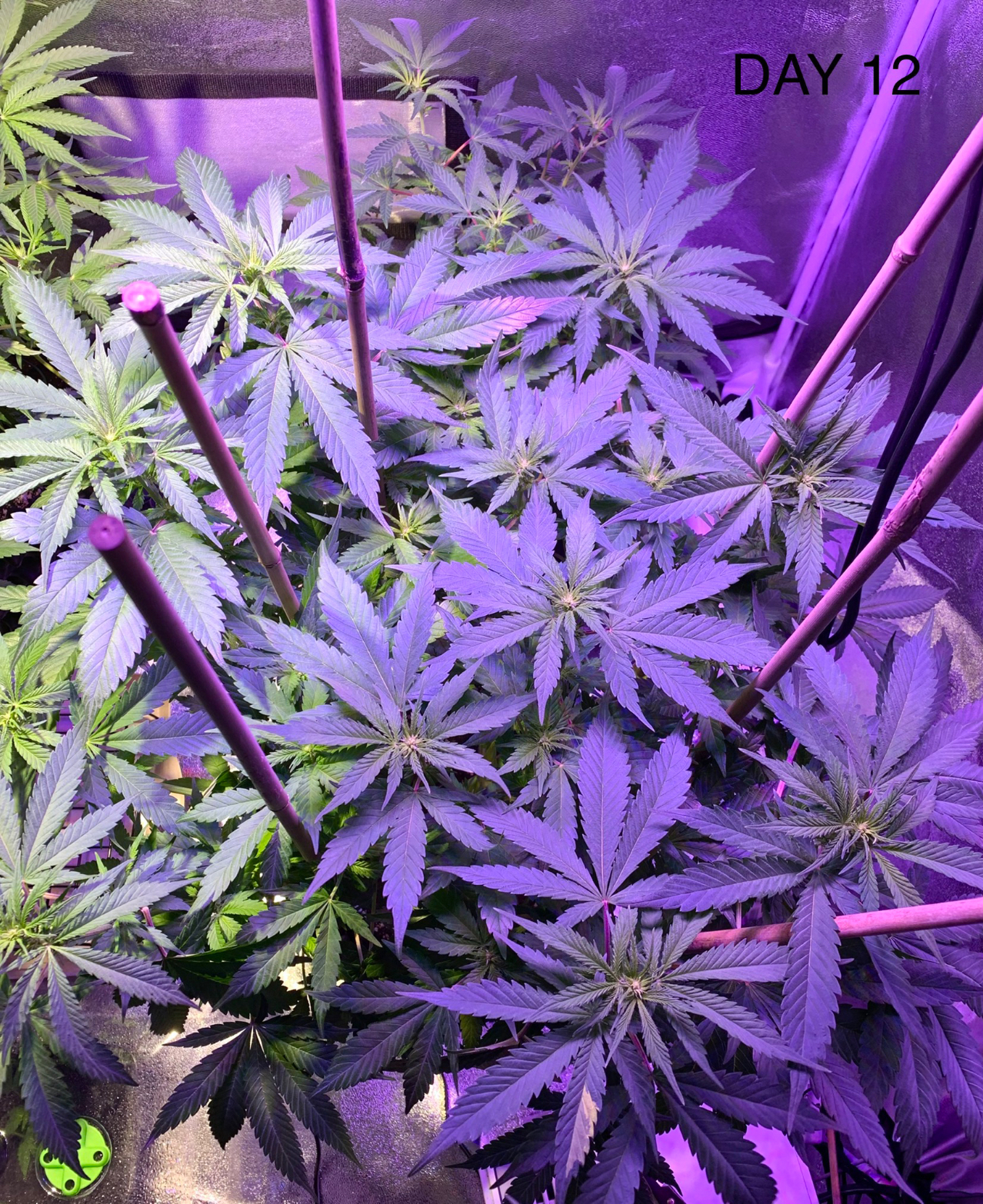 Really impressed with how this plant has developed. Never let me down. Great things are about to happen. She's feeding well. Soil is drying out every 3 days in this airpot. Some light defoliation and stem tucking happening every day. She still smells weak.
4 years ago
It's Day #7. Typo on the photo. Very vigourous lady she is. Had to open her out a bit. Too dam bushy in there.. daily selective defoliation is a must. Then again the side view shows some degree of light penetration.
4 years ago
D6F She was watered 2 days ago and looking good as a result. Some of the lower Bush was removed. Not a lot. Wanted to open her a bit so a few stakes were placed and the light should penetrate all the way down.
4 years ago
D4F. Looking good. Still shooting towards the light. Nothing much at the moment. Very nice smell when the stems are rubbed.
4 years ago
D3F Seeing some slight light colouration to done of the leaves. Observed the same thing on another strain in the tent. Will keep an eye on this.. it's too late in the game to start fucking up now.
4 years ago
Sinden85 Hey mate looking good I'm growing same strain and thought I'd look at yours to compare not realising you'd done a long veg lol take a look at mine if ya can and give me some feed back as it's my 1st time growing
Faran23 Yeah mate. Very long veg but that mainlining technique extend the veg a bit.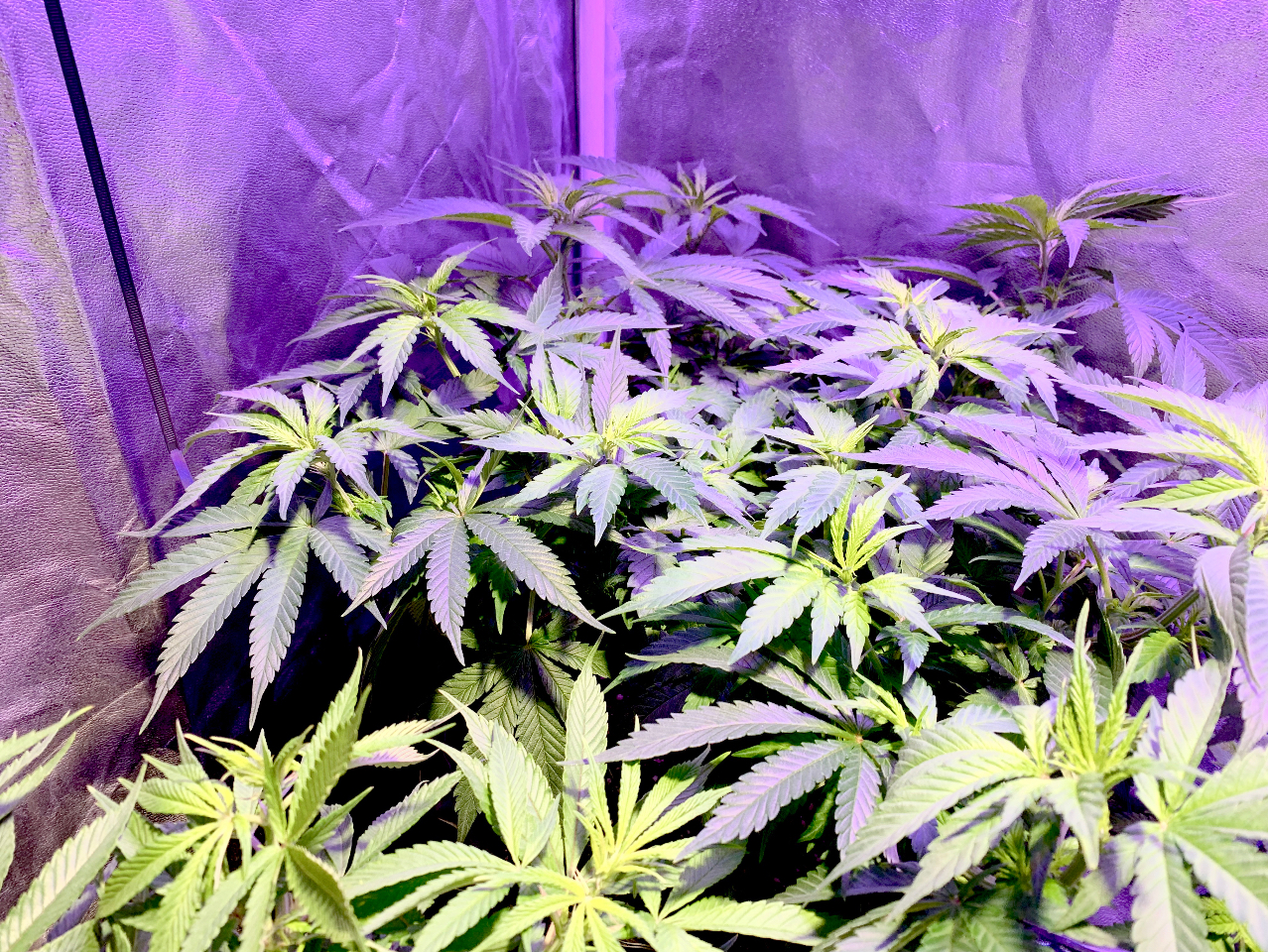 DAY 1F 8.6.19 Not the best pic. The stretch is on. Was watered with it's first set of bloom nutes yesterday. She looks happy. Very bushy though.
4 years ago
Been a long veg but that's how it is when you're mainlining. She looks good and smells good too. Last day of the 18-6 and then into the 12-12 flip next lights on. Wasn't planning to but clones need to be taken. Will fertigate her tomorrow again as the soil feels slightly dry.
4 years ago
This lady needs to get flowered now. Very long veg period. She looks strong. Time to flip and see if the training paid off. Opened up her canopy a bit to get some light to the center stems.
4 years ago
Oh she's really going for it now. She was in praying mode when she went outside for a bit. No issues to report.
4 years ago
Been a while since last update. Life gets in the way. She was upgraded to a 7 gallon air pot. She was unattended for 5 days so she got a bit bushy. Was fed on transplant day and watered yesterday with just additives.
4 years ago
She has been coming along nicely. Over the last few days she has been looking a bit limp. Thinking she may need a transplant. Also the soil is dry and her leaves are a bit like though leather to the touch. Will be transplanted in a day and have her nutes PPM raised to her level of maturity. Her new shoots appear lightly light green so there could be a slight deficiency somewhere. During the grow nutes have been kept relatively low to avoid salt build up.
4 years ago
Was fed and always happy. Her nutes feed has been on the low side. Seriously don't want a salt build up. A few lower leaves were removed. Some LST was done.
4 years ago
She looks a bit shabby and bushy. Spending some time outdoors today. Got a good watering and feed. Her run off pH and ec are in a good range.
4 years ago
She is coming in lovely. In for a watering/feed later. Just readjusted the tie downs and letting her do her thing.
4 years ago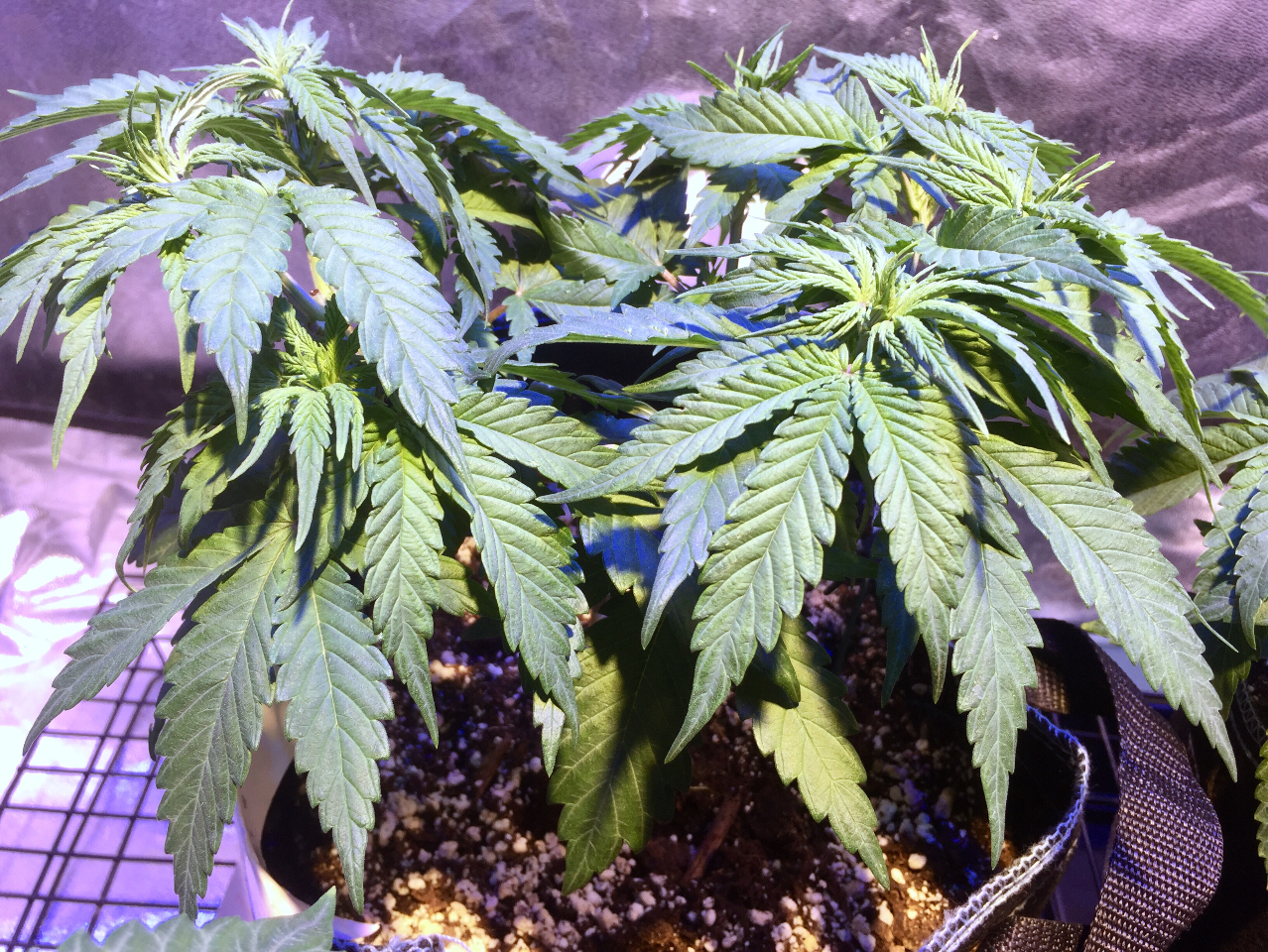 Needs to be watered tomorrow. Looks a little bushy. Should I be removing some of this dense foliage?
4 years ago
She is progressing ok I think. Need to get my day temps up. Did a slight leaf plucking.
4 years ago
She is coming along well. Just maintaining training her
4 years ago
Still doing the lst with the plant wire. No real issues so smooth sailing so far. She needs a slight clean up though.
4 years ago
First set of horizontal nodes has been tied down. After the 3rd node on either side has been topped. She has been watered and fed. Run off Ppm in a good range. The pH was a bit low (5.9) but hopefully the watering will take care of the drift.
4 years ago
Coming along nicely. Have to plan how or when to top again. Next in line for a watering tomorrow.
4 years ago
Plant looks healthy. I'm thinking I should remove the two big fan leaves from either side. No concerns at the moment. Daily adjustments to training cord.
4 years ago
Not much been happening. Cut off 2 fan leaves from either side.
4 years ago
She got a feeding yesterday as the EC was very low. Some more tie downs taking place. Stems are strong and growing fast.
4 years ago
Started doing some tie downs today. Think I waited a days to late. Those stems are thick.
4 years ago
I think she loved that sun yesterday. Her stems are stiff. Need to start her lst with some tie downs....
4 years ago
I'm happy with what I'm seeing. Took her out of the tent and let her have it all natural... She loved it.
4 years ago
Took 5 days but seeing those stems finally moving upwards with some vigour. Need to start doing some LST on the new stems. Light flush next watering as I believe the soil has a very high EC present.
4 years ago
Looks like she has recovered. The two new lead stems after topping has made small gains. Got a good feeding to help push that vibrant look.
4 years ago
Did first topping today at the 3rd node. Removed the stems from the first and second node.
4 years ago
Second day after repotting. Noticed a spot on my leaf. Need to read up on that. Leaves still feel tough and very serrated to the touch. Those leaves saying she ain't happy. The first set of true leaves are yellowing out too.
4 years ago
Growbig The spot may be coming for lack of nutrients
Faran23 I'm guessing that but what. I'll do a light feed watering to cover any feed deficiency. At the same time don't want to flood the roots too soon in that new pot
Growbig Do you have any feed besides just water? If not ph water to 6.3 and put like 10 oz into pot
Next day after the transplant. Still looks droopy. She'll cheer up soon. Did a light feeding today with some roots excelerator, humic acid and very light calMag.
4 years ago
Transplant due tomorrow. She looks droopy still and very slight fading of one leaf. She got a little flush out as the runoff was a bit high. She got a light feed also.
4 years ago
Plant looking a bit droopy. She looks a bit sad. Not to sure but I believe the soil has too much salts. Run off proves this. Only second feeding so unsure where all this salt build up came from. Keeping an eye on that
4 years ago
Cannysnake It kinda looks like its too hot but idk
Growbig Soil may have high ph levels and very rich which is good in some cases but with us feeding the plant it's a little too much I had the same problem and fed them just straight ph 6.6 water for a week to help flush the salts out. Sometimes unsulfured organic molasses will work to when it's time to transplant. (Ideally I feed on Sunday and Thursday)
Faran23 You were right. The soil came pre fertilized. Adding nutes on top of this definitely didn't help
Seedling looking good. It's coming along strong. There are many roots that have exited the bottom of the cup. The new stems aren't getting enough light.
4 years ago
Plant looking vigourous. Soil still damp from watering 2 days.
4 years ago
Got fed last night. Looking pretty perky this morning. Roots are starting to come out the bottom of the cup.
4 years ago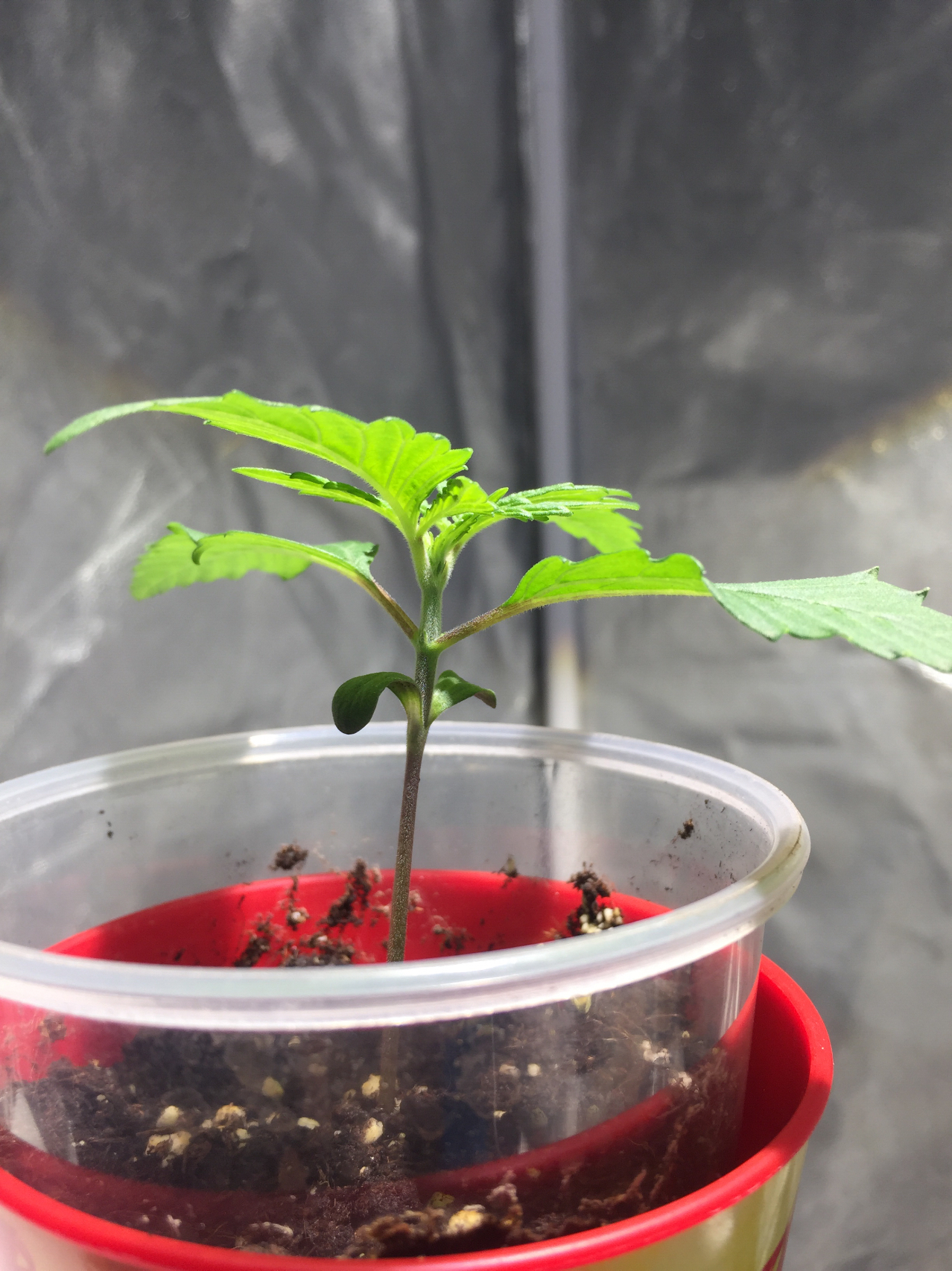 Sure gains everyday
4 years ago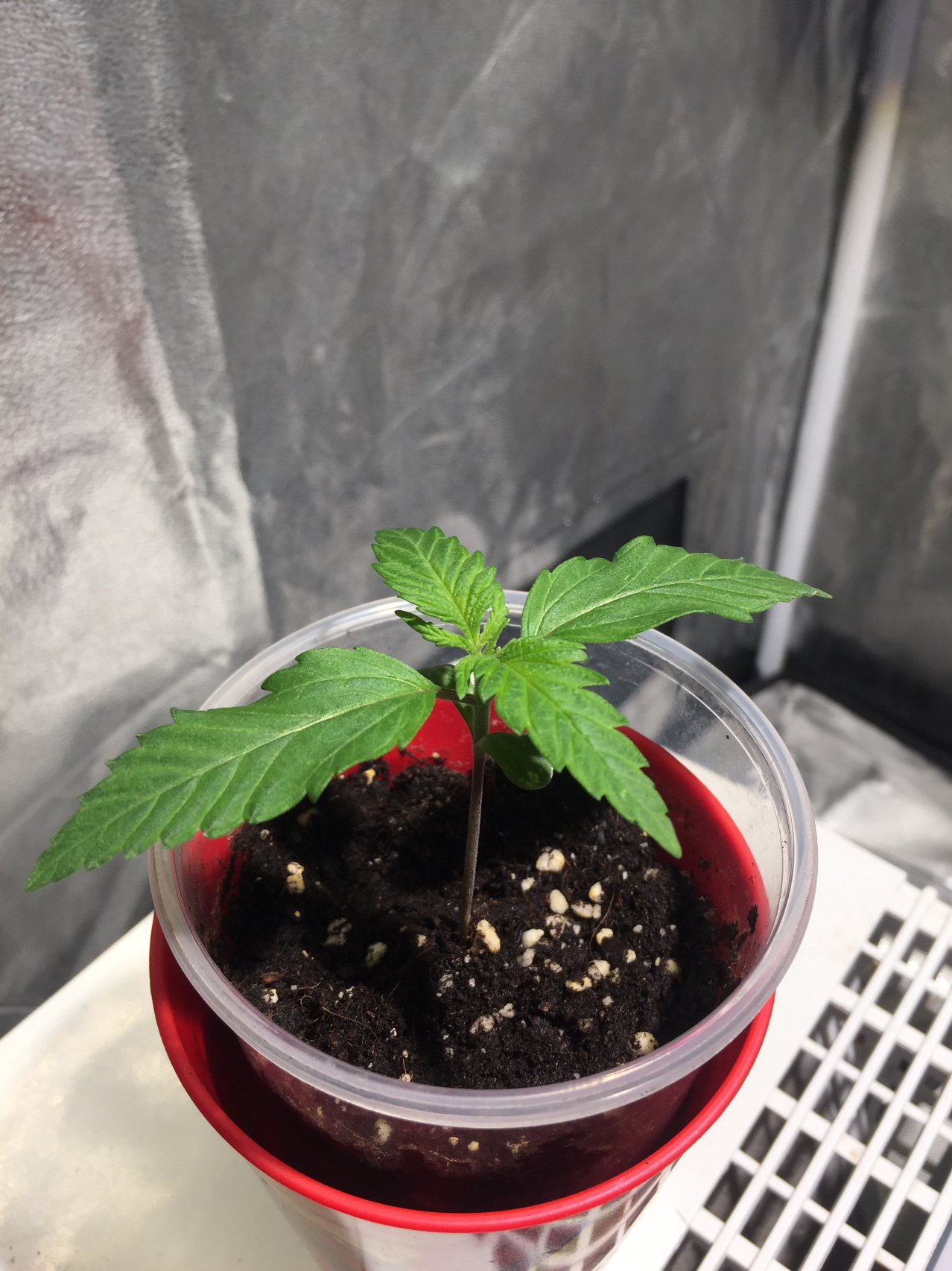 Small growth in fan leaves... Looks like it got slightly taller too
4 years ago
You ever watched paint dry,
4 years ago
OK I'm thinking that a light watering is necessary.. cup feels a bit on the light side... The roots are coming out through the water holes at the bottom of the cup. Didn't expect that to happen so soon.
4 years ago
Not much change. Should water in a day or so. Been looking at my sons seedlings from my first grow. These seedlings on the 7th day surpasses the growth of day 12 of the last season.. doing something better this time around I suppose
4 years ago
Plant is under the optics LED 1xl.. She looks happy already...
4 years ago
Looking more robust.. very very small changes.
4 years ago
Fan leaves looking slightly bigger today
4 years ago
Small small changes. Nothing much to talk about.
4 years ago
More or less the same thing
4 years ago
Pineapple chunk just popped and there it begins
4 years ago