Random posts
Random posts
Just a diary for random posts
Dats a lota weed - took about 4 hours to chop and trim off the fan leaves…. Dreading trimming all this 😂😅
10 months ago
FatBuds101 Yea trimming is a b!tch, when it's personal for me only I'll trim like a oz or 2 and make sure all I got all fan leafs off then store the rest in grove bags then when I'm close to being done ill trim another 2 usually have a buddy over smoke em out and get a qp or half p done in a day. Could easily knock a pound out solo but that's if I have nothing to do like on a Sunday.
Some proper camera shots 📸
a year ago
View 2 additional comments
It's been a month since my last update! Big tent is coming along nicely. The red Afro has some nice purple coming through and the most lemony terps I've ever smelt! 😋
a year ago
CBoX669 Thanks gromies, it's a jungle on there 😂it got a bit wild and out of control to be honest. Access into the middle of the canopy and far side is a pain in the ass!
AK47 is a monster. The defoliation and training on this one has paid off. Solid fat nugs, no larf
a year ago
The AK47 clone is looking nice 👌🏻
a year ago
Big tent is coming along. I don't think I used the trellis as well as i could've. The access to the rear and middle of the canopy is tricky as hell and my back can't take it. But I'm still glad I did. The Critical Orange Punch in the back right corner stretched hard, that would've been coming up to 5ft for sure
a year ago
Gave em a good strip and took off the 2nd net for now. Gettin a little wild in the back right corner. Ran out of space to tuck under.
a year ago
Will be starting week 2 of flower tomorrow. I've put a second trellis in the tent. I've been trying to resist stripping them until week 3 but they're gettin really bushy. Any experienced trellis-ers have any advice?
a year ago
ig:@eaegifts Stretch hasn't started yet, I'd moved the new trellis up out the way and tuck the branches again to fill the edge squares. And it's definitely ok to do some thinning now especially under the canopy stuff you don't expect to reach, you should have as many tops exposed as possible. Between weeks 1-3 she'll fill back in after defoliation 👍🏾
ig:@eaegifts If you search this on YouTube. I'm not mr professional in my videos by any means but I give a pretty give guide of how I scrog and the later videos do show the results 3X3 Scrog Weekly Flower Series (alien rock candy) the start
CBoX669 You're a bro, cheers my guy 🤌🙌
Stripped and flipped (29th May)
a year ago
CBoX669 Thanks growmies. Hopefully this round will produce better fruits now I'm gettin to know the set up. Energy prices are rocketing atm so this'll be my last round until the prices go down 😔
Stripped this bushy AK47 clone. Gonna give it a couple more weeks, get a trellis net in here and flip this tent. I have a coupe autos in here and clones that are rooting but they are being donated to a friend. Shutting the tents down around the end of August before the energy prices sky rocket (again) in October. Sad times.
a year ago
Does this look ok? First time using a trellis net
a year ago
@eaegifts Looks great, you could probably even take one plant out to space them more evenly.
Defoliation day. Trellis goin in tomorrow hopefully. I need to readjust the frame a touch.
a year ago
@eaegifts That trellis looks really good, diy?
@eaegifts Also what fan is that whit one in pic #2
CBoX669 I bought the netting, but it's elasticated and when I put it on the tent the sides bowed inwards so I made the frame. The fan (assuming the white one?) is just a wall mounted fan I picked up from my local hydroponics store
View 3 additional comments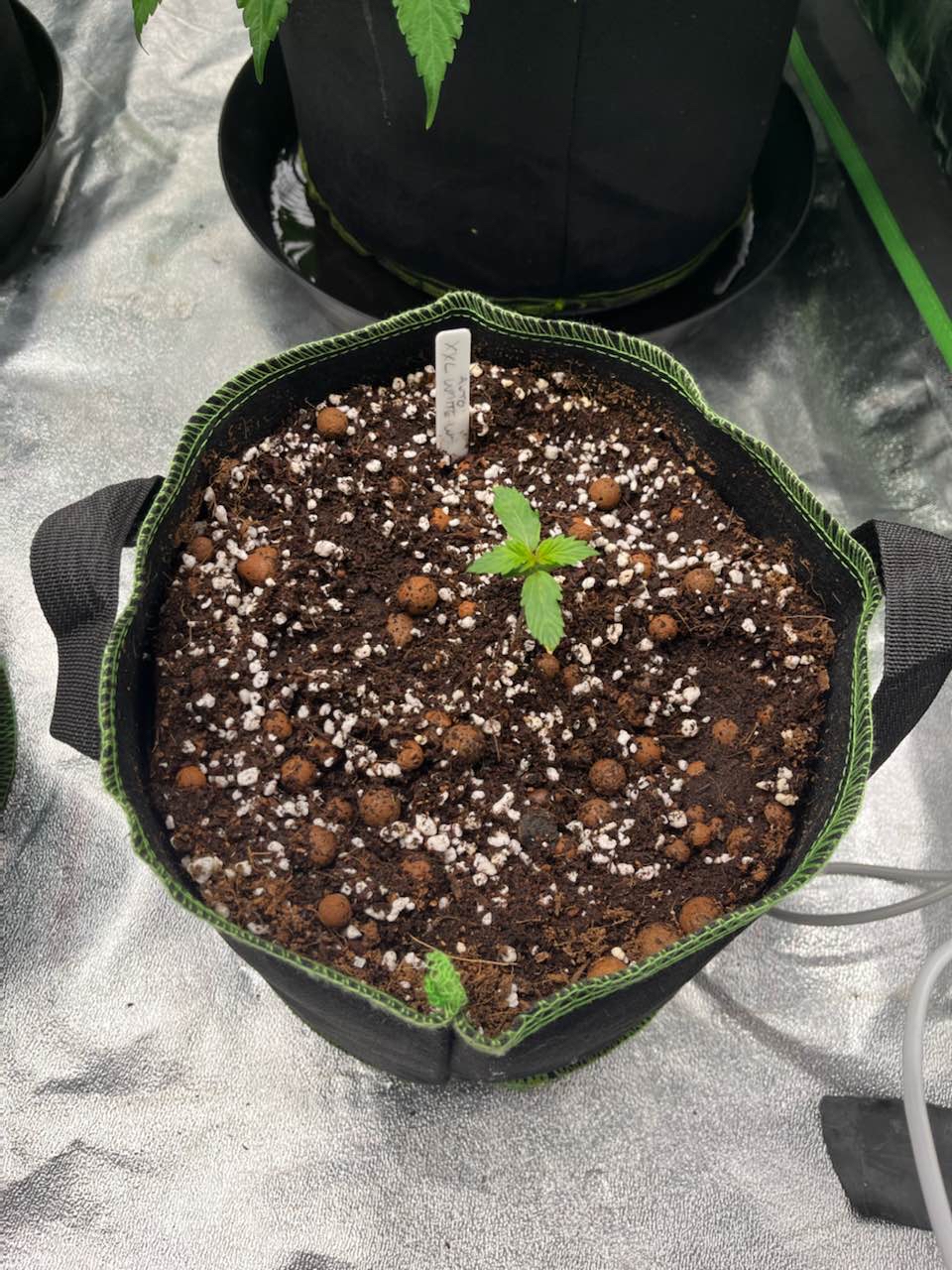 Tent is filling up. Rearranged the tent equipment today so I've got more control over my light distance. Gonna put a trellis net in tomorrow, give it a week to fill then flip into flower? I've got a second net to go in when the flip happens. This'll be my first time using a trellis, any tips? Oh, and I've got two autos (XXL white widow & Orange Sherbet) in here at the moment until these are flipped into flower. I'll be taking some clones of these then set up the veg/auto tent for them to live. 3gal pots.
a year ago
Stripped down the AK47 clone
a year ago
Veg tent multiple strains. It's filling up quickly in here
a year ago
View 1 additional comment
Veg tent looking nice. Inherited two cloned. shishkaberry and biscotti mintz- Barney's
a year ago
What's peoples experience topping and training clones? The nodes grow staggered unlike when grown from seed. Train as normal?
a year ago
combatmedic81 I always top my clones in the early stages to produce more shoots
combatmedic81 You take the top of the plant off to send the energy other places and grow more shoots
View 7 additional comments
So I got this veg tent and a load of clones that I took from the plants I now have in flower. I don't think I'm going to keep them. At the moment I'm just keeping them alive for the transpiration humidity (save a bit of electricity and that 🤷🏻‍♂️) which will benefit the seedlings. Does anyone have any suggestions on how I can fuck with them before dumping them? I thought about topping one of the bigger ones, bending it into another pot and trying to root it? Two root balls for one plant. Possible?
a year ago
CBoX669 Yea I get what you're sayin. I took the clones just because. And if there's a real nice one come out the flower tent then I've got the genetics. But then I get impatient and pop different strains (like I did last week) lol. The plan is to veg the new beans (Red Afro & Black Cherry Punch) and take clones before the flower tent finished up, then flip the clones when the flower tent is freed up 🤷🏻‍♂️
Just a seed flex post. What would you pop next?
a year ago