tripleg
Outdoor Organic Grow
Late summer 2020
First grow from seeds. Aka what to do if the dispensary gives you bud with a lot of seeds.
All right, man, this was a saga... They are finally inside in a closet set-up, on 12:12. Looking beautiful. About 1.5 weeks into flower. Thrilled we got 6 for 6 girls from bag seed.
2 years ago
mystrain420 If you buy bud with seeds and it's not many that means the plant likely sexed itself so 100% fem seeds. They do that at the end of life if you let them go a bit longer. If it's a sh*t load of seeds then a male likely pollinated it so male and female seeds or it hermie very early. Good luck 👍🏾 they look beautiful.
Go go flowering, go! Placing the support net tonight after a compost tea to kick up the K and Phos right away with lots of microorganisms, top-dressed with some CalMg and bloom mix that will keep feeding big beautiful buds. 6 for 6 were female!!!! That was some insane luck for bag seed.
2 years ago
Omg...these clones need to sex, so I can move these ladies into a SCrOG and flower them!!! Only 3 plants, including the trileafer, have shown their sex, but they have all been females!!! 3 more to go...🤞 Had some yellowing, which has been improving, think they have just been so aggressively growing that the medium wasn't keeping up with their nitrogen needs. Increased the feeding schedule.
2 years ago
Tripleg Sadness. Further updates won't be coming because you don't think about a break/up being a way to lose a run. Really enjoyed doing it though. Learned a lot. Excited to start another in the future. I wish her well flowering them.
Baby the clones they said...slowly introduce them to lower humidity and CO2 they said...take bigger than 3 node but 3 inch clones they said...use rooting hormone and not honey they said... Yeah. I killed one of six, two others looking ragged indicating they likely didn't root. Humbling.
2 years ago
So happy with this grow, even despite The Burn. Sexing via the clones grown under a 12-12 light schedule should be done in a week. At that point the ladies will have 12-16 main bud sites each, covering a 3'x6' grow space. Took advantage of Prime Day to get another grow light. Moved the clones to a closet that once they show their sex, will become a veg space for the other seedling as well. I really want 5 gallon Air-Pots for my next grow. Value the air-pruning with the ability to tie down to the rigid rim, the girls have been pretty root-bound.
2 years ago
Attack of the clones!!! I haven't seen clear signs of sex on any plant, I guess evidence of healthy and happy vegetative plants, so what to do? I've spent, with reusable lights and pots, less than $170 on this grow. Need another light, flowering nutes and burping jars/hygrometers, so figure another $80. Just saying, not going to spend $60 a plant to lab sex them. Read about someone cloning his plants under 12:12 light cycles to start preflower. Took him 7 days. As stated, I'm a cheap bastard, so using organic, raw honey instead of cloning gel and doing sealed solo cup clones in soil. We'll see! Otherwise, flattened my grow space. Once they are sexed, going to eliminate who I need to, and SCrOG them to fill 16 square feet. Okay, this might be jinxing it, but I have 16+ bud sites per plant at 6 plant density. Will kick that up if I need to once they are eliminated. I want an ounce per square foot. 🙈 For my first grow, under no ideal conditions and with an utter disaster mid-veg, I'm probably way off from that in final yield. But you gotta have goals, right?
2 years ago
Girls are looking amazing. I think we are successfully beyond The Burn 🔥 Now it is an issue of space. I really wanted them to show sex by now so I could cull them down to 4 and ScrOG them. For sure I'm extending the platform out to the edges and moving the seedling. That will leave 4 plants at the corners of a rectangle and 1 right in the center.
2 years ago
I was way too cocky with the grow going so well. Decided to really top off their growth with the addition of true full-spectrum grow light, a COB Bloom Plus BP1000 that I bought used for just $40. They loved it. I was used to the nights outdoors without much change, with the light they went insane. Then I went camping. Weighed leaving the light off, but I was too greedy (and listened to the girlfriend) and kept it on. 14 inches was a decent amount of distance, or so I thought. Respect your grow light. Light burn is real. The carnage was horrific. Yeah, in 3 days growth had several leaves touching the light. No plant was scathed, with the two right under it getting the brunt of the pain. So, I come back, hat in my hand, with two plants set back by a month. The other ladies have been trimmed and trained. They are happy as heck, stems (aka bud support structures) are thick as tree trunks. The little baby that was dropped looks amazing. Glad I didn't count her out. Feeding was yesterday, and yes, I brought back in my grow light. Set-up a cheap greenhouse with reflective insulation to cut down the night light leak, and moderate temps as we enter October.
2 years ago
Okay. I've been a little too aggressive with the training. Couple leaves were broken. Oops... will give the girls a couple of days to grow without messing with them. Really happy with their progress. Not really much I would do with them differently except starting earlier, but the bag seed finds you! 😋 The sorta-kinda living soil makes care super easy. I'm thinking of adding some clover and coriander at this point to improve bud growth and protect against pests.
2 years ago
Girls are gorgeous! Everyone is happy in their new pots. Yes, that is a seedling pot there. 🙈 This is addicting. Actually more interested in cloning once we know what these girls taste like and who yields the most.
2 years ago
Feeling like a bit of a sadist. Lol. Making the ladies bend a lot. However, they are loving it, so guess we are in a weird BDSM relationship. 😂 I love my weirdos: my trileaf and my runt, but I've been confused by that mutant that has sent off tops everywhere. It's been great, actually haven't had to train her much at all and still expect her to be a beautiful hedge! Lol
2 years ago
Hortulanus Was the three leaf mutant a clone from a revegged plant?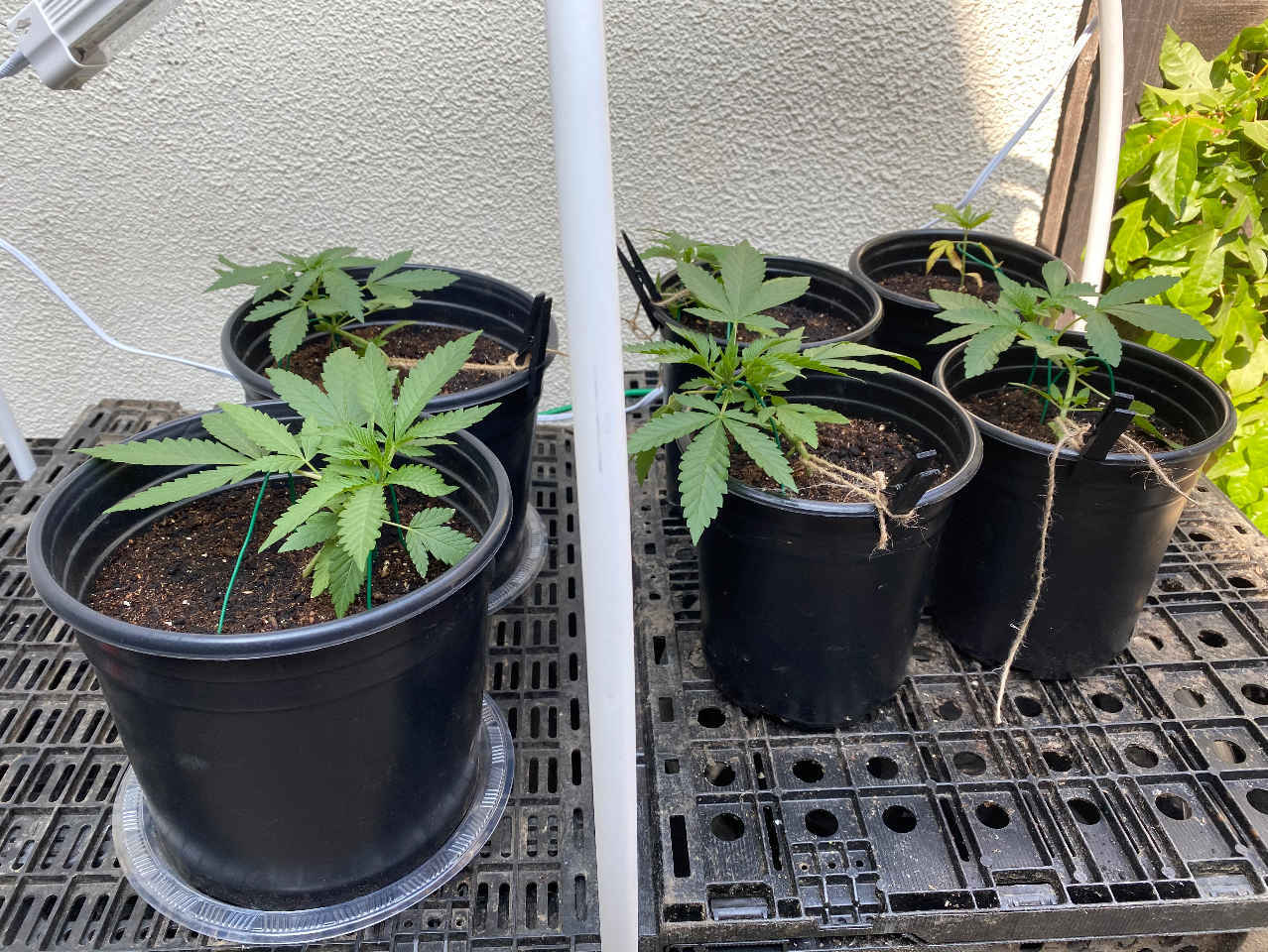 About to go to fabric grow pots on the day of their second feeding. Looking beautiful!
2 years ago
Training is addicting! These ladies are responding so well. Exposing lower sites are resulting in at least 3 more potential colas with one bend! Have to get a spiral shape going. I'm really praying these ladies are photoperiod (bag seed so...no idea), as I want them big and beautiful and can imagine these sites coming up just a week short. Just water today, nutes tomorrow. That one little baby is holding its own. Going to not give up on it, but it's kinda out of my hands at this point. If that stem heals, might get something, a tiny, microbud. Lol
2 years ago
First day after the addition of the lights (run from 4:30pm - 7:30am) and the first liquid nutes, Dr. Earth Organic Pump and Grow All Purpose (balanced 1:1:1). They look lush and beautiful. Leaves are popping up everywhere. Training is about to be in full effect. Only one seems to be more stretched than I want, with a huge internode space. Everyone else is squat and productive. Bring it ladies! I'm thinking liquid nutes weekly at this stage (gallon between 6 plants as one of the waterings), but I'll let the plants guide me, starting to understand them a little. However, how quickly that baby bent back after the training astounded me.
2 years ago
Dorisg Ahhh you have a tri-leaf! Well jealous, do si dos is one of my fave strains to smoke, your bends look ok, I'm used to bonsai training rules, so that's probably why mine aren't as extreme, I think I should have started earlier to get multiple tops, we will see what tomorrow brings 😎
Okay. Got busy and they didn't get mutes yet. Oops. Noticed a couple small gnats. Worrisome. Going to start looking into nematodes. So, at first I was all bummed about the weird looking one, however, what that odd growth did is auto-top itself! Woot! Didn't even have to LST it to get that. On a last note, made a $40 light upgrade for them to eek out a little more growth in veg with the short days. 2 Feit Electric GLP12FS that were on clearance at my local Home Depot (only 40 PPF total), only drawing 28 watts. Will add to that a Feit GLP24FS for another 30 PPF, not an indoor grow setup, but I think will add to their growth while staying reasonable. (The 24 inch light I'll get used for $10.)
2 years ago
On to 5-fingered beauties. Getting only 4+ hours of direct sunlight a day, which worries me. But on a positive note, the one that was injured is on the mend. Doesn't even need a support for that leaf anymore. Going to do their first 4:4:4 feeding today.
2 years ago
Had some injuries. 😢 This little one lost a lower leaf. Another fell out completely, bending the stem and a top leaf. Having to prop it up and giving it some more love by bringing it inside at night.
2 years ago
Days are getting colder 90-85F during the day 60-65F at night. Thinking of making a DIY greenhouse. These smokey California skies are really cutting down on lumens. 😢 I can see they are growing so much slower than they could in the depth of summer. Hoping they can be sexed in a week or so, that way I can maybe bring them in for some nighttime LED sun.
2 years ago
Looking good even if the Cali skies are not. 😢 Think I can sex this one in a week.
2 years ago
Girls (being positive) are looking great!
2 years ago
Kbreazzy We have the same strain but I don't know the name yours looks exactly like mine at day 17 and i was using a 75w light. Hit me back let me know what you got so i can know too.
Had some significant die-offs in the seedling pots. Note to self: never again. Though I'm not sure what did it. I assume overwatering. Added 30:60 earthworm castings to the coco. Top dressing the others. Will use standard 4:4:4 nutes, but hope the castings allow for using much less. Plan to transplant to fabric after sexing in a week or two.
2 years ago
Guess I didn't even make a comment about the little trileafer! Totally want to SCROG her.
2 years ago
Day is a little colder. Scaring me that this was way too late to start this outdoor. Plan to get veg done outside, will have to come inside for flowering. Note to others: the seedling pots hold water. They aren't growing as vigorously, and one has a little brown on a leaf. 😕
2 years ago
Looking wonderful! All but 2 seeds germinated using paper towel method (soaking in water for 12 hours seemed to give a boost to these older seeds). Every single plant has yielded a vigorous seedling. Going to let them stretch their legs, then transplant 4 female plants into a 60:30 potting mix and earthworm castings.
2 years ago