ndevgrows
Blue Cheese
Box grow 2020
Getting this one going in my bonsai box. 300W LED IN A 60x60x85cm box. Going to top and mainline this one keeping her real low and dropping into 12/12 early.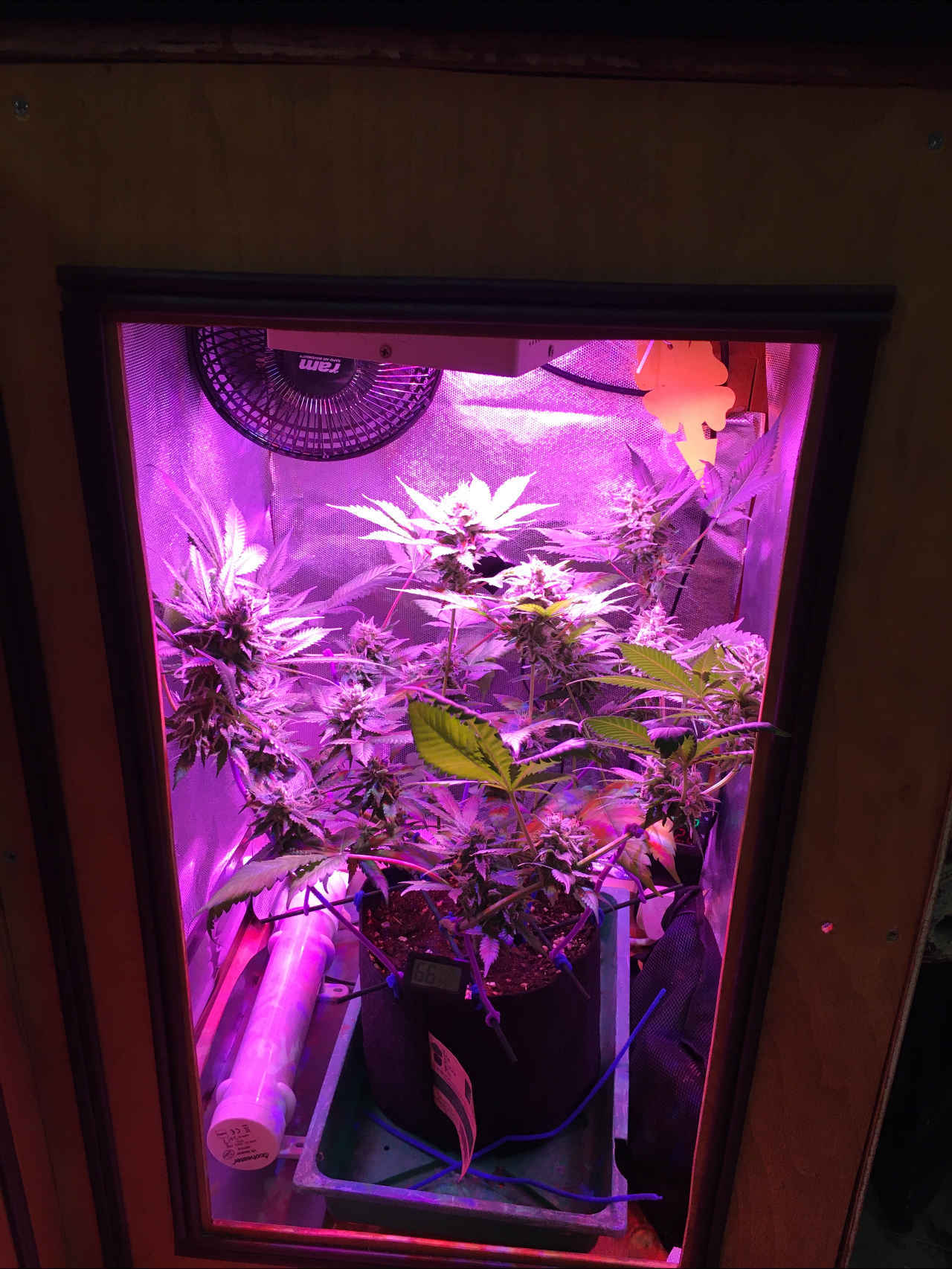 This girl has had her last water 2 days ago! Will leave her another 2 days with lights on then go 2 days in the dark before she gets the chop!
2 years ago
Randy2020 Nice setup you got there and a beautiful plant. Nice grow
Real close now. Will be starting to flush for the next week or so before harvest
2 years ago
Starting to develop a nice smell to it. Sweet and fruity like blueberries!
2 years ago
Covered in buds. First trichomes are starting to appear and buds are fattening quickly
2 years ago
Buds just starting to form now. Hoping the stretch is about finished
2 years ago
Bent the 4 main colas down sideways yesterday to keep her low enough for the box. Perked right upwards again overnight no problems! First pistils are starting to show quickly on the main stems. Hopefully we'll be seeing some buds starting to form next week.
2 years ago
Stretching hard these first two days, hopefully it won't outgrow the box 🤞
2 years ago
Flipped to 12/12 today, hoping she doesn't stretch too much or I'll run out of room in the box!
2 years ago
Trimmed and trained today
2 years ago
One day after topping and she's looking good. Doesn't seem to be slowing down. Decided to pot up into its final 5l pot today too. Give her two weeks in there to branch out and root itself then I'll be switching to flower
2 years ago
Topped at third node today
2 years ago
Speeding up a bit now. Starting some light feeding now with bio bizz fish mix and liquid seaweed. Hoping to top and mainline at the end of this week
2 years ago
Looking good. Potted up today into a 2l pot with some better soil.
2 years ago
Going strong! Kept it a bit warm for the first day under the lights and she stretched right up. Ideally I wanted to keep this plant as short as possible
2 years ago
Welcome! Started seed off in a peat cube and moved straight into this small pot of biobizz light mix soil once the seed had popped.
2 years ago