godlyintentions
Blue Dream Feminized LST+Top
First Grow Fall 2018
Firs time growing. 8 square foot corner tent. 2 132 wall wattage LEDs. Using flora nutrients in coco medium.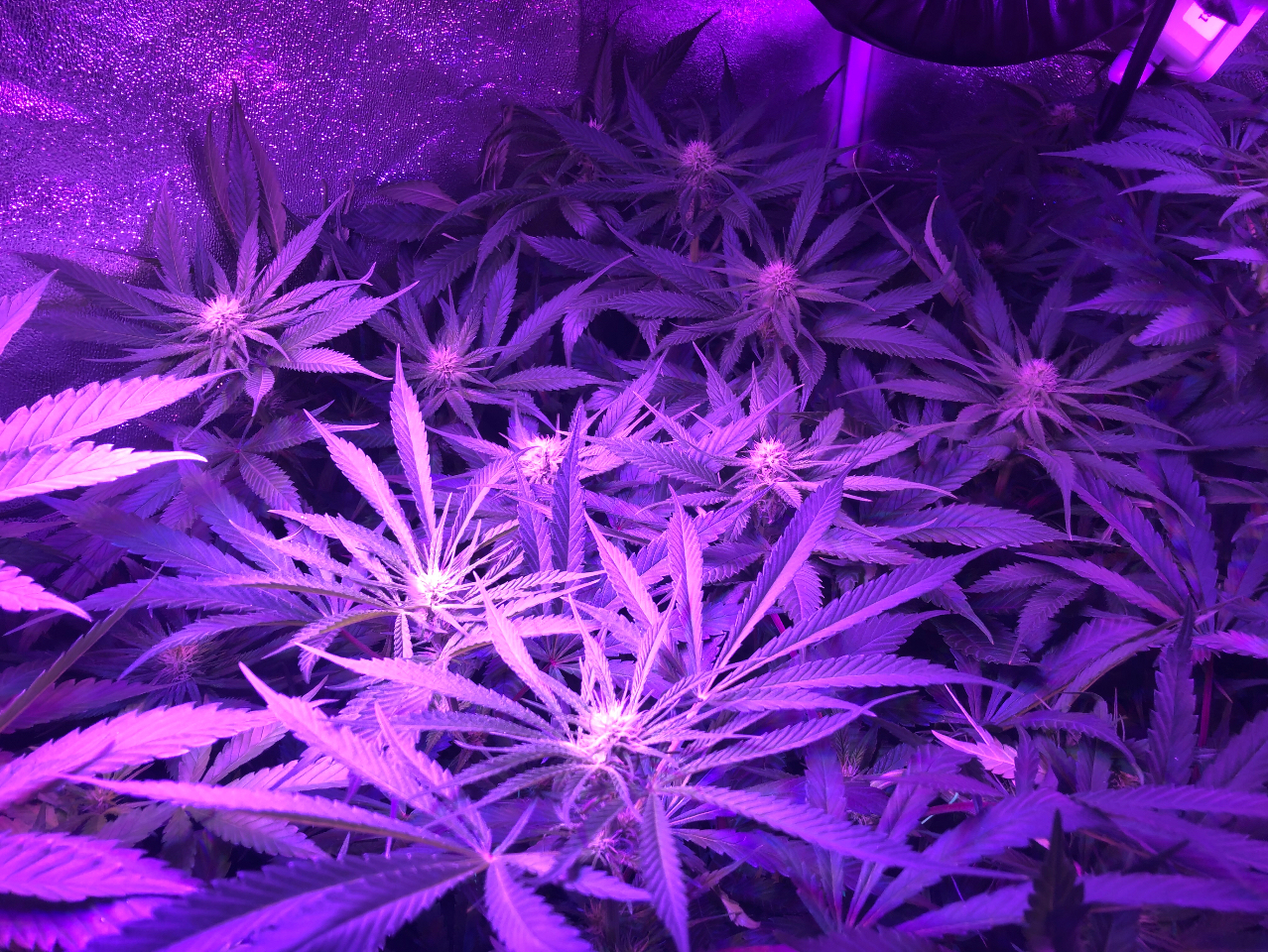 Buds are starting to form, I moved the fans and lights around to allow for more even light and airflow. I'm gradually bending down the top colas to make sure there's enough height.
4 years ago
Whitehorn_01 Looks awesome Im ganna start my blue dream grow soon ur tips will be helpfull
Day 12 of Flower. Plants have been stretching quite a bit, been doing slight super cropping and LST in order to keep height down. Plants have also been getting gradually pruned for airflow. Switched to flower Nutes. 800PPMs and watering to slight run off. About 26 Inches Tall.
4 years ago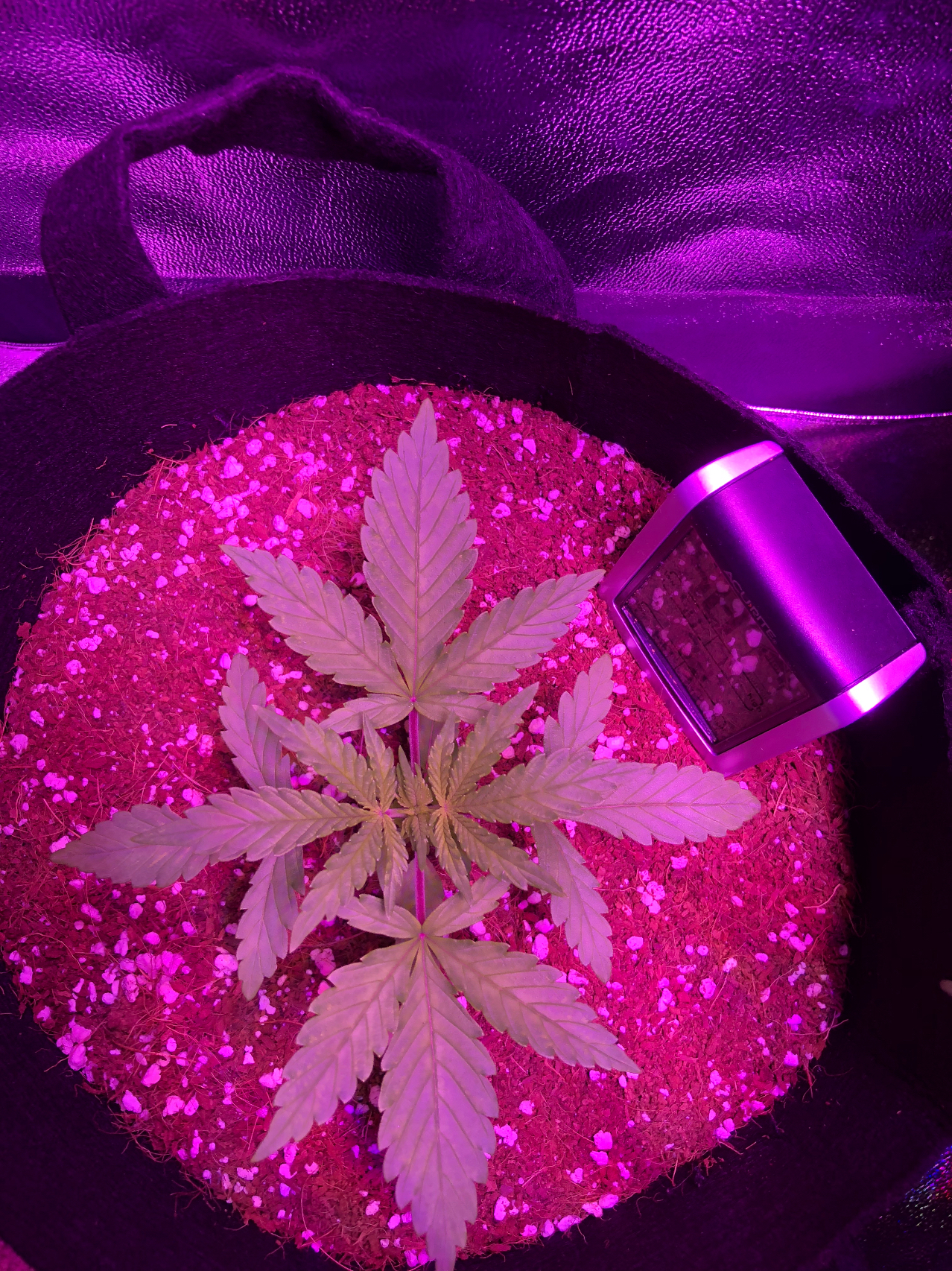 Giving the youngest a few more days to grow before flipping all the plants. Upping CalMag by 25% as a few leaves are showing deficiencies. Been topping and LST for a week to even canopy. Pruned bottom fourth in preparation for Flower. Water: 4 Liters 880 PPM 6.0 PH 3 Days Nutrients : FloraTrio, FloraBlend, Rapid Start, Diamond Nectar, CALi-MAGic, Adding Liquid KoolBloom & FloraNectar when flipped. RH: 52-58% Temp: 70-76 Light Cycle- 19/5 Lights: Combined 335 True Wattage Full Spectrum LEDs. Will be adding another 65w tomorrow.
4 years ago
Plants are around 10 inches tall, I did some minor pruning of the bottom branches. I also topped the three tallest ones again. I'm doing LST on the shortest in order to allow it to stretch a bit more. Going to feed tonight. Seedling now is growing it's third set, the nodes are a lot tighter and the leaves are rounder so this might be an indica pheno. Also added a 60w Full Spectrum LED UFO light to make the coverage more uniform in the corner. Carbon Filter and Exhaust Fan are in, using passive intake.
4 years ago
The nutrient burn has stopped and the leaves are as happy as ever. I added more coco and a bit of perlite to the pots to fill them out more and buried around an inch in the coco. The plants are super bushy, the branches are nearing the top node. The topping is going well despite clipping a few of the new growths, they seem to be growing fine. I pruned the first two-leaf set of each plant to prevent mold due to being so close to the coco, and they have so much vegetation already. I've also been tucking the fan leaves under the emerging branches. These are gonna be some bushy monsters... The seedling has started to grow its second set of leaves. ILGM Genetics. 95/5 Coco/Perlite 3 Gallon Smart Pots Carbon Filtered 6.2 PH Tap Water 180 PPM RH: 48-58% Nutes: 400 PPM 6.2 PH 72 Deg. Nutes Cont. Flora Trio, CaliMagi, More OTW Day Temp: 79-84 Night Temp: 69-74 20/4 Day/Night Cycle 2 Bestva Elite Full Spectrum 600w Reflector Series. Drawing combined 270w for Veg.
4 years ago
Plants were topped yesterday and are taking it well. Fed them two days ago with a new batch of mix and they are now showing early nutrient burn, so today I've watered with 6.2 PH Water. I've went back and diluted their nutrients as well. They're starting to have the slightest smell, delicious! The freshly planted seed has sprouted and has grown quickly in 2 days. Not gonna mess this one up!
4 years ago
zedascouve420 Hi, when did you topped? Did you considered the number of nodes, total hight, or days of development
Plants are either about to or are growing their 5th node, will be topping soon. Finishing their premade feed which is quarter strength, then I will move on to full strength nutes every other watering. As you can probably see the broken sprout didn't make it. Turns out it was too overwatered as the roots never had a chance to properly develop like the others. I went ahead and started germinating another one. Rip Squishy.
4 years ago
DoJo Great setup! I use a tent myself. How do you keep the humidity/temp consistent? A minor issue I'm facing atm while the weather transitions in my area.
GodlyIntentions Thank you! In my case as it's in a bedroom the temperature is fairly regulated by our A/C. As far as humidity I would keep a few glasses full of water, but we just got a small $20 humidifier that has been helping a lot. I have noticed that the higher the humidity the less the temperatures fluctuate. Good luck!
Most plants are healthy and starting to grow their third set of leaves. Watering lightly every other day or until the first 2 inches are dry.
4 years ago
GodlyIntentions One of the saplings had their stem crushes by a fan 3 days ago. Besides slight paling and slowed leaf growth it seems to be doing okay.
Raspy What temperature do you keep your plants
All plants have healthy first leaves and are beginning to show their second set
4 years ago
5/5 seeds germinated and all seem to be doing well. All have their first real set of leaves showing
4 years ago