bwitcher89
Random buds
Summer 2020
Random seeds I planted. Started them in lil pre soil pellets.
Week 6 flowering 10/29 buds are getting fat and feeding them 6ml flower was burning them a lil
2 years ago
So a hermie was in the batch and pollinated them smmmhhh they are pretty tall starting to fatten bud gonna start feeding them 4mll flower 3ml grow start week 4 today Thursday
2 years ago
Plants just start week 3 flowering I am feeding them all three nutrients still seeing a lil nutrient burn so growing to do 1ml 2ml 4ml..other than they they are happy looking! Had gnats got some sticky traps and it worked
2 years ago
Week 2 flowering..plants are to my belly button..did not feed them this last watering because I notice some chemical burn..not going to give them that much fertilizer tomorrow's watering started pruning
2 years ago
Plants are about 3 ft tall..I notice I have been giving them too much nutrients so only going to give them about 4ml of flowering 2 ml of the others..they are liking the new tent set up and I have 5 females
2 years ago
Started the flowering schedule day 38...this day 2 of flowering and feeding them grow micro and bloom together only fed 4ml each looked like clawy...I see two females a two makes so far
2 years ago
Plants are growing fast and tall..watering every other day think a little chemical burn so flushing next watering..watered them yesterday without the recharge just grow and micro..going to start flowering day 41 with flower fertilizer
2 years ago
Yesterday plants were dropping bad..needed to water and feed more frequently now think the pots too small but wanted smaller plants becoming root bound..peeled back up once I watered them..watering every other day to 3 days
2 years ago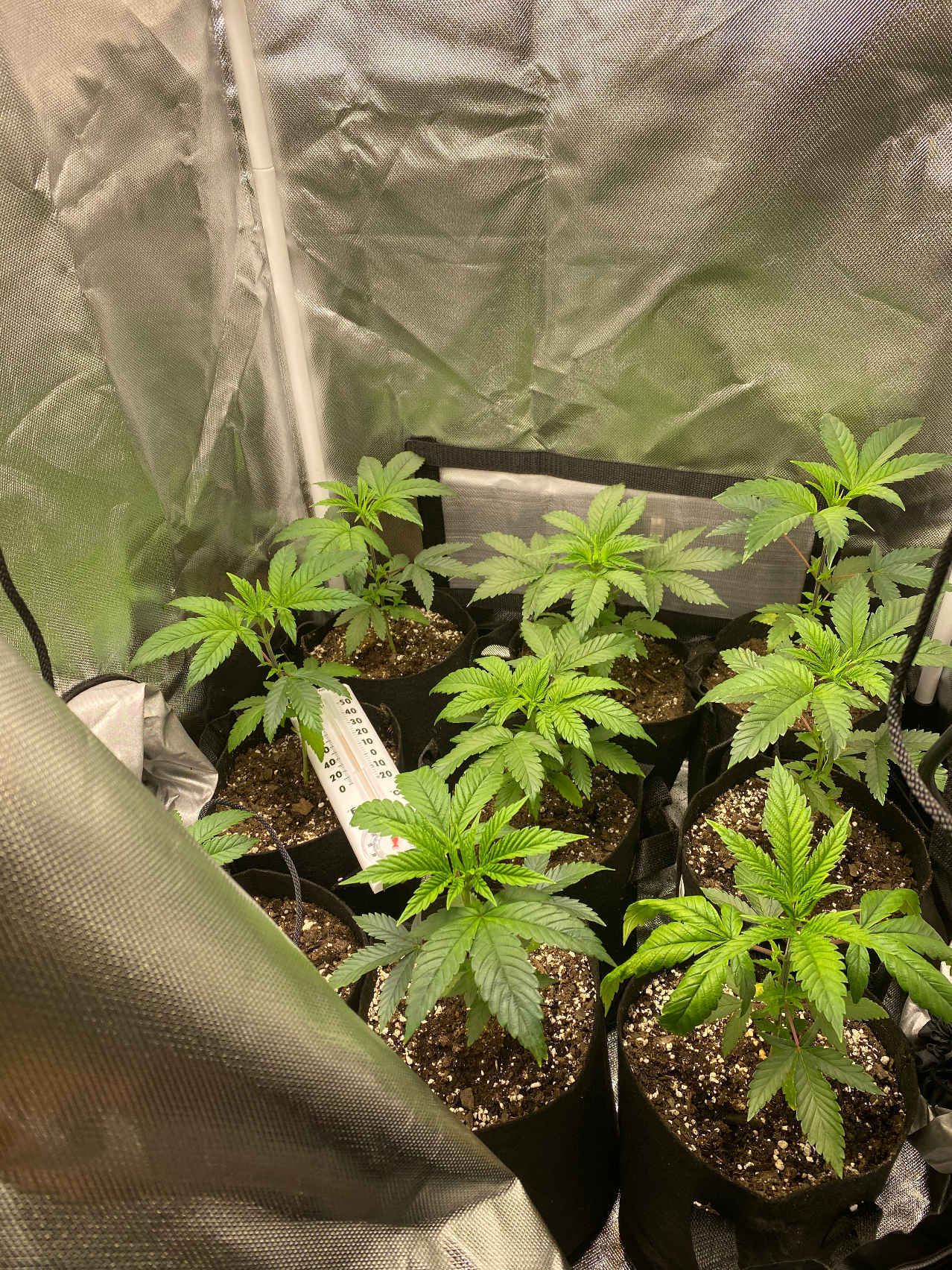 Had the light too low some plants was starting to droop..watering every 2 to 3 days didn't put food this watering last night but I am watering often because they are growing super fast
2 years ago
Plants are growing fast!!
2 years ago
Feed them last night with grow micro and recharge they are doing really well leaves are green no spots
2 years ago
Plants are looking good! Loved the vitamins I water them with last feeding going to feed them today again
2 years ago
Moved to new pot yesterday. Some plants was showing signs of stress. I left them in their cups for too long and needed to feed them more . Looking better today! Got a new light set also
2 years ago
Starting to grow over cup will repot them tomorrow.didnt feed them this watering will next full strength and with recharge to help 4ml advNut grow
2 years ago
Some planes have 16 lil leaves!
2 years ago
Most have 10 leaves growing and 2 of them twelve leaves! Gave second dose of adv nutrient but micro
2 years ago
4 main leaves more coming in gave first feed 2ml AdvNutr Grw
2 years ago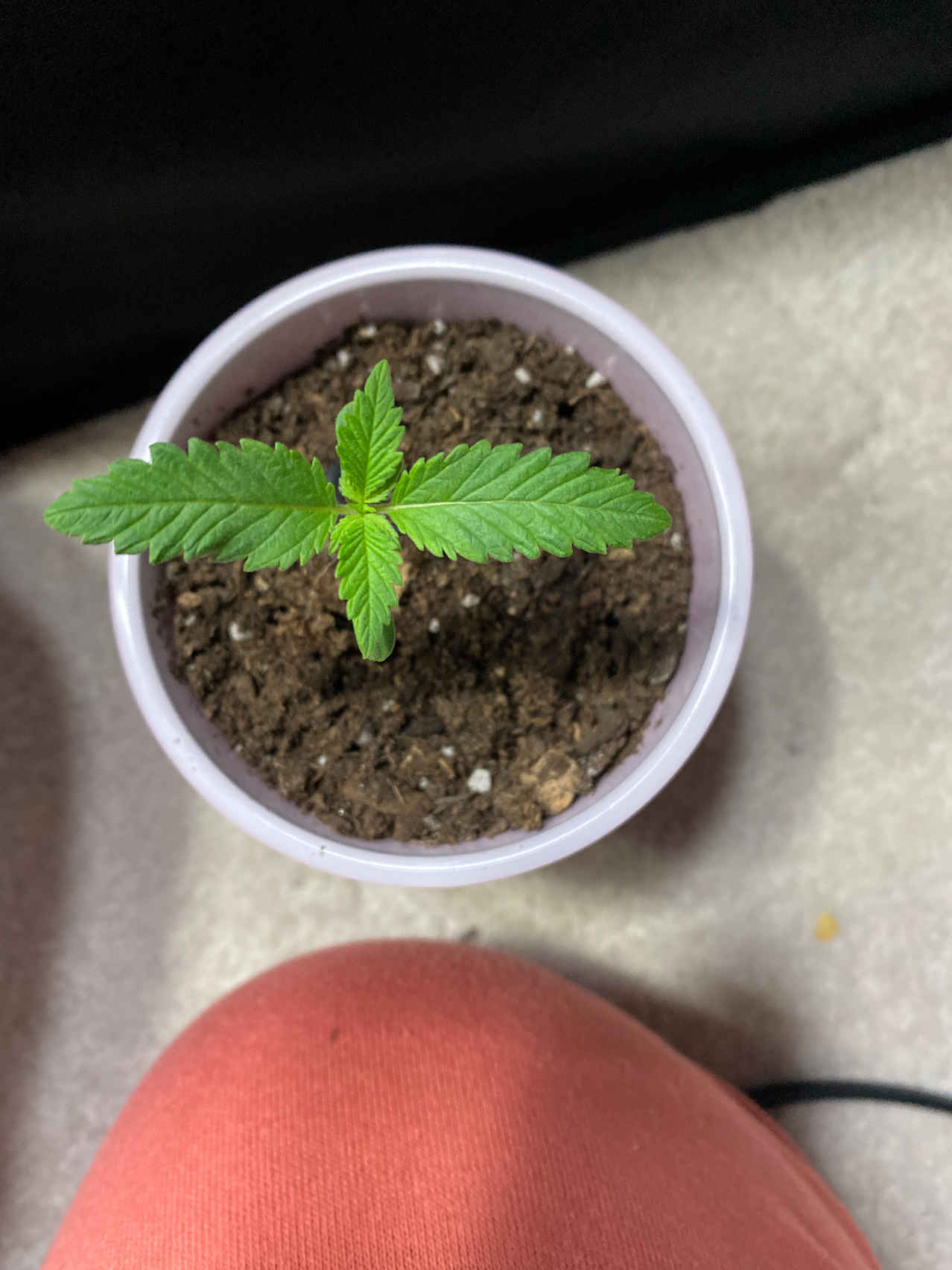 Growing six leaves
2 years ago
They are growing! Lol
2 years ago
Going from 24 hr light to 18/6 one plant leaning others doing ok
2 years ago
Plants 3 inches changed lights to t5
2 years ago
Currently 2 inches tall
2 years ago
Plants are looking super healthy! Loved the fertilizer I did last feeding doing again this feeding.
2 years ago
Plant is currently and inch y'all and starting to sprout
2 years ago