mauiremedies
Hawaiian Haze Hemp
Maui Outdoor 2019
Grown outdoors in Kihei, Hawaii using soil. Will be feeding with organic nutrients from Earth Juice. Hawaiian Haze seeds came from hemp flower from Triangle Valley Farms.
I may have pulled this a bit too early but I just got excited when I seen tiger stripes. This is a solid seed. Letting it dry out and will start germinating once dried. It's so crazy that in less than 2 months we were able to grow plants from seed and have seeds starting to mature in less than 2 months. 🤯
4 years ago
The HH1 is looking great! I can tell it is going to have a longer flowering time the the rest of the plants as it is still growing lots of leaves. I could be wrong but it just seems like the BK will finish before the HH. Between all the HH I have growing I am seeing some similarities. I see a phenotype that is a lot leafier all around and wild growth. Then there is another phenotype that flowers later but has lots of tall white pistils. They all smell differently and I like the smells of the HH3 the most. I will probably pop seeds from the HH3 on the next round assuming I can pollinate it with the male GTK. The HH3 X GTK1&2 will be a nice cross that I am very interested in growing out as the GTK is a high THC strain and the HH3 is a high CBD strain. We should get a cool mix on the next generation with these sees. I love the high from the GTK but never grew it out. Hawaiian Haze has lots of purple traits and has lots of haze lineage so this will be a very interesting cross of CBD Haze strain with THC Kush Strain.
4 years ago
Hawaiian haze smells the best to me now. Super fruity. Looks like we have 2 phenotypes here. A leafy phenotype with HH1/2 and a longer more pistils phenotype with HH3/4.
4 years ago
Hawaiian Haze is smelling amazing! The HH1 smells fruitiest and sweet. HH3 has one of the most unique smells and it smells amazing. HH2 almost has no smell but minty and like menthol. Really cool. HH4 is looking nice! I think it's about a week into flower. Responded to the feeding very nicely. I figure with the small amount of soil in this one that there isn't much nutrients in the soil at this point.
4 years ago
Hawaiian Haze is all looking great smelling amazing. Very fruity smell when rubbing the stems. Buds also starting to smell skunky. Stacking up nicely. Fed today after drying out for 6 days and fed with 1tsp grow and 1tbs bloom. 1 tsp catalyst and 1 tbsp mollasses.
4 years ago
HH1 - best plant out of all of them. Best bottom branching. Nice bud sites. Smells so good and sweet. Like fruit candy. Going to be best yield. HH2 - nice bottom branching. Bud sites stacking nicely. Stunted. Not as sweet smelling. Not too smelly. HH3 - not as much bud development. No lower branching. Taller than 2. Extremely good sweet fruity tropical smell off stem. Probably best smeller. HH4 - Behind the rest but started flowering watered yesterday with mild bloom and grow and catalyst. Responded well. HHD - our Duke is looking good. Stem straight up now. Lots of pollen sacks and flowers. Continues to stretch and bloom like crazy. Very little leafs. Took plant and dusted pollen on every female to make sure we get most seed production.
4 years ago
Lots of new growth with just water. Letting it dry out good between waterings I think is the call. Excited to see where they go. I'm thinking about chopping the male and saving the pollen. I don't want male pollen spreading around.
4 years ago
Plants all looking great as we wrap up flowering week 2. HH1 is stacking up real nice. Upon rubbing the stalk of the male HHD it smells very sweet and fruity.
4 years ago
So I have been wondering what's going on with the plants. Their growth seems stunted. After researching I think I should not have been feeding my plants. They don't look burned but possibly nutrient lockout? Using ocean forest soil it has lots of nutrients and you shouldn't have to feed it for about a month. Then after that maybe supplemental feedings. So next watering will be plain water for a nice flush and should get them growing nicely again.
4 years ago
Hawaiian Haze is looking good. Male really stretched up tall and lots of pollen sacks. The HH1 is growing really well and still the biggest of all plants. Watered all plants today with bloom at full strength without molasses. Watered only HH1 with molasses and 1 quart. Watered all plants very lightly. No runoff. Looking really nice!
4 years ago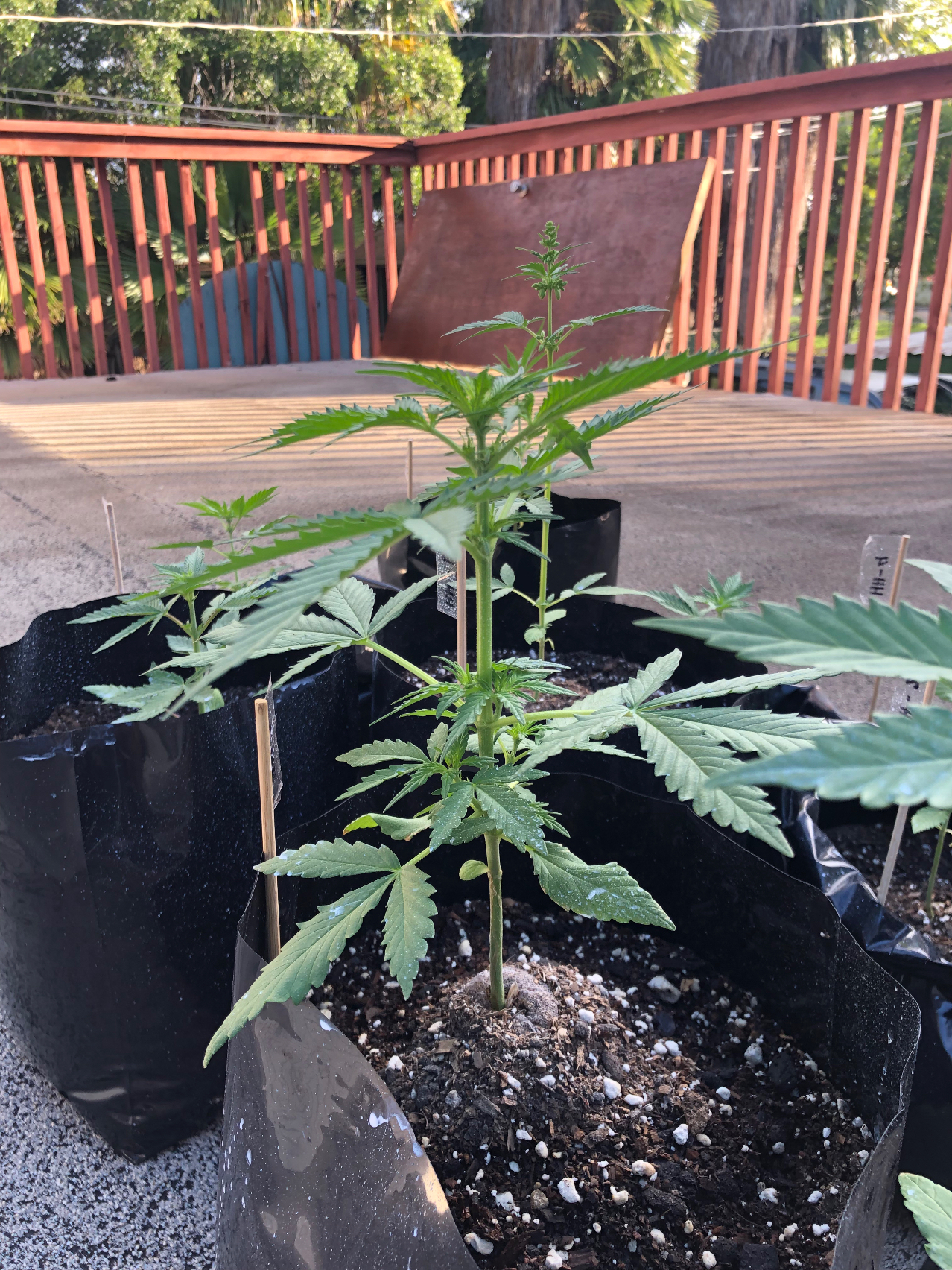 Actual morning of day 28. All Hawaiian Haze is looking amazing. Lots of new growth and it's almost like they didn't stop growing from the transplant. Lots of new growth on the lower nodes on the HH1. The HH male is continuing to stretch for the sky. Heavy node spacing now and lots of pollen sacs. They liked the nutrients fed yesterday and no signs of burn. I did do the light watering on these plants yesterday. A pint of water or less and they all look great. That may be the call for watering.
4 years ago
Growth is looking nice. Pistols started to show on the tops. Nice growth starting at each node site too. They seem small for the age. Any thoughts?
4 years ago
Hawaiian Haze in our 3 gallon pot is looking very nice and perky today. Some new growth. Same with the other Hawaiian haze plants in the cups. Yesterday they got rain water all day. Today there's no rain but they are definitely good from the rain water yesterday. Weather just cleared up today and we are getting sun and no rain. Plants are looking VERY happy today after the rain. I believe I let these cups dry out a little too much so having the rain to resaturate the soil really helped. Will be checking on these tonight for water to see how they are holding up in the small cups. I believe these plants are going into flowering already. They were outside but in an area that got supplemental lighting at night. Where they are now, they don't get supplemental lighting so with Hawai'i being almost perfect 12/12 I believe they are starting to head to flower already.
4 years ago
We got one male out of the 5 Hawaiian Haze plants we are growing. And one male out of all the plants in this grow. The HH1 is a female and the fastest growing plant out of all of the plants. Has nice tight nodes and it's doing really well. The male Hawaiian Haze is a good plant too. This plant already has tons of pollen sacks as you can see in the pictures. Super fast in flowering. I'm hoping this male brings that to all these crosses. The cup with 2 plants in it is surprisingly growing and stood back up after falling over. The small sprout is doing good too. Overall I'm stoked to get one male out of all the plants we have and will be pollinating itself and making some S1 seeds.
4 years ago
Rained all night and all day so far. Left all plants out in the rain and wind since they sprouted. Hawaiian Haze is doing good especially considering the weather. HH1 - Looking nice since transplant yesterday. Also looking nice even though it's been in the rain for a while. I haven't numbered the other Hawaiian Haze plants. You can see the difference in the pictures. My goal with this grow is to see how these strains naturally grow. They have been outdoor since 1 week so they may go into an early flower. We will see.
4 years ago
Transplanted the most vigorous Hawaiian Haze to a 3 gallon pot.
4 years ago