Unknown
2022 summer
Got the clones from a buddy
Unknown some type of hybrid ?
Well sad day saw seeds or what I thought to believe just threw it out of the tent and sprayed down everything just incase even tho way early I caught it but deff a bummer oh well part of growing
7 months ago
shiz Yup you should be okay looks like you caught it early shouldn't of released any pollen
View 3 additional comments
Male of female everyone's opinion please. Today I pulled a male early on now I'm paranoid lol even tho the seeds I caught super early now this looks female to me but hard to tell ?!?!
7 months ago
Nutrients blooming and switched 12/12 for 1 week now
7 months ago
Found a leave with a weird mark I think nutrient burn from fish and guano I sprayed directly or I could be wrong genetics? Or when I topped it that's how it grew back
7 months ago
Ph 6.48 guana and fish nutrients light 18/6
8 months ago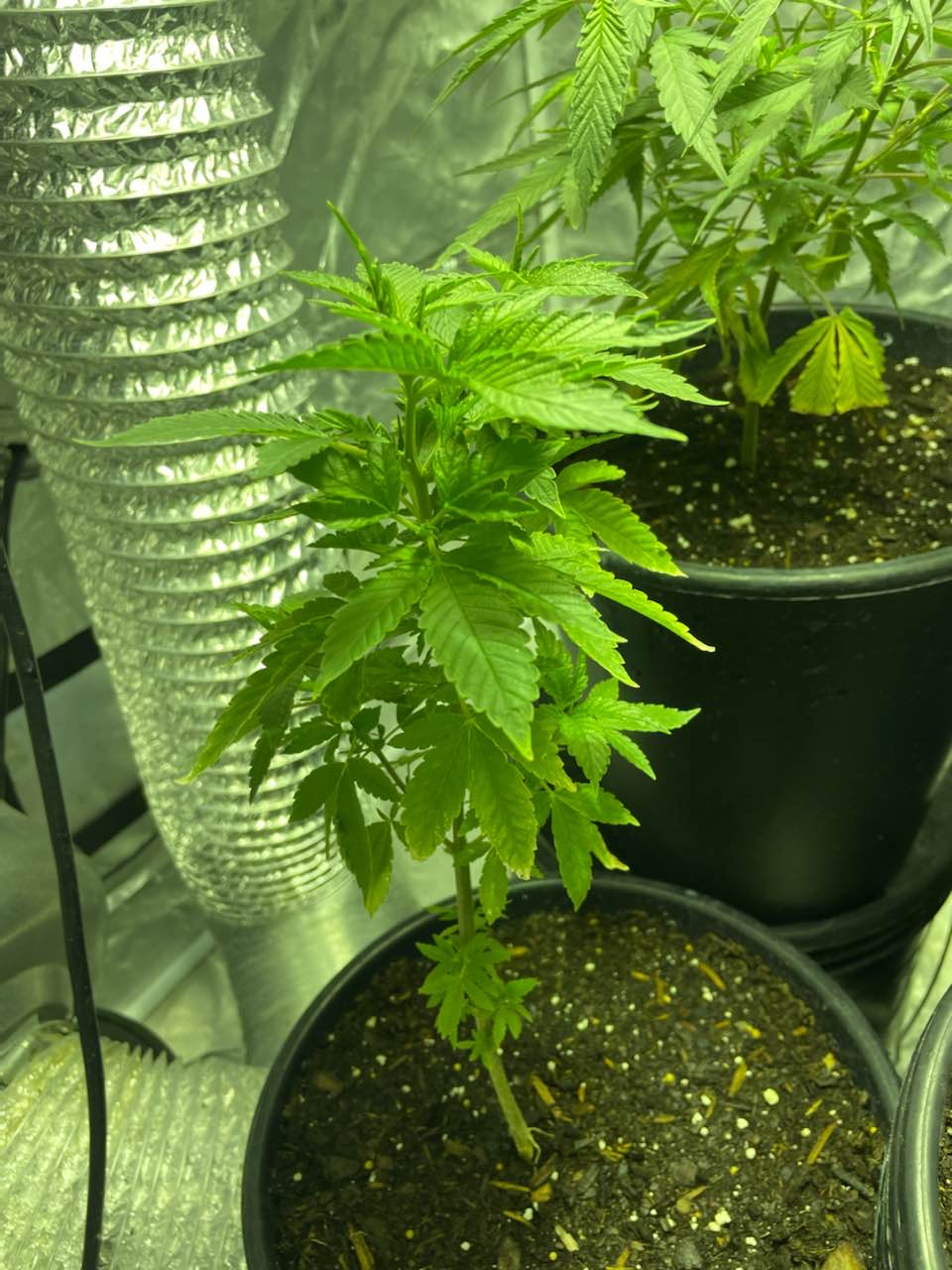 6.48 ph light starting 18/6 now
8 months ago
Ph finally 6.48 under control just water ordered nutrients added a little epsom salt to the water for the yellowing as well
8 months ago
Caliban Epsom salts are the bomb! The best gardening nutrient.
Ph was way off it was at 7.48 I have it under control to 6.48 now and transplanted into bigger buckets two days ago have under 24/7 light any suggestions on lighting? I did add some epsom salt to my water about a week ago because of the coloring of the leaves but still remaining light colored I'm not sure if it's just the strain or something is off. Besides that plants are growing and healthy
8 months ago
GaRaGe BuD Yea topped them and nothing just water right now this is my first grow I was wondering if I should get nutrients or is it ok with just water ?
xVADERxTOKERx I would for sure give some nutrients! Cause right now it's only living off your TDS in your tap water… it needs nitrogen. Also, don't cut off any leaves until, I would say, 2 weeks before you wanna flip it to 12/12 flowering. It needs those leaves to turn your light into energy to grow and create more leaves (solar panels). I like to call them.
View 7 additional comments
Just water only still some probs with water ph and nutrients so getting that under control order new ones online fox farms
8 months ago
Water mixed with epsom salt for the yellowing
8 months ago
xVADERxTOKERx Looks to me like you got a big of a cal-mag deficiency. What PH level is your soil at? If it's 7 or above it will lock out magnesium and calcium so the Epsom salt will help deliver that to the plant but you will need to keep an eye on the soil PH. This can be a reoccurring problem… it happens with difficult soils. I hope I helped out a bit! Don't give up growmie!! I'm routing for ya!! 🤙🏻🌺
GaRaGe BuD Thanks a lot !! I appreciate it a lot this is my first time ever growing I just finally got a decent grow tent set up yesterday with a diff light so we will see how it does thanks for the feed back ! 👍🏼
xVADERxTOKERx I'm so glad I could help out!! There's a lot of knowledgeable growers on here. So if ever you need help with anything don't be shy to ask away! I've been growing for years and still am learning new stuff through others experiences. It's a great trip! 🤙🏻
View 1 additional comment
Changed all plants to burple LED today
8 months ago