Indoor hydroponic grow
2020 winter grow
4 white widow plants under full spectrum LED. 2 x 2 tent using CocoCoir.
Is this Bud rot?!..3 months of curing today. Still does not burn evenly and smells and taste harsh. The smell is slowly improving based on smelling and burping every couple of days. Help?! These buds are pretty hard but when squeezed they do rebound. The smell is grassy/ hay but improving.
2 years ago
PlantXFather Cured in Amber jars in a closet with 62% bovida packs. Temp average was 75f
parasyte420 Boveda packs are not meant for curing only storage , if used during cure seriously degraded terpine profile
parasyte420 Where you are right the humidity is needed boveda pack specifically are no bueno for your terps, myself as well as many growers, canucks from YouTube says the same there's information pertaining to it.
View 5 additional comments
Does anyone know why mine has a hay taste/ harsh smoke and is hard to light?
2 years ago
Cobe Dying and curing too quickly is usually the reason for the hay smell but idk maybe something else good job bro
View 11 additional comments
The girls are all done and ready. Not all the buds were ready at the same time. Some will continue on the plant until I see more development. It's been quite a journey and it's still not over.
2 years ago
FiddlerFarms I def want to know your yield youve had a nice grow, what size pots are you using?
Half indoor hydro/ half greenhouses. Both looking frosty but the indoor is looking more dense.
2 years ago
Now they have to be outside and they are actually surviving extreme temps. Lows of 49 and highs of 114! Not ideal at all but have no other choice
2 years ago
Anyone know if this is hermaphrodite ? 😳 these sacs are just popping up?!
2 years ago
PlantXDaddy I had to place two of four plants outdoors in the Arizona heat due to space limitations. Hydroponic but now outdoor in coco and pearl
homiegrown That's weird. It doesn't look like pollen sacks. Looks like little flowers to me. But idk just an opinion lol
View 3 additional comments
Brilliant pistels coming in white hot
2 years ago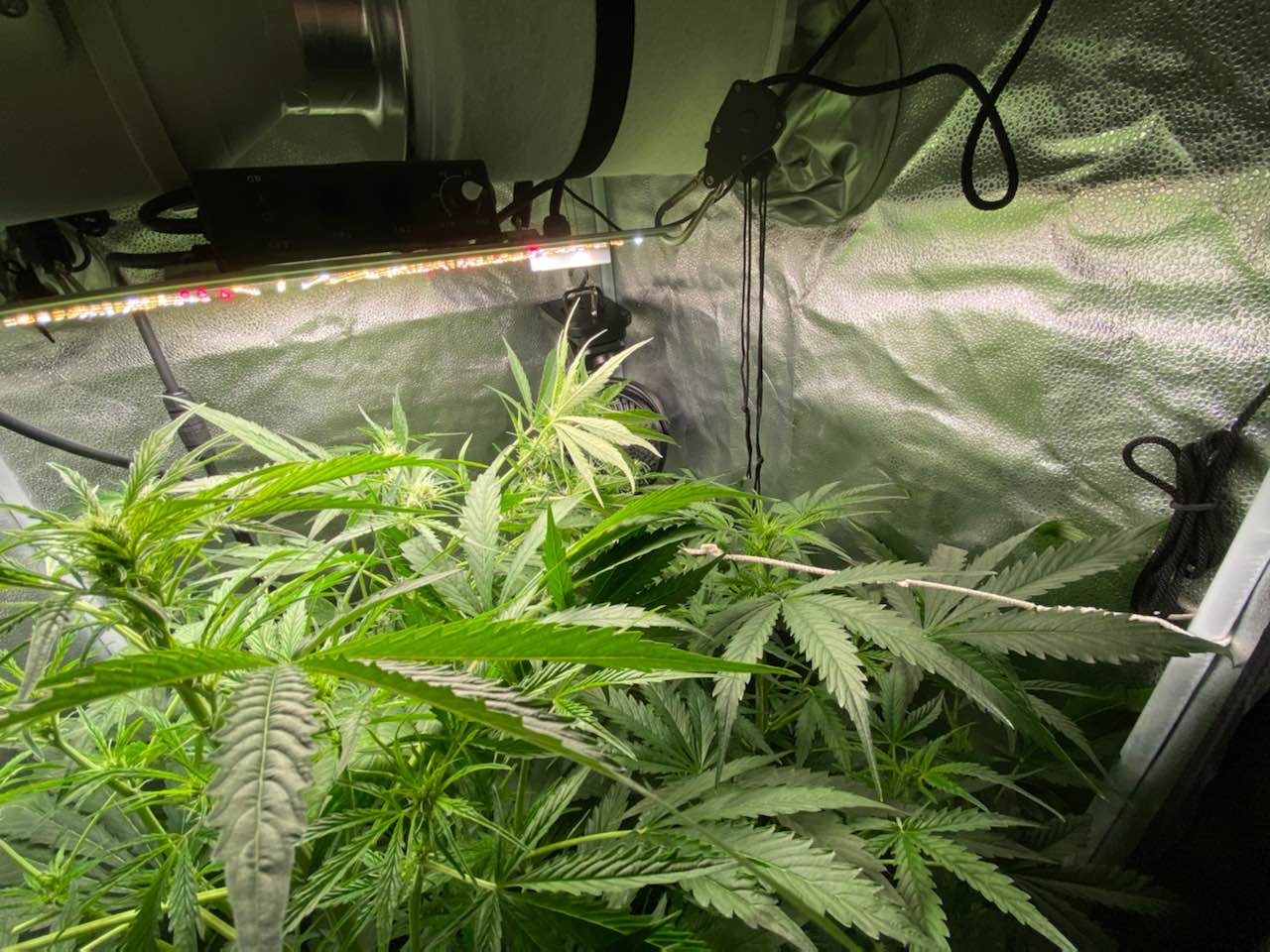 Due to tight space conditions I moved the exhaust and fan outside the tent to make room for the tremendous growth during flower.
2 years ago
The light cannot raise any higher! What to do!???? The in-line fan and filer are preventing me from going any higher on the light.' What should I do? Suggestions please?
2 years ago
PlantXDaddy Tie the tops of the plants together? Do you think that would effect an auto negatively in any way?
We're switching to flower nutes and doing our best to keep it from touching the light. There is just no more room in the tent.
2 years ago
I'm AT the light and looks like my bud site is turning away from he light. It's about 10" away from the top and they have literally no where else to go. Still have high hopes.
2 years ago
Only tops of canopy are getting much light anymore. Stems are starting to turn purple. 😬
2 years ago
They stretched quite a bit. Seeing pre flower hairs now.
2 years ago
It's getting crowded in here 😬. It's my first grow and I may have started out with too much plant and not enough grow space. This is a 2 x 2 and 100w LED and I have FOUR plants!
2 years ago
Caliban I ran a single plant in a 2x3 and it was very tight!
combatmedic81 You better keep them small and pruned or else you're not going to get any quality buds due to lack of light
View 2 additional comments
Started a light spray of mag sulfate on the foliage once a week to fix mag def.
2 years ago
Does anyone else have pests issues and use ladybugs for defense?
2 years ago
bgeezy They are great for spider mites I'm not sure about aphids
bgeezy Niice I figured they did but wasn't going to comment on something I didn't know
View 3 additional comments
Some discoloration on the leaves, but growing strong. Anyone think it's humidity related? I can't seem to keep it over 10-16%
2 years ago
THCookie https://dutch-passion.com/en/blog/a-visual-guide-to-cannabis-deficiencies-n987 This has helped me in the past if you'd like 💪🏼
Pushing through
2 years ago
Really filling out
2 years ago
Does anyone use LED? Do auto flowers need a change in LED intensity? Entering flower soon
2 years ago
Colalition That plant needs at least another 30 - 40 days before you flip it to flower.
PlantXDaddy It's an autoflower. I mean a change in the dial.
View 3 additional comments
We moving right along.... funny looking leaves tho
2 years ago
Discoloration on leaves? Anyone see it? What could it be?
2 years ago
PlantXDaddy All on par, but ph in the soil is unclear. The run off seems to be between 5-7 ph. Thanks man!
Nitro deficiency?
2 years ago
Low Calcium or Mag? Light burn ? Or Just paranoid?
2 years ago
CraigBengfort I would say it most looks like nitrogen deficiency with the lime green color but cal mag almost never hurts
CraigBengfort Especially since most cal mag is most always accompanied by nice
View 3 additional comments
Should I start using CalMag ? Growing in Coco. Started grow in wet CaliMagic but haven't added any yet.
2 years ago
Colalition 2 squirts from a spray mister should suffice for now once a week. Mix 1 tsp of cal mag in a gallon of distilled water. Fill the spray mister from the gallon jug. This way it's easy. Once the plant gets a few more nodes, you can increase to 6-10 squirts at the base of the stem. Once again depending on development of the plant. (You can go heavier or lighter) I would top at the 3rd node.
Full strength nutrients today
2 years ago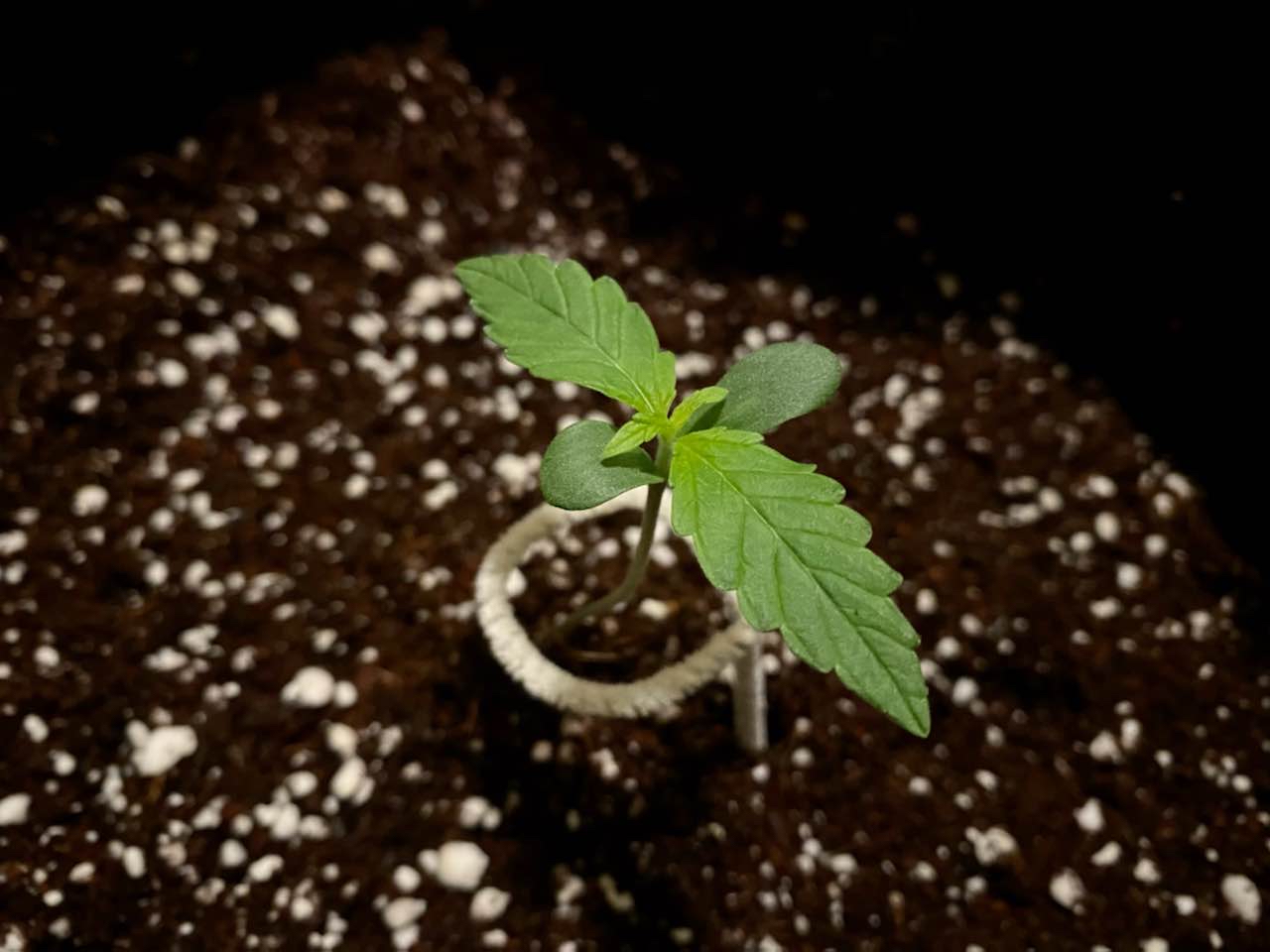 Testing EC @half strength of nutrients today. Installed second little humidifier and second fan. They seemed to still be alive!
2 years ago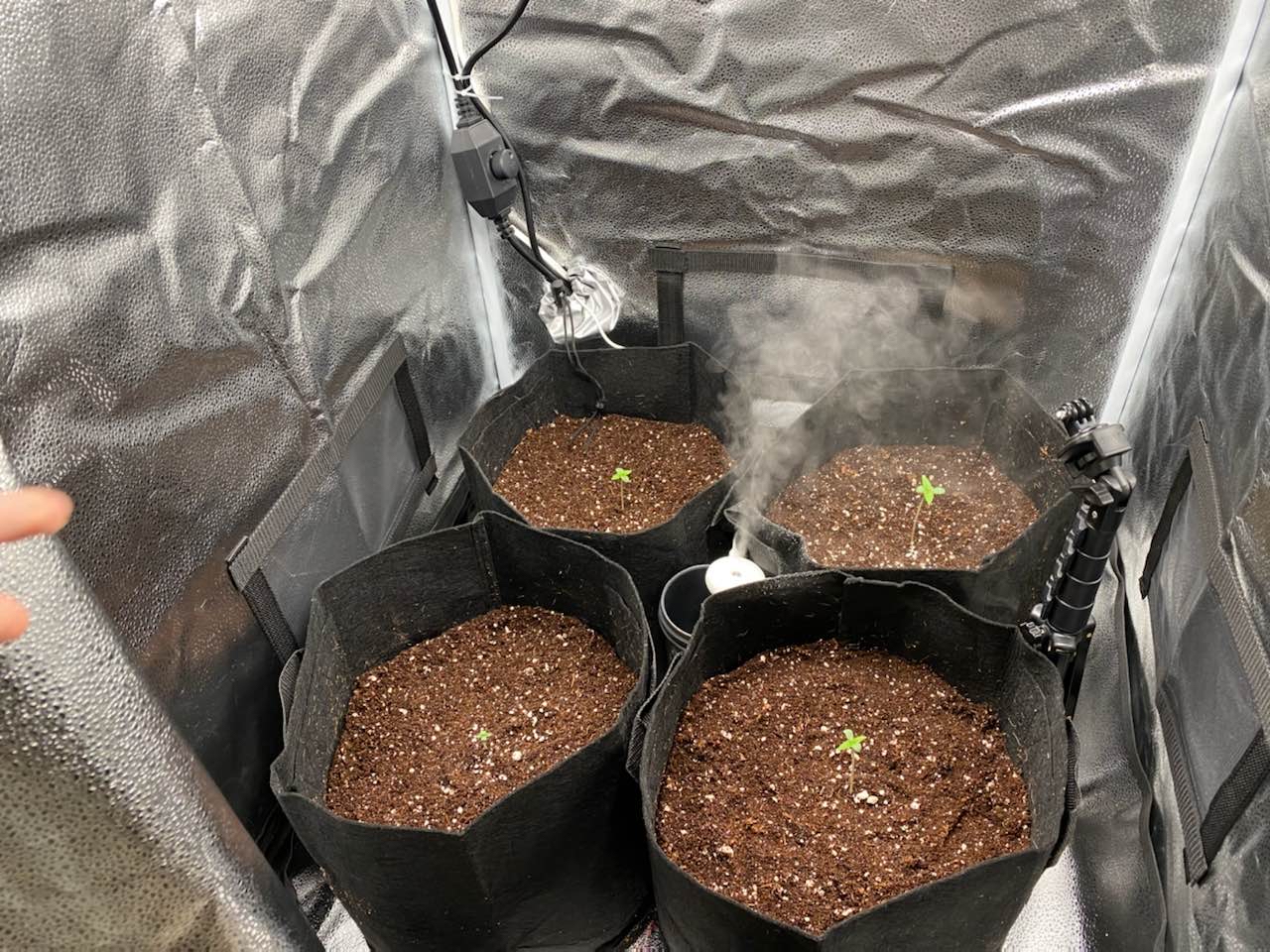 Uh oh! Shoot too much humidity?!??? I left the new humidifier on and it got to 99!! My Allstar plant was so soaked it went totally limp and I had to prop it up! Luckily I acted quickly. It was also our first watering/feeding. Wish me luck yikes 😬
2 years ago
Zeyberlin LOL at first glance I thought you were low stress training that early 🤣
Keeping up humidity has been challenging.
2 years ago
Woke up to these girls today!
2 years ago