styna
LSD-25 Auto
Indoor autumn/winter grow 2019
1 LSD plant grown in fabric pot with coco-lite (70% coco / 30% perlite) medium. First grow in approx 2 years.
Took a risk today and super cropped the Master Purps.. I topped one of the main colas yesterday and it didn't feel quite right. I might regret this decision but we'll see what happens 🤞🏼
3 years ago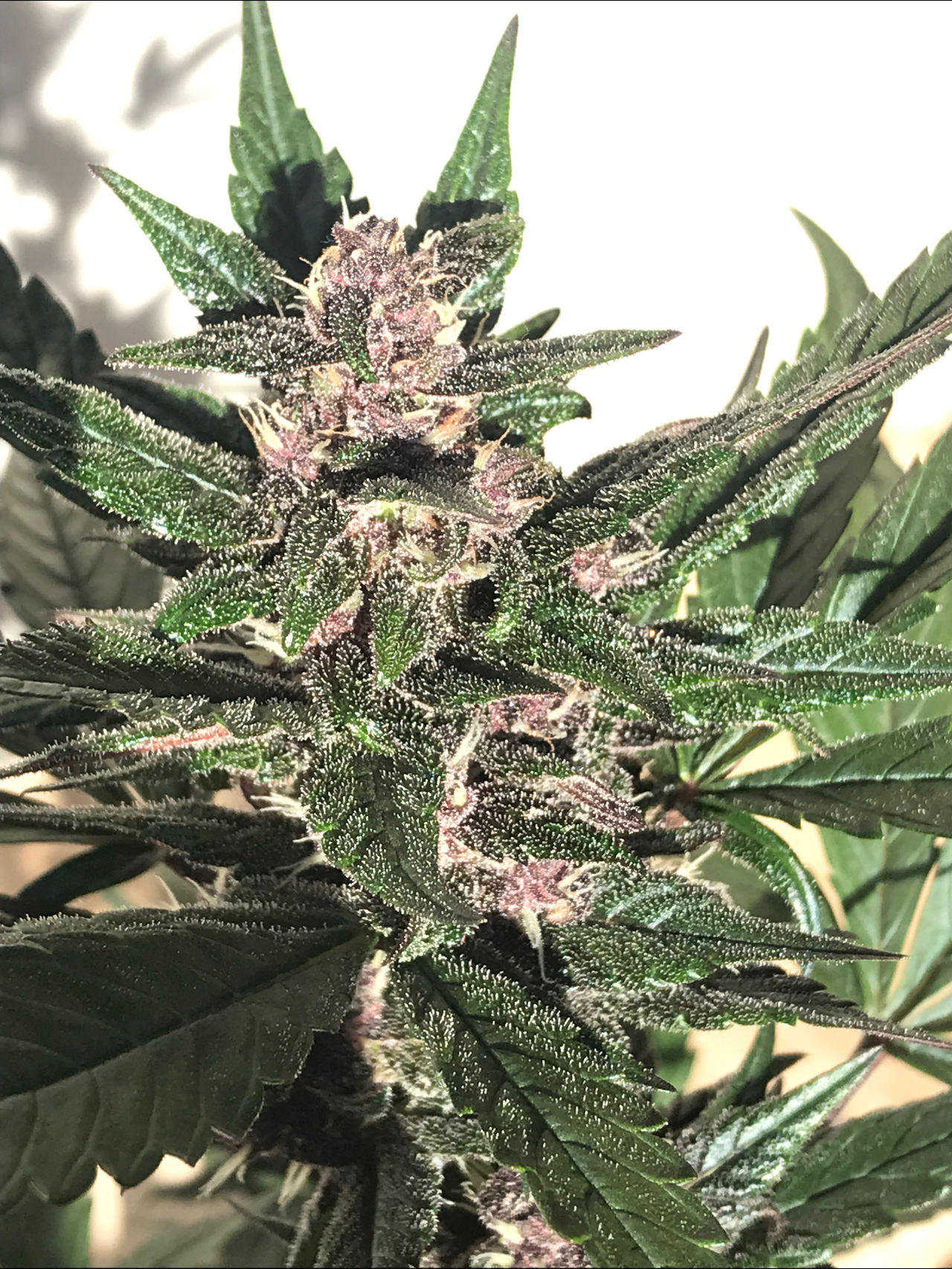 Girls are doing really well, the LSD is frosted up nicely looks amazing in the sun! The Master Purps is still stretching putting itself officially taller than the lights..! And the Pineapple Chunk well yes she's going well but still very petite.
3 years ago
Boy this tent is getting cramped lol. I raised up the LSD to get more light. The LSD seems to be doing really well, nice colors and aromas coming from it. The Pineapple Chunk is plotting along at the front, small but will still yield something so I'll keep it going. The Master Purps is looking really light green. I'll keep a close eye on it, might just be cos the LSD is dark green and purple so it's confusing my eyes.
3 years ago
I had an accident yesterday, I pulled one of the tall stems from the Master Purps to the left and "SNAP!".. whoops! Supporting it with a wire and it seems to be doing fine 24hrs later.
3 years ago
Made a slight rearrangement, put the Master Purps to the back and brought the LSD to the front. MP officially taller than the lights lol. Might try and tie the tall stems to the corner poles of the tent.
3 years ago
Ok so the LSD is happily budding away at the back there.. the Master Purps however is out of control. Starting to wish I only had 1 plant in this tent. Let's hope the Master Purps stops stretching and just focuses on budding already. Let's see how this pans out.
3 years ago
All seem to be lovin life! This grow journal was supposed to be about the LSD but Master Purps (front left) seems to be stealing the show. Close-up image is of the LSD-25, nice frost showing and sweet smells coming through.
3 years ago
Master Purps just got transplanted into bigger pot and has overtaken the LSD in height!
3 years ago
Wow Master Purps on a sun seeking mission! In all it's stretching goodness.
3 years ago
Despite being an auto able to grow in 24hr or even 18/6 light cycle, this plant is on a 12/12 light cycle under COB lights as there are a couple photosynthesis plants in the tent also. Still noticing good results. LSD is the plant at the rear of the tent (Pineapple Chunk on the front left, and Master Purps on the front right)
3 years ago
Master Purps in large pot may now be stunted as it has still not progressed. Master Purps in front middle is lovin life now though and has overtaken the other 2 in size. LSD the quiet achiever there at the back.
3 years ago
Gals doing well, got a dehumidifier ready to go. Weather outside has changed, getting lots of rain bringing high humidity levels. Plants are loving it. Master Purps hasn't moved since the transplant, may not have liked it. LSD however has gone from smallest to now the biggest!
3 years ago
Using heater periodically, noticed a difference in 24 hrs. Will continue to monitor.
3 years ago
Bit of nice growth since the new light has settled in! Added a heater as we're starting to get very low night temps. Experiencing low humidity and humidifier not seeming to help. As a result leaves are looking and feeling dry. Might stop with the heater, hopefully the girls are ok with the cool temps. Also, transplanted one of the Master Purps to a large pot (front right). Pineapple Chunk is the front middle.
3 years ago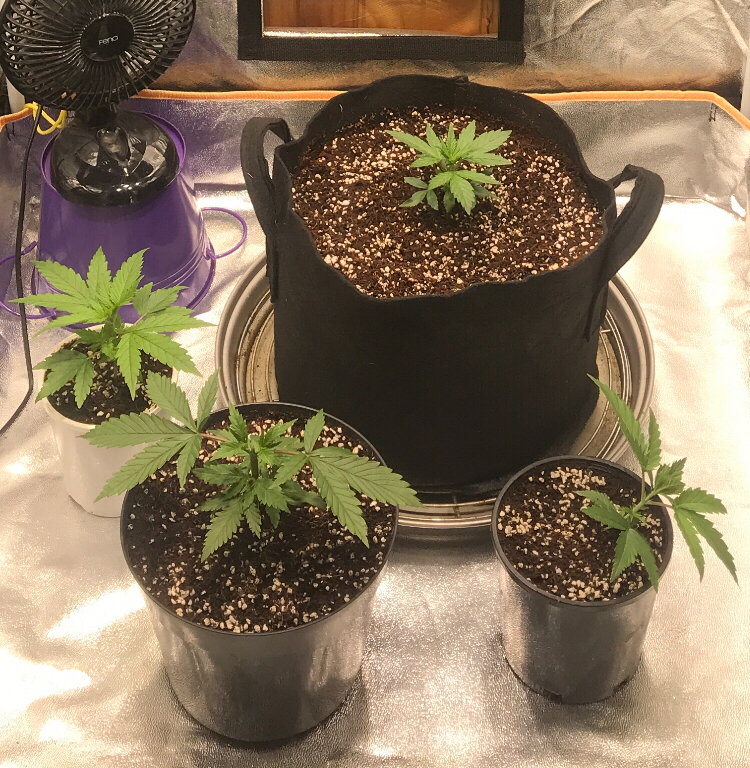 New light installed today! LED 3500K COB 80cri. Hopefully this will boost a bit of growth. Mate has had awesome results from the same light. LSD in the big pot. pineapple Chunk is front right, the other 2, front middle and left are the Master Purps.
3 years ago
Day 17, extremely slow growth. Feeding nutrients but don't feel the light is very strong. It's a cheap Mars Hydro 600w LED which I purchased on ebay. Going to look into a new light. I had issues with this light a few years ago. This being said, plants are healthy, just small.
3 years ago
It has risen! LSD-25 auto (FastBuds)
3 years ago
Let the journey begin. Main plant I'll be focusing on is the LSD-25 auto which is in the big main pot. No transplanting for her as she will raise in her forever home. The others are all photosynthesis type being Pineapple Chunk on the front left (Barney's Farm), and the other two are called Master Purps, which is a strain a mate and I bread, coming from a Master Kush and a strain we were unsure what. We called it Purpley as it had a strong purple stem, hence this baby being called Master Purps.
3 years ago