Amnesia Cookies by Automatically Delicious Seeds
First Seed Attempt
This Forgotten Delights seed by Automatically Delicious was germinated in its final medium; 4gal pot with soil, covered with cling wrap. The process was started on 11/30/21 with the cotyledons first poking through on 12/3/21 and standing tall with cotyledons fully extended. First full day of life is 12/4/21(Day 1). Grow will be side by side with another Forgotten Delights seed a few days behind with slightly different conditions to allow for experimenting on their growth. This will also be my first full grow from seed to harvest, assuming I can keep them alive. Grow will be completed in a 27"x27"x53" MarsHydro grow tent with Bestva 1000w LED grow light. Nutrients are FoxFarm; Grow Big, Big Bloom, and Tiger Bloom. Soil is stolen from my wife's gardening stash, and I'm not quite sure of the details. A little wary of it as it states it can feed up to 6 mos. Will most likely try a different medium for the second seed once I transplant her into a larger pot.
Forgotten Delights AutoFlower Female
Still alive…sorta…
a year ago
Lmao can't believe this freaking plant. Had to transplant it due to it being root bound and while she isn't the happiest about it, still can't believe she's alive and flowering! 🤣🤣 for the lulz for sure!!
a year ago
BobbyGrowMo' Autos, flower when stressed. Plus the plant only job is to stay alive. Ain't no way she was root bound unless she was in a shot glass. Overwatering.
CrizzlePope's Grow Wars Nah, there's more to her story. She ain't overwatered, that's for sure! Under maybe. 🤣 She's had a rather rough go at things and that's putting it lightly. 😂
Same plant, I swear to freakin Jeebus. I played around with some LST, hence the bend, but decided to wait. Whaddya guys think? 2.0 gram harvest? 🤣😂
a year ago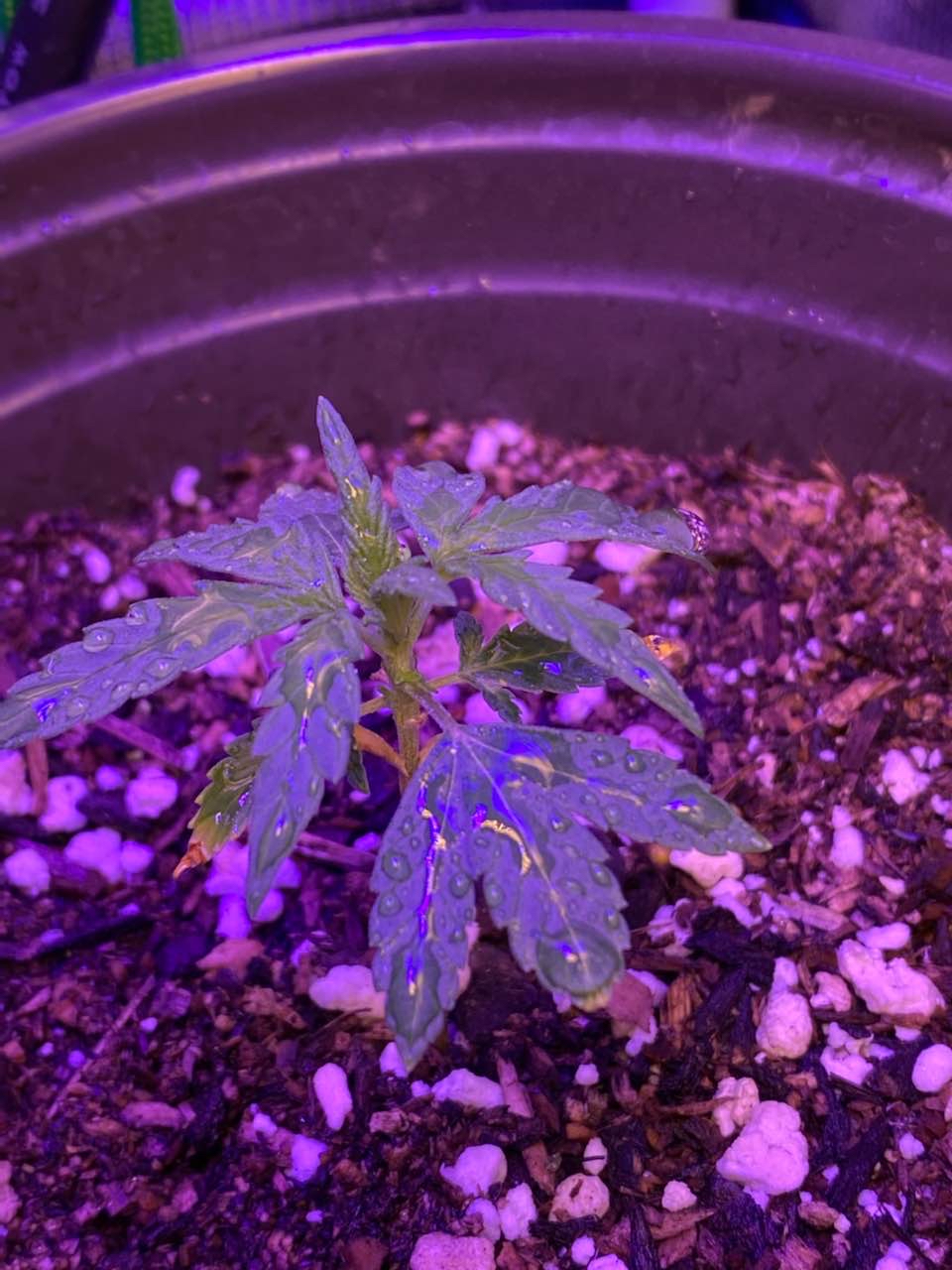 Fred being Fred. 🧐😆😂
a year ago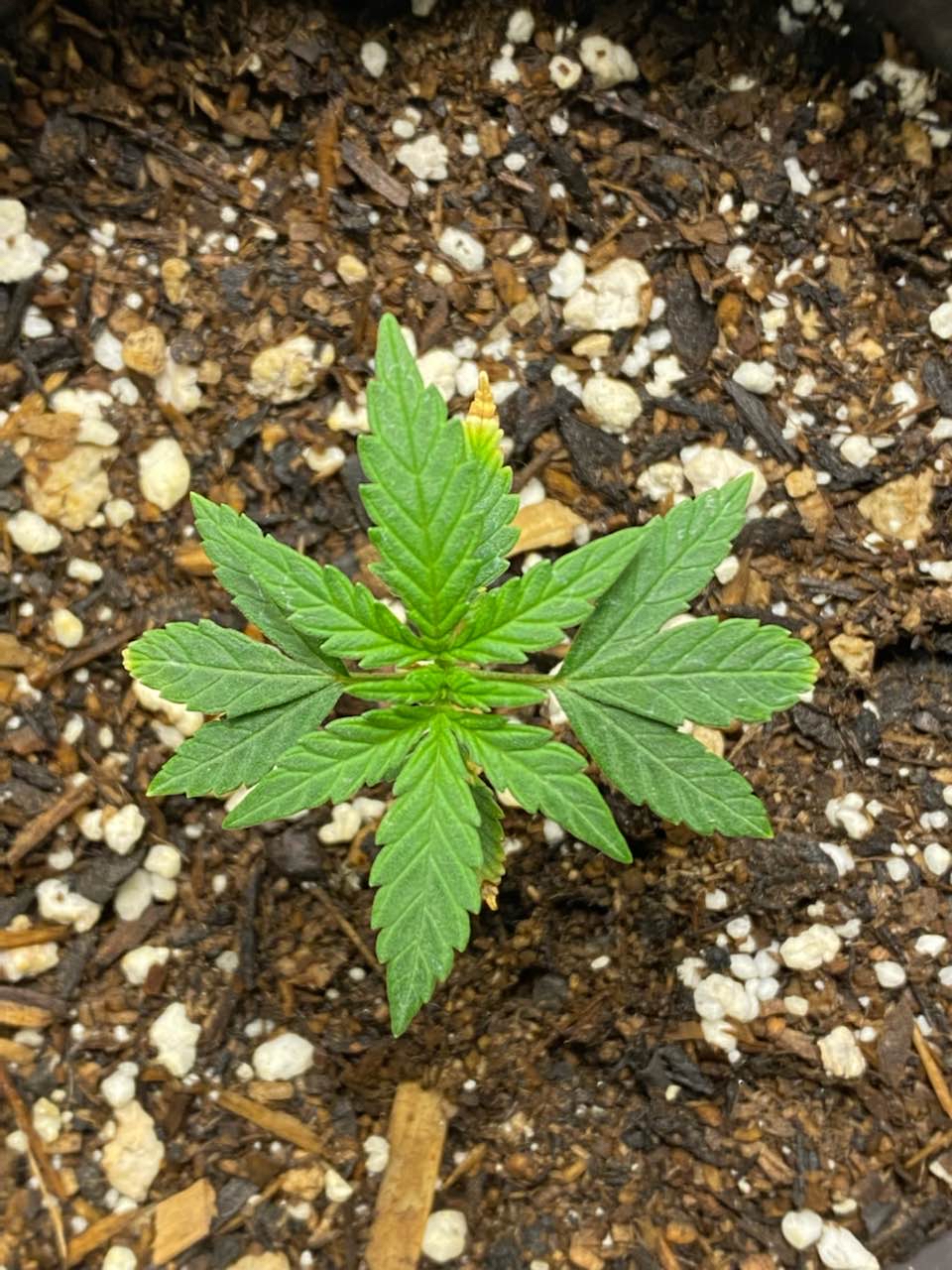 Still can't believe Fred isn't dead.
a year ago
Yes, she's still alive. Past few days have nonstop growth. 🤣😂
a year ago
Fred, with his dead sister Ethel, in the background. I mean, I know it's for the lulz, but if the Anvil, Sour Bear, and FD stay alive, I may just need the precious tent space taken up by Fred here. 🤷🏼‍♂️ cross that bridge when we get there.
a year ago
NellEightyEight I'm an absolute beginner so I'm probably wrong but is that other one definitely dead? I had one yellow like that and she came good, now she's one of my strongest!
CrizzlePope's Grow Wars I mean, I think so. They're autoflowers and she has had the toughest go at life. Haven't entirely bailed on her but she had almost no root system when I transplanted her so 🤷🏼‍♂️.
View 2 additional comments
We decided to trim her dying leaves off in hopes that it would focus any strength towards the new growth coming in. We shall see if the recovery continues…
a year ago
boringstuff Man, that's too tiny to do anything to it and on day 26 it should be a bush. how did you managed to fk it up like this in the first place?
CrizzlePope's Grow Wars Oh yea, well aware she ain't going anywhere. She's been saved from catastrophe after catastrophe, so it more hilarious she's still alive. Mix of soil issues, children issues, water issues, sh*t, probably some temp issues(PNW), so, this for the lulz. Has no faith in these genetics as they stopped growing at like Day 5 and stayed stuck, in different environments and mediums, and never really took off.
View 5 additional comments
She is actually still showing growth and seems to actually be slowly coming back to life. Still not gonna be a very pretty girl…
a year ago
CrizzlePope's Grow Wars Straw that broke her back was my little one plucking her and reseating her himself. He wouldn't have been caught if it wasn't for his tiny handprints in the soil from patting her back down. 🤣
View 2 additional comments
Right as they were showing some promising signs, my 4 year old pulled them both out of the dirt and replanted them. Pretty sure they're a goner now. Gonna let them try to persevere, but I have 0 hope at this point for either Fred or Ethel. Guess I can't have a job AND a grow hobby. 🤬🤦‍♂️😢
a year ago
mystrain420 _@eaegifts Hey do u have more seeds to run? If so I'd love to help with input on your next run 👍🏾👍🏾
CantGrowShit Am actually germinating another seed as I type this. Not thrilled with the genetics of these from the get go as both have been SUPER SLOW growing, even with different variables. Open to all input, but I can't find anything on Automatically Delicious seeds, so I'm gonna assume they're not that reputable or popular for a reason. 🤷🏼‍♂️ Basically, don't have a lot faith in the germinating seed either. Gonna toss the remaining few beans outside when the ground thaws. Definitely will take all tips, tricks, info, and the like though!
mystrain420 _@eaegifts If u gonna play around with them I'd suggest starting 1 in a cup to get a good rootball. I noticed ppl use bigger pots with autos to avoid the transplant but if u use cups u have more control over the feeding and how fast it dries out. I do 30ml every watering until 30 doesn't show run-off then I go up to 60ml. I'm in coco now but this is also my soil method I've done for years
View 4 additional comments
Actually showing a little movement. Grabbed some lemon juice to lower the ph of my water. Watered after quite a few days of drying out with it and this is 6 hours after that. Can see Fred extending that second set upwards. Maybe she ain't dead. 😂
a year ago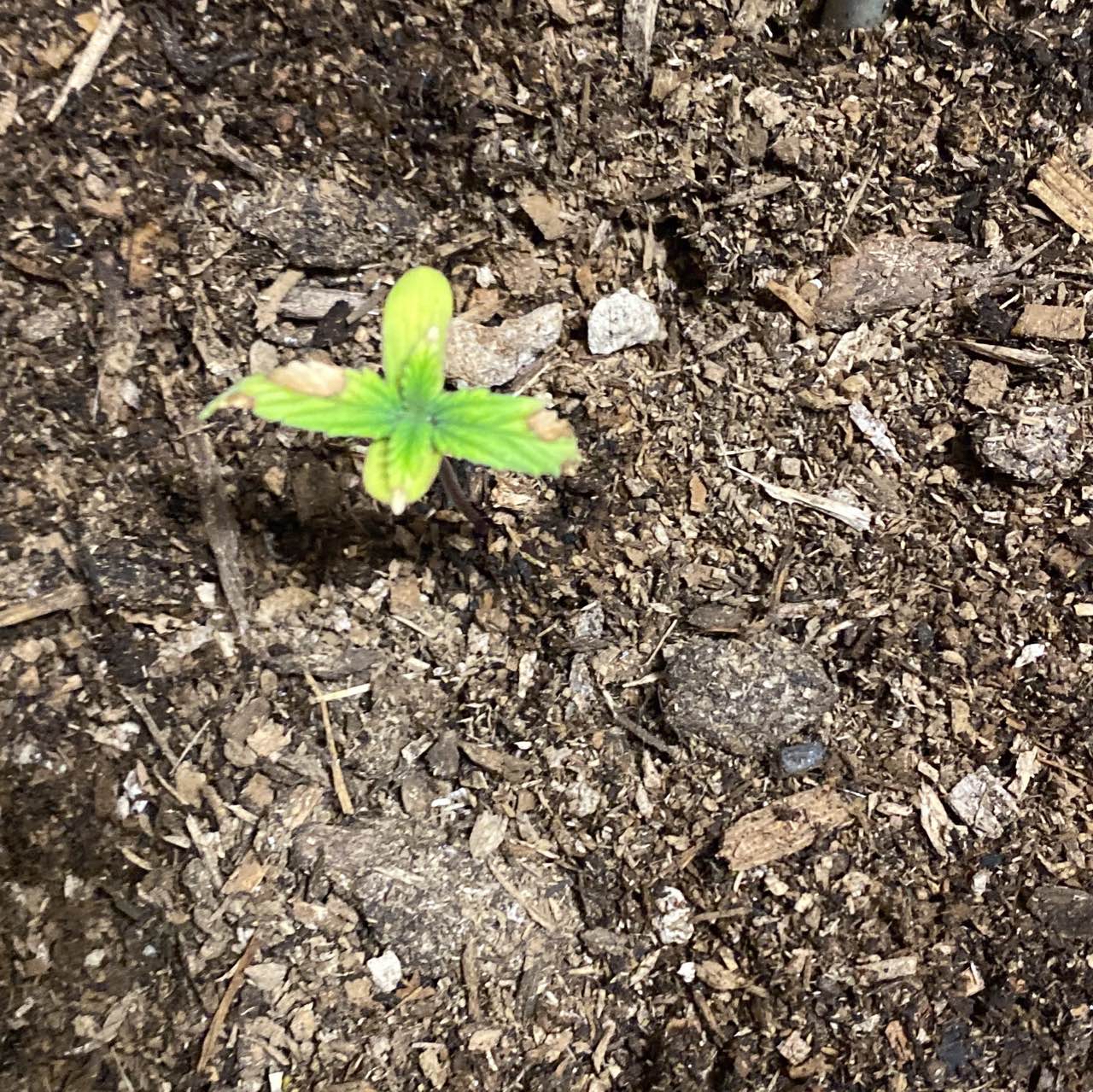 Day 13. Most likely Fred's most unlucky day. Any reason I should keep her alive at this point? Seriously stunted and obviously some fucked up leaves. #BrownThumb
a year ago
Wife told me to shut up and water when needed. Just gonna follow her on this one. 😆
a year ago
lettuce97 im not sure how u managed to do this so fast but yea, try leaving it alone lol
tae_94 When you water try avoiding watering directly on the plant especially with the lights you'll definitely burn some leaves and not the good kind. The water acts as a magnifier onto your plant. So water around and away from the plant water in a bigger radius so that those roots have to work to get to the water
Drop dead Fred…
a year ago
Giving up on Fred. These seem like duds…🤷🏼‍♂️
a year ago
So as with her sister, Fred has had a rough go at things. You can see the discoloration on her leaves and the yellowing on the tips on next set of serrated leaves. Another auto-flower stunted and seems ready to give up the ghost. Whereas with Ethel, Fred's condition here is a little more known as the seed was germinated in a large pot, soil stayed way too moist, and I've refrained from watering for the last few days to allow the soil to dry. As you can see, I did give her a little spritz earlier today so we shall see how much longer she can make it before I replace her and give up on her. Open to any ideas for rescuing either of them.
a year ago
After doing some researching and comparing to others seedlings, I do believe Fred's growth to be a little a stunted. There are the second set of serrated leaves coming in, but I believe there is slight discoloration on the first set, specifically the one facing the camera. I've dialed back the watering and placed a seedling mat under the pot to help dry the soil out a little more as I'm afraid the soil has retained too much moisture and started to drown the roots. I hope I'm wrong.
a year ago