Durban Poison x2
Sept 2021
Durban Poison in Coco with Gaia Green Organics nutrients under PanthrX Mini by Crecer Lighting
Durban Poison by EC Genetics
View 2 additional comments
Couple more days and moving them to 48 hours of darkness then chop time. The one on the right has a number of fox tails and the other has zero.
2 years ago
According to the breeder, we are about 2 weeks away from the "chop" for these two Durban Poison girls. Judging by the trichomes, maybe 2-3 weeks? We are starting week 8 of flower Monday
2 years ago
A little concerned. Looks like a bit of fox tailing beginning. Not sure why, lights aren't that close, no burnt leaf tips indicating heat light stress. Temps range from 65 with lights out up to 78ish. Been growing for 3 years, only happened once before but I had lights too close.
2 years ago
Tonyd133 I didn't know that… thanks. Does it affect the quality?
View 2 additional comments
Yesterday marks the beginning of week 6 of flower. Believe it or not, I defoliated the shit out of these things twice, late veg and early flower…. they came right back. I just pluck or fold the odd random leaf covering prime bud sites. Decided I'd leave them alone because I didn't want to stress them out too much. This is how they wanna be. Very strong smell and sticky. Gave them a top dressing yesterday, final feed for the rest of the run.
2 years ago
brainabuse My Durbans are bushy af too. I was surprised
Tonyd133 Me too actually. Early and veg they had quite wide leaves more indicative of a Indica but as they got more mature they're a lot more of the slender type leaves
View 1 additional comment
Just beginning week 5 of flower. Noticed some signs of ph fluctuation on some of the lower leaves but things seem to be ok now. No signs of issues on top third thank god. Not sure what I did wrong but shit happens I guess.
2 years ago
Introduced UVB (top left by Solacure) 10 days ago for 15 minutes a day. Bumped it up to 30 minutes per day today. My second grow using this. Apparently from what I've read, LED UV diode's just don't compare to fluorescent tube UV lights… yet. I don't know if it's my imagination but my last grow was extremely dank and potent. These plants, currently in their fourth week of flower, are incredibly sticky already and the smell is intense. Expensive fixture though, this 2 foot bulb and fixture cost me almost $200 Canadian. Half as much in the states as they are out of North Carolina. Bought mine through their distributor in Calgary but with tax, and shipping, it adds up quick. I have to angle the light across the canopy and I also rotate the plants daily to get an even affect. You have to keep a distance of about 2 feet with these things because they're quite powerful. Apologies for the long ramble.
2 years ago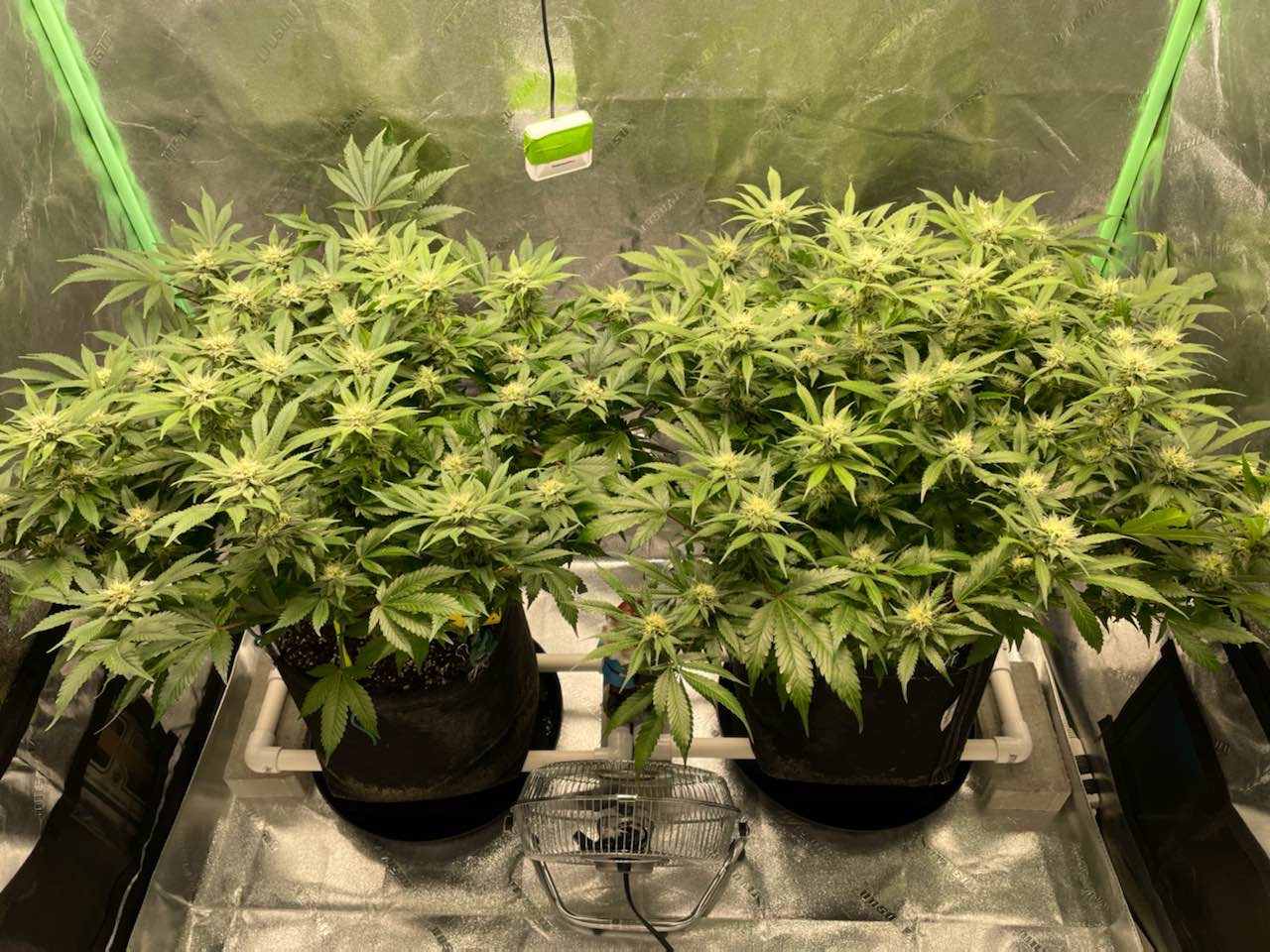 Today is day 20 of flower. Never have grown this strain but I have to say, these girls are extremely sticky for this stage of the game. I pluck a leaf covering the odd bud site and I have to use rubbing alcohol to clean my hands. I didn't get the stretch I was expecting but I think maybe it has something to do with the heavy defoliation I gave it on two occasions as well as maybe the transplanting. Hard to say but they're exactly the same size and were treated the same way so it's either the strain or who knows…
2 years ago
Introducing UVB for 15 minutes a day to start using Solacure Flower Power fluorescent fixture (top-foreground). Will eventually work up to an hour a day.
2 years ago
Tonyd133 Thanks. Used it for the first time on my last grow. Think it made a difference, very potent and intense terpenes.
Gotta say I'm not getting the "stretch" I would have expected from a sativa. Topped and LST'd with a couple of defoliations. Wonder if I stunted them with too much stress. Bushy as hell though, tons of bud sites. Or are they taking their sweet time. Took almost 10 days to show any signs of flower after flipping to 12/12.
2 years ago
The stretch is on!
2 years ago
View 3 additional comments
Finally starting to show buds forming. These sativa's do take their sweet time. Stretch started a couple of days ago.
2 years ago
I gave these are pretty serious defoliation just three days ago, second one. It never ceases to amaze me how quickly they bounce back. Second week of flower.
2 years ago
Tonyd133 Thanks. Pretty basic as I only grow for personal use. Do my best to keep things clean.
Today we moved to 12/12. Did a little super cropping to the one on the right to level out the canopy.
2 years ago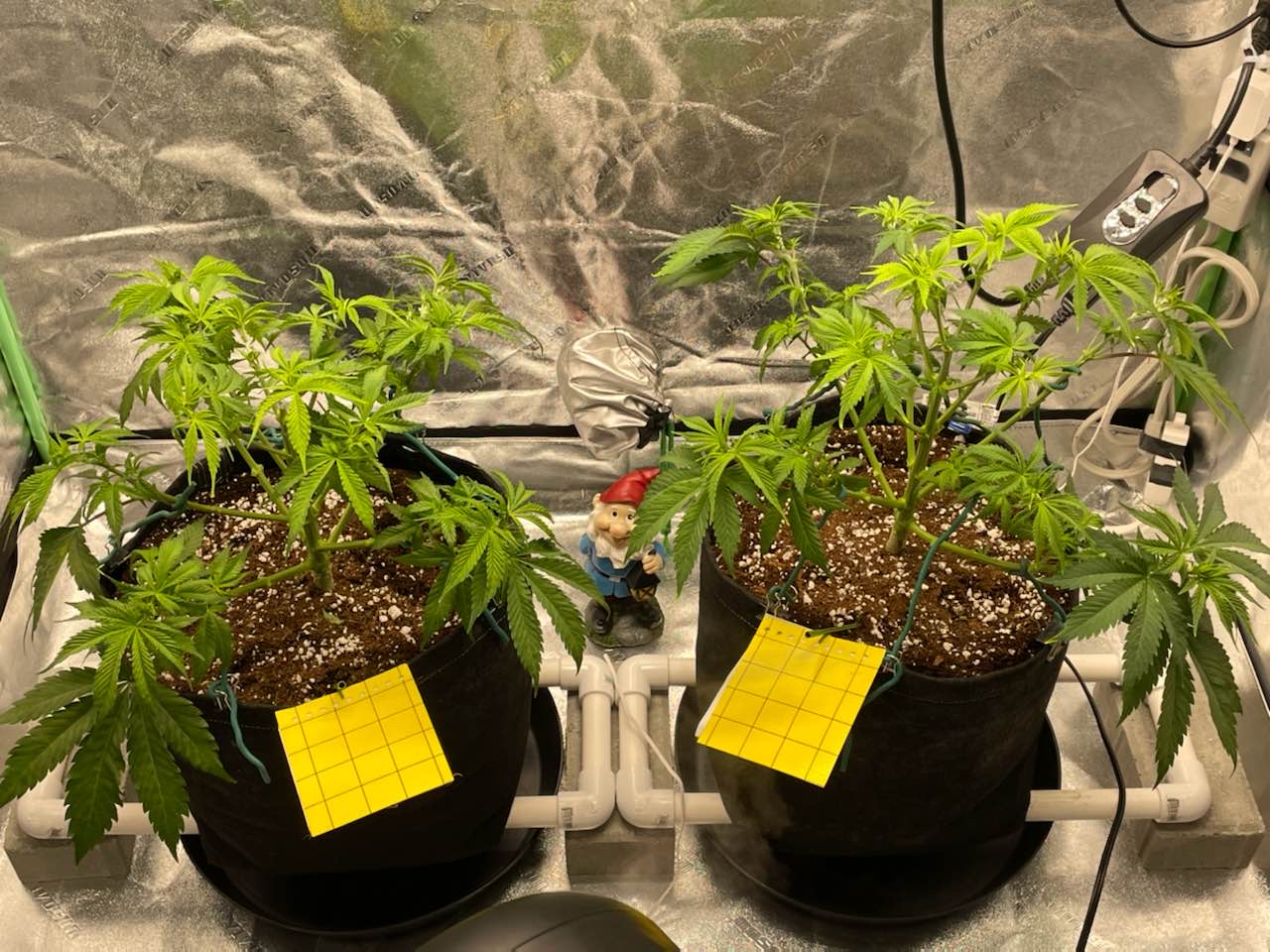 Gave them quite a hair cut today and a little LST.
2 years ago
Transplanted the girls today from 2 gallon air pots to 5 gallon cloth pots.
2 years ago
Tonyd133 Thanks. I was checking out your post. You have quite the green thumb yourself
bigsammy For someone who haze green thumb in there DNA you sure suck at it 🤣🤣🤣🤣🤣🤣🤣🤣🤣🤣🤣🤣
View 29 additional comments
Will be moving to 4 gal soon
2 years ago
First defoliation. Took 5 huge fan leaves off of each today. Topped 2 days ago, hope I didn't stress them too much.
2 years ago
First topping today.
2 years ago
Coming along nicely. The one on the right showed signs of ph fluctuations early on. The other, no problem which is weird cause I treat them exactly the same. Same water source, nutes etc.
2 years ago
Transplanted today from starter cups to 2 gallon air pots. 2-3 weeks then into their final home - 5 gallon fabric pots.
2 years ago
A few more days then into 2 gallon air pots for 2-3 weeks. Final transplant will be into 5 gallon fabric pots
2 years ago
Coming along nicely
2 years ago