realdaydreamz
DaydreamZ Grow #4
Say Hi to my Girlys!
Wedding Cake (2) - Clone, being LST, topped and defoliated Do-si-do (2) - Clone, Being LST, and topped Romulan (1) - Clone, Being LST Ghost OG (1) - Seedling, straight natural grow no training Growing in a 4x4 Vivo sun tent under 1 Mars Hydro 1000watt LED and 1 Sunfire 1000watt LED. Go Box Organics Nutes during veg and flower and I plan to add Terpinator during late veg and through flower.
Do-Si-Do, Wedding Cake, Romulan, Ghost OG
Almost there!!
3 years ago
Day 54 of flower and it's coming to and end. Think these girls will he chopped at day 63
3 years ago
Day 43 of flower!!! Terp terp terpppyyyy!!! Sheesh
3 years ago
bud Looking real tall, are these all Sativas or did they just get a bit of a stretch?
Day 34 of flower!! Nightime shot of the girlies
3 years ago
Day 30 of flower!
3 years ago
Girls are looking great after their big defoliation yesterday! Day 23 of flower!!
3 years ago
Dukeshaba Damn those should be some serious buds
End of week 3 of flower today. Big defoliation for the girlies
3 years ago
Day 17 of flower and the bud sites are here baby. The DSD and Ghost OG both stretched mad crazy, I love it. Excited of these gals
3 years ago
Day 13 of flower. Solid bud sites coming in 😍 follow me on insta grow my grow page @dreamz_grows
3 years ago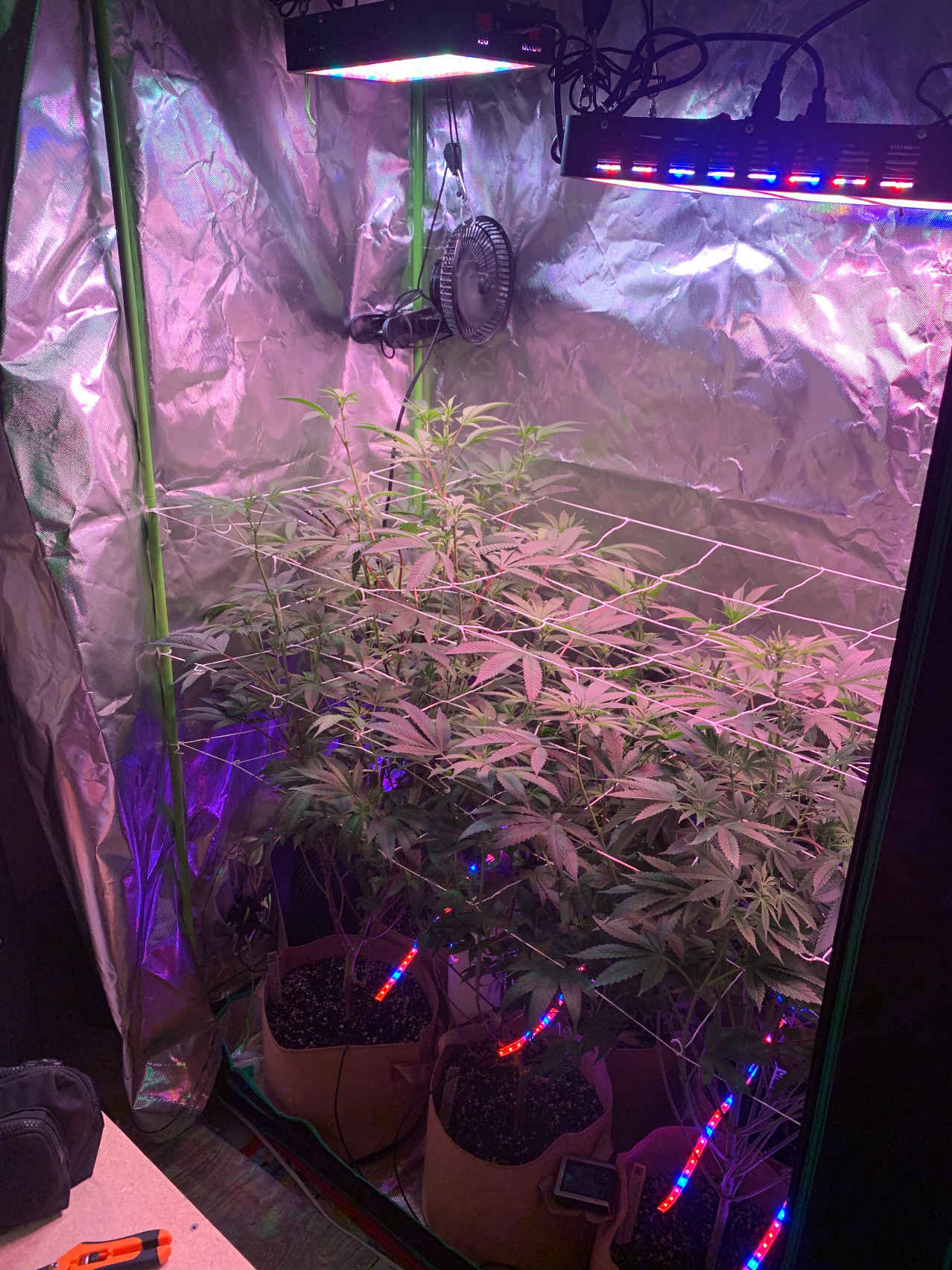 Day 11 of flower! Did a 7 hour move of the girls to a new 7 foot high tent so the girls can stretch on
3 years ago
Day 7 of flower!! I have new 8foot highly tent coming so these girls can get their stretch on. I also implemented blooming LED strips for the under canopy growth. A new strategy I'm trying to this run
3 years ago
Day 5 of Flower. 3trellis added fro Do Si Dos
3 years ago
Almost to the end of week 1! Her punanans are showing 😍
3 years ago
Day 2 of flower!!
3 years ago
Flipped the girls today! Flower season begins!
3 years ago
Getting ready to flip the girls tomorrow. I've decided to actively defoliate and lollipop the DSDs and will only tuck and pluck the other four girls. All girlys are healthy as fuck
3 years ago
The ghost OG seedling is confirm as a girly :) starting defoliation on all the girls before I flip this weekend
3 years ago
Started light defoliation on Romulan girl. The terp profile on her is strong and prevelant already. I've noticed in smaller bushier plants that their terps are stronger and evident earlier in the veg state. Wonder what other folks find
3 years ago
Second layer of trellis went in and I added Terpinator to the feed until flush
3 years ago
First layer of trellis is a week late but it's here. 2nd later going in soo . Do si dos are really Beastin out compared to the other girls.
3 years ago
Do Si Do says hi
3 years ago
Thriving and jiving
3 years ago
Day 1 after transplant to 3 gallons. All girls a set for take off!
3 years ago
Transplanting all girls to 3 gallons which they'll live in until harvest
3 years ago
Girls got a nute feeding today. I did a separate feed on the wedding cake girls with an extra 1ml of cal mag in 1/3 of a gallon. Hoping it helps their magnesium deficiency. I also topped the wedding cakes today to bush em our more. Planning to only top once for now we will see
3 years ago
All the girls are awake
3 years ago
Doing a water + Cal mag feed today after a nute feed. Girls and looking good.
3 years ago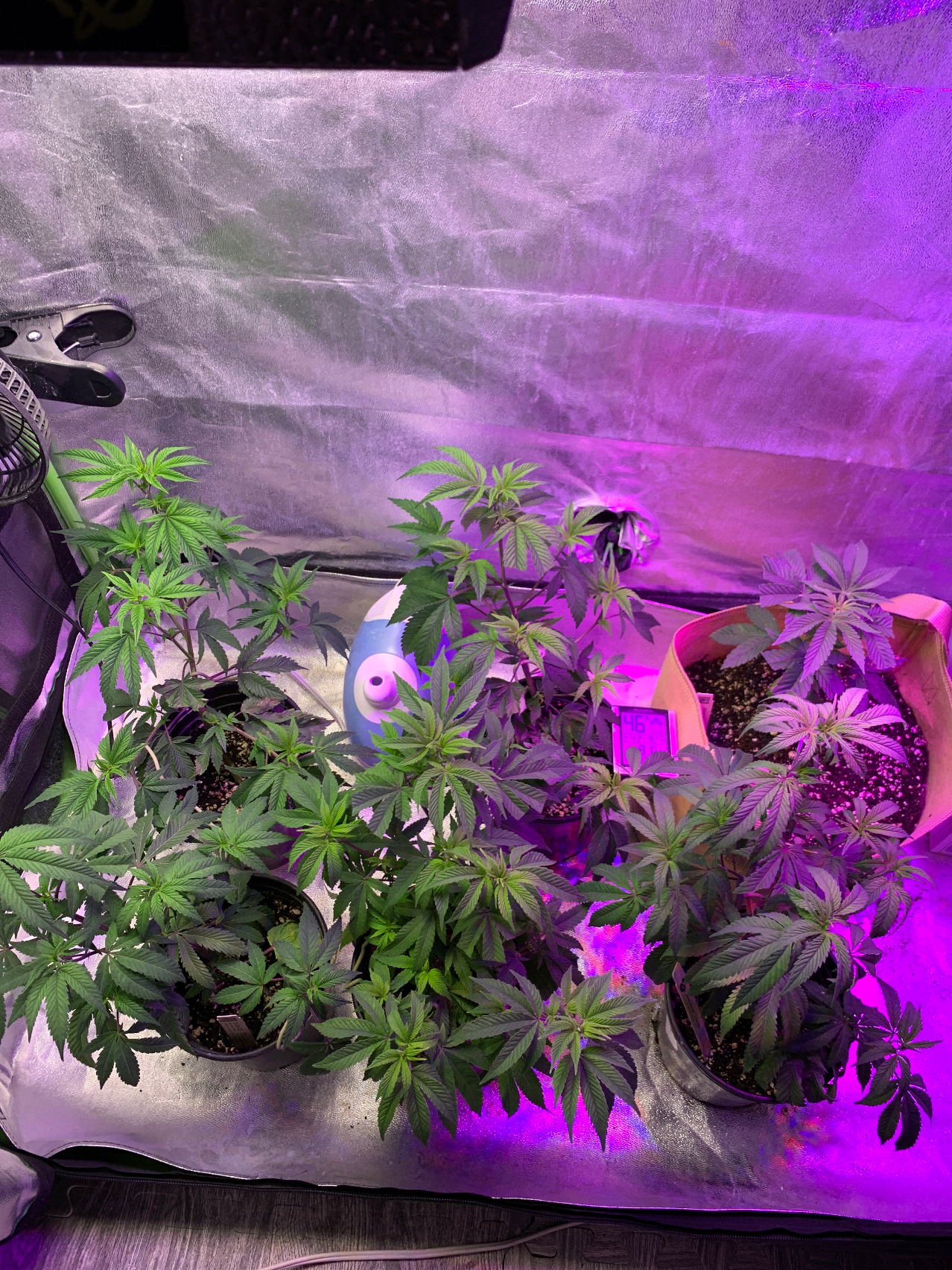 Late start to this app!! Currently in the middle of week 4. All girlys are doing fine besides some small tweaks for The Do-Si-Dos. DSD seems to be extra sensitive to their feed and/or soil so still balancing out what cause their slight droop but think I figured out after todays feed since they springing back up after the nute feed. I'll adjust by doing another light feed tomorrow and see if that helps keep em happy. Oh the wedding cake is definitely magnesium hungry like the breeder advised. Noticed a little mag deficiency on the lower fans so I added more cal mag to their feed specifically. See if that helps em.
3 years ago