Indoor 3x3bed half closet grow
Summe 22
Home made coots soil. I used individual amendments (mostly down to earth brand) and the compost I used was 2 parts oly mountain and 1 part Malibu biodynamic. I'm so curious to see how this is going to work. I am all the way off of nutrients and have been for three seasons and I seem to be getting much better and feeling like maybe I don't need to go backwards.
(2x) 🍎 apples and 🍌 bananas +(1) gelato 33
This is the apples and bananas after like a few days in the jar and as many days as I could push it drying I made 13 days at 60rh give or take and between 60-75 f usually about 66 and I am a happy camper…I stopped growing indoor fro 2010-2020 and this isn't first harvest back that was actually perfect and better then what I could buy at the shop…I just wish I could let u guys taste it and experience it for yourselves because I'm proud of me 😝
3 months ago
Alchemist710 Hot diggity damn! That's some candy lookin shit right there 😋💯platinum
View 3 additional comments
Gave her a hydrogen peroxide bud wash then rinsed, trimmed and hung…would have liked to leave everything til after it's dry but at least I'm winning agains the pm it looks good and I inspected it well!
3 months ago
Apples 🍎 and bananas 🍌
3 months ago
View 7 additional comments
Pic one is the bud Uber pic 2 on the same branch…apples and bananas is the strain and pic three is gelato 33Thank u to buildasoil and coots and everyone who helped me get into a new stage after getting stagnant as a pot grower and his whole organic journey has been so great so far
4 months ago
pjizzle Yeah except the powder mildew that is setting in wtf this ducking closet is hard to not get stagnant spots I guess I need four miny ocelators
HeritageSecretGarden No that sucks cause that looks super fire yeah man I always air on too much air circulation than not enough learned that lesson long ago sorry to hear bro 😎
View 3 additional comments
Middle of week 8 around day 59f…last night I woke up to lights on in the off hours as a branch fell in my timer….I will harvest within ten days to minimize affects…so far no bananas and was 2 nights ago…any advice?
4 months ago
pjizzle Unless the mildew I've spotted gets worse I think I will be decent
ig:@eaegifts Nothing to worry about, you're at the finish line. It takes weeks for seeds to develop so if you find any it would mean she been pollinated. 👍🏾👍🏾
View 3 additional comments
FatBuds101 Sheesh them look amazing. Who are the breeders?
View 4 additional comments
Apples and bananas and gelato 33 home made organic living soil.
4 months ago
Oiasis More trichomes when you living the organic life 🪴
View 12 additional comments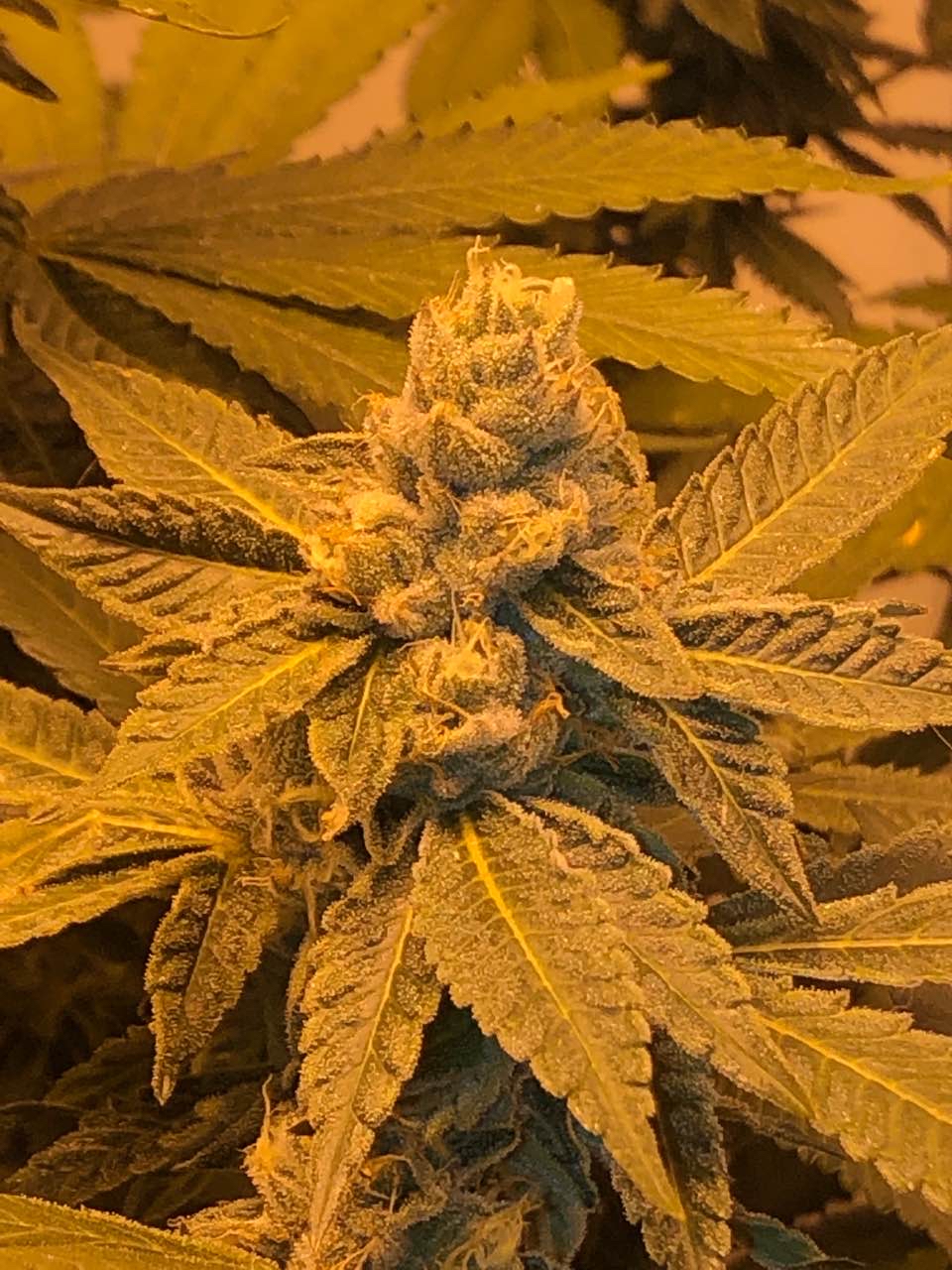 Apples and bananas has Ana amazing smell I can't wait for this one
4 months ago
pjizzle Hps is not too flattering lol
View 1 additional comment
Pic 1-gelato 33, Pic 2-apples and bananas, pic 3 shot of all 3 (1x gelato 33 & 2x apples and bananas ) day 32 of flower for them all. . . I watered in some Herculean harvest @1/2 strength and some em1…knocked of 15 minutes of daylight down to 11,45 hours daylight and will continue at 15 min per week as trial.
5 months ago
View 1 additional comment
Pic 1 crap I see a few aphids…end of week 4f I think or something…what should I do? Pic 2 plants look good tho
5 months ago
View 1 additional comment
So I know, I top dressed 2/3 cup bokashi, 2/3 cup craft blend, 2/3 Alaskan humisoil, 2/3 cup seacoast biodynamic compost, 2/3 cup oly mountain, 2/3 cup glacial rock dust, 1/2 cup biochar,1/4 cup gypsum and I watered in with rootwise bio phos and ful power… it's Day 2 of flower
6 months ago
Caliban That's a lot of nutrients for a single feeding. Plants look great.
Day one flower meaning I flipped last night
6 months ago
Two of them are taller then the other so I topped those and pulled leaves that created shade…I'll be back in a few days and I'll lollipop and flip after removing suckers…so far digging the 3x3
6 months ago
A couple weird leaves…first time running this soil I think it's working out kinks but we'll see maybe some action will be needed
6 months ago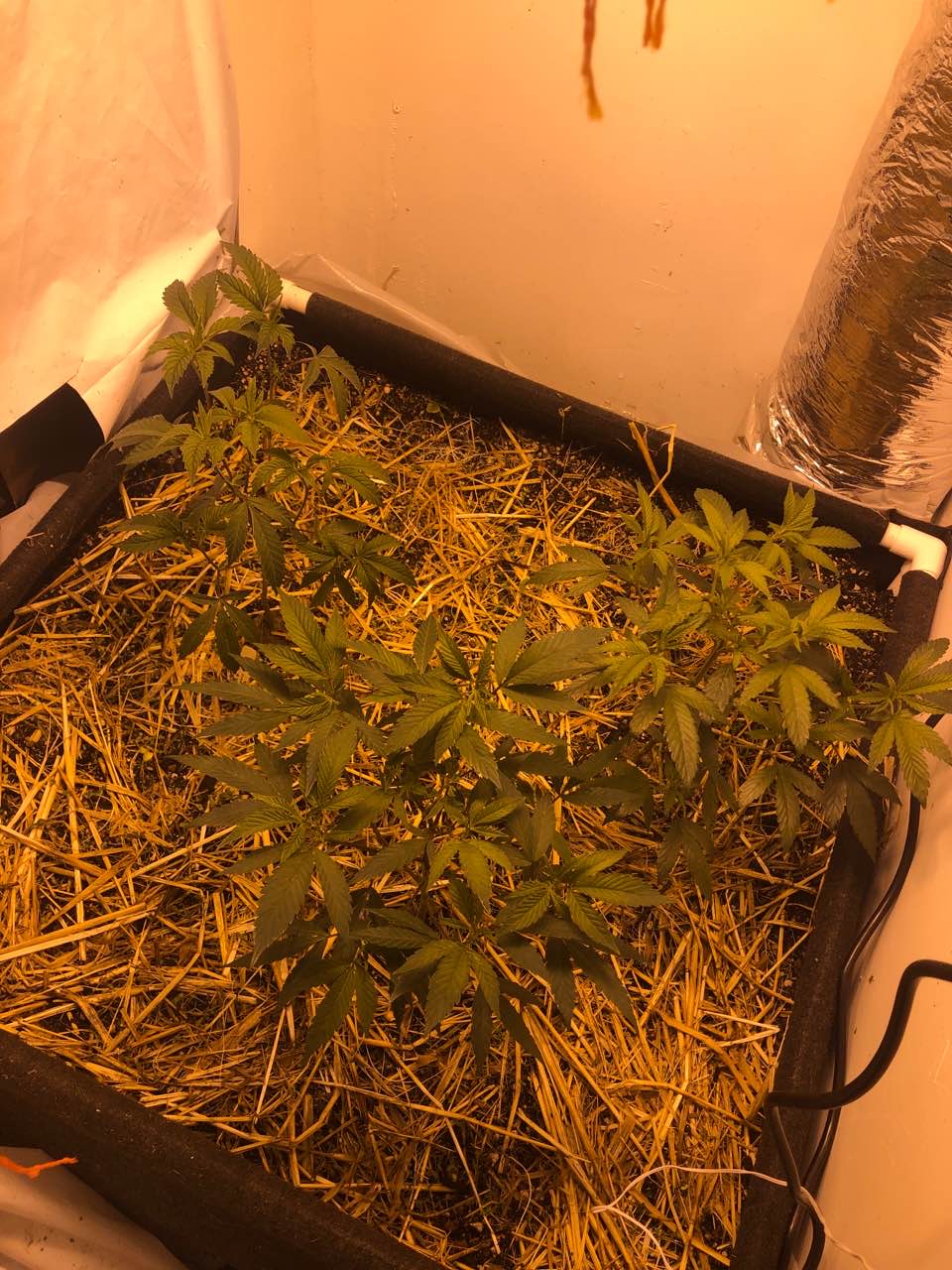 Transplanted from half gallon yesterday
6 months ago