Auto flower 1
Summer 22
6-12-22- germination of seed completed! 6-13-22 Planted seed into Hoffman peat moss and lightly misted top of soil 6-17-22 placed led light 15"s away on 60% 6-19-22 moved light 20" away on 100% 18/6 6-20-22 shot glass water PH 6.2 6-22-22 soil PH test was 4.35 raised PH to 6.43 6-23-22 24" TS600 and Root Dip Liquid 6-24-22 Root Dip and put humidity dome on plant 6-29-22 light 20" 7/5/22 same 18/6 light Schedule 7-14-22 24" for a bout a week now no more yellowing of leaves 7-23-22 topped 7-25-22 fed 444 7-30-22 fed 484 8-3-22 defoliation of lower leaves Raised light to 24" top of plant 9-1-22 fed 4 scoops of 444 and 3 scoops of 484 Both plants fed 444-484 4 scoops of 444 and 4 scoops of 484 Plant was placed into organic living soil, it is absolutely thriving
First time we'll yes she was stunted for all the torture but she is a finished product for my very first time growing any thing learned allot for the mistakes
a year ago
Stunted from birth, she was my first posted the best I could still clear to me hoping to chop soon new grow tent waiting for new harvest 
a year ago
FrostyZaZa Def all clear to me. This is my first grow too and I noticed the trichome caps bulge a lot when they are ripe. This pic will be good to compare in a week.
Cameron1989 Too clear. A wise man once said. "When it looks done, give it a week" good work sir 💪
View 1 additional comment
2hi2late I'm waiting for my light and I'll be on my way
Absolutely loving life She is absolutely coming along
a year ago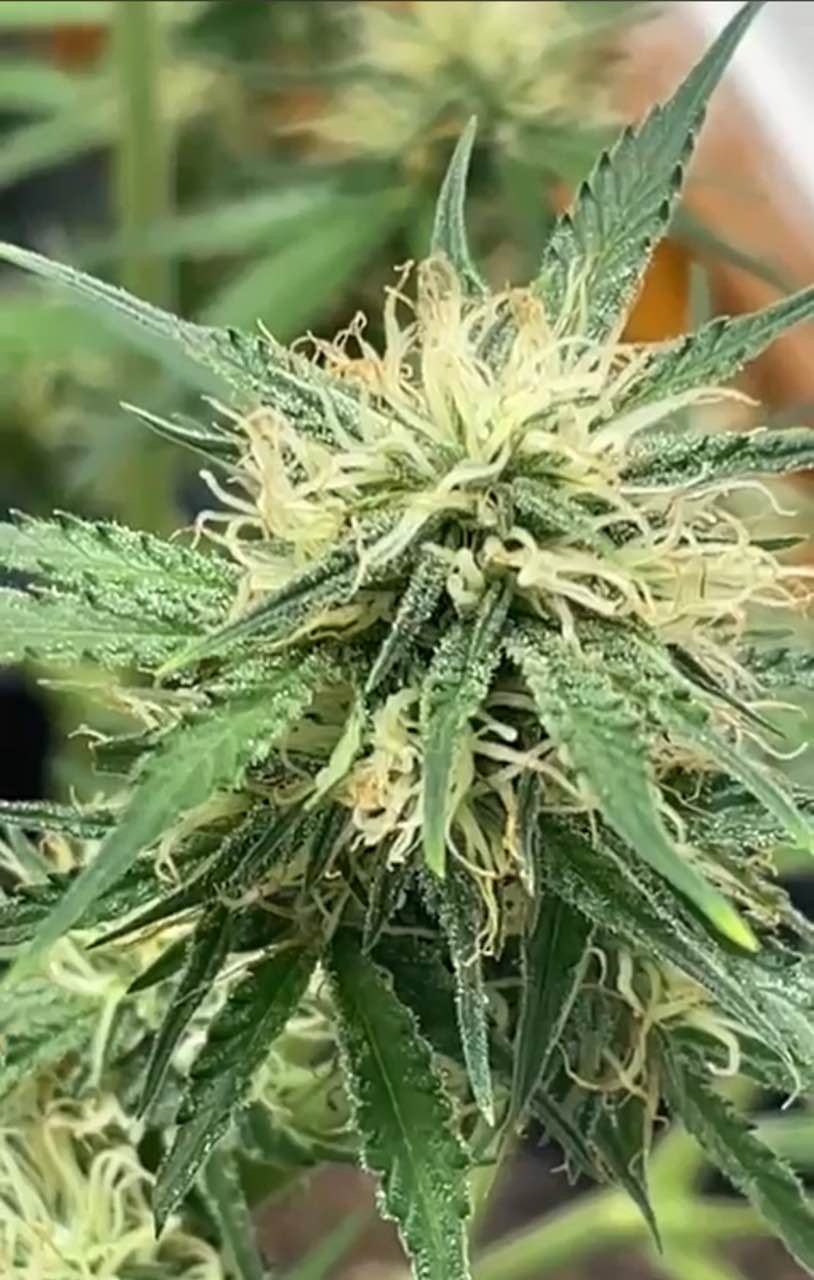 Looking great just fed 484 to her can't wait to see what she looks like in a month getting frosty
a year ago
2hi2late So 1-3 is being answered so far
Defoliated a few days ago she is thriving
a year ago
Moved to a 12/12 light schedule
a year ago
Thriving and doing great
a year ago
Brohaim Nice bright bud sites. Well done!
Crispyflats Thank you very much first timer here so thank you I have much to learn can't wait for the next grow
Defoliated and raised light to 24" top of plant 3 days ago
a year ago
2hi2late I thought your not supposed to TOP an auto? Unless it depends on strain? I never tried that process. Maybe I'll try it with my White Widow Auto and hope she can take the stress . Let me know how she turns out….. once I get my autos delivered it off to germination.
Crispyflats I topped mine no problem it recovered great
2hi2late I'm also new to growing but long time smoker since jr high, always wanted to grow but never had time or space to do so till I found out about autos an all I had to find was space cus the time part was taken care of….
View 19 additional comments
Fed 484 water and thriving in their little home
a year ago
FatBuds101 What kind of soil mix are you using? Looks sandy?
Crispyflats That's the dry nutes before I water living soil
Alchemist I like that pot what size is it? I wish I could find taller fabric pots
View 5 additional comments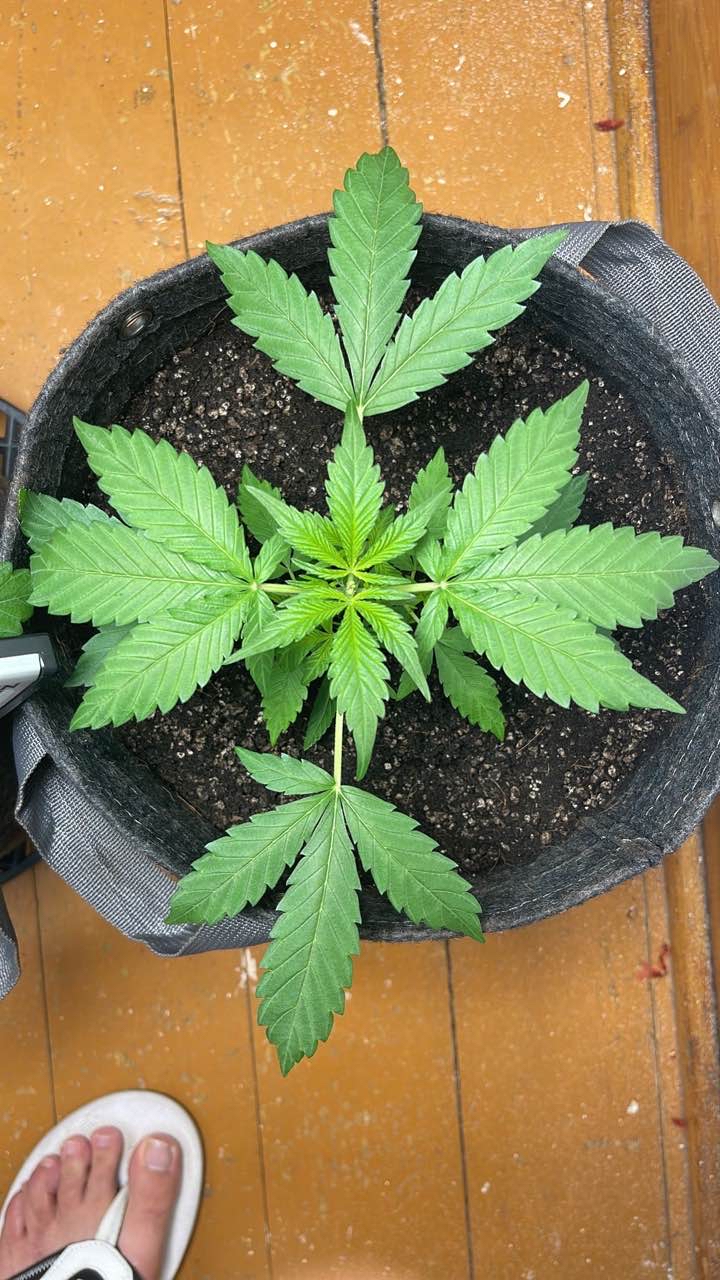 Topped for the first time she is recovering will keep y'all updated
a year ago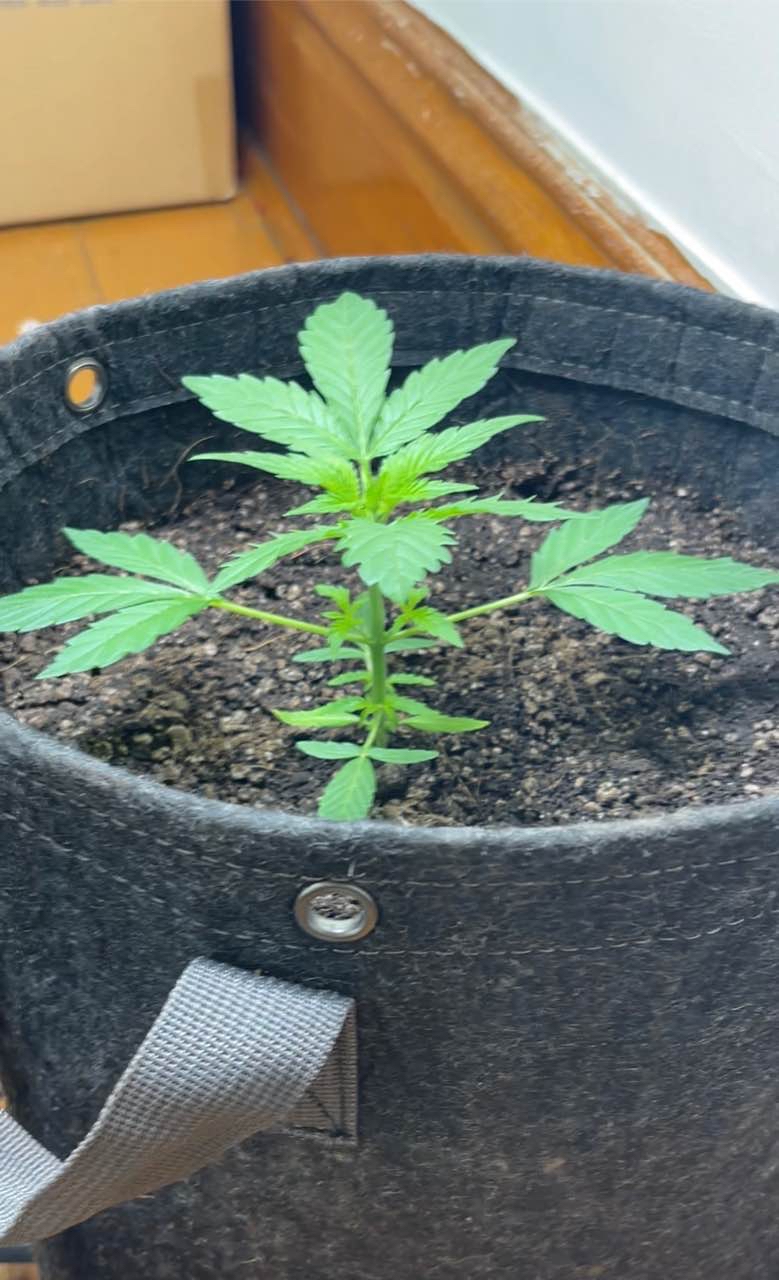 Loving life just major growth
a year ago
Great growth Nothing has changed continuing the water schedule and feeding schedule approximately every 72 to 82 hours distilled water
a year ago
Just a quick update she is absolutely thriving looking great on a perfect water schedule feeding every 3 1/2 days distilled water
a year ago
Moved the light to 24"
a year ago
Moved plant to 3gal Fab pot, light 20" away
a year ago
Doing great in the new soil ph issue believed to be fixed will keep you up dated
a year ago
Put into organic soil there was a PH issue due to peat moss at first. Everything is perfect now she is growing
a year ago
Milldozer Godspeed! Wish you a bountiful harvest💚
She is doing great under the TS600 and humidity dome man she is reaching for the reefer gods 
a year ago
Moved into new soil
a year ago
Humidity dome doing its job, ts600 is rocking this baby started praying today yayyyy
a year ago
1st full day under TS600 put a top of a bottle to keep humidity in till it get a bit bigger 2nd day on root dip
a year ago
First full day of the TS600 and started rootdip liquid
a year ago
TS600 a few hours under the new light 18/6 24"
a year ago