1st Tent Grow
1st Grow in 8 Years, Winter 2021
Mars Hydro TS 3000 Quantum Board for lighting in a 4x4x6.5 tent. 6 old seeds possibly chemdawg or lemon haze, remaining 3 seeds are random old bag seeds. This run will be to dial in grow conditions before I purchase good genetics for the next round!
Ended up with QP of trimmed bud and HP of untrimmed bud. Overall for a test run for the tent with bag seeds am extremely happy with results. Made some infused coconut oil to make chocolates and such, gummies are coming next! Thanks for all the advise, and encouragement from you guys! Can't wait to run some solid genetics for the next round. Aiming for 1-2 lbs for a goal next round! Cheers guys and happy growing!
2 years ago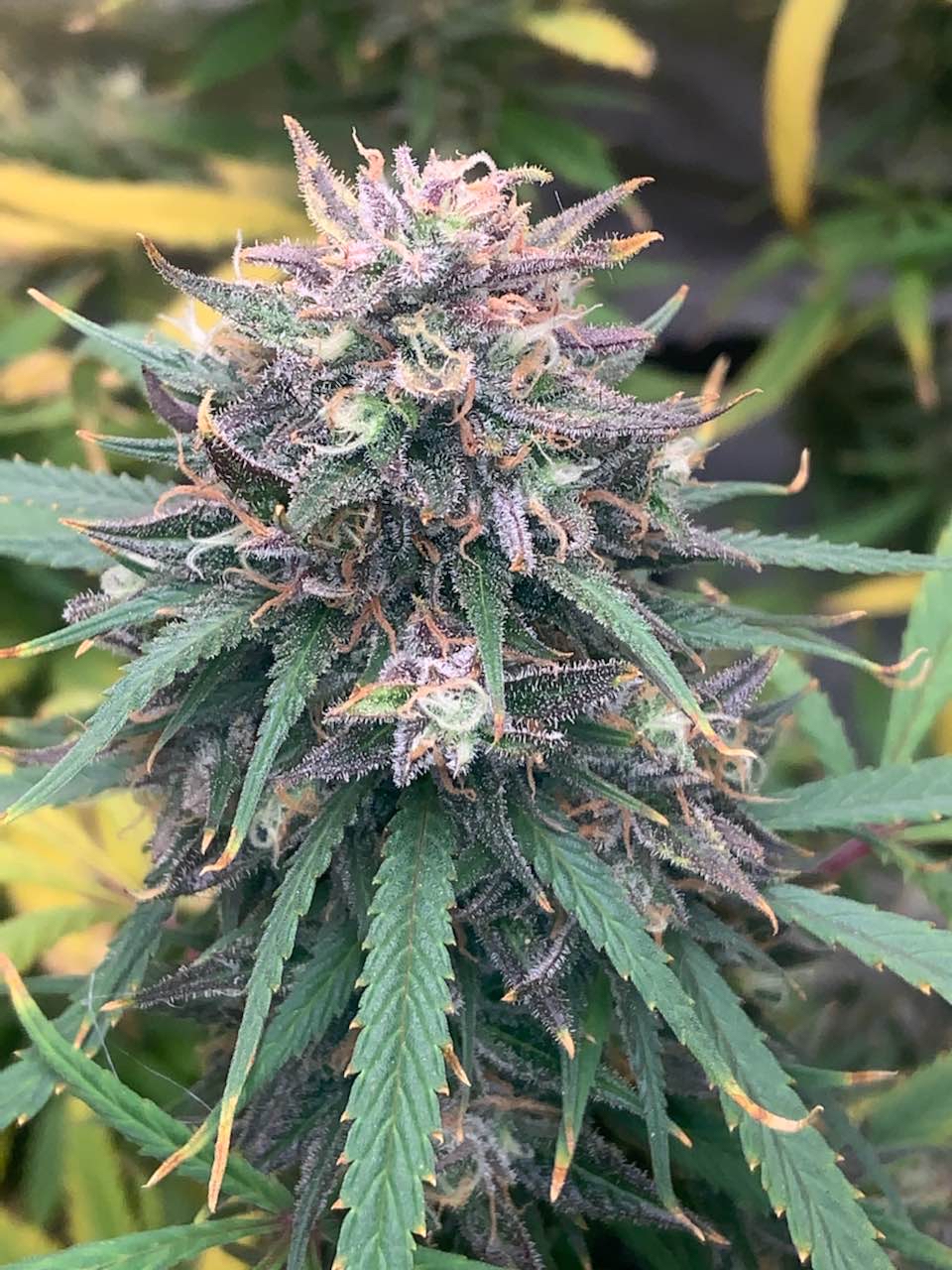 Chopped em all down today! Overall would say was a good test run with bag seeds even with the few hiccups I had along the way. Really excited to be into the next grow with known good genetics!
2 years ago
Mr.Tee Beautiful..!👏nice job 👌I too have a few old bag seeds but from sum good good dank genes also 🤙 gorgeous plants man 👍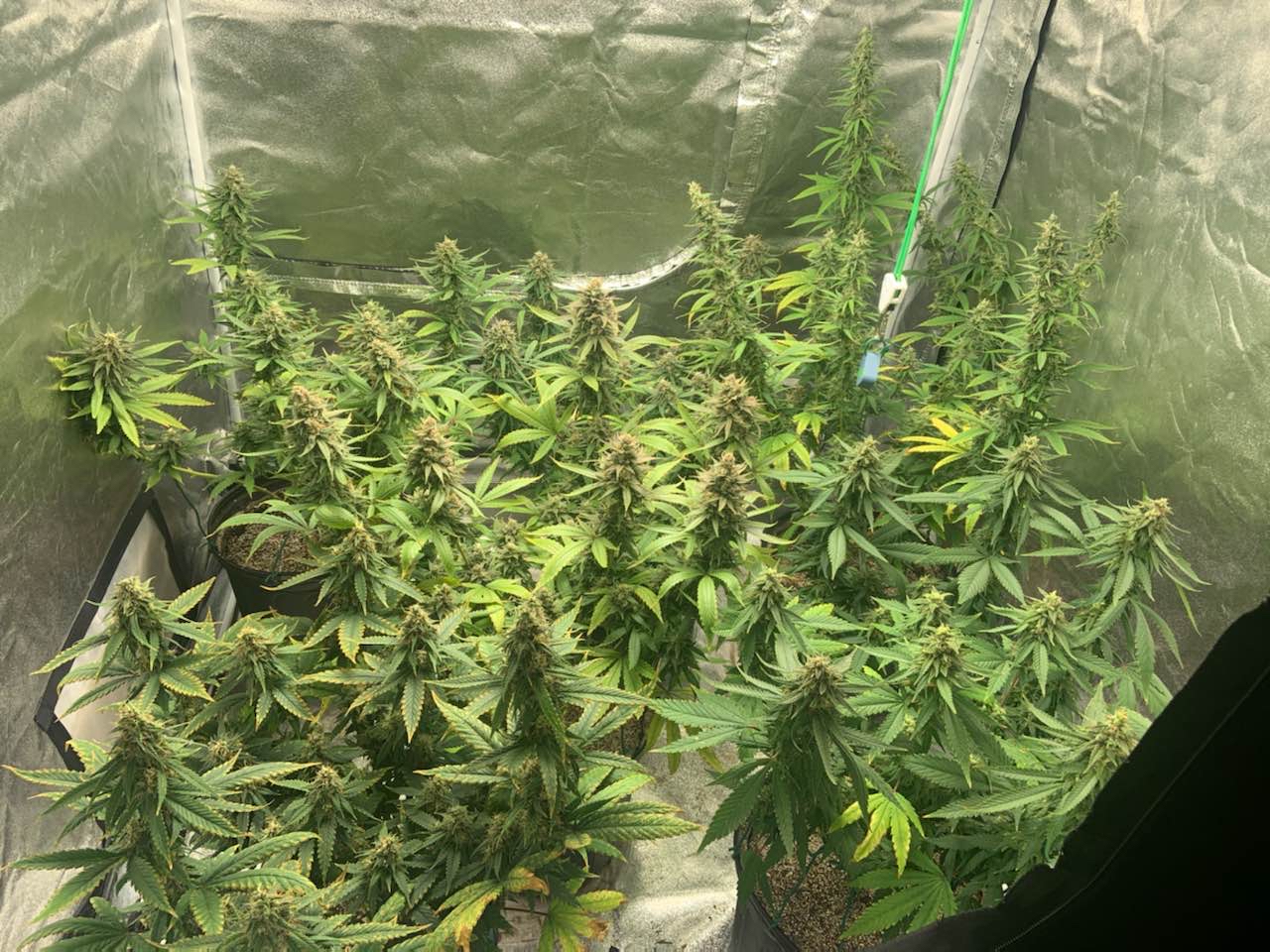 Starting to get some colour in the room! Only a week or two more until we start chopping ✂️🤘
2 years ago
Week 5 of flower starting to see a little colour on one plant 👌
2 years ago
The 4x4 is filling out nicely👌 Curious to see how these bag seeds turn out 😅🤞
2 years ago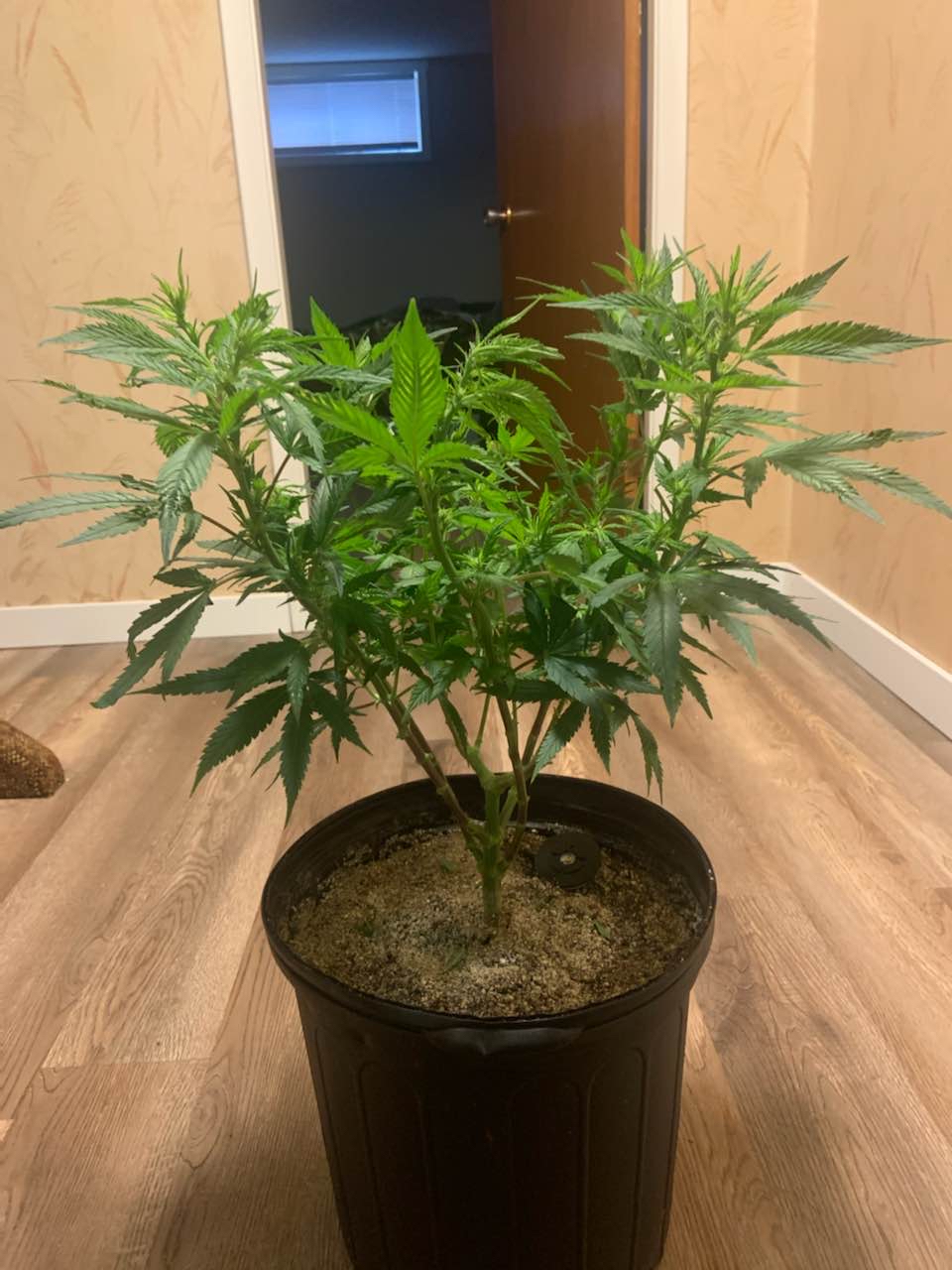 Defoliated the room a bit and got rid of lower growth so light can get through the canopy better and so prime bud sites can get more energy! Excited to see these girls push out some flower in the coming weeks! 🤘
2 years ago
Been busy with the new born at home so the girls got neglected and stunted a bit but am getting back on track with a good routine again now! Got rid of 3 plants and am now towards the end of week 1 of flower! Super excited to watch the tent get crammed with some buds but know I may need to toss 1 more plant to make room (depending on how the next week or so goes). Either way am pretty satisfied with the canopy so far :)
2 years ago
LST is going well! Removed a few fan leaves to allow light through to lower branches. Ordered clamps so I can install trellis new in the next week or two. Hoping I start seeing sex soon so I know which ones will be keepers! All n' all am pretty happy with progression so far considering the couple setbacks I've had!
2 years ago
Plants are looking good with rapid growth! Started LST training on a couple plants!
2 years ago
Spent almost a week at hospital bringing my son into the world ❤️ Almost lost a few plants while gone as my spot heater stopped working after 2 days and humidifier ran dry according to my temp gauge but they all seemed to have pulled through. 🙂 Watered yesterday with full strength nutes and molasses in RO water. All tops seem to be growing well. Going to let branches grow out a bit more before starting LST.
2 years ago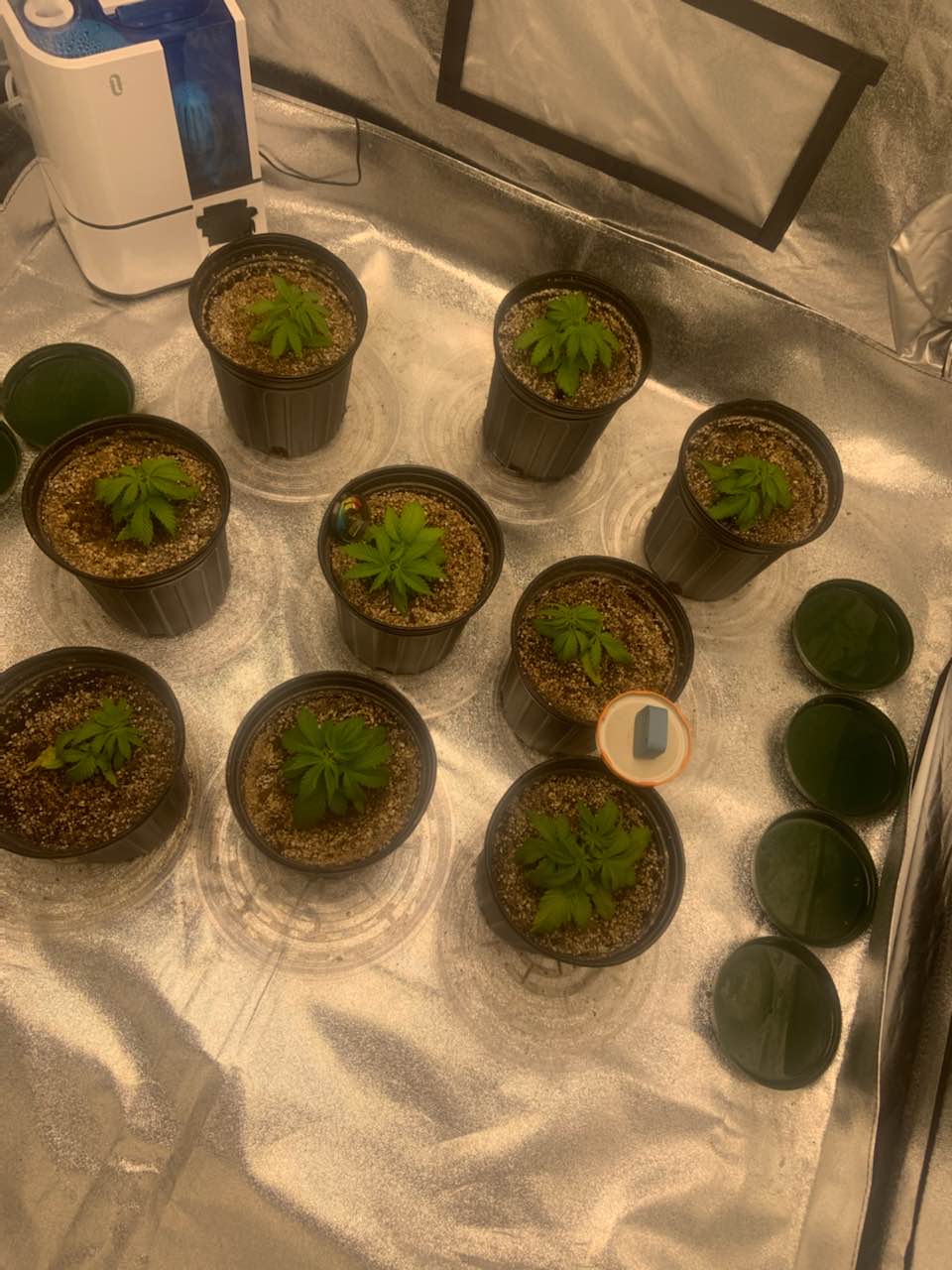 Watered and topped all the plants today and started some early LST on a couple.
2 years ago
All looks well, the one that suffered from the transplant finally appears to be recovering. Plan to water and top plants within a day or two. Ordered rubber coated wire for LST that should be in later this week.
2 years ago
Raised lights an inch today.
2 years ago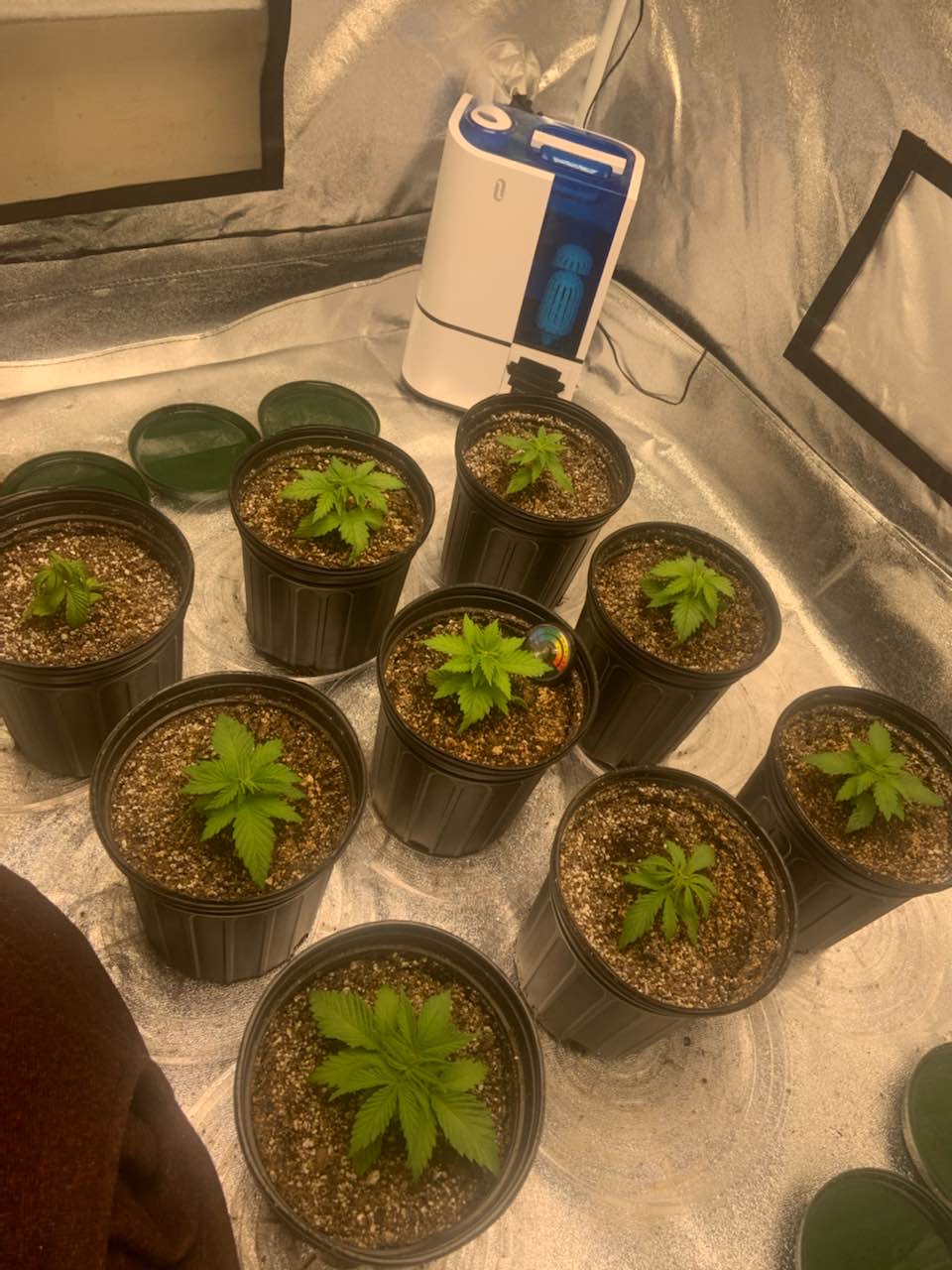 All still growing well except the one still suffering from the transplant. Starting to wonder if it'll bounce back or not. 🤷‍♂️ Either way am really happy with the rest! Still a few more days before I top them.
2 years ago
Mr. CannaVolution It will bounce back! My man if I was you I'd learn to scrog! That's a ton of plants for the space but it looks great! Very well put together tent!
Pete's Pot Thanks dude! I definitely plan on doing a scrog down the road, I have 9 plants right now as I didn't expect them all to germinate because the seeds were old bag seeds. With half most likely being male I plan to keep the strongest 4 females. It's just a waiting game to see which ones are keepers!
Plants all growing well except for the one still. Imagine it'll bounce back but not too worried if it doesn't. Plan on topping plants next week.
2 years ago
Plants loving the feeding and growing well! (Except the one that is still shocked from transplant)
2 years ago
Watered today w/ nutrients, molasses, and a drop of dish soap.
2 years ago
All plants seem to have recovered from transplant and are growing well except for the one. Will be another day or two of drying out until watering w\ nutes will be needed. PPM meter should arrive tomorrow which will work out good!
2 years ago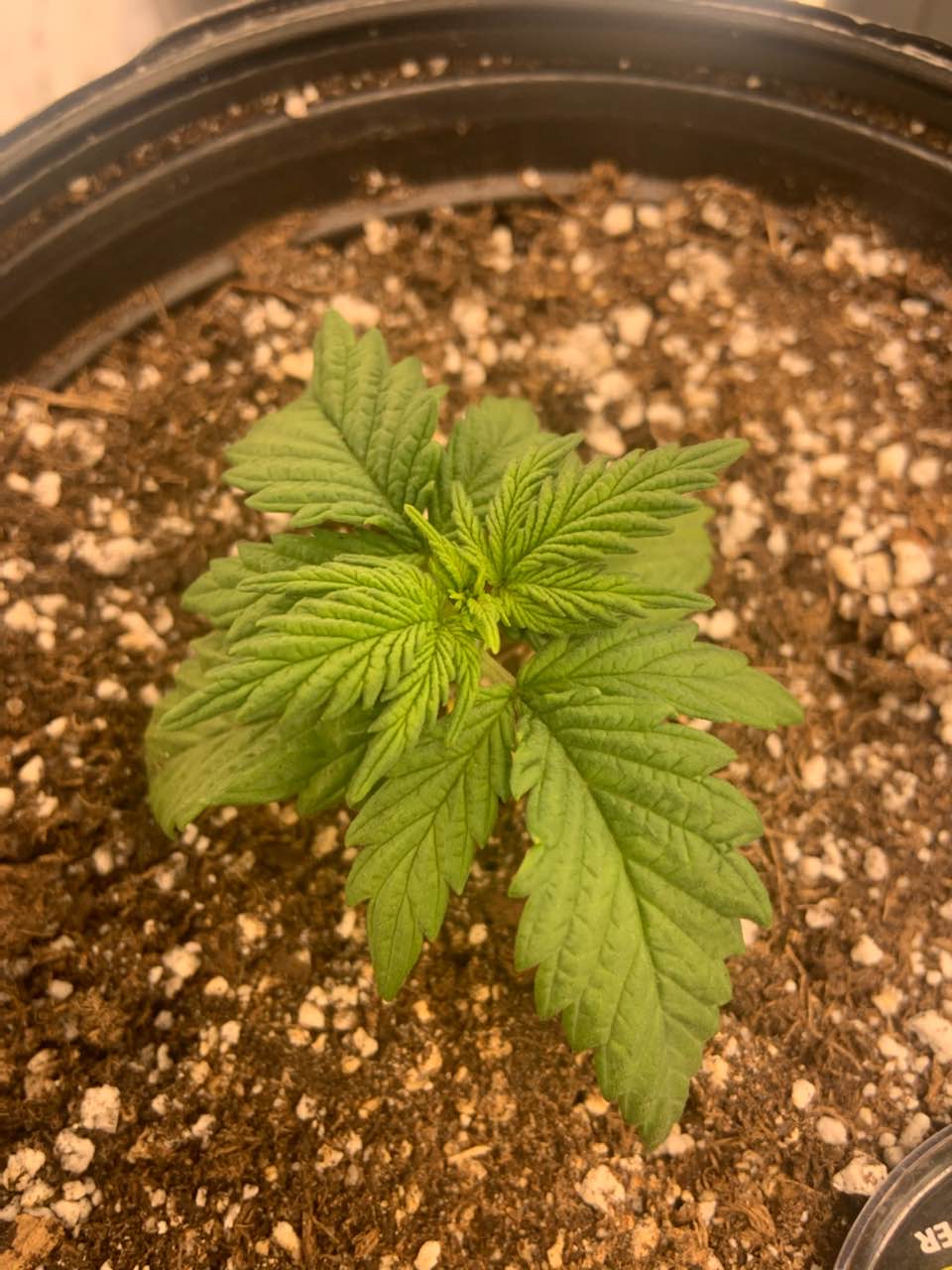 Rearranged the plants today to help the slower going plants. Lowered light a few inches to 32" from plants. Ordered PPM meter to dial in on feedings.
2 years ago
Plants still seem to be recovering good except for 1 showing signs of stress. Lights switched back to 100%. Will be a few more days until they get watered w/ nutes again
2 years ago
Plants seem to be untwisting and recovering well from transplant. Reverse osmosis filter system showed up today so now can avoid the white residue from the humidifier.
2 years ago
Transplanted plants into 1 gallon pots today. Dimmed lights to 50% for the next day or 2 to help them recover quicker. Upped my ph from 6.5 to 7.0 so runoff ph would be a little higher to help stop leaves twisting. Transplant was a little janky as a few of the plant's roots had grown into the material pots I was using. Hoping they all bounce back well still. 🤞 Definitely starting out with plastic pots and proper soil next time. 😅
2 years ago
Leaves still twisted. Did notice roots starting to poke through bottom of container, going to let dry out for another day and then transplant them.
2 years ago
Plants still growing at a good rate but found twisting has continued. Tested ph of runoff and was shocked to find it at 5.3 (is 6.5 prior to going through soil) Did start with some superstore soil which is the culprit I imagine. Watching runoff more closely for next couple days and plan to do an early transplant into proper promix hp mycorrhizae later this week.
2 years ago
twoheads666 Im a overwaterer, so i grow in coco coir, lot more forgiving than soil, then u have control over the nutrient retention, im using a "Wilma" 50 litre tank with 4 x 18 litre pots, water by timer, just change water once every two weeks, i used soil in my first grow, failed miserably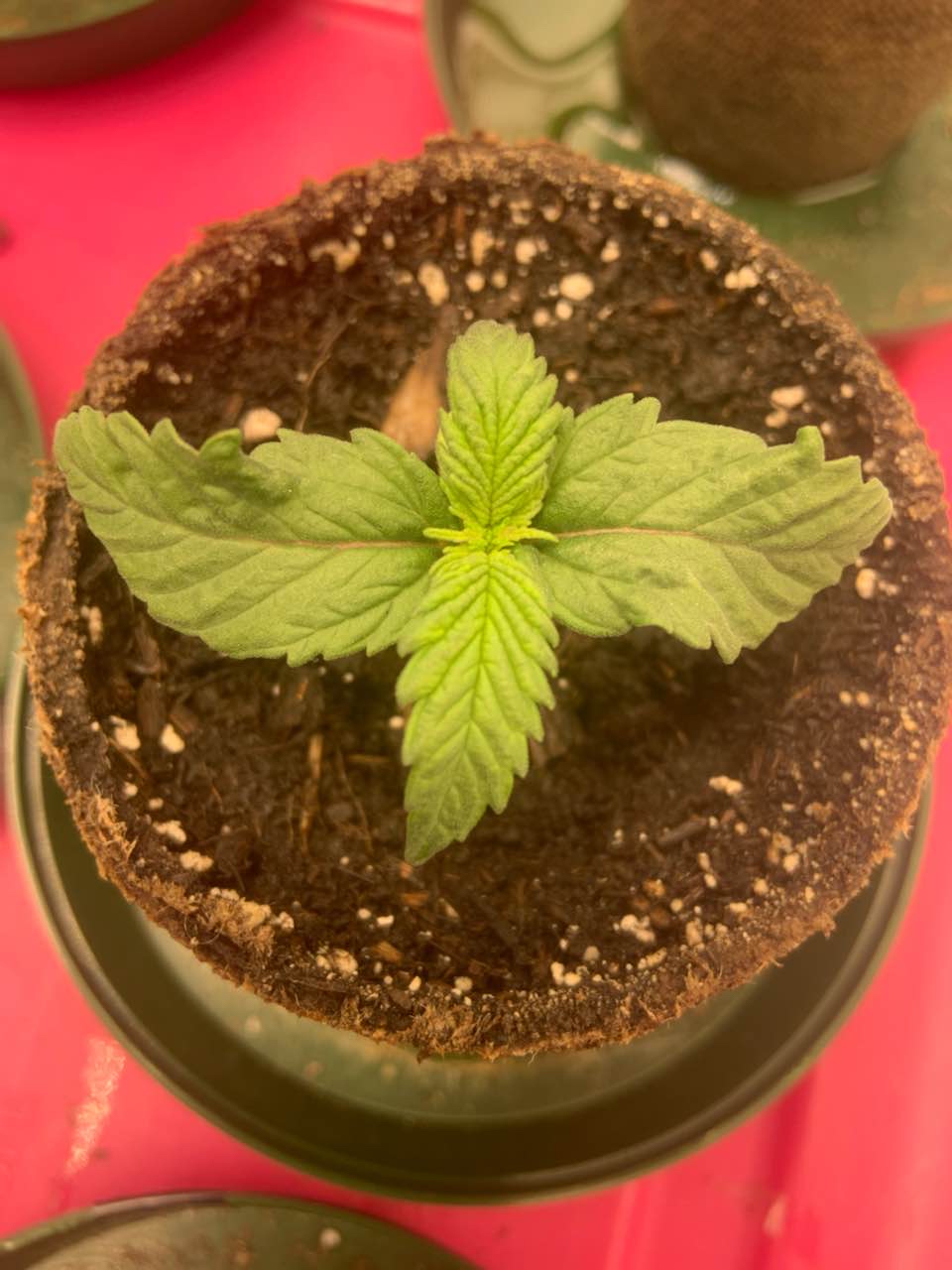 Moved plants to a level table today. Everything seems to be growing at a good rate but have 2 seedlings twisting their leaves. (One worse then the other) With everything else looking fine and growing well still I feel there still is no need to be concerned. (Is suspected that their strains are most likely just a little more sensitive than the others) Will be monitoring daily still.
2 years ago
bmoney760 Switch him with another one mine did that 2 but I made my own light just didn't like where it was
mystrain420 The twisted plant wants calcium, they all might need it soon if they're the same strain
Day 16, all looking healthy but a few leaves found with minor twisting. Expecting them to grow out of it and am not too concerned as everything else looks fine. Just going to monitor for now. Am noticing minor residue on tent walls due to hard water in the humidifier. Looking into getting reverse osmosis filter setup.
2 years ago
BradLee101090 I had this issue as well and just started picking up distilled water. Fixed the issue but for long term a filter is much more practical.
Pete's Pot Yeah I picked up a culligan jug to get me by until I get a RO filter setup!
Day 15, Temp and humidity are now stable. Lighting still 18/6
2 years ago
Humidifier came in! Growth seems to be progressing well now and back on track.
2 years ago
Day 13, still waiting on humidifier.
2 years ago
Day 12 Ordered humidifier, still trying to dial in proper temp and humidity. (Tried wet towel trick for a couple days)
2 years ago
Ran into venting issues, growth stunted for a day or 2.
2 years ago
1 more w/ seedleafs (All now have seedleafs) Started 1/2 ml per L of grow nutrients every other watering.
2 years ago
1 more w/ seedleafs Set up Sensor Push to monitor temp and humidity.
2 years ago
3 more seedleafs showing.
2 years ago
2 more w/ seedleafs, 6 more taproots showing.
2 years ago
1 more w/ seedleafs, 1 more taproot showing
2 years ago
1st one sprouted w/ seed leaves and one taproot showing.
2 years ago
9 seeds planted. Six are possibly chemdawg or lemon haze, the other 3 are random bag seeds.
2 years ago