Master Kong - Raised Bed (x5)
1st Run 2023
Five Master Kong females (f1) in a 20 gallon raised bed of living soil. Crimson red clover cover crop.
Time for curing. I use Grove Bags. They keep the humidity perfect, prevent mold, and preserve terpenes. Total yield was close to a pound this time! Hey! I'll take it! Hahah cheers.
5 months ago
Drizz Interesting you've got my follow👍
LOUD&GASSY Drizz let me tell you these bags are amazing
FINALLY!! The time came to chop the plants for harvest. Now they go into darkness for 10-14 days while keeping the airflow moving and environment at around 60°F & 60% humidity. I can't wait to try it out.
5 months ago
I'm going insane forcing myself to wait to harvest! I want there to be about 1/4th-1/3rd amber trichomes compared to the cloudy ones. When you harvest determines the vibe. Choose wisely growmies.
5 months ago
Drizz Nice choice of words and truth👍 the plant is looking good
Checked the trichomes and they are really shifting from clear to cloudy. Since I see new pistils on the tops, I feel they will go the full 8 weeks but no more. Next week is chopping time. I can't wait. Time to buy my grove bags for curing. Lately, I've had to shut the humidifier off. The room is naturally staying at an ideal RH.
5 months ago
loudpak23 How do you know when they are finished
LOUD&GASSY Thanks Organic_Grower. LoudPak24 you tell by taking a jeweler's loupe and checking the trichomes on the bud sites. Once they are mostly cloudy with a only some amber, you're ready to harvest. The ratio of cloudy to amber will vary your high. The more cloudy, you get more THC. The more amber, you get more CBN. You can say more cloudy (head high); more amber (body high).
View 1 additional comment
WK 7: She's smelling JUST like fruity bubblegum & I can't wait to start counting the days to harvest. Next time, only one plant in the big 20 gallon at a time. Next run, I'm going with 5 gallon fabric pots.
5 months ago
Tallboy2023 They look awesome. Nice work! I transplanted mine into 5 gallon fabric pots from plastic buckets and they absolutely loved it 😍
Drizz I like the set up 👍
View 3 additional comments
These girls are moving right along. I'd like to see their trichome production increase so I'm going to see how they produce in the next 2 weeks. Based on their performance, I may let them mature longer.
6 months ago
View 3 additional comments
Finishing week 4 strong! The terpenes smell much like Master Kush; very earthy notes mixed with tropical fruit. Trichomes are producing heavily already! Smellin' like candy & sticky,….. just how I like it. Haha
6 months ago
Not bad for week 3 of flower! I can't wait to start smelling the expressions from these plants.
6 months ago
The girls got their last defoliation. As you can see, they are blooming!! I'm super hype. This is my first time breeding.
7 months ago
Girls are starting to stretch while the plant on the front right is still lacking. Hopefully she'll produce something special.
7 months ago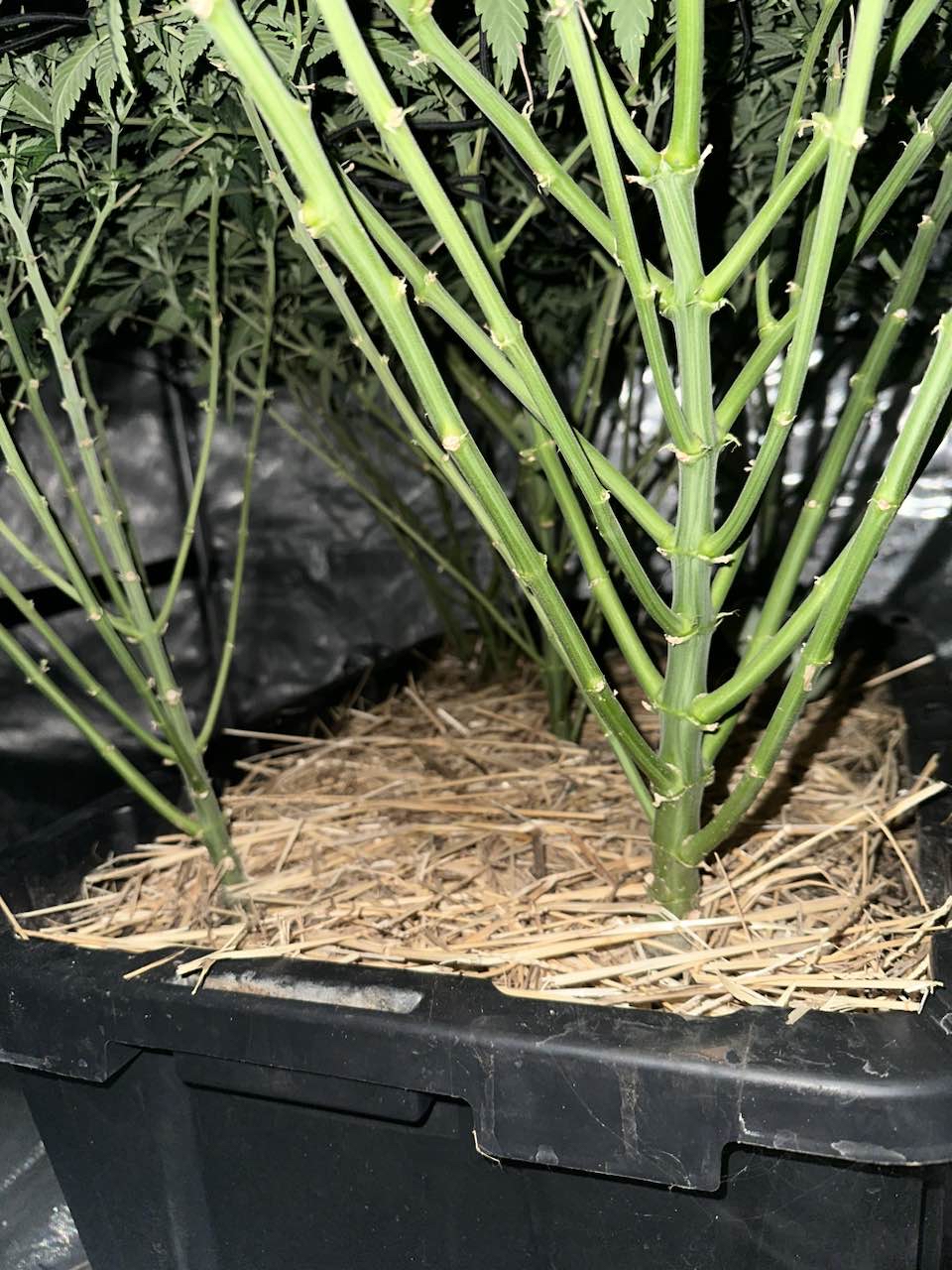 Day 1 of FLOWER I overwatered the plants two days ago after giving them a set of pre-bloom nutrients. After a few days later, I decided to flip the garden. The canopy has filled out quite nicely.
7 months ago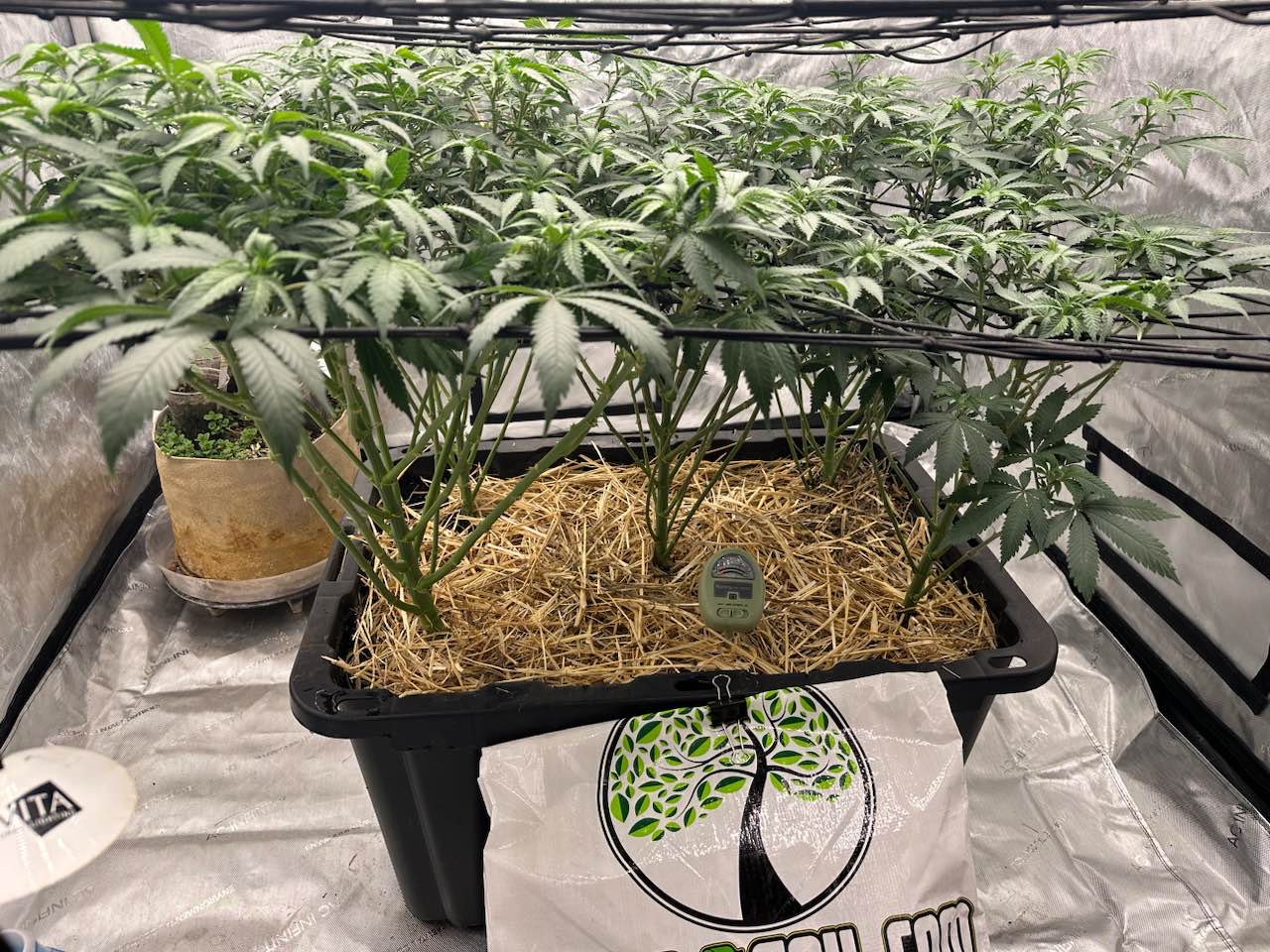 Sprinkled some Growing Organic Kashi Blend before top dressed the girls with Build-a-Soil's Build-a-Flower compost, their Craft Blend too. Watered the girls with recipe from chart.(build a soil chart) Lastly, put some barley straw as mulch. Only 1-2 weeks before "The Flip".
7 months ago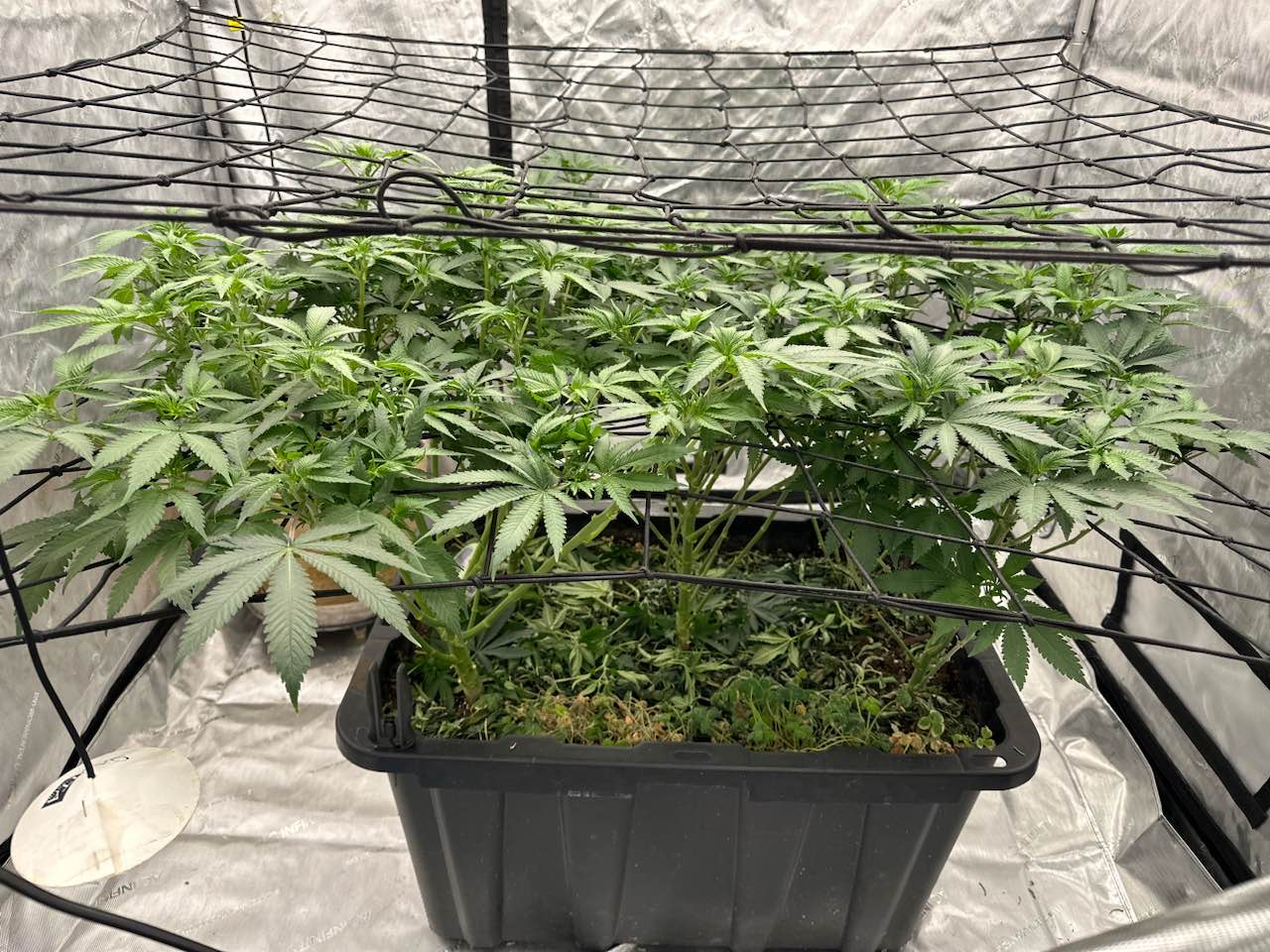 I've been waiting for the entire 3x3 trellis to get filled out by the canopy. The growth has been slowed somewhat from all the defoliation. They recuperate quickly and continue to stack and grow. I'm hoping the upper right quadrant(which is weak) gets a second wind and stretches some more until it's even with the rest of the canopy. Although the stretching seems slow, the secondary bud sites are stacking which is important when considering yields. Giving the branches time to mature is fundamental. Otherwise they are larfy and/or small
7 months ago
Took 12 clones from the strongest plant. Used Clonex on each Rapid Rooter plug that were all soaked in seedling solution + aloe + rootwise
7 months ago
The ladies are filling out beautifully! After a hefty watering 50% of the clovers rebounded. Hopefully the canopy will fill out soon. Watered the ladies this week with 6.6 pH tap water. I used everything in the box found on the last image. Lots of organic nutrients and microbial life for my roots. The party is always live inside my living soil! lol dad joke
8 months ago
Calibrated the BlueLab Soil pH reader and tested soil; pH of soil was at 6.7. VPD steady at .93 kPa. Humidity set to 55%, tent temps: 23.8° C. Put up the trellis and gave the girls a major trim. Hopefully they will bounce back quickly and fill the canopy.
8 months ago
Date: January 17, 2023 WATER DAY; gave them 6 gallons pH to 6.7 Added: Rootwise Microbe Complete, Rootwise Elixir, and Jay Plantspeaker Quillaja Extract VPD: .99 kPa
8 months ago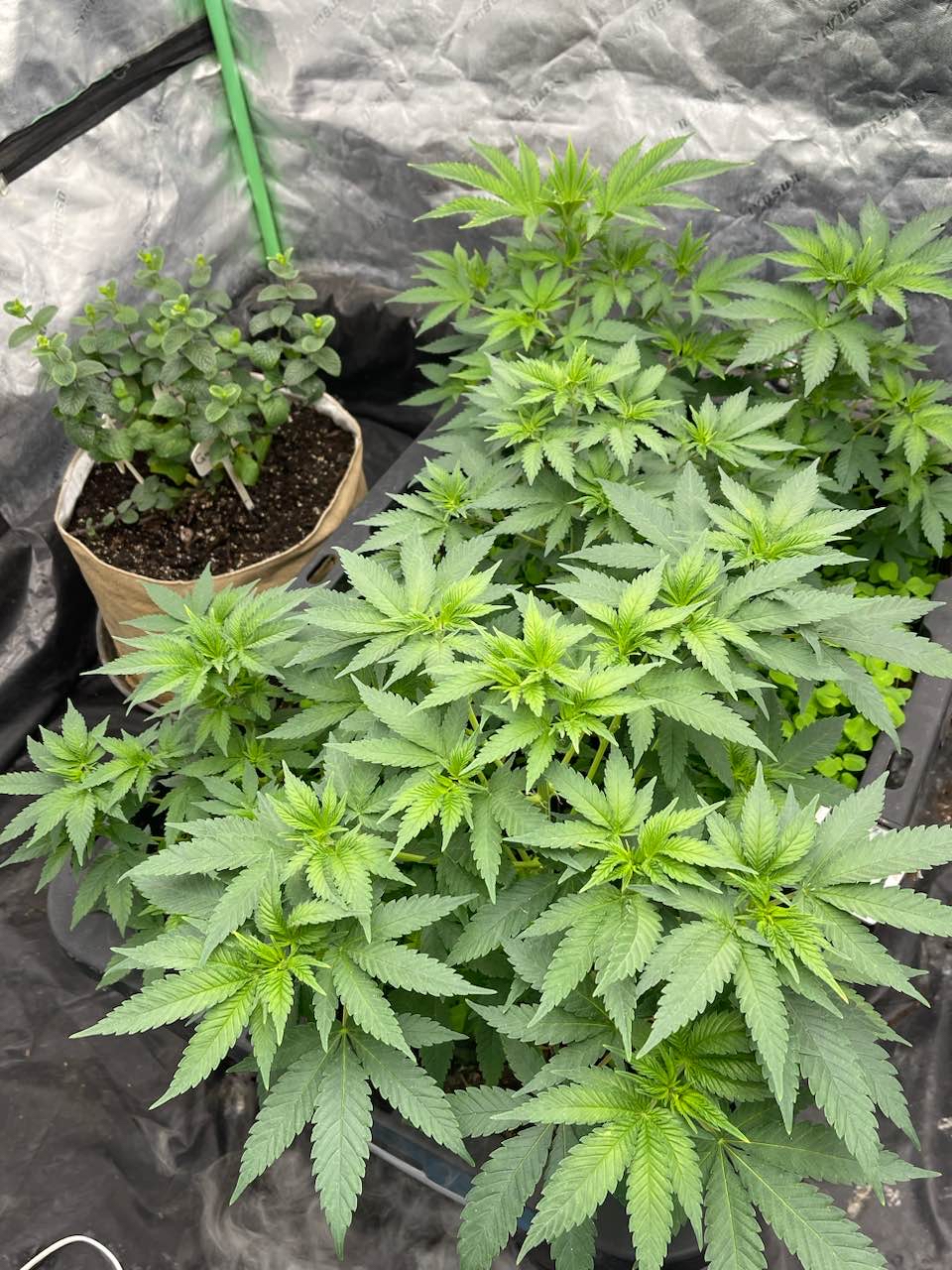 Date: January 11, 2023 Cover crop just took off. Plants all look happy. No water since the original 5 gallons.
8 months ago
Date: December 30, 2022 Transplanted each plant into their new home along with a sweet mint plant Date: January 5, 2023 Planted crimson clovers as cover crop to assist the compost and microbes feed my babies. The clovers just took off
8 months ago
Date: December 28, 2022. Prepared their new and permanent home. Amended used soil from my last run. I added Oly Mountain Fish Compost + Rootwise Mycrobe Complete + Rootwise Bio-Catalyst Enzyme Elixer + pH Perfect® Sensi Coco Bloom (a). Next I added 5 gallons of water; pH near 6.5. Placed the plants inside the tent on top of the soil to allow the soil to "cook". The temperature in the closet was dropping so it was important to bring plants into the tent. Also, VPD is being controlled perfectly. Set the exhaust to trigger once the humidity reaches maximum levels to stay within a healthy range.
8 months ago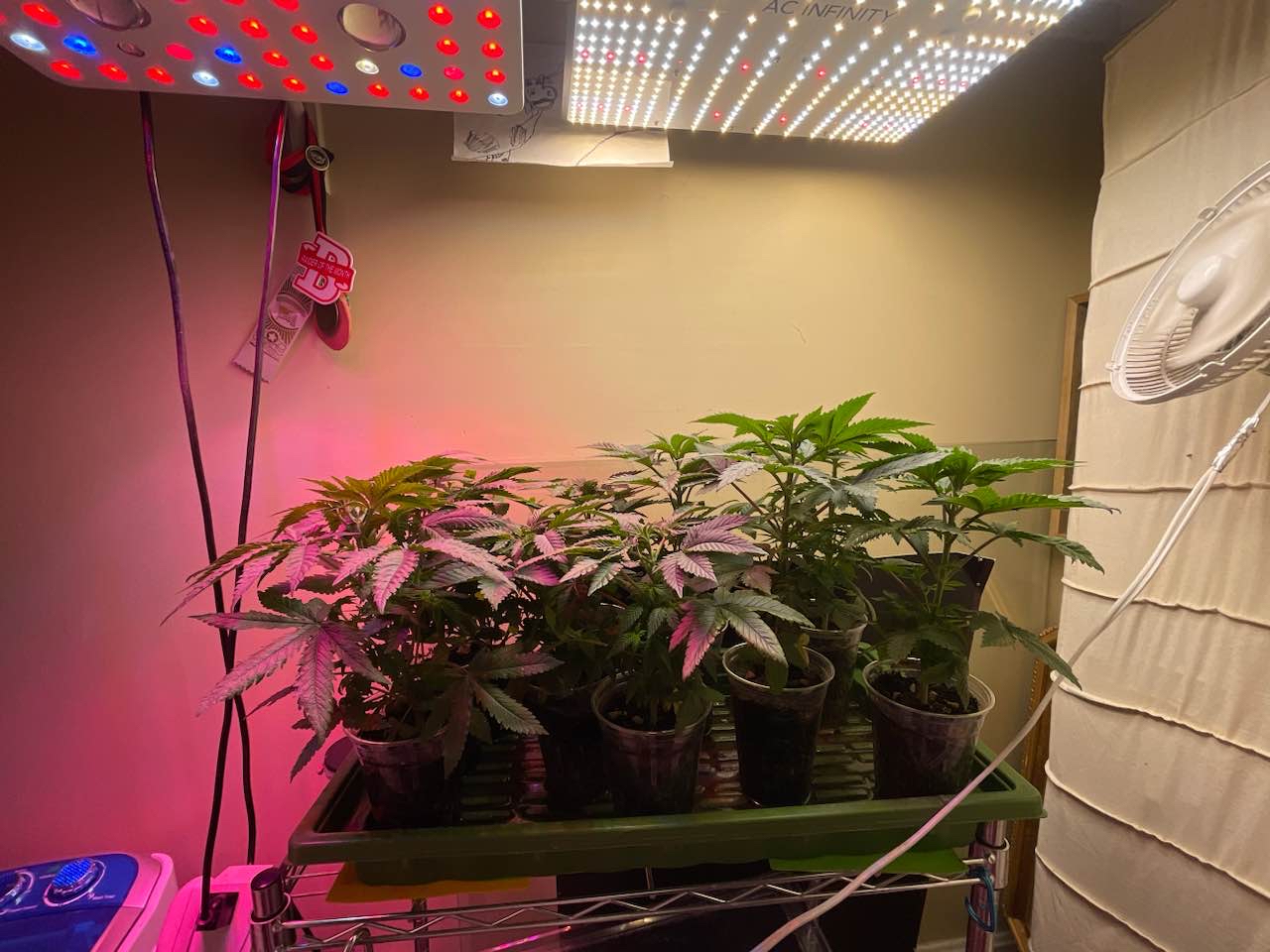 Date: December 26, 2022 To my surprise, on day 39, gender was revealed through pre-flowers & pre-pollen sacs becoming visible! There was no question for most that were male. A few were hard to tell but eventually I identified all the males; total was approx 5 males.
8 months ago
Date: December 6, 2022 Process of elimination via the survival of the strongest roots. Started with 30 seedlings. Now reduced to this. Transplanted into clear Solo cups so I can see the roots. Worked like a charm. With holes on the bottom i watered slightly in the cups but MOSTLY just poured water inside the seedling tray (about half inch). Plants soaked up the water within a day.
8 months ago
Date: November 17, 2022 Rapid Rooters (a few rockwool). Germinated so many to find strongest female. Had to ID males first.
8 months ago