ambiee420
Donkey butter
First plant
I need all the help I can get lol
She smells amazing isn't dying but her hairs are still black I don't know if she's done or not
2 years ago
ambiee420 Yes it's an outside grow and yes I'm spraying it with banana water
View 7 additional comments
I don't know what to do she seems healthy but the hairs are getting darker and darker
2 years ago
I don't know what's happening lol
2 years ago
CCWOY2209 It looks like it's growing toward light…
I know Some of you have said that she looks like shes dying but she keeps getting bigger and bigger I'm feeding her banana water and she seems to love it
2 years ago
Ok the hairs are now orange do I just let her do her thing ?
2 years ago
dolomight Strange for it to go brown this early but yes let it swell up for serval weeks! What week of flowering this
DracoBEBO Hey Ambiee, I would recommend purchasing a jewelry's loupe. 60x-120x. A 30 will work, just not as well. Don't go by the hairs, go by the heads of the tricomes. Google for pictures. Ideal is at mix between cloudy and amber heads. The more amber=the more stoned like couch lock, the more cloudy=head high
Watered her with some Zephyrhills water she's looking beautiful !! Any pointers ? 
2 years ago
Just sprayed her down with the banana water I usually give her about 30 minutes to an hour to see if she perked up if not I giver her a lil bit more water how much longer till y'all think she's ready ?
2 years ago
Prodigy You still have a while before she's done, it looks like you just started flowering honestly and if that's the case, outside, assuming she's a photoperiod, I would say October, if she's an Auto maybe next month. If you mean how long until she perks up, it's possible she might not depending how hot it is outside where you are, Water her slow 10% runoff and hopefully tomorrow cools down.
She's still growing like crazy 🙂
2 years ago
How do y'all think she looks ?
2 years ago
ambiee420 Lol I'm over this I can't seem to get it right
lettuce97 look! its troy farms! commenting on someone elses shit, AGAIN 😂😂😂😂😂👏👏👏👏
View 54 additional comments
I started misting her with banana water I cut up a banana and it's peel and put it in a gallon of water let it sit for a week then strained it and put it in the spray bottle I hope this gets her the nutrients she needs (they old banana water smells horrible)
2 years ago
Mystrain420-@eaegifts You shouldn't let it sit for more than a day or 2. For faster/better results u can boil the peel or whole banana let cool off and use that. Btw u can drink it also it's a common health tea. U may wanna look up aerobic and anaerobic bacteria also and you'll understand the smell. Hope this helps 👍🏾
ambiee420 I let the banana sit in the water for about a week I'll try boiling my next go round sounds like it would do wonders for her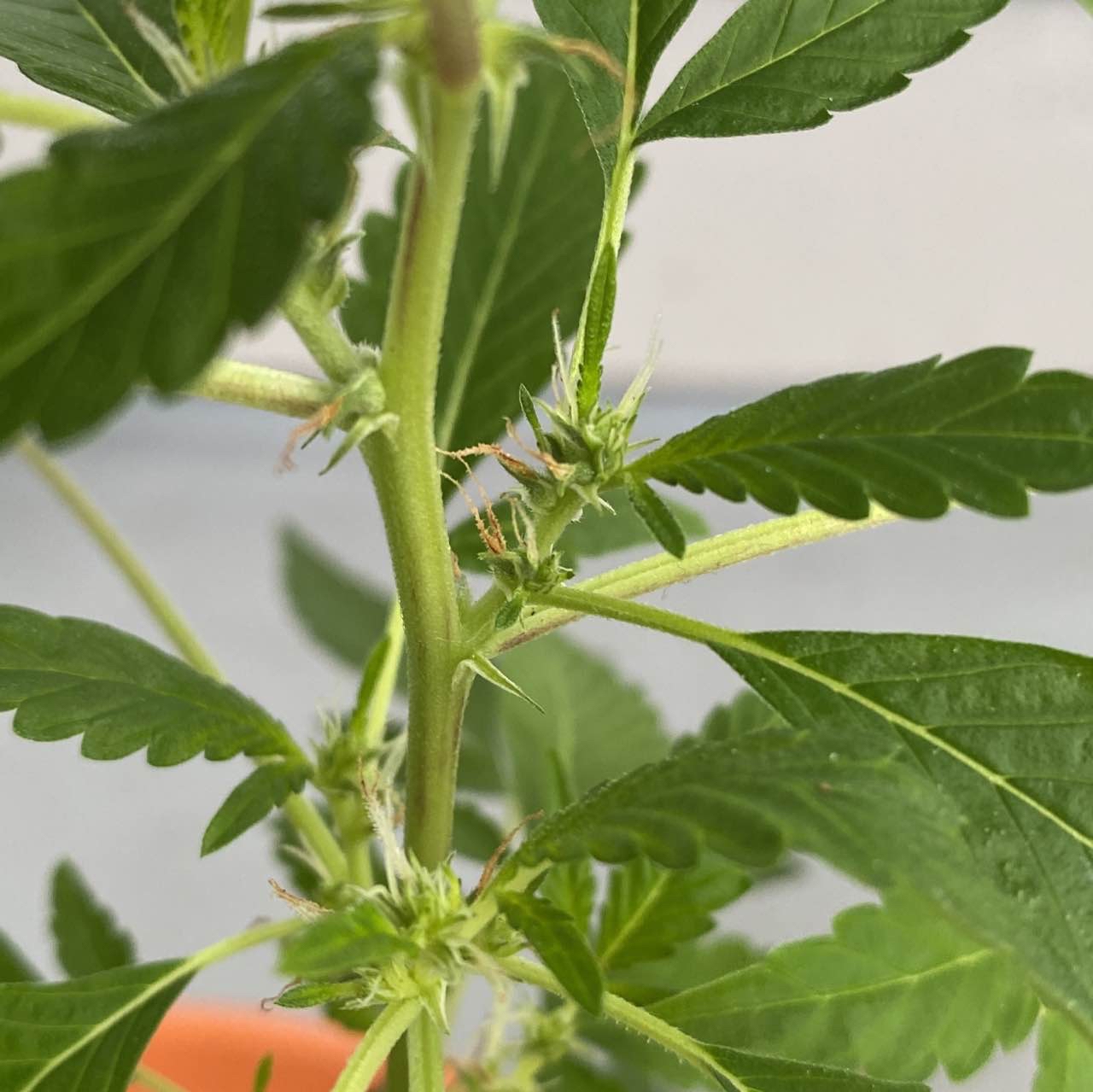 Should I be concerned about the color change in the hairs ?
2 years ago
Should I be worried she's not bigger
2 years ago
Caliban She will get there. Giver her some nutrients. If organic get some good quality compost and add a couple handfuls on top then water through it.
Godsproblem It may get bigger, it may not. Just make sure you feed when needed and let it grow.
She's growing just not getting tall like other plants I've seen any ideas ?
2 years ago
ambiee420 I literally have no Idea what that means can you please educate me ?
DracoBEBO YouTube "auto flower" Instead of it deciding it's stages in life by the amount of light it receives, an auto flower strand will Grow a few weeks then automatically switch to flower, no mater how much light (or lack of)there is.
View 8 additional comments