Room 115
Unknown
Starting with 3 lil girls. Neighbor down the hall said all he knows is that they're indica. Well we started a new grow….. not what I was expecting but….. ROUND 2. …… LETS GET IT ON!!!
She'll be drying now an in few weeks cure starts
5 months ago
2nd week flush…… smells just amazing….. fruity, citrus, smells like fruity pebbles or something with a lot of citrus zest weeks9day1 (seed-present wks. Beginning of 15Wk) might go until weeks10 if needed, otherwise Thursdays last she sees light (unless need more time) once dark harvest on Sunday. Then cure…..
5 months ago
First week of flushing…… (2 - (3 weeks left)). Most trichomes are (CLOUDY 70% - 80%) (AMBER 2% - 4%). Waiting to Harvest @/@round (CLOUDY 30% - 50%) (AMBER 10% - 20%) weeks 8 day 1 happy new years and 420 for everyone
5 months ago
Smells sooo fruity/citrus mmmmmmm
5 months ago
Last week took these pics week 6 day 3-5
5 months ago
The stars are out 1night. Merry Christmas everyone
5 months ago
Aahhh….. week 6 of flower and week 12 since seed. Smells like juicy fruit but more fruitier. Trichomes looking beautiful, maybe a few more weeks till harvest. Weeks 6-7 last of all nutrients, weeks 8+ flush
6 months ago
She's coming along just nicely, at least with blurple light. ….. question? For indica plants what is the length til harvest…. Anyone? Anybody? These are unknown an I don't want to harvest too late
6 months ago
trichome_kid You just have to watch and see, their isn't an exact definite date just an estimate of when you you should really be paying attention. Get a small magnifying glass or just zoom on your phone and when the hairs go from whatever they are to a brownish tan tint to them your ready!
2hi2late What % should be brownish b4 flushing begins…. Just need to know what trichomes are supposed to look like at flushing time.
View 7 additional comments
One made it through the stretch, time for formation…… heeeeeeeeeere weeeee goooo! Wks4D1
6 months ago
She's looking beautiful, but I think I need that better light or maybe it's the seed. My last grow wasn't like this in week3. Anyone have any pointers besides getting an upgrade on the light??
6 months ago
Lil more LST N she's off…… I've almost smoked enough weed I could see her stretch….😶‍🌫️😶‍🌫️😶‍🌫️. Getting bushy now. Whatever this strain is I'm liking her structure. End of week 1. Round 2…… Grow!!! Any comments appreciated GOOD/BAD cus even I have to learn from others mistakes so I an future growers can succeed at what we love to grow and consume😶‍🌫️😶‍🌫️😶‍🌫️😶‍🌫️😶‍🌫️. See ya next week.
7 months ago
First day of 12/12 flower. She looks so beautiful. Only if my light didn't get delayed in delivery I'd be even more happier but I guess last grow with this blurple light. Does great in Veg but not so much in flower. Added another light. I guess I'll try for now to do 8wks but if anyone can help me, I would very appreciate it, from one stoner to another.
7 months ago
13th of November 2022 she'll be flipped. Question to everybody that can help, I know to trim the girls but some times I go overboard. When is a right time to stop trimming and should I trim her or wait till first week of flower??? New grower just trying to understand my girls from other's. Thanks 😶‍🌫️😶‍🌫️😶‍🌫️
7 months ago
2hi2late Unknown. Got a bunch of seeds that my neighbor collected from his favorite strains. I'm calling it "Room 115" where it comes from
Loving life a lil too much…… flipping in about 2weeks give or take.
7 months ago
Day after transplant. Lovin' her new home and feed.
7 months ago
Some reason she's growing better than her sister . 4 weeks in Veg 2 more an I flip her
8 months ago
She's getting bigger, had to FIM her today. In 2wks I'll transplant her to her final home an 1wk after that she'll be entering pre-flower…… oh my, how fast they grow. One minute u have seed/clone an the next thing u know, ur smoking her.
8 months ago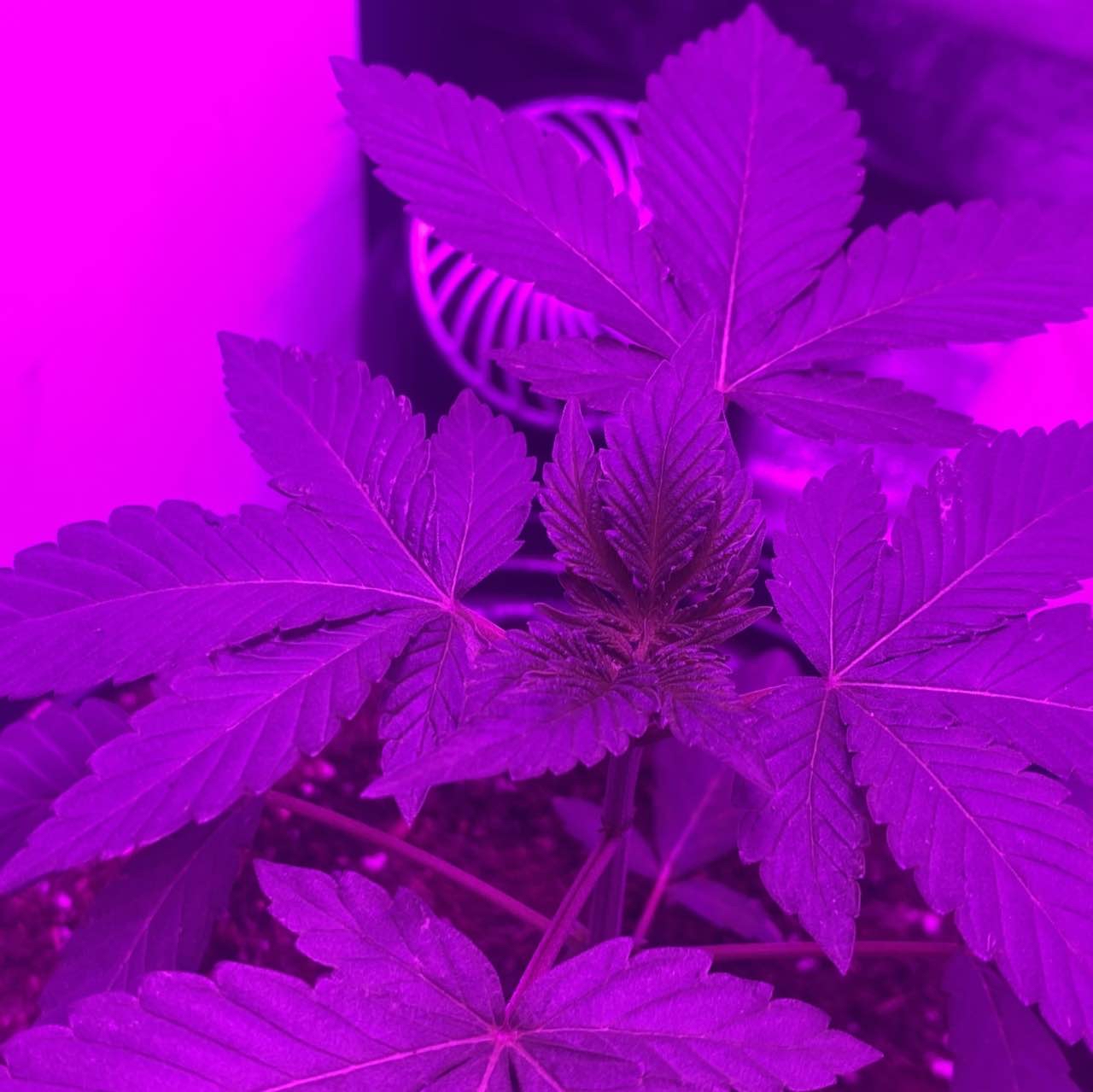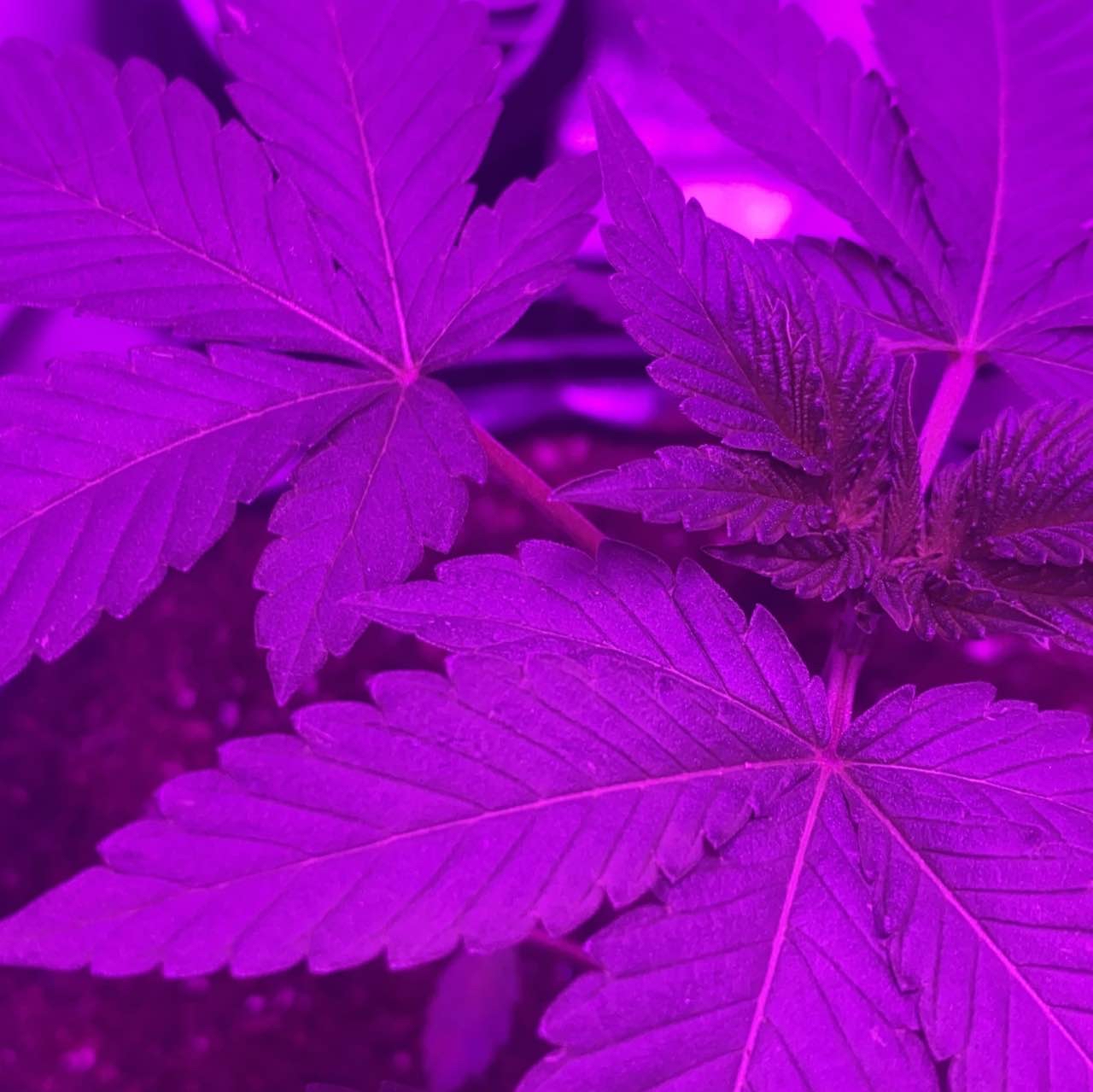 (D8WKS2) Can't believe how much she grew. So off the subject a lil, kinda. So I ordered a SpiderFarms light and it came a lil late, but my high ass forgot I ordered it an started to tell one of my neighbors about my package and its late…… well, he gave me his old ts600 marshydro because he upgraded tent size, so I took it an 3 days later the light I paid for came. So I have 2, putting one on shorte' and other one on Tiny.
8 months ago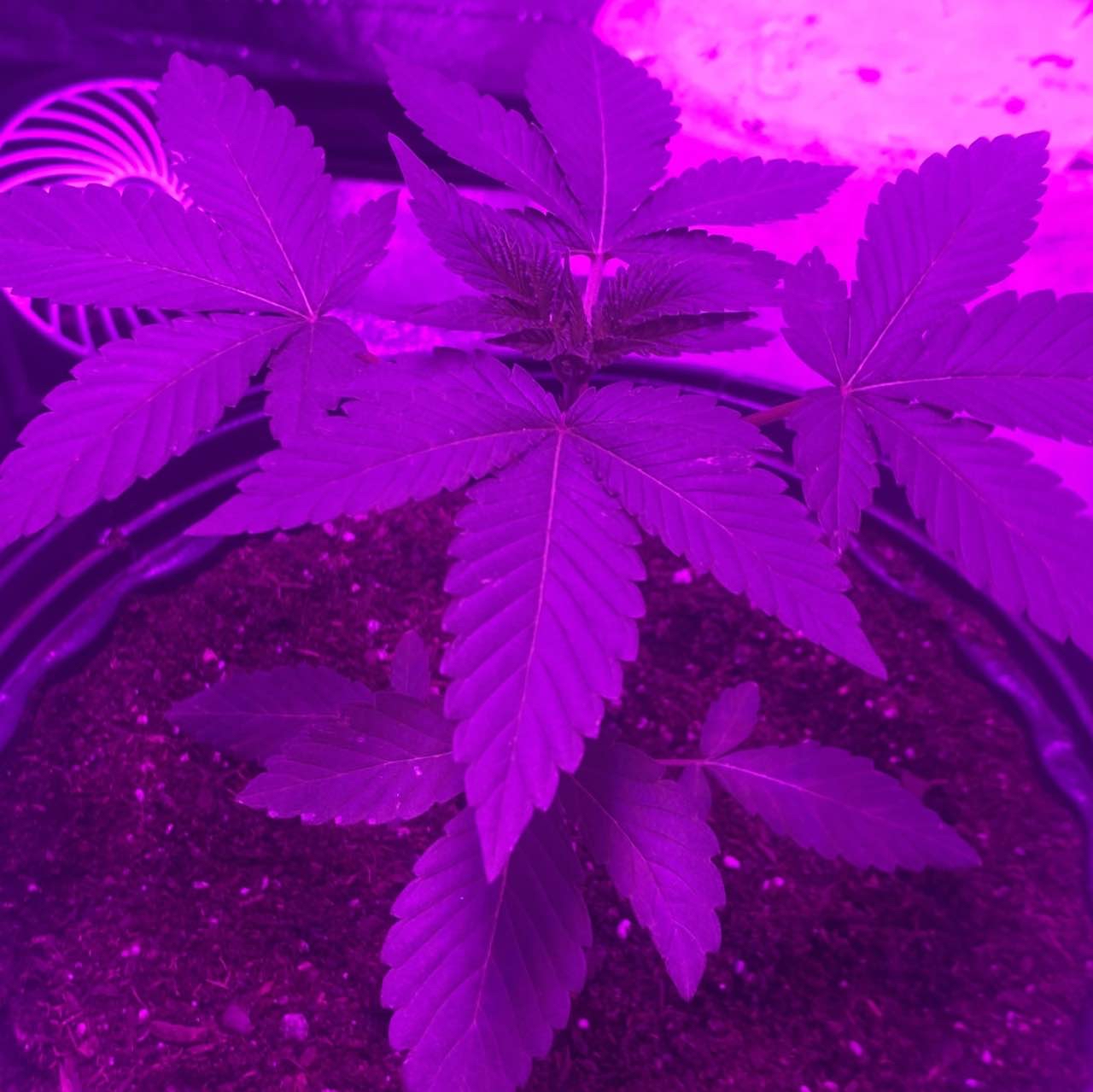 D8WKS2 LOOKING 👀 GOOD SO FAR
8 months ago
Day 6 of Veg or since the first 5 leaves I noticed. Can't believe it she's growing up so quickly. I'm gonna start to feed her some nutrients tomorrow morning n hope she loves her first new home until I flip her into her last home for flower. I adjusted the ph an should be better.
8 months ago
First sign of veg I noticed yesterday. She's still reaching for the sky. Now it's time to change lights. D3WKS0 OF VEG.
8 months ago
I think this one is loving life a lil more then her twin sis.
8 months ago
Lil taller, still ph 6.3-6.8 water. No nutrients yet. About to switch to veg light. Still at seedling light
8 months ago
2hi2late I think WK1D5 started counting WK0D0
Just started life.
9 months ago