Purple punch
Winter 2021
One purple punch auto flower in a 3 gallon pot. Mother Earth coco +pearlite first time using this mix. In a 4x2 I do plan on moving to the 5x5 once alittle later in veg..
Purple punch auto by tastebudz
My perfect imperfections.. had fun with this one.. have two more growing quick in veg.. I hope to have corrected some things with those other two that I learned with this. Can't wait to smoke on this thou! Hahah I'm giving it till it dries out whats in the pot nw.
2 years ago
Organic That's a plant that was grown with love. Very nice.
These bottom branches are bulking up more! 🤩
2 years ago
Bottoms are filling in more!
2 years ago
lettuce97 yo im fucking crying rn hahahahahahahahaha
View 15 additional comments
Just topped it. left the bottom alone to get more time to grow out more. Now hanging to dry out
2 years ago
sir_terpes024 Thanks bro bro I did a wash and it's up hanging… but Damm I'm curious do I have to always do a wash I get the benefits to it but dang the nug kinda smells hayish now before shit smelt good hahaha I imagine it'll come back once it dries out more. That's what happened with the other grows.. just curious if there's other methods anyone has tried ?
stick e fingerz I never have washed I'm doing indoor what's the point I understand outdoor yeah maybe.
View 10 additional comments
Im wondering cutting the top off since to my eye and feel seems ready. and that way more of those bottom buds can get more attention. To grow. Probably taking that whole middle area about 3 1/4 down
2 years ago
Budds420! A lot of beauty and imperfections.. I have two other seeds of this strain I hope to correct myself with those two and get better yield and results I had an awesome time growing this 🧬 🙏
stick e fingerz Bro truth and facts 💯 How them trichomes looking on the top bud if you have cloudy and a touch of amber I'd cut the top off and let the rest keep maturing just like you said 👍👍✅
Budds420! Yeah tomorrow I'll hit up the grow store and get one of those small tools to get a way closer view and go from there 🙏
View 4 additional comments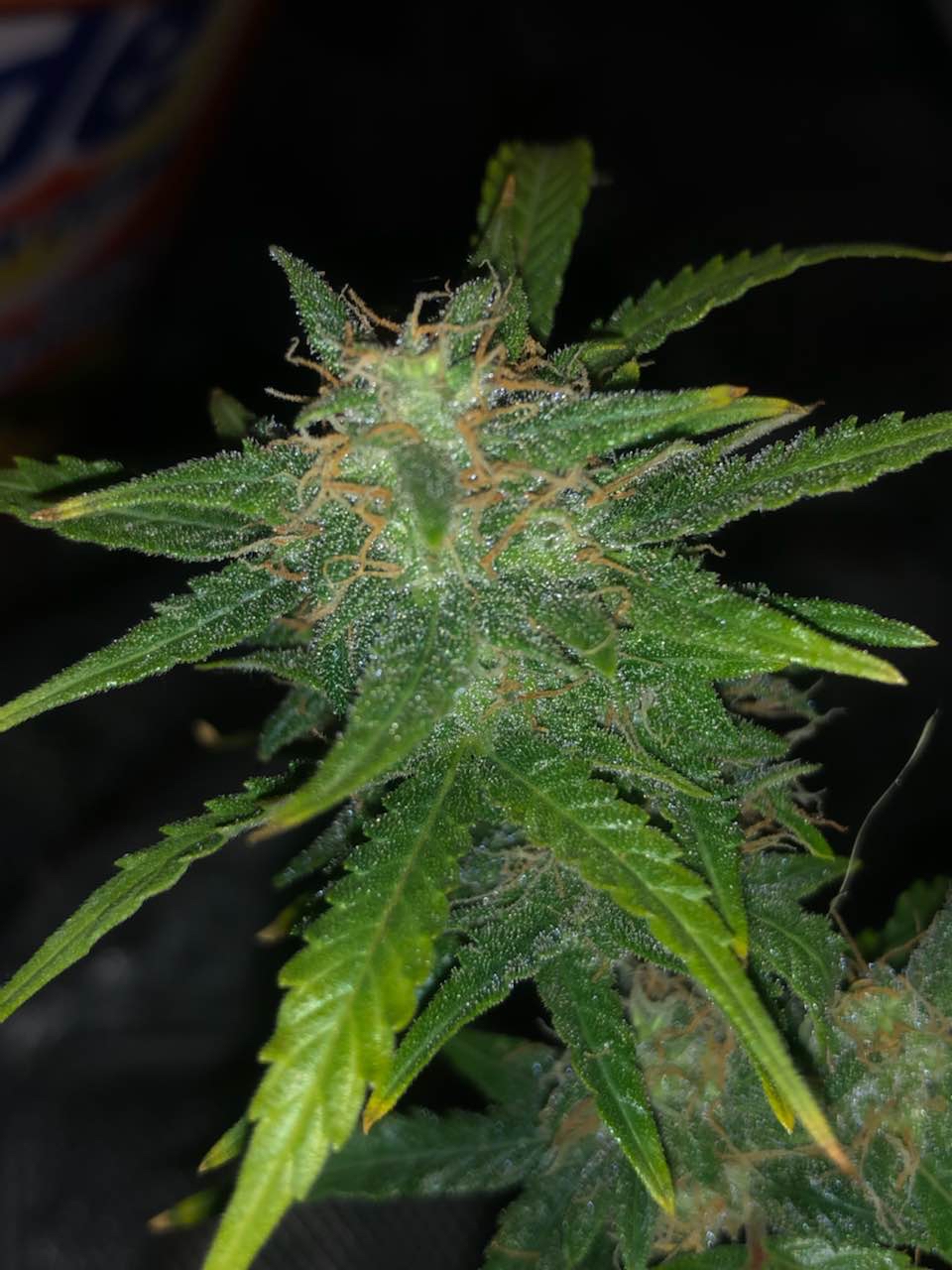 Been giving 6.5 ph water only no addings I had it in a bigger tent with a 1000w hps light I brought it back into the smaller tent with the led full spec.. tips stayed the same burnt due to light.
2 years ago
Got some burnt tips but In second week of flower. Looked up and read on some solutions! Giving straight water no nutes.
2 years ago
emd555 May be the start of potassium deficiency I would do some research before u stop feeding … https://www.dudegrows.com/spotting-problem-potassium-grow/
Budds420! It's an auto flower this specific strain doesn't need a whole lot of nutes. The soil it's in carries a lot of properties already and it's already in its ending stages. Thanks for the link I'll check it out I came up with one of two things a light issue because I have been excessive with leaving it under for 24 hrs. Or it was a ph thing. Nitrite issue too. Thank you again for the input it's been giving me a headache hahah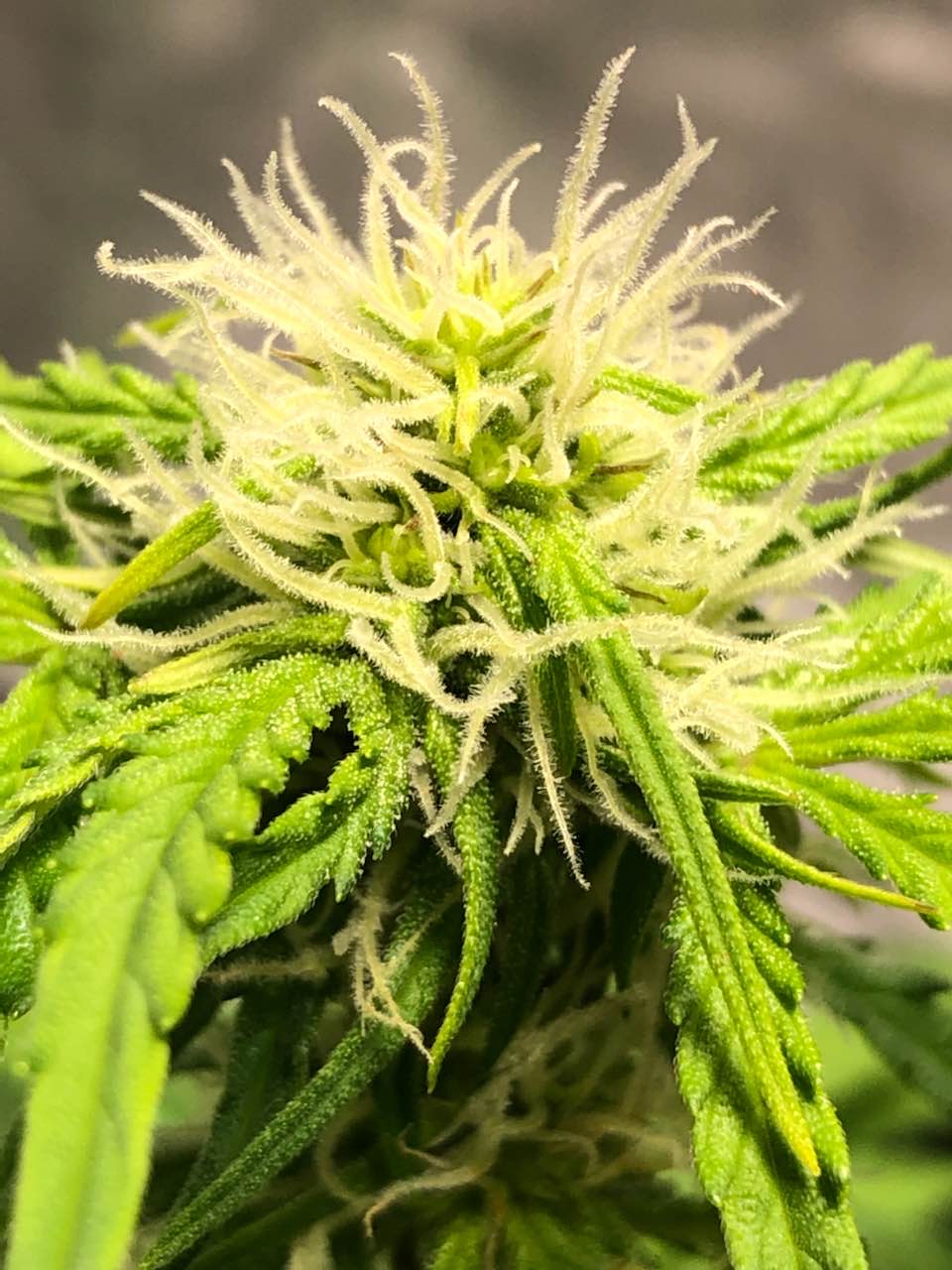 To me looking good, so I made sure to add parts of the burnt tips from the light so I dialed it down no biggie. That or a ph issue.
2 years ago
Grew some! Second week of flower stage. Pic of the main branch pic 4. I still have a 3 pack saved, I'm contemplating just germinating them, or keeping them in the seed bank..
2 years ago
Flowering and growing upward! Other then that nothing new happening. Been thinking of tying a camera in there to do a time lapse of the plants!
2 years ago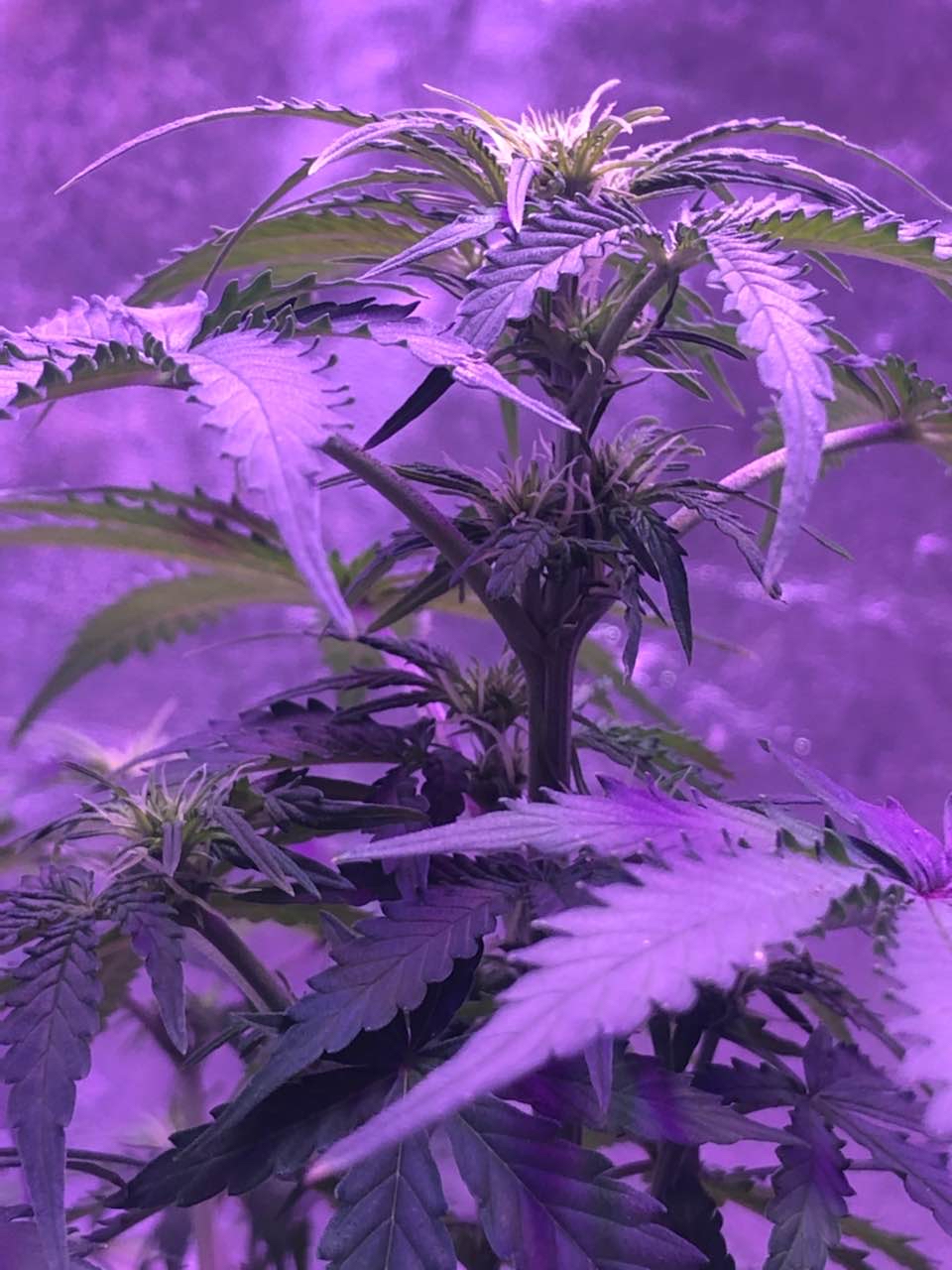 Got some flowering going on
2 years ago
lettuce97 ive been waiting to see a taste buds run. what u think so far. i follow them on insta
Budds420! Honestly I like em for now this is my first run with this company I went threw North Atlantic seed co. but so far everything going good! I have a three pack still in my seed bank just to hold onto. I'm excited to see the outcome
Budds420! I had to get rid of my insta 🤦🏽‍♂️ I was following them hahaha
View 1 additional comment
So last night I switched pots out for this baby girl here. There was an issue with the water going all the way threw not enough air flow. Wayyy better now leaves are sticking outward as apposed to droopy like they were. Now just been hitting with clean water then next week I'll give her some nutes slowly.
2 years ago
Took some fan leaves off this baby she's growing but I'm starting to have a little feeling she may have root rot 🤞🏽 hopefully not…. 🤞🏽🤞🏽
2 years ago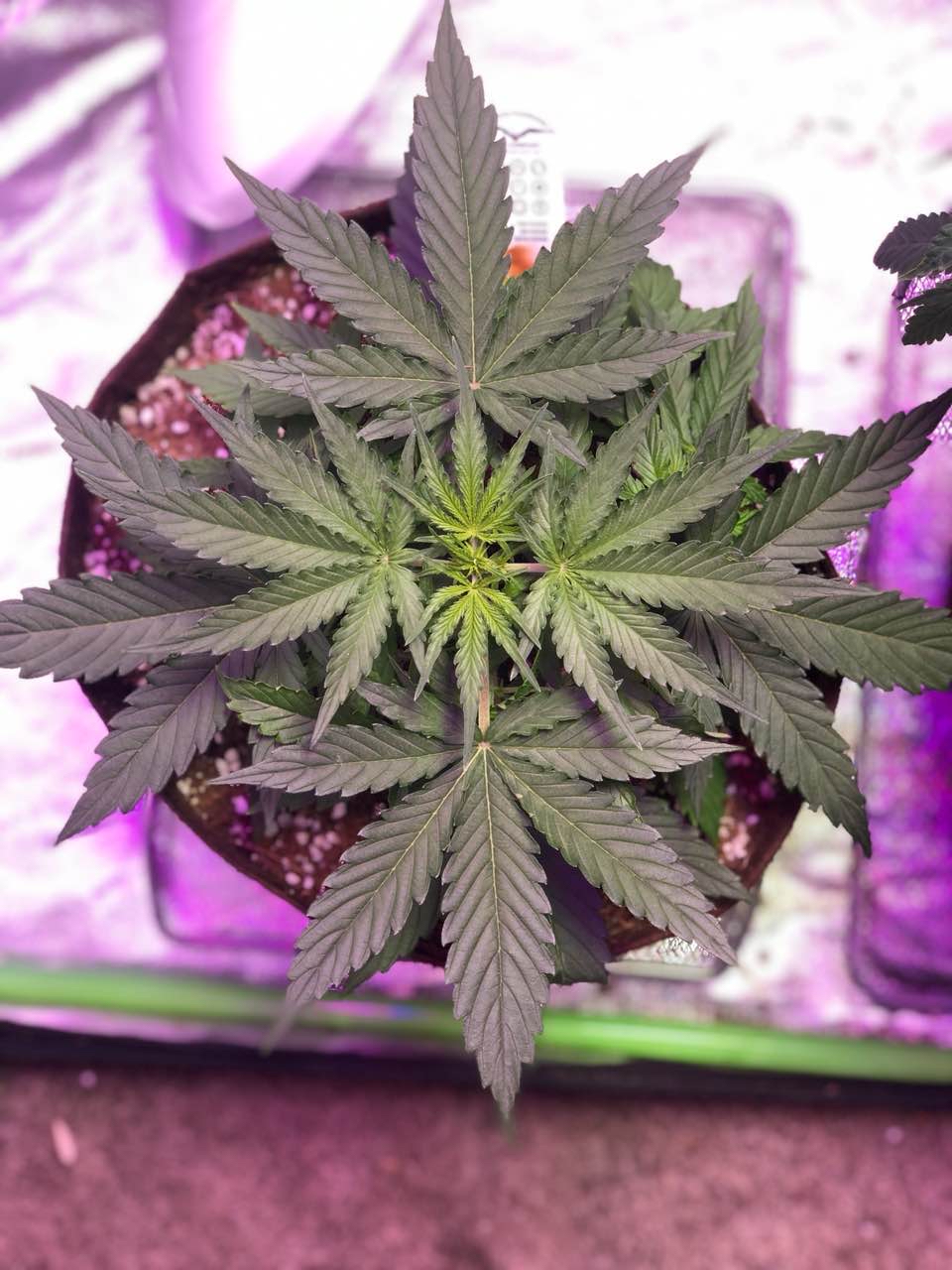 Has about 4 nodes going to top on the 5th or 6th.
2 years ago
Raised the lights to the top of the tent for these babies 🍁 other then that I'm pretty happy…
2 years ago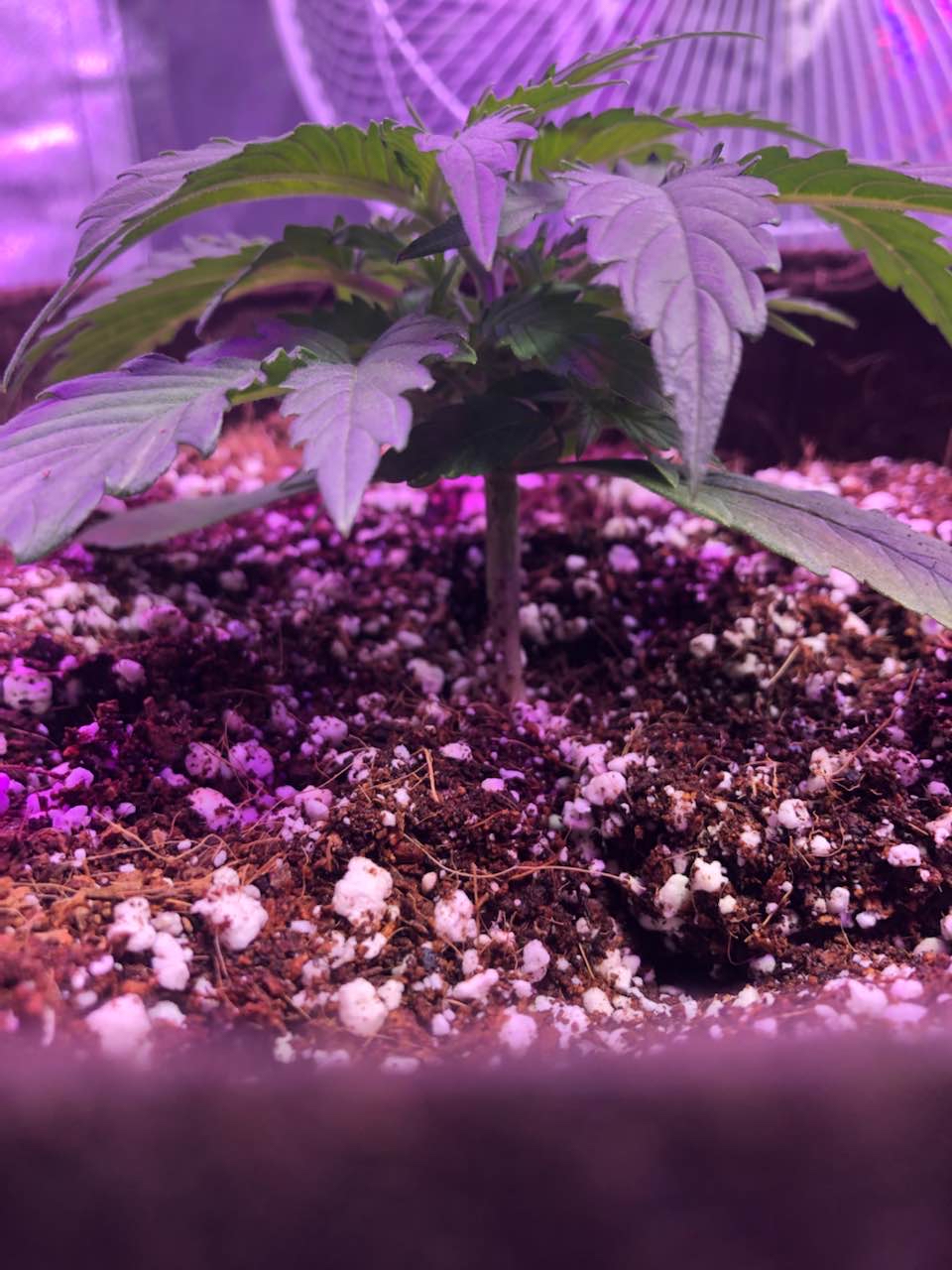 🤌🏾 purple punch 🥊
2 years ago
Same update light was switched to 18/6 soil is dry looking up top but under it's still moist so I'll wait to water the bag still has weight to it. Happy new year green thumbs!! Hope everyone's crops flourish!
2 years ago
Budds420! Hey(: thank you! I'm super excited first time with an auto flower! How's yours going ? Did you add any more soil?
NellEightyEight Yes great thanks! Transplanted and added more soil today (everything was closed so I couldn't get supplies until now!) 😊 I appreciate the advice🥰
View 5 additional comments
Moving along two side leaves longer then the rest has doggy ears
2 years ago
Nothing to update
2 years ago
Nothing really happening yet but there she is (:
2 years ago
Has poped and moved it into here
2 years ago