Grow #2
Indoor and Outdoor
5 plants in 5L fabric pots. 3 Banner, 2 Unidentified. 4x4 tent at 17,000-21,000 lux in Veg. Full spectrum LED. Veg and Bloom switch ON during Veg. pH 6.5 during feeds - 'Grow Girls Grow' - and 6.0-6.5 when watered. Feeds supplemented by 'Real Growers Recharge'. Potting soil is undocumented. Used Miracle Grow for a few and Shultz for others.
Banner, Cinderella 99, Unknown
Harvesting the front two plants. They smell AMAZING! I want to eat them.
7 months ago
Watered. Ph'd to 6.0. Lower leaves dried out due to water frequency. All natural lollipopping lol
9 months ago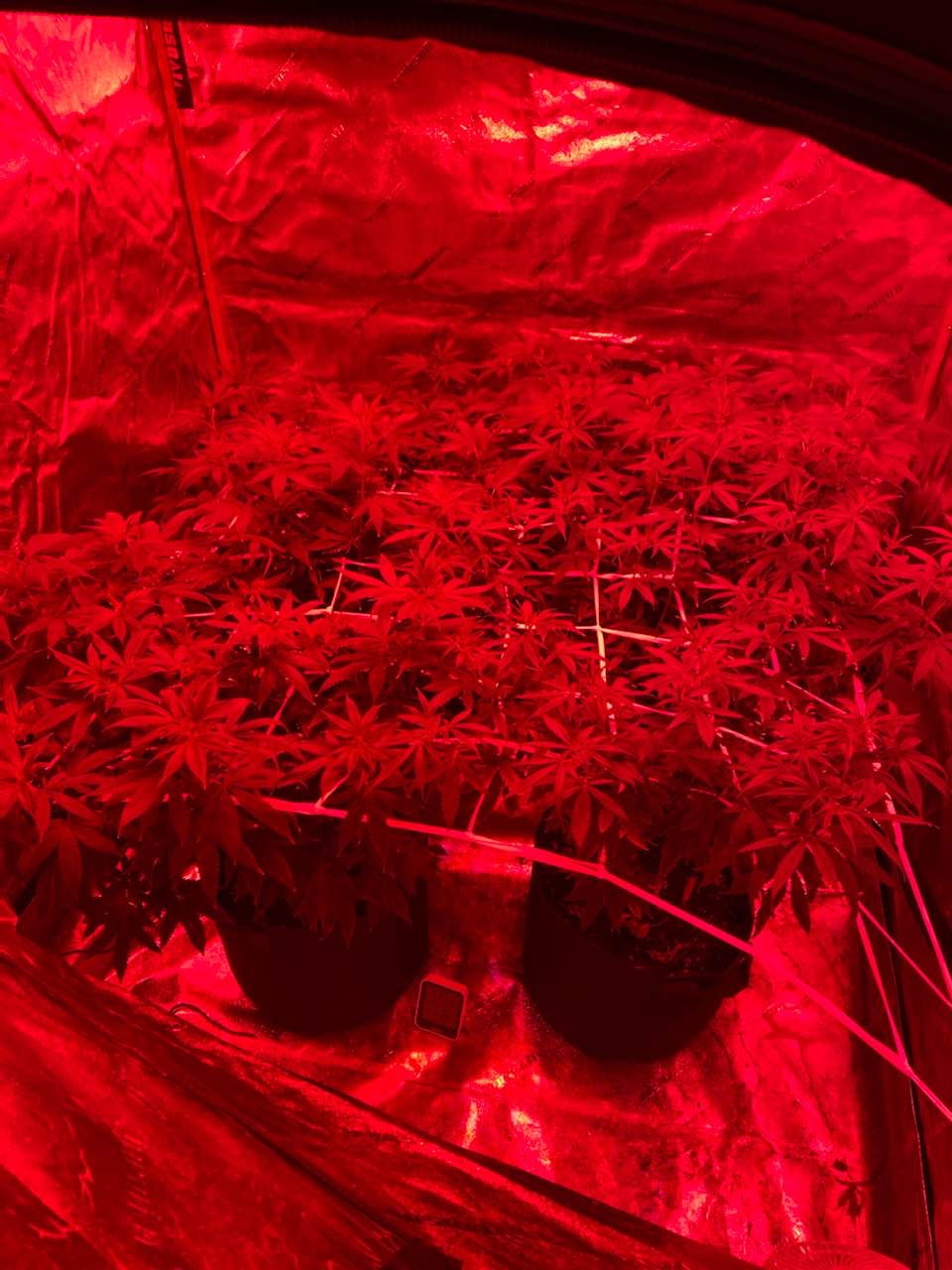 Switched to their flower nutes. Ph'd to 6.0
9 months ago
gpurps Yeah I'd be afraid to sleep with that in my house haha
Watered and nute @ 1/4 strength. Flip to flower in about a week due to low night time temps outdoors. Outdoor girls look like they're itching to get out there.
10 months ago
Defoliated. Watered pH 6.2. Itching to flip. Patience…patience!
10 months ago
taccooo I feel you how many plants do you have? What size tent?
TheMorrisGardener Tent is 4x4 with 8 plants and 4 small clones hidden at the front. 3 plants will be going outdoors around May 24. I'll be taking one of the 5 remaining plants as a mother and air layer clones off her. I clipped 80% of the large fan leaves and it's still busy as hell. The scrog really made a big difference in an explosion of new growth.
taccooo That's awesome yea I was wondering because I have mine and I'm about to flip too in a week or two and I only have one plant it's my first grow chevk it out and let me know your thoughts
Watered and fertilized
10 months ago
TheMorrisGardener This is the first time I've gotten them to look this healthy and full! Looking forward to a tent full of buds!
trichometheatre There could be a few different factors genetics if you're using living soil or salt base nutrients what light you are using and I think the most overlooked is water. Also it's really nice to be reminded that it's not always us that is responsible for a grow that fails while on the other end it's nature that ultimately decides all; and you try and guide the process
View 1 additional comment
Watered pH 6.0-6.2. Tucked new growth. Will flip after 3 plants go outside in 5 days.
10 months ago
Defoliate, water & fertilized. Rebalancing soil pH and will pH to 6.0 in future instead of 5.7/5.8 as noticed brown spots on some lower leaves.
a year ago
Watered with half strength Miracle Gro single pack
a year ago
TheMorrisGardener I know :(. I have Grow Girls Grow and that has RAVING reviews but it just doesn't keep up with my plants needs. I use heaping teaspoons, water like 2-3 times a week so they're getting fertilized weekly, and they're STILL showing Mag and Nitro deficiencies. The miracle gro was 24-16-21 or some shit versus 8-4-6 for my Grow Girls Grow. I was hoping it would give them a much needed PUNCH of nutes. Pretty much at my wits end as my last grow suffered with nitro issues in flower and I lost a large portion of my yield.
Watered. pH 5.7. 4.5 tsp Grow Girls Grow. May use a stronger fertilizer as I'm constantly fighting nitrogen deficiency issues. Plant growth has slowed and many leaves show both magnesium and nitrogen deficiencies.
a year ago
LST and feed. 4 heaping tsp of Grow Girls Grow, 1 heaping tsp of Real Growers Recharge, 2 tbsp of Molasses
a year ago
LST. Noticed juvenile Fungus Gnats. >_>
a year ago
Watered. pH 6.1. Grow girls grow 1/2 strength. Real growers recharge. Signs of nitrogen deficiency. Half strength as they're still recovering from toxicity. LST. Topped 3rd node.
a year ago
Mild nitrogen deficiencies in some leaves of specific plants. New growth is healthy so will not flush. Watered with 5.8 pH. Plants don't seem to like it as their leaves drooped. Some plants to be gifted or put outside. Only fabric pots will remain.
a year ago
gpurps Not liking the Homer buckets?