C99-2
Cindy 99 Clone
10 week old clone
Flushing today. Ready to harvest Saturday.
4 years ago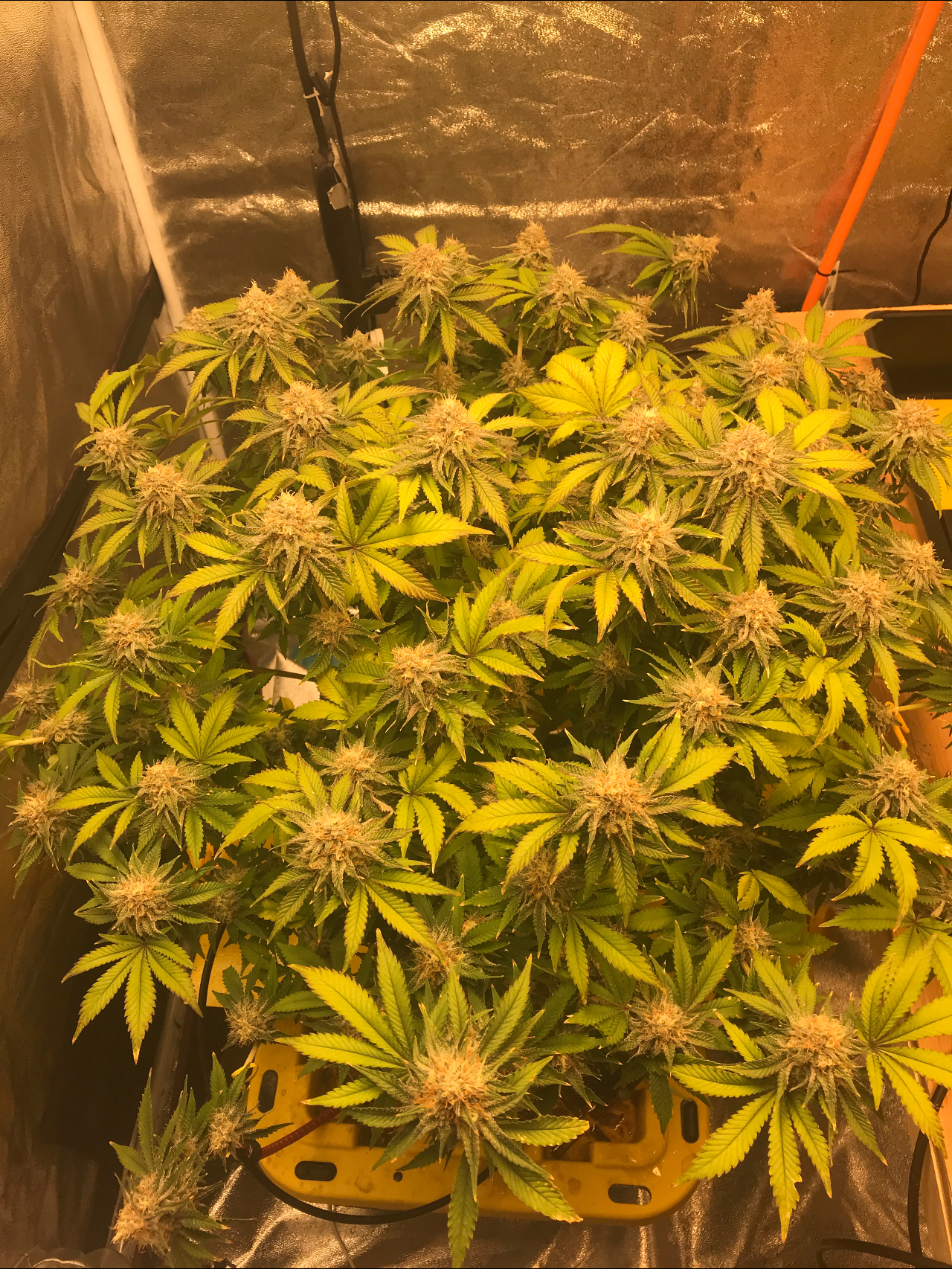 Changed water. Running ripening mix. A little extra MOAB for the next 7 days. Drinking lots of water again so putting back on 2 times per day watering schedule (every 12 hours). Last two batches I started flushing around day 49, going to push one more week of nutes and see what she does. PPM is 915.
4 years ago
Changed water Sunday 7/21. Used week 7 mix. Added additional calMag 7ml/gal. Getting some yellow in leaves but overall plant looks healthy. 18 more days till harvest. On another note, one of the clones taken 3 weeks ago has finally sprouted a root. This strain will survive. Here's week 7 mix 3ml flora micro 6ml florabloom 7ml CalMag 1ml Floralicious plus 10ml FloraNectar .6ml MammothP 1ml AmourCI 5ml KoolBloom liquid 2 Tsp for 7 gal of MOAB 1 tsp Great White
4 years ago
View 4 additional comments
Water change. Week 6
4 years ago
Changed nutes. Added 1tsp of MOAB. using week 5 feeding. Week 6 I'll double MOAB to 2 Tsp per 5 gal. Cindy looks to finish early at end of week 8. I'm going to keep her in full nutes till day 57 and flush for 5 days.
4 years ago
Growing well. Will change nutrients tomorrow to week 5 plus add bloom boosters. MOAB. Worked really well last plant.
4 years ago
Changed nutrients to week 4 mix
4 years ago
Defoliated a little early. It really needed to be thinned out to expose the bud sites to more light. I've done this to both plants and it seems to have little stress and I see a bounce back in fan leave production in three days.
4 years ago
Water change. Well 3 schedule
4 years ago
Week 2 nutes. Decided to remove net. Branches too tight. Keeping light about 24" away this time. I'm also at 80% power
4 years ago