Fastberry 5&6
Last of the fastberry seeds
Two Fastberrys from Fastbudz in 3 gallon pots, half Happy Frog and half Ocean Forrest
Fast growing autoflower (purple indica)
I can't even put a filter on it , it looks way too good!
a year ago
Trimming time. Some one come help!
a year ago
Longest I've ever ran this strain I think. Waiting on amber trichomes but I'm not seeing any at all. There is a percentage of them are an opaque pink though and look a bit shivled. Maybe they are just appearing pink instead of amber? That's a foolish but hopeful thought lol. Oh well I'll give her as long as she needs but I'm done feeding her, I'll water every other day. But I don't wanna push it too long looking for something I'm not going to find , I've been using a 30X jewelers loop.
a year ago
lemiwinks I've heard that some auto strains don't get amber trichs…
Chopped the 4th, keeping humidity between 50-70 and temp between 60-75 is best I can do for now
a year ago
Meanwhile this one is still rockin out with her smok out
a year ago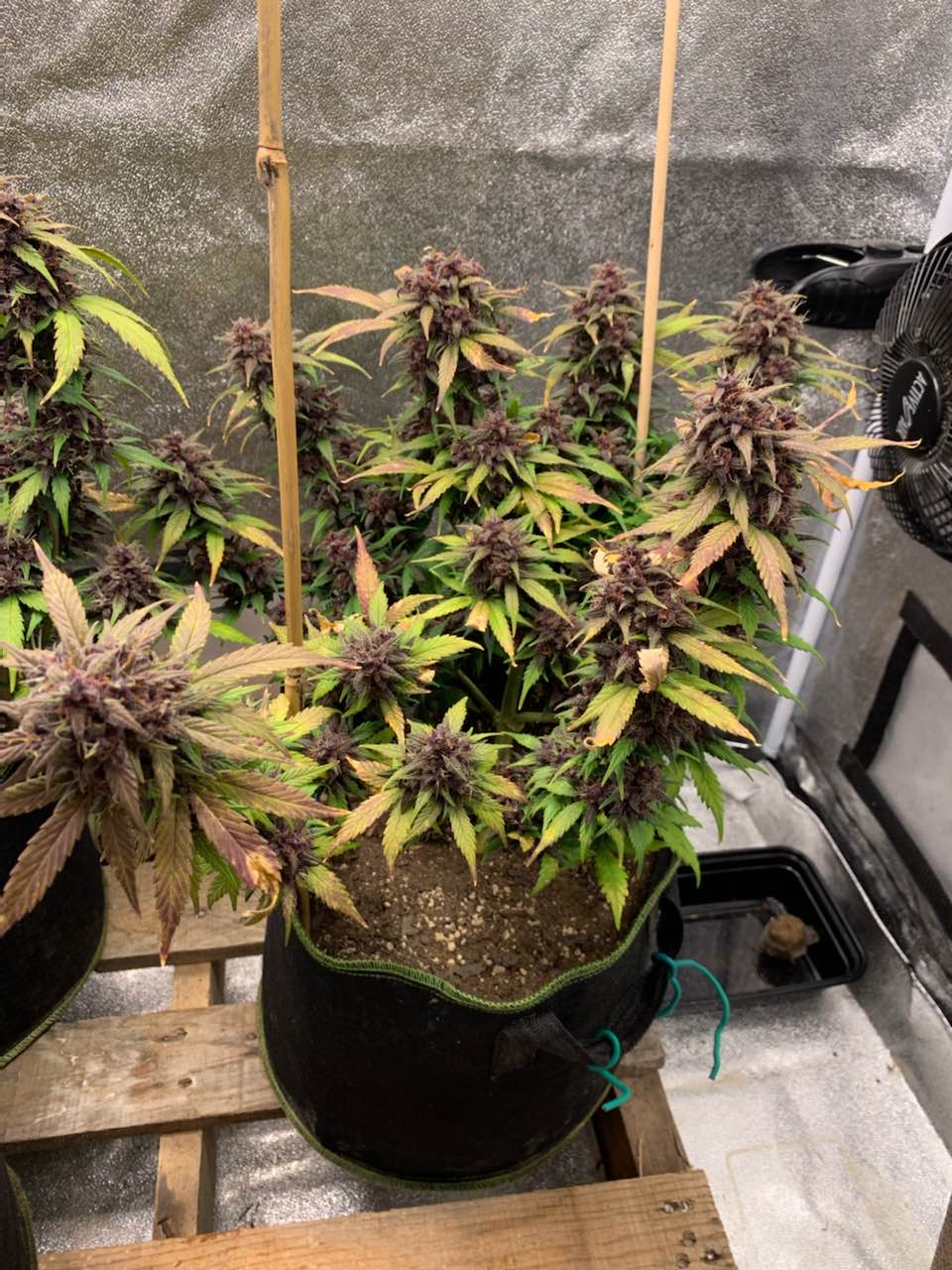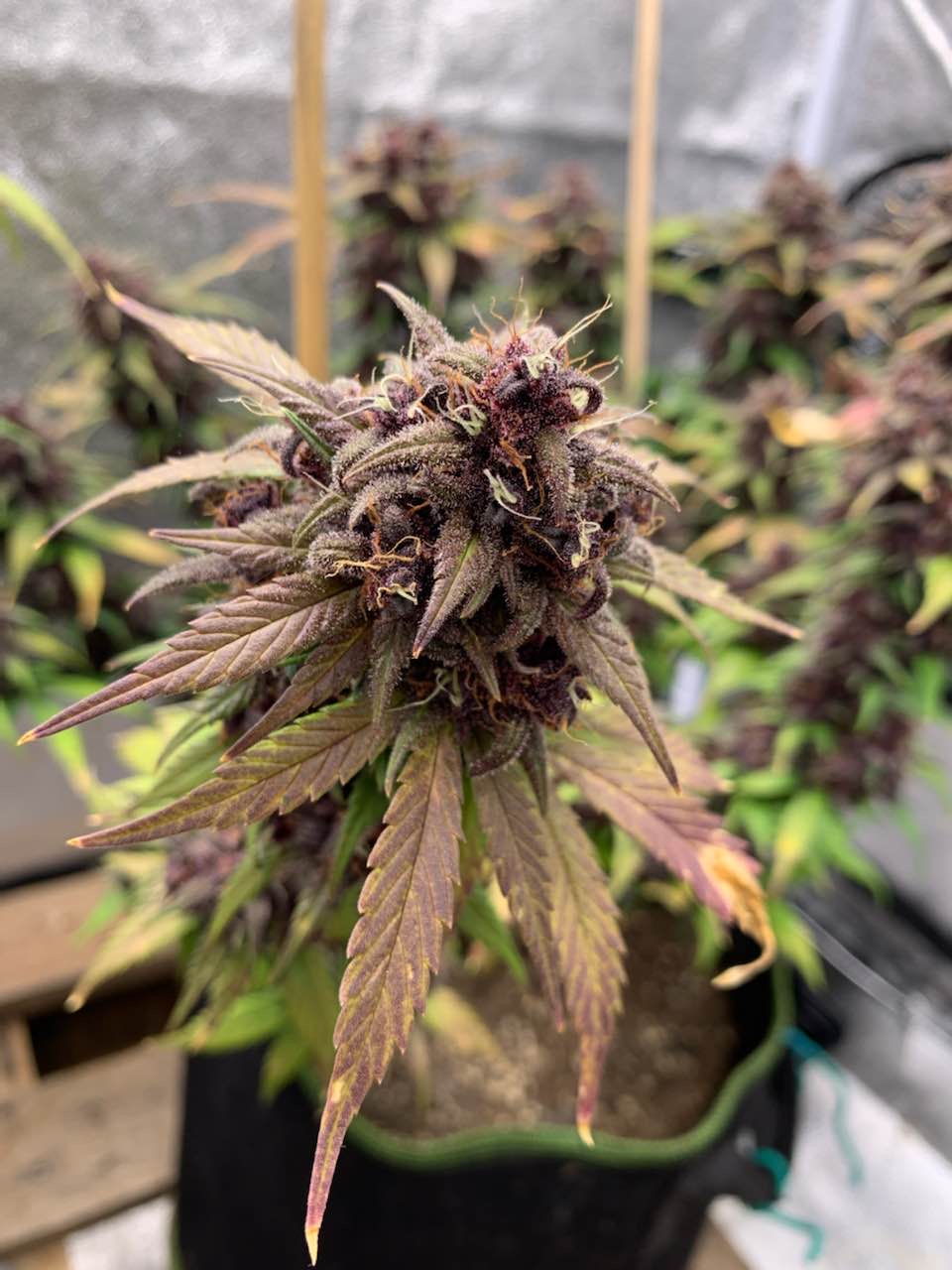 Kind of waiting for Fastberry5 to catch a fade like Fastberry 4. Fastberry 4 still exhibiting clear trichomes
a year ago
stevesrt425 Hey bud I see your growing the fastberry u mind taken a look at mine
These ladies seem ripe for the picking. I think I oughtta give them another week at least but the one that is fading hard is almost certainly finished
a year ago
I think the first pheno just another 7 days but the 2nd might need another 2-3 weeks
a year ago
Y'all don't understand how freaking stoked I am on theses 2 fastberry autoflowers. Im sorta wondering why this first one hasn't began fading yet. Chalking it up to variance in phenos. I'm hoping these nugs will dry in time for Halloween. I quit trickin hos but I still got dem treats know what I'm sayin lol. Usually these plants are ripe for the picking come day 63 but I think they need another week at minimum. What says you? Trichomes are pretty perfect cloudy white tall mushrooms
a year ago
I think this is the closest I've gotten to my trichomes on my phone
a year ago
I just can't get over how beautiful this plant is. I may have had some beginners luck with the LST. #neverfilter she's fading a little quicker than I was expecting, cuz those flowers still have a couple weeks to go for sure. (The true top is picture 2) But it's making for some beautiful colors, this harvest should be just on time for Halloween. I'll nickname the strain "frankenberry" sounds better than fastberry 😂 this smoke will be the perfect treat for the holiday. If you are going trick or treating, you should knock on my door mwah-ha-ha-haaaaa!!!Happy growing and Happy Harvest all you gromies
a year ago
Alchemist710 Thanks 89! Happy growin man ! I'll follow you , follow me back ?
Usually a lot closer to harvest by now but these plants grew 4 times the size of their predecessors so it makes since. Usually they are ready by day 63 but I think these are gonna push it to 90
a year ago
Both of these were planted at the same time. Do y'all think I need to give the one that's fading harder some cal mag or something? I know they are supposed to fade with flower but one plant is way more green than the other
a year ago
Saticoy If they are at the end of flowering this is a good thing. Leave them alone. They are using all there remaining nutrients.
Day 43?! Awhhhh shit! You know what that means! Just 20-30 days to bud up biggie!
a year ago
Overall these look amazing. However taking a closer look there's some weird stuff going on with the fan leaves. My guess is maybe mild light burn? I don't think I have any pests in here, if light burn isn't the answer then I must have a real nutrient deficiency happening
a year ago
CannaMed79! I've been told the rust spots could be magnesium deficiency.
Words cannot explain how excited I am about these Fastberry autoflowers, if you look back at the first 3 Fastberry plants I grew untrained only yielded about a half oz each. I cannot wait to see how much dark purple bud these gals produce! And with just 30 days to go 🤯 thank God for the genius that decided to cross cannabis with ruderalis to begin the way for the fast yielding, hardy ass autoflower strains we have today ! I haven't had to use anything extra on these either, only did one top dress with earthworm castings and Gaia Green power bloom which I do for any plant transitioning into flower, autoflower or photoperiod. Who would had thought that doing things organically is actually way easier and more simple. I love not having to worry with mixing bottled nutes into the water I give my plants. Does anyone here use different feeding schedules or methods for autoflowers vs Photoperiods?
a year ago
I didn't decide to start training these ladies until day 21! Just 17 days ago these plants only had one single top! Cannabis is certainly the most interesting flower on earth
a year ago
These gals are gonna be beasts
a year ago
Spread those shoots baby
a year ago
I had a feeling these were preparing to go into flowering , so I fed them some Gaia green Power Bloom last night. Some how the soil has mostly dried out already and I've only been needing to water every 3rd or 4th day. Must have had some real thirsty roots
a year ago
Tucking leaves bruh got the canopy looking like sexy neat lil bush
a year ago
Trying to keep 'em tucked, but these broads have some fat fan leaves.
a year ago
My first attempt at LST on an autoflower … advice?
a year ago
This is by far the biggest fastberry I've grown yet. Do y'all think it's worth trying to LST? The leaves are so big they are the circumference of the 3gal pot, and the crazy part is I ran out of soil when going to plant this!! So it's only like 2/3 full of medium , I was considering transplanting it into a 5 gallon
a year ago
Got a new tent and light!
a year ago
I love watching how quick these babies grow! The big one in the front has some vigor about her. Those leaves are almost big enough to reach all edges of the pot. I want to LST but I'm not sure where to start with these.
a year ago
Nodes stacking close, gonna have a couple shorties
a year ago
The second plant was stunted a little I had a gnat paper shading it for a day
a year ago
Fixed high humidity with a small exhaust fan
a year ago
The second one got stunted by a fly paper covering it :/
a year ago
I didn't expect the soil to sink so much after I planted my fully germinated seeds. (I think I let 'em go too long in the paper towels the taproots were a solid 2" and they were growing leave and shedding the seed already) I plan on using LST diligently to increase my yields, because the fastberry Christmas trees I've been growing are only yielding about 12 gs per plant. Will I be able to make up for my lack of grow medium by top dressing? Or will I need to transplant these into 5 gallons? I was trying to bypass transplanting but haven't had any issues transplanting this strain before. What says you? Is that approximate 2 gals going to be enough if I top dress with earthworm castings mixed with Gaia green 4-4-4 and ocean Forrest ? Or is it going to be better to wait a couple weeks then transplant into a bigger pot with more soil? I'm looking for quantity in this grow but I stick to the organic stuff.
a year ago