only1juice420
White widow Auto grow (first ever)
Summer 2021
Feel free to Let me know what I'm doing wrong if you see any issues with my grow! 18/6 , coco loco mix from fox farm, fox farm trio, and going half strength on nutes every other watering
White widow auto - Seeds supreme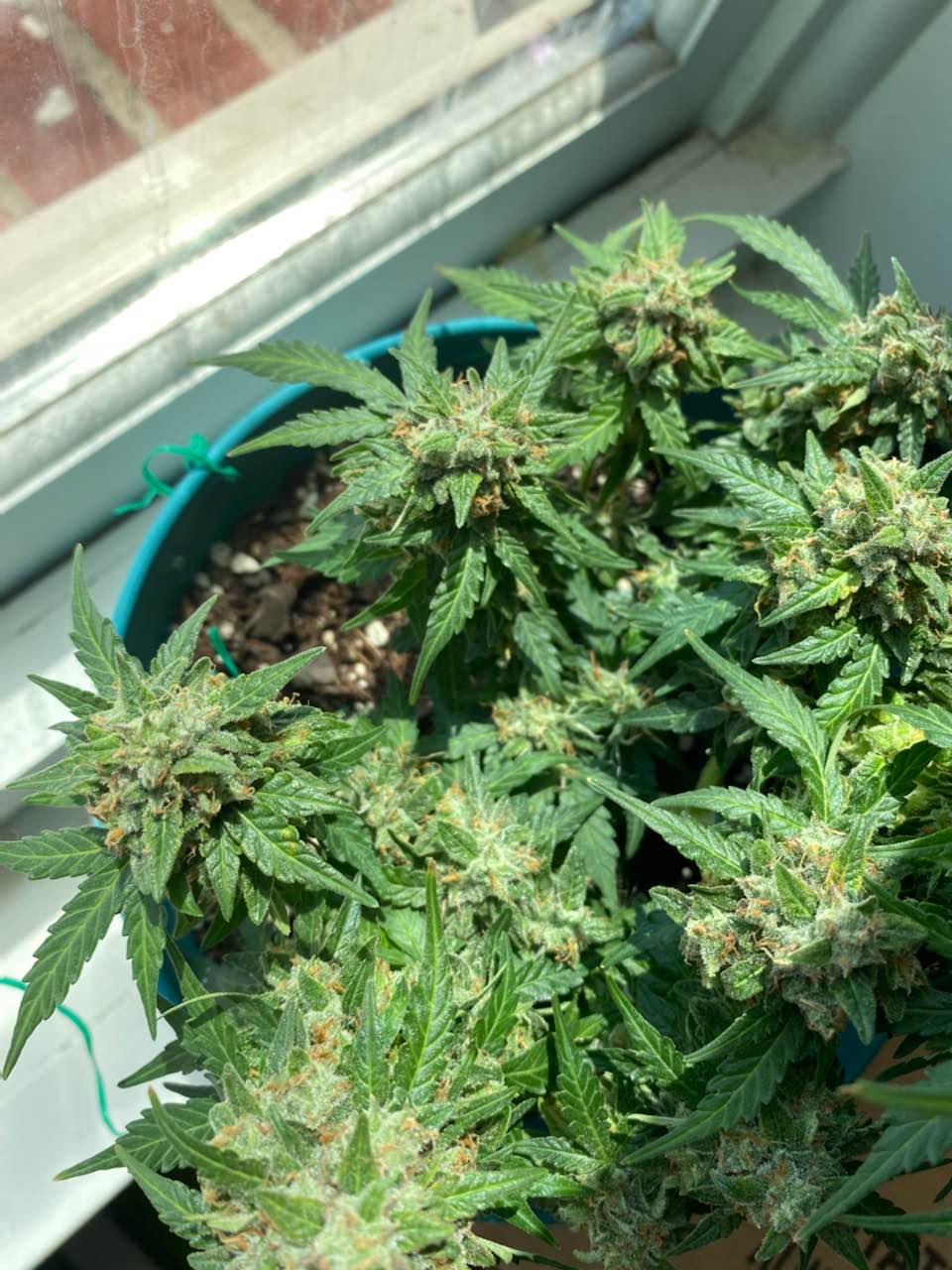 Natural light shots... giving her sunlight and just gave 1/4 strength FF Bembe ph'd to 6.3 to help her finish . She'll get nothing but ph'd water from here on out 🙏🏾 slight purpling
a year ago
Officially starting final flush! Nothing but Ph'd Ro water from now on
a year ago
Starting final flush... Going to let them finish with just ph'd water
a year ago
Diesel auto I'm growing along side my white widow.. is that light stress??
a year ago
NopeQQ I think there are too many nutrients
only1juice420 I don't feed often just molasses and sea kelp once a week
Nug shot ! Trichromes still clear !!❄️❄️❄️
a year ago
Just going to let her finish . I think I done with nutes for this girl
a year ago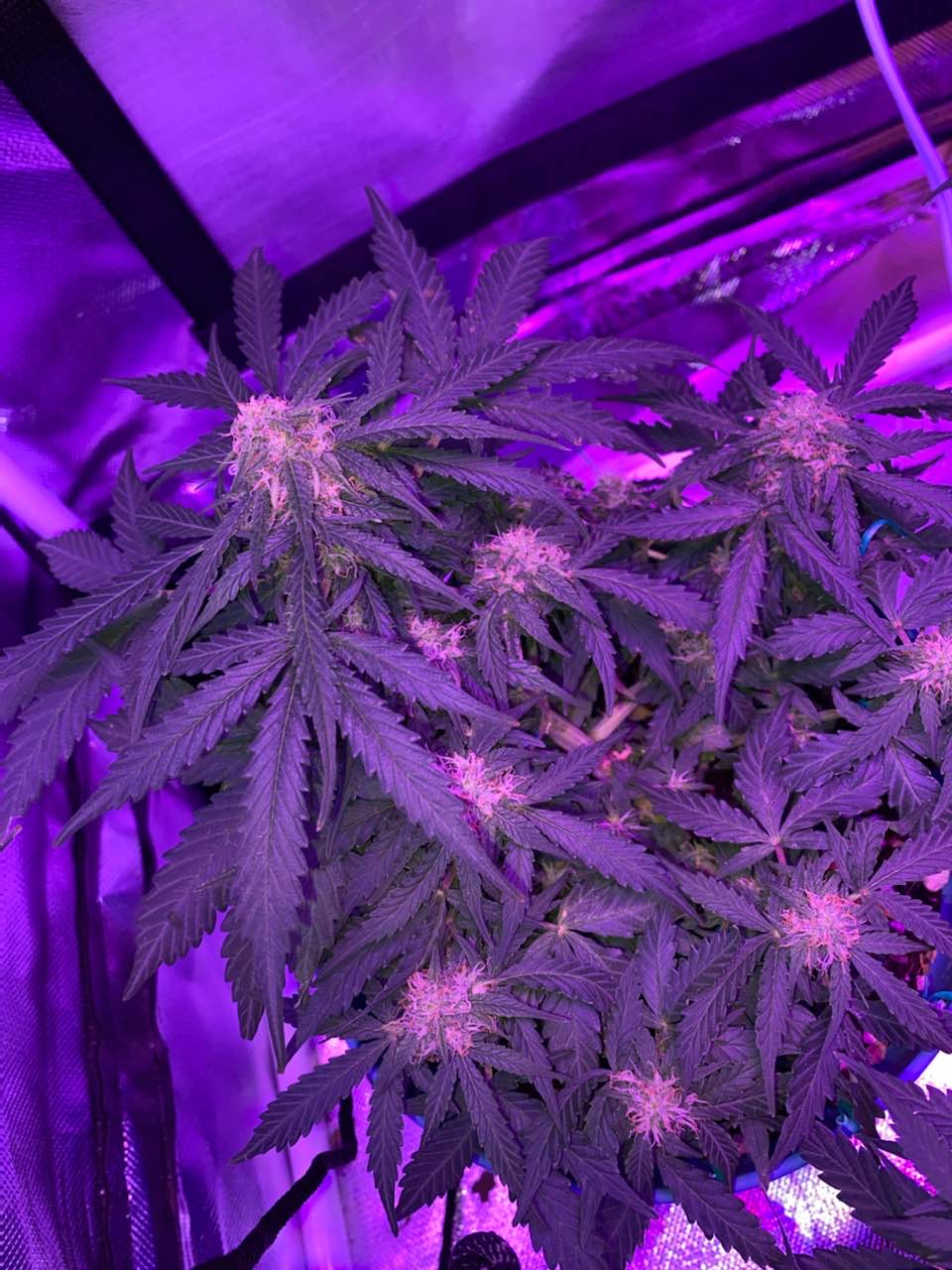 Going for nice dense frosty nugs. She doesn't seem to mind the being on the closer side to the light 🙏🏾
a year ago
Looking good going to wait a few days to water💪🏾
a year ago
Just gave a nice 6.1 water last night runoff was 6.4 somehow lol🤷🏾‍♂️
a year ago
Fed last night at about 50% strength bloom nutes with liquid seaweed and ph'd to about 6.1 . nugs are frosting over and getting fat!!
a year ago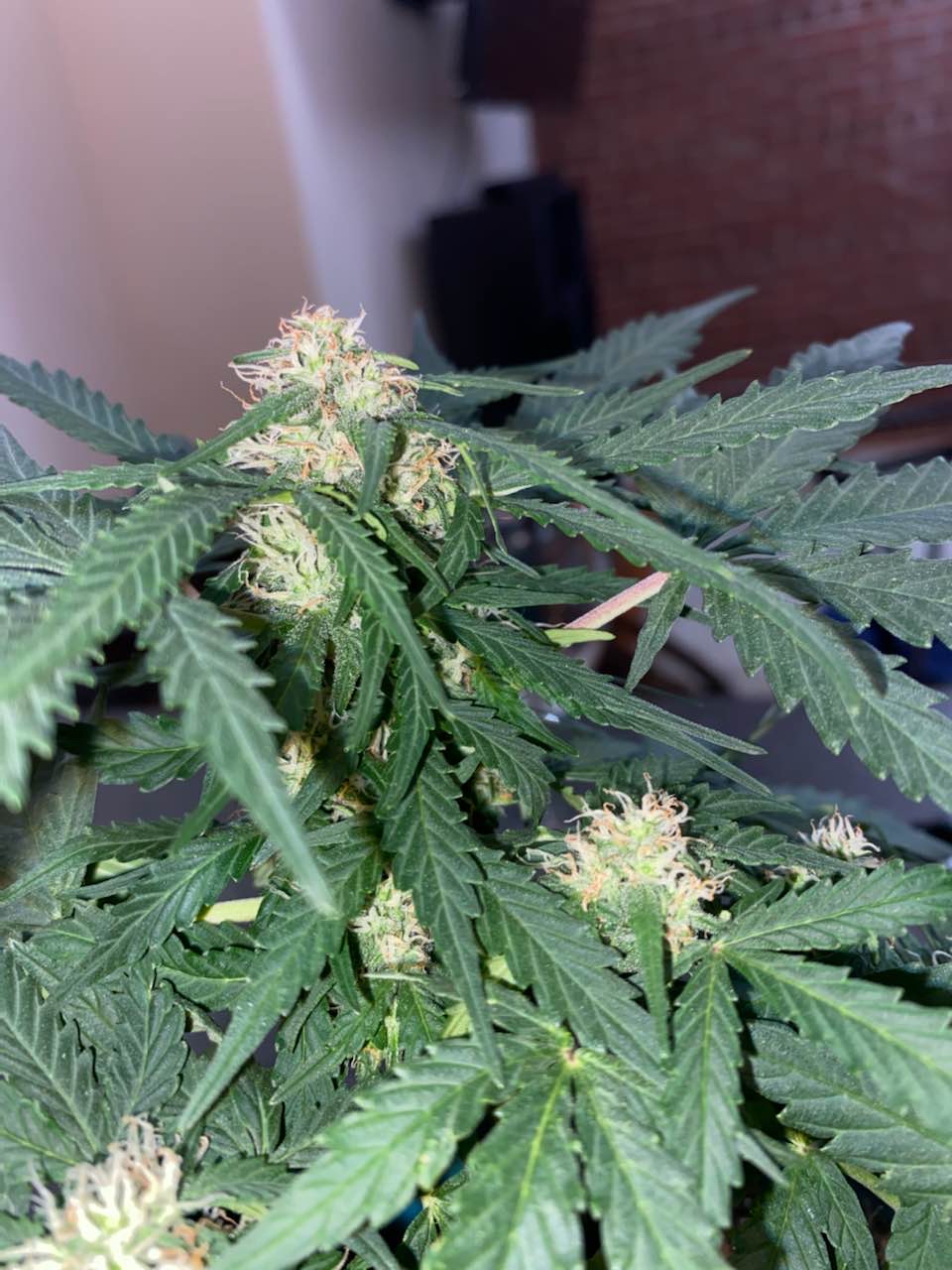 Flash/No flash is it me or my leaves a little dark?🤔
a year ago
moneymike1983 I think the same of mine. Looks dark. Any burnt tips?
View 2 additional comments
***VETERAN/EXPERT OPINION *** how's she look under regular light . That one fan leaf is a little weird 🤔 starting to frost up a bit 😎
a year ago
Caliban That single fan leaf looks like the only one w a problem? The girl looks healthy. Maybe that leaf got damaged?
only1juice420 I think I may have sprayed some nute water on it accidentally 🤦🏾‍♂️
View 10 additional comments
Regular color starting to restore
a year ago
Leaves are looking a little dark I flushed lightly just Incase I may have burned them? Possibly too much nutrients in the soil?🤷🏾‍♂️🤦🏾‍♂️
a year ago
Buds are fattening up and reaching !
a year ago
Filter tap water and liquid seaweed to hopefully raise the Ppm enough . Still stretching and happy so far !
a year ago
Upper stems still slightly purplish but she's still budding up quite nicely
a year ago
Slight cal mag deficiency? This is the only stem that has a purplish tint
a year ago
Blazin Fiend It might be I'm not sure my white widow also has purple stems/branches . I use Epsom salt every little bit so idk tbh
Caliban You can't go wrong with Epsom salts for Cal Mg. Hard to over feed a plant.
only1juice420 Ok cool thanks I was thinking it was just my lights making it look purple until I took it under sunlight but I have the botanicare cal but it has 2-0-0 Npk should I just do half strength ?
View 12 additional comments
Filling out nicely
a year ago
Looking happy so far. I'm definitely impressed with the growth and flower formation! I think she's going to be a yielder🤷🏾‍♂️
a year ago
Waited until pot was pretty much dry and gave it a full feeding. Widening out a bit . Will change light schedule to 12/12 just because it's not putting on much new growth 🤷🏾‍♂️
a year ago
Sativa357 I don't know for certain, but switching an auto over to 12:12 grime 18:6 may effect the flower process. I would do more research tho. Auto flowers will flower regardless of light timing. The 12:12 may be the answer your looking for, but I got my autos on 12:12 cuz there's feminized that are flowering in the same tent. Wish I could help more.
only1juice420 Thanks for the advice . These are feminized as well but yeah I've been doing my research and some people keep them 18/6 through the whole grow then done switch later in the flowering stage . I'm just trying to keep an open mind to get the best yield and quality bud !
only1juice420 I may now be getting the results I'm looking for bc I raised up my light but didn't adjust the brightness 🤦🏾‍♂️
Spreading the love. Feeding just tiger bloom big bloom and liquid seaweed. No signs of deficiencies yet . And watering when dry
a year ago
Can someone tell me why my leaf is becoming deformed ?!
a year ago
only1juice420 That's what I was thinking but I ph everything at 5.5-6.0 in coco
locker105 Yeah I got the same thing that happened on my white cookies. I think it just naturally happens to certain strains, I never found the root cause of it.
View 6 additional comments
Trying shape her for flower ! Any tips for better yield and quality bud?!
a year ago
Trying to expose these smaller sites ...🤷🏾‍♂️ don't want to stress it out too much. Patiently waiting and shaping her
a year ago
New main colas reaching . Getting ready for flower!
a year ago
Stretching more just more LST. It survived the "heavy feeding" because I went full strength on nutes lolI thought it was going to burn them! Also I never know when the perfect time is to water with this coco perlite mix . Like the coco will be light and fluffy be still dark colored as if it were still damp. That's when I usually water because the pots will also feel slightly lighter
a year ago
Trying to get all the tops equal light (first pic is this morning /the last two are from training last night ) WHITE PISTOLS SHOWING !! Officially Pre flower
a year ago
More training trying expose all the tops. Should I remove some of these bigger fan leaves or will it stress her out too much ?
a year ago
First LST for the girls
a year ago
weazzyefff Looks good. I'm doing white widow autos too
only1juice420 Thanks man I was hella nervous about training them but they seem happy! & mine are from seed supreme I believe
View 5 additional comments
only1juice420 Does anyone know what those little rips on my leaves mean?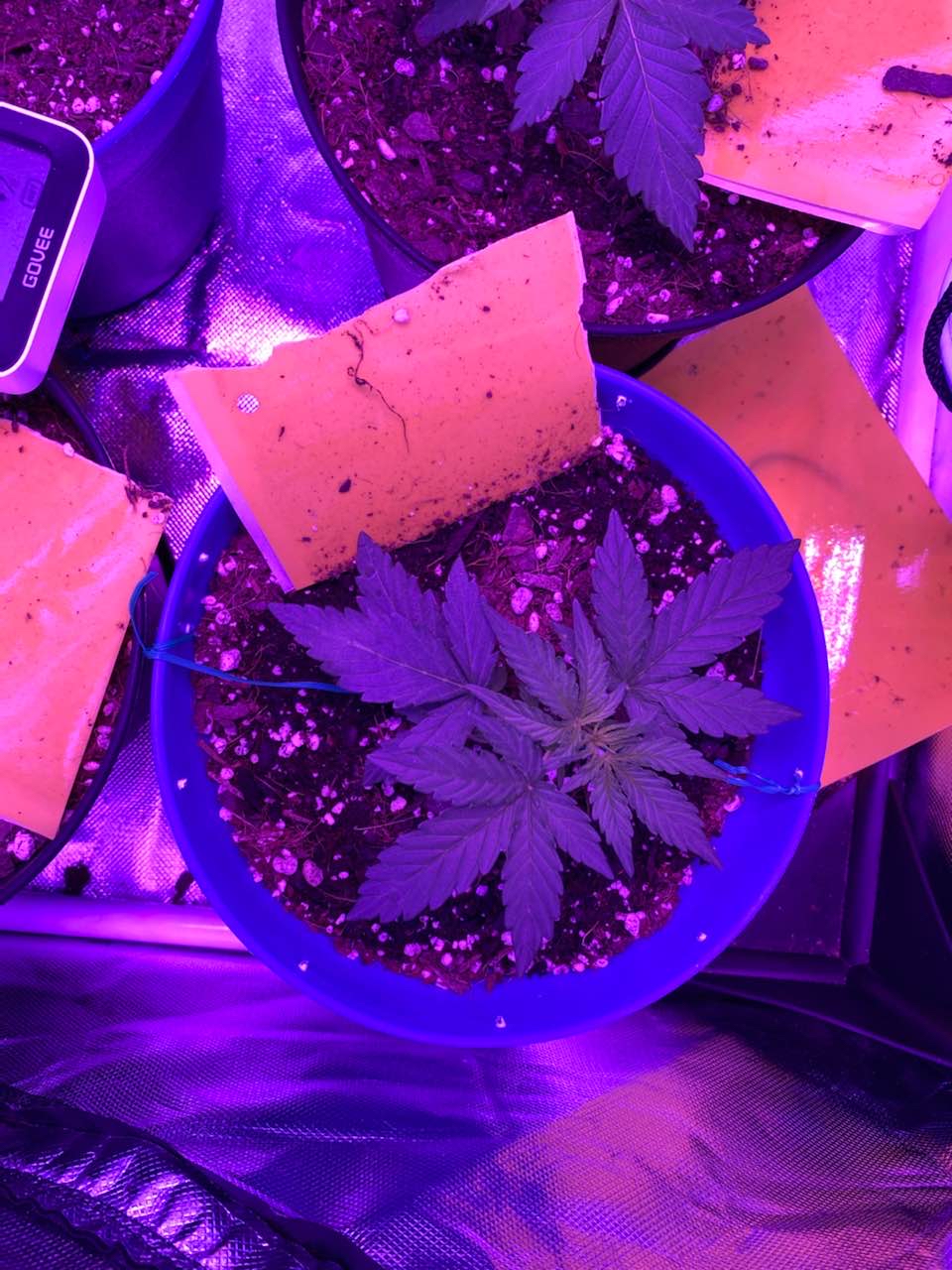 First official tie down
a year ago
Just ro water cal mag/liquid seaweed
a year ago
Sprouted with only one baby leaf
a year ago