mcfyi
Black Cream #2
November 2020
Black cream #2
Black cream from sweet seeds
Cloudy trichs but not amber yet
2 years ago
Need this baby to hurry up
2 years ago
bgeezy Bruh that looks nice makes me want to start a black strain
Getting there...
2 years ago
Added garden wire to hold up low side stems. Trimmed off large dying fan leaves.
2 years ago
Calcium/magnesium issues showing. Fed extra cal mag.
2 years ago
Fed more calcium. Hope that fixed the brown spotting.
2 years ago
More orange hairs but seeing some rusting or brown spotting on some of the leaves. Might be a ph imbalance or a nutrient deficiency. Buds look good though!
2 years ago
Starting to see some orange hairs
2 years ago
Found some brown spotting on a few leaves
2 years ago
Growing fast!
2 years ago
Growing strong. No noticeable deficiencies
2 years ago
Purple/pink buds
2 years ago
Smells like tootsie rolls
2 years ago
This ones unique!
2 years ago
Cut a few big fan leafs off towards the bottom of the plant. Weird looking Christmas tree plant so far. Probably won't get much off this one.
2 years ago
Super cool coloring! Growing really tall. Wish I would've LST'd...
2 years ago
Growing well. Trying not to overwater/over feed. Wish I would've stayed with coco coir instead of switching back to soil
2 years ago
cooney Why is coco coir better ? I use soul looking into switching
mcfyi It's easier to correct issues with coco
mystrain420 Also should mention plants grow bigger and faster in coco. Hydro always beats soil in yields
View 1 additional comment
Showing signs of purple on buds and stems
2 years ago
Looks more alive after the flush. Need to water less.
2 years ago
Set back by thrip invasion. Decided to spray down then flush soil. Hoping it bounces back in a few days.
2 years ago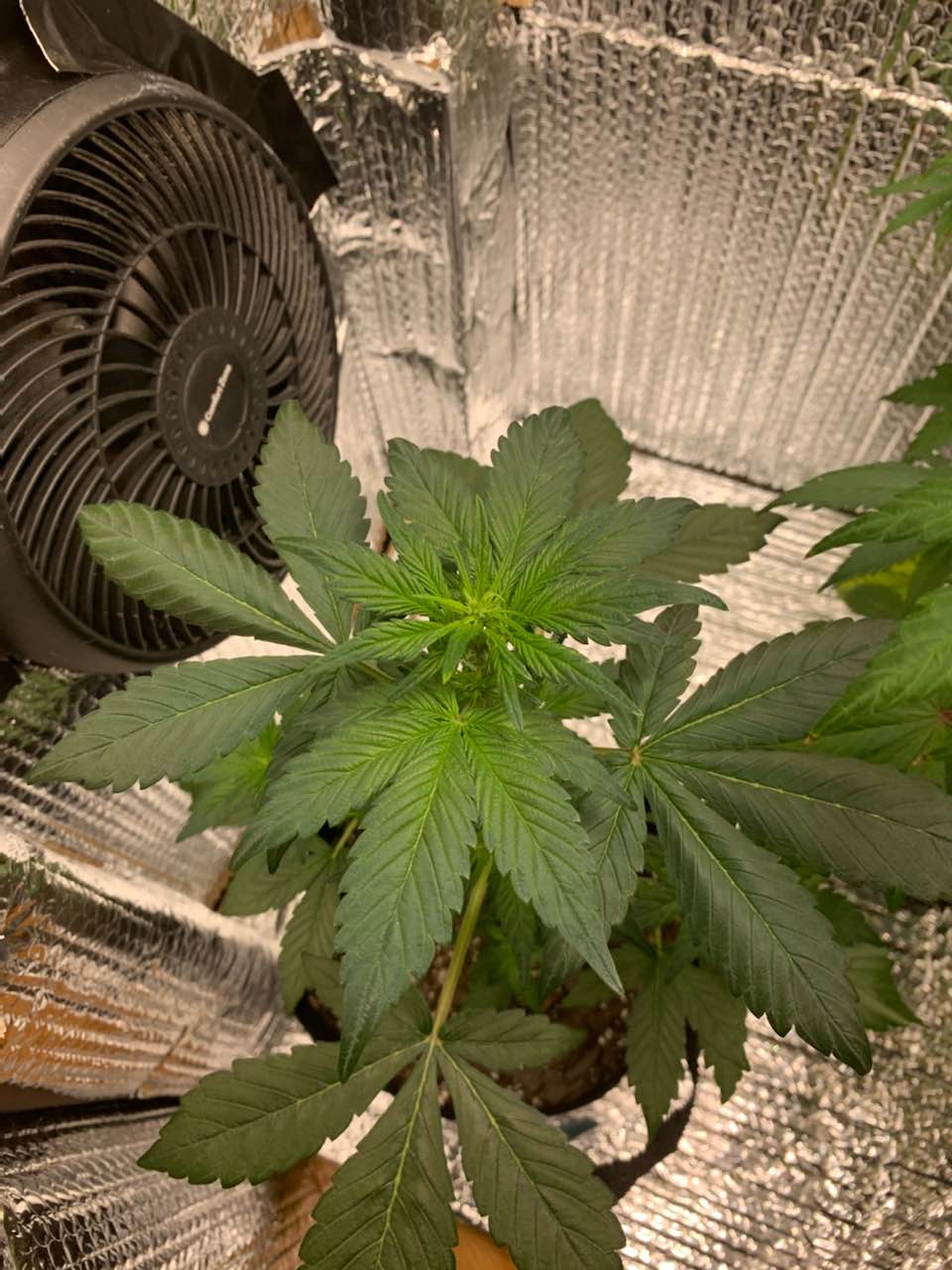 Sprayed plant for thrips.
2 years ago
CrisCo91 Yooo so I've created a indoor grow and was completely lost on how to get a strong induction fan Ok so how did u make that fan or how do you have it hooked up.. check out my set up maybe we can help each other
jlieffering An inlet fan most likely isn't needed if you have a good exhaust ventilation set up!
CrisCo91 Thanks I gotta get a better set up Btw how far along is ur plant here
Fed 2 1/2 cups ph'd Water with Fox farm trio
2 years ago
Growing tall and looks healthy. Preflower pistils are starting to show. Might need to start feeding nutrients now.
2 years ago
Still haven't added nutrients - soil retains water well
2 years ago
Looks good for day 16. Still keeping a close eye though. I've never used this soil and have not feed nutrients yet. Decided not to do LST either. Might need to add more soil.
2 years ago
New light - plant looks good - watered 1 cup
2 years ago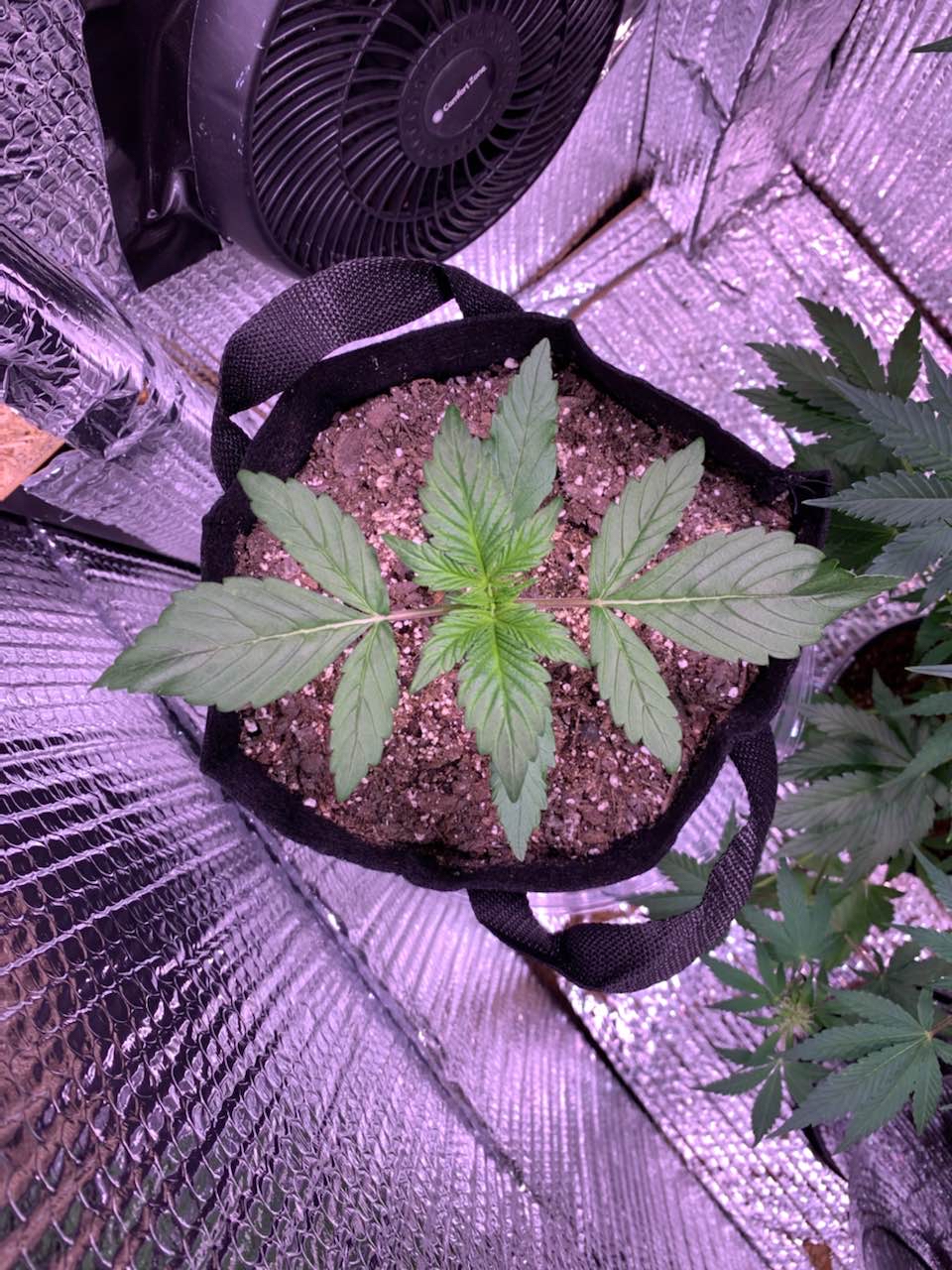 Looks just like other black cream plant - good genetics. Need to water tomorrow.
2 years ago
Still going strong - soil holds moisture well compared to coco mix
2 years ago
Leaves coming in - looks healthy
2 years ago
Watered 1 cup phd water - haven't added nutrients yet
2 years ago
First set of 3 leaf showing Waiting another week to feed nutrients maybe longer - hot soil
2 years ago
Watered half cup
2 years ago
2nd set of leaves showing
2 years ago
Didn't stretch too much Top leaves are growing nicely
2 years ago
About an inch tall. Growing very fast - might be due to ocean forest soil Need to watch for light stretching
2 years ago
Grown in Fox farms ocean forest and cloth pot Already has first set of leaves poking through
2 years ago